Will Impact Mailing Club scam you? Or will impactmailingclub.com help you make thousands of dollars by mailing out postcards and letters?
If you have this kind of questions, I'm glad that you have found this Impact Mailing Club review because here I reveal how this system really works.
You know, the Internet is full of scams, so I love to see people do their due diligence. That's the way to avoid frauds and find the legit way to make passive income online.
To be straightforward with you, here you will not find any Impact Mailing Club affiliate link because I am not promoting it.
Instead of that, you will find an honest Impact Mailing Club review with all pros and cons. Ready to know if this business opportunity is right for you or not?
Impact Mailing Club review summary
---
Name: Impact Mailing Club
Website URL: impactmailingclub.com
Founders: Rose Alameda and Tereza Kumric
Cost: $100 + upsells
Launch date: July 2019
Best for: The founders
Recommended? No
---
If you're sick of scams, check out my 1st resource to make a 4-digit monthly passive income HERE!
---
What is Impact Mailing Club about?
---
I came across Impact Mailing Club because I received an email from one of their affiliates, so I decided to check it out to see if this one was different from most systems I have come across.
I clicked on their link and was taken to a sales letter that didn't look any better than other scam pages I have come across in the past.
According to them, you can get from $65 to $1,000 cash payments in your mail box every single day, and all you have to do is to email a done-for-you letter.
After reading this, I didn't get good vibes because I've heard this kind of claims before in other systems I have reviewed. Systems that weren't as awesome as advertised.
When I read claims like "make money on autopilot" or "earn $500 per day starting today", my alarm bells start ringing because this type of claims are very common in scam sites.
I didn't really like the sales letter I was sent to because it looked like other get-rich-quick schemes sales pages: it was full of hype and photos of the luxurious lifestyle (money, vacations…). This is something that makes this business opportunity look too good to be true.
But I decided to keep researching to determine what I was in front of. I got taken to the PDF that affiliates are using to recruit people into the system, and this is what allowed me to learn what this program is really about.
In short terms, Impact Mailing Club is about recruiting and affiliate to affiliate cash gifting payments.
Everyone involved in the system does the same, which is to buy membership levels and mail out postcards & letters to other members. 
When you get a referral, you hope that you will receive a direct cash payment to your physical mailbox  when he/she buys in at a given membership level and sends you a postcard/letter.
This is a cash gifting scheme because the money passes from one member to another, and I also call this a recruiting scheme because recruiting is essential for members to make money.
They also allow you to get payments from members recruited by your referrals, which is something that can make some people think this is an MLM program. It sounds great to make money from people you haven't recruited, doesn't it?
It sounds awesome, but this business model has some red flags and it's not sustainable in the long-term. This is something that they don't tell you in the sales letter but I believe you need to know about it.
Sick of scams? Want to make passive income every day?
Check Out My FREE Earn Money Online Guide Here!
How does Impact Mailing Club really work?
---
Impact Mailing Club works in a similar way as other recruiting schemes because it's all about promoting this exact system.
First of all, an affiliate sends you an email about this program. Or maybe you came across a YouTube video/review about this program and decided to check it out.
The email you've been sent or the YouTube video you've watched has a link that takes you to a sales letter. This is the letter that is full of hype and makes this system sound too good to be true.
If you decide to go further, you'll open a PDF that includes the steps you need to take to get started. 
You see, the cost to start is between $100 and $2,000 because there are multiple levels you can join at. Your earning potential depends on the level you choose and the number of referrals you get.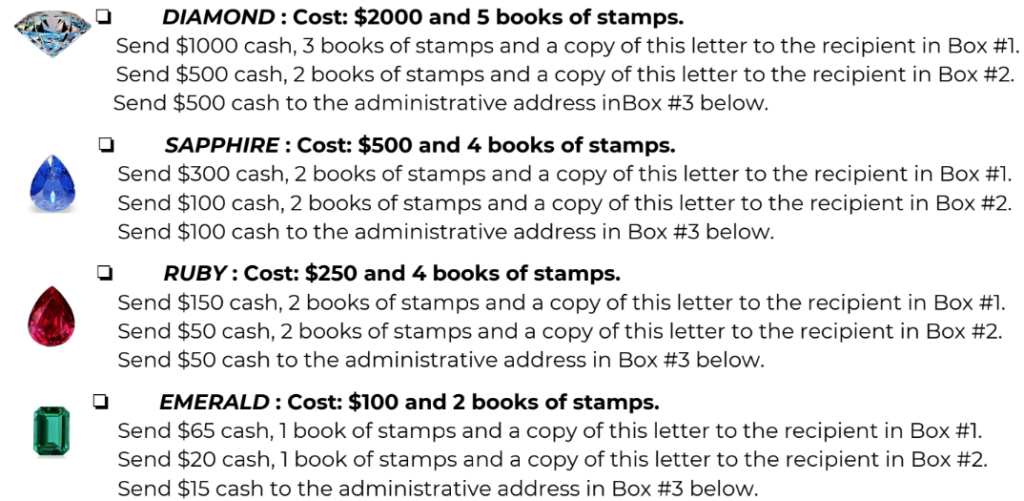 If you buy the Emerald level to get started, you have to pay $100 and 2 books of stamps. With this one, you get 100 mailing leads, you qualify to receive $65 cash payments from your direct referrals and $20 cash payments from their referrals.
Note that you will only receive these payments if your referrals join at the Emerald level. If they start at a higher level, you will miss out these payments. That's why there are members who pay $2,000 to start at the Diamond level.
Apart from that, you need to consider the cost of mailing stamps to your sponsor/referrer and their sponsors/referrers.
The earning potential is big, but it's very risky as well. All businesses carry some level of risk, but this one is riskier than others.
Why it's not as easy as advertised
---
I see that many affiliates are promoting this system as something super easy that doesn't require you to do much work, just mail some done-for-you letters.
They even say that you don't have to do any selling or talk to anyone on the phone, but then they claim that you will receive assistance in closing your sales. See the nonsense?
And that's not all! If it's all done-for-you, then why are most members creating their own landing/squeeze pages and sales videos?
The truth is that many of these members are already experienced marketers who have been involved in other similar systems. They have experience in recruiting, creating sales pages and selling.
Not only that, they also have big email lists so they already know who to promote this system to.
Most of them show lots of money in their photos, but they don't provide anything that proves they have earned that money with Impact Mailing Club. 
After all I have researched, I haven't found any success stories from people who are just getting started.
If you really reflect on it, it doesn't make any sense that people who don't know you are going to mail you some stamps and cash payments.
Lack of transparency
---
Something that I dislike is how the Impact Mailing Club website (impactmailingclub.com) looks because it shows a lack of transparency and honesty.
As you can see, their website doesn't have any information about the owners of the system or the company itself. There's no information on how this system works or how much it costs.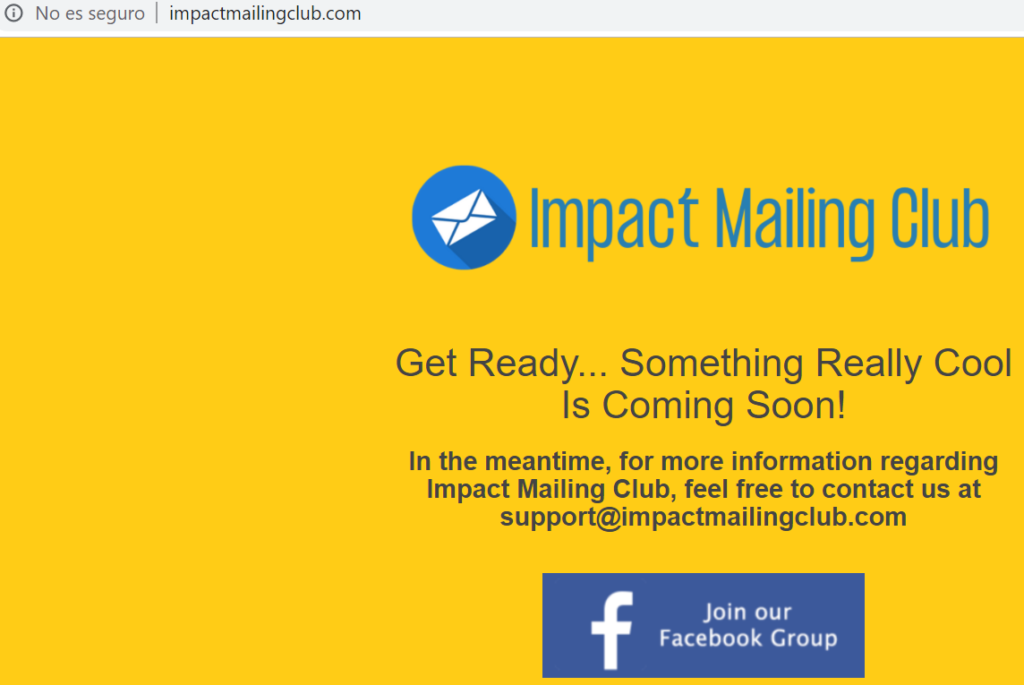 And that's not all! Their website is not secure because it doesn't have the padlock. How can we trust a company whose website looks like that? I cannot take it seriously. 
I believe that the reason there's no info on their website is that the whole scheme is being promoted via social media and email lists. I've seen some of the top affiliates promote this system on YouTube, and I'm not surprised because some of them have been promoting other systems before.
For example, I remember Adriana Villegas used to promote the Email Processing System, which is a system that worked in a similar way as Impact Mailing Club.
Like I said, there are lots of systems like this one and most of them come and go, they don't last for the long-term.
Sick of scams? Want to make passive income every day?
Check Out My FREE Earn Money Online Guide Here!
Is Impact Mailing Club a pyramid scheme?
---
Impact Mailing Club seems to work as an MLM company because you can earn on different levels. 
However, many MLMs end up being pyramid schemes, which means that they don't last much in the industry and they are indeed illegal.
Is it the case for Impact Mailing Club? To know whether we are in front of a pyramid scheme or not, we need to consider the differences between an MLM and a pyramid scheme.
Legitimate network marketing companies sell real products/services, not just the business opportunity. 
In other terms, legit companies allow non-affiliates benefit from their products and services. They make money from product sales, not just affiliates who buy the membership levels.
After analyzing Impact Mailing Club, I can say that they just focus on the business opportunity because everyone who gets involved is forced to promote this system to other people to make money. 
Impact Mailing Club doesn't provide any real products. They don't give the option of buying their products without promoting the system.
Yes, you get some mailing leads after joining. But these leads are meant to be used for getting more people to join Impact Mailing Club. Everything they provide is only to get more members to buy the IMC memberships. 
Because of this, Impact Mailing Club is a pyramid scheme in my opinion. There are various downsides with this kind of schemes, which are the following:
Most people spend more than they earn, which means that most people lose money.

Only a few people make the big bucks.

It's not meant to last because there's a limit when it comes to the amount of people who can sign up.
And that's not all! Impact Mailing Club is only available in the US and Canada, which indicates that the amount of people who can sign up is still more limited than if it were available all over the world.
Out of the people who sign up, not everyone will purchase the Diamond membership level, so making those $1,000 commissions is way harder than advertised.
Will Impact Mailing Club scam you?
---
Like I said before, Impact Mailing Club is a pyramid scheme from my point of view and it actually works the same way as other programs that have got shut down.
But does it make Impact Mailing Club a scam or not? It really depends on your perspective.
There are people who won't consider this system a scam because it can make you money. 
However, most people who sign up end up spending more money than they earn because they don't recoup all the money they have invested in the memberships. The ones who make the most money are the people who joined in the early stages.
The later somebody signs up, the more complicated it is to make the investment back because making more than you invest takes a lot of recruiting, and the problem is that there's a limit in regard of the amount of people you can recruit.
You see, if it was possible to get a refund, it wouldn't be that risky. But the thing is, there are no refunds you can get and they actually state it at the end of the PDF I read.
As you can read, there's no guarantee you'll earn an income. This little note definitely doesn't match what they tell you in the sales letter and videos.
In my opinion, the owners of Impact Mailing Club are the ones who do benefit the most because they make money each time someone signs up.
What you decide to do is up to you. I hope this honest Impact Mailing Club review helps you decide whether this system is worth your energy or not.
Is there a better alternative?
---
If you're starting out and are tired of systems that promise you the world but deliver little to nothing, keep reading.
Instead of spending your time on a system that could stop working and leave you with nothing, why don't you spend your time on building your own online business?
There's a business model that I personally use that has helped me earn passive income every single day. 
Not only that, it has also helped me quit my job and it allows me to work from home. 
It's a beginner-friendly business model because it doesn't require you to create your own product or invest much money to start.
In fact, you can start for $0 thanks to this free training I tell you about in my FREE guide here.
As long as you're willing to follow this training and take action, I believe you can succeed in this business.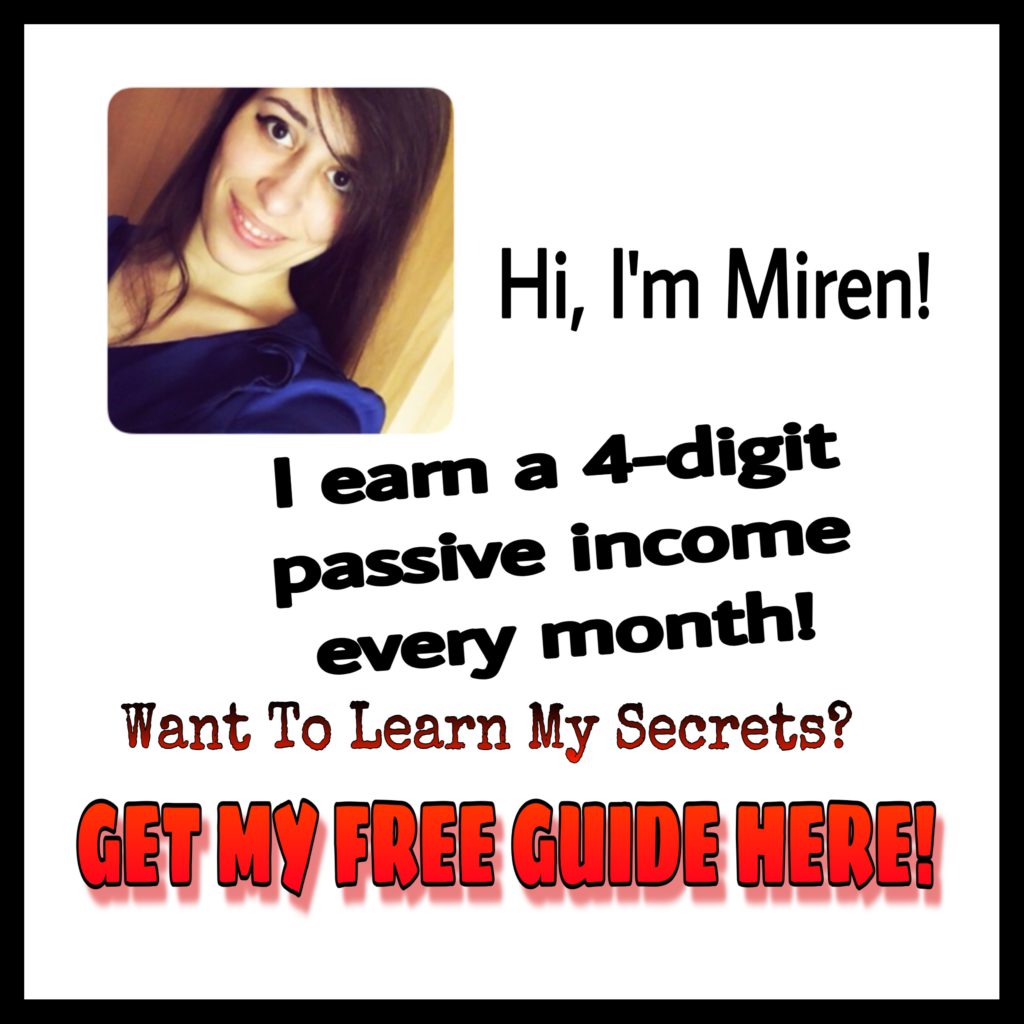 My guide is FREE (no login information required, just click here to start reading it), which means that you have nothing to lose and a lot to gain 🙂
Oh, and don't you worry if you ever get lost! In my free guide I show you how you can get answers to all your questions and help from me and other online marketers.
Stop wasting your time on pyramid schemes and start your own biz today!
I'll leave this quote here:
If you want something you have never had, you must be willing to do something you have never done.
I hope this Impact Mailing Club review has been useful to you and you will make the best possible decision.
Feel free to share it with whoever you believe that will benefit from it!
If there's something else you want to know or you have any questions or would like to share your experience, please leave a comment below. I love hearing from you all!
Whatever you do next, I wish you nothing but the best =)