Welcome to my Fast Home Sites review!
Have you come across fasthomesites.com and are wondering if it's a scam? Or do you hope it's a legit site to make $1,000 per day?
No matter the questions you have concerning Fast Home Sites, you're in the right place because here I reveal everything you need to know about this program.
You may be aware of the big amount of frauds that are after your money, so I'm glad to see that you're doing your due diligence.
That's the way to avoid getting ripped off and find the genuine way to make passive income online!
When it comes to Fast Home Sites, here you will learn how it really works and whether or not it can benefit you.
Fast Home Sites review
---
Name: Fast Home Sites
Website URL: fasthomesites.com
Founder: "Jake"
Cost: $47 + upsells
Launch date: September 2019 (other versions came out months and years ago)
Best for: The owner and affiliates
Recommended? No
---
If you're sick of scams, check out my 1st resource to make a 4-digit monthly passive income HERE!
---
What is Fast Home Sites about?
---
Fast Home Sites (fasthomesites.com) is a website that someone sent me via an email, so I thought I would check it out.
To be honest, the moment I saw the sales page, the word "scam" came to my mind because it looked very similar to other scammy sites I have exposed in the past.
Just the fact that they claim you can make $1K per day starting today is a big red flag because it sounds like a get-rich-quick scam.
Getting rich quick doesn't necessarily mean making millions overnight. When a sales page claims you can start making hundreds or thousands of dollars the same day you get started, start suspecting it's a scam because making that kind of money doesn't happen overnight.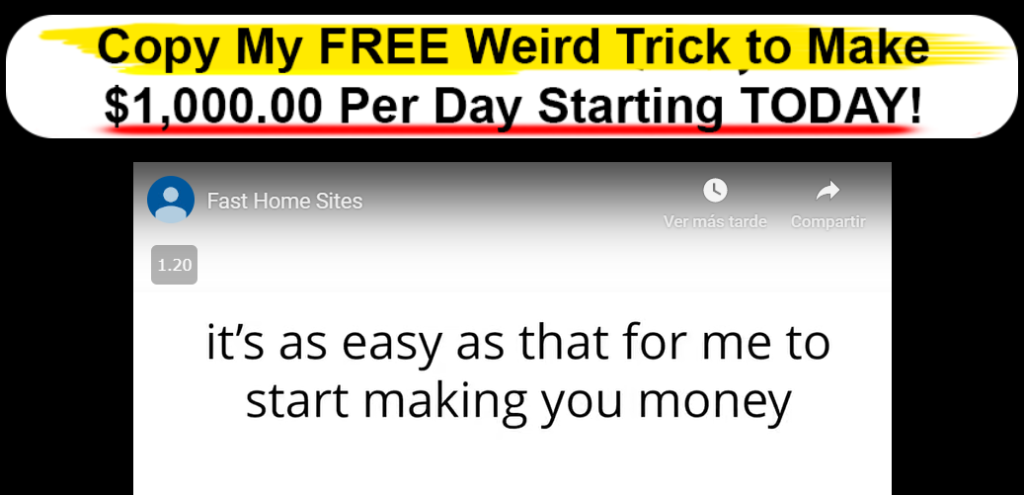 After having reviewed hundreds of websites, I have realized that the ones that have high-income claims tend to be scams that don't work. There are no push-button systems or anything that you can use to get lots of money right away.
When it comes to Fast Home Sites, "Jake" says that he has created you an online business that only takes a few clicks to make it work. 
He claims he can make you money easily and all you have to do is to watch that video. At the end, he will reveal how much money you have made…
Lol if only making money was that easy… most people would be making millions right now, don't you think?
The truth is, he claims he's making you money because he wants you to keep watching the video. And at the end, he wants you to pay the $47 fee. His real goal is to get you to make the payment.
He also claims you need to sign up ASAP because the doors are closing tonight, but that's completely fake because I came across the website two days ago and it's still up. He just wants you to purchase the program as fast as possible.
"Jake" basically tells you what you would like to hear. His claims are very misleading and they don't even make sense. 
You see, if it was possible to make money just by watching the video, don't you think that everyone would be watching the video instead of working at jobs they hate? Who on Earth would get out of bed if they could just get paid by watching a video?
If you think about it, you realize that the Fast Home Sites sales page is inaccurate and full of hype. 
Sick of scams? Want to make passive income every day?
Check Out My FREE Earn Money Online Guide Here!
How Fast Home Sites really works
---
Fast Home Sites works the same way as other pages I have reviewed. For example, Instant Profit Sites, Quick Home Websites, Copy My Websites, Income Sites Online and Your Dream Websites work the same way.
In fact, these sites I have mentioned are identical to fasthomesites.com because they have the same layout and same sales video. The only difference between them is the domain name.
The reason there are multiple identical sites is that they tend to get exposed, which means that potential victims find the negative honest reviews when they search for information.
Obviously, this is something that the owner of this scam doesn't want, so he/she keeps buying domain names to use them to advertise this "system".
If you buy it, you will realize that this is not a system to make money overnight. The sales presentation doesn't match what's inside the members area because they don't give you anything that can help you earn $1,000 per day.
Chances are you won't make any money with this program because it hasn't been designed for members to profit.
The websites they provide are landing pages that are not getting any traffic, which means that they're not making money.
A website needs to receive visitors to make sales. Without a product/service to sell and visitors, there's no way for a site to make money because a website doesn't generate its own traffic.
How are you supposed to make money?
---
The idea behind this program is to make money with a website by using the affiliate marketing business.
Affiliate marketing is a legitimate business model allows you to profit from other people's products/services. I know it works because it's the business model that I've been using to earn a 4-digit monthly income online.
You basically promote other people's stuff and get paid a commission when a sale is made.
It's a simple business model but it takes real work. It definitely does not work like "Jake" claims.
To make affiliate sales, you need to become an affiliate for a product or service that can help other people, and then you need to put your offer in front of them. Driving targeted traffic to your offer takes time and effort, that's why you cannot expect to make sales overnight.
This is something that "Jake" doesn't tell you because his focus is on selling this "system", not on helping you make money.
The training provided is generic and out of date, which means that it doesn't include information on how to build your affiliate marketing business the proper way.
Is "Jake" a real person?
---
Can we even trust "Jake"? He claims to have earned over $10,000,000 in 4 years, but is it real?
Just because he shows some screenshots of his accounts, it doesn't mean he's not lying. Nowadays it's easy to fake screenshots and numbers, and the fact that they come from a person who's not showing up makes me believe that those screenshots are fake.
You see, he doesn't show any picture of himself and he doesn't mention any of the websites that have helped him make his fortune. 
He doesn't even tell us how we can get in touch with him or how we can find more information about him. If he's really an Internet millionaire, don't you think there would be more info about him? I personally believe he would have some positive reviews, but he has no reviews.
Sick of scams? Want to make passive income every day?
Check Out My FREE Earn Money Online Guide Here!
Has anyone succeeded with Fast Home Sites?
---
If Fast Home Sites was as awesome as the sales page tells you, don't you think there would be some positive reviews out there?
Yes, we can see some testimonials in the sales video but they don't provide anything that proves they're succeeding. "Jake" also shows some photos of members who have allegedly received their payments, but the truth is that those testimonials are fake.
He doesn't even tells us how we can contact or get in touch with other members, which is a red flag. Where's the support?
I'm convinced that the people behind this program and their affiliates are the only ones making profits.
Just take a look at the little note you can find at the bottom of the fasthomesites.com page:

As you can read, the average buyer doesn't earn any money with this "system". This is the complete opposite of what they tell you in the sales video. 
This is an indication that Fast Home Sites doesn't work for people like you to make money. It only works for the people who have created it.
Is Fast Home Sites a scam?
---
Whether Fast Home Sites is a scam or not depends on your point of view.
For some people, it's not a scam because they give you something for your money. 
But other people will consider Fast Home Sites a scam because of the false advertising and promises. 
The fake testimonials, the lack of transparency, the fake income claims, the fake scarcity… It has too many red flags that indicate it does not work as advertised.
Not only that, they aren't even honest about the cost of the program because it has some upsells. If you pay the $47 fee, you will be bombarded with some upsells that cost hundreds of dollars.
Fast Home Sites basically works for the people behind it, not for customers. It's not okay to deceive people just to make money, so I would never promote a program like this. That's why I'm not recommending Fast Home Sites.
To profit, there's no need to lie to other people. It's completely possible to generate an income by helping others.
Your final decision depends on you. I hope this Fast Home Sites review has been insightful to you and you now know if it's worth your energy or not.
It's best to follow a proven method
---
If you are committed to making money with a website, keep reading.
Even though there are so many frauds and poor quality products out there, there are also legitimate programs.
I'm thankful that I learned a step-by-step method to profit with affiliate marketing because if I hadn't learned this, the ugly scams would still be wasting my time & money.
This is a newbie-friendly method that will make it possible for you to send free targeted traffic to affiliate offers from Amazon and other legitimate sites, which means that you will not have to take huge risks to drive visitors and make sales.
In fact, this method is working for different people all over the world, so I'm sure you can make it work as well. 
If someone like me can do this (I started with no experience and English is not my first language), I totally believe you can succeed.
As you can observe here, there are days that I've earned over $200 in affiliate commissions: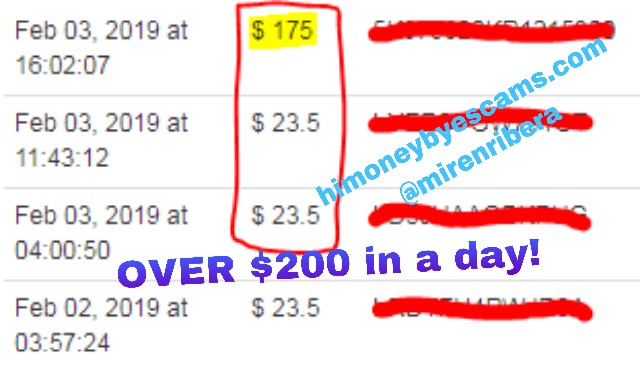 If you want to learn how this business works step-by-step and how you can start today for free, I invite you to check out my affiliate marketing guide for free here: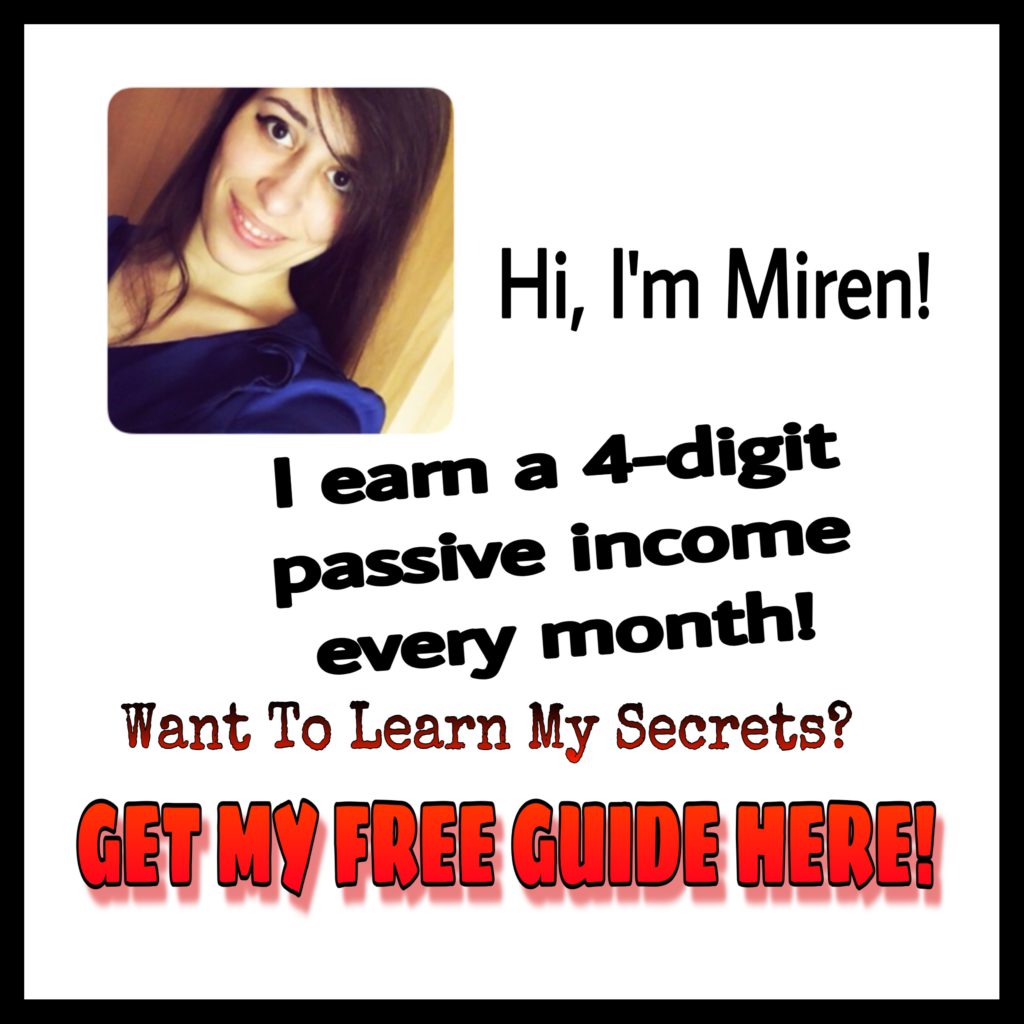 My guide is FREE (no login information required, just click here to start reading it), which means that you have nothing to lose and a lot to gain =)
Oh, and don't you worry if you ever get lost or stuck! I'm not like "Jake" because I don't hide behind a screen and tell you how you can contact me.
In my free guide you will see how you can get your questions answered and how you can receive proper guidance and support from me & other affiliate marketers.
Stop wasting your time on BS programs and start your affiliate business today!
I'll leave this quote here:
If you want something you have never had, you must be willing to do something you have never done.
I hope this Fast Home Sites review has been useful to you and you will make the best possible decision.
Feel free to share it with whoever you believe that will benefit from it!
If there's something else you want to know or you have any questions or would like to share your experience, please leave a comment below. I love hearing from you all!
Whatever you do next, I wish you nothing but the best =)