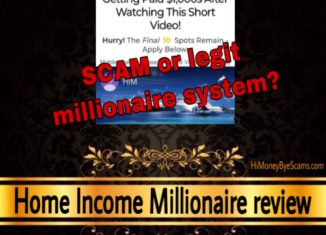 Welcome to my Home Income Millionaire review!
Are you wondering if homeincomemillionaire.com is a scam? Or is it a legit system that can help you make thousands of dollars?
If that's what you are wondering, I'm glad that you are doing your own research because that's the way to avoid scams and find the real way to make passive income online.
When it comes to Home Income Millionaire, the truth is that this system is not as awesome as they have told you. 
This honest Home Income Millionaire review will show you what they haven't told you before and whether you can benefit from this system or not.
Home Income Millionaire review
---
Name: Home Income Millionaire
Website URL: homeincomemillionaire.com
Owner: "Mark Jennings"
Launch date: May 2019
Best for: The owner 
Price: $97 + upsells
Recommended? No
---
If you're sick of scams, check out my 1st resource to make a 4-digit monthly passive income HERE!
---
What is Home Income Millionaire about?
---
Someone sent me an email to the Home Income Millionaire system, so I thought I would check it out to see if this one would be a scam or different than the scams I have come across.
Honestly, the name of the system didn't give me good vibes because I have realized that most systems with the word "millionaire" tend to be scams.
But I didn't want to judge this system without knowing what it's really about so I did my homework.
The Home Income Millionaire sales video makes this system look amazing because everything they say is positive and can get you really excited.
Thanks to this system, many people are finally living their dreams and now you can start doing it too.
It doesn't matter if you have never made a dime online or if you don't have any experience or special skills, this system can work for you because it does everything for you.
Well, that's what the spokesman, "Mark", claims. His system is apparently going to make you a millionaire without doing much work. Doesn't it sound too good to be true?
I mean, why isn't everyone using this system if it makes it possible for ordinary people to make millions? Why haven't most people quitted their jobs if this system works so well?
Truth be told, this Home Income Millionaire system is not as wonderful as "Mark" claims. His main purpose is to sell this system, that's why he tells you what sounds great instead of what you need to know.
Sick of scams? Want to make passive income every day?
Check Out My FREE Earn Money Online Guide Here!
How does Home Income Millionaire really work?
---
Home Income Millionaire works the same way as the other systems that promise you the world but deliver very little to nothing.
First of all, the sales video has been designed for you to buy this "system", not for you to make money with this system. The only ones who make money with this system are the people behind it.
The fact that they are not transparent about how this system really works or what you will have to do to make money is a big red flag because the lack of important information means they are trying to hide something.
So what are they trying to hide? Just the fact that this system doesn't work as advertised and it's not going to make you any money.
So what will it happen if you purchase it?
Just after making the $97 payment, you will be hit with some upsells that cost hundreds to thousands of dollars, not to mention that you will discover that the name of the real program is not Home Income Millionaire.
Home Income Millionaire is just a name that is being used to avoid revealing the name of the real program. But if you get involved, you will realize that Home Income Millionaire is not the real program.
As you can see below, they have a disclaimer where they state that Home Income Millionaire is a pen name:

You see, the reason they are hiding the name of the real program is that the real program is a high-ticket program that probably doesn't have positive reviews online. So this means that they probably don't want you to find the truth about their program.
Another red flag is the fact that this is a done-for-you system because this kind of systems never work for the members. They are systems that give you some squeeze pages, some training and some tools for you to use how to promote this system.
So the way to make money with this system is by promoting the system itself, but this is something that takes work and can make you lose money because it requires you to spend thousands of dollars on their expensive products/memberships & paid ads to promote those products.
The problem with this is that there are no refunds and there's no guarantee that you will make your money back, so this system is very risky. 
In my opinion, this is not the way to go if your goal is to make a substantial long-term income because you're not the owner of this system. Purchasing this system and doing what they tell you only helps them build their business, not yours.
The video testimonials are fake
---
The people who appear in the Home Income Millionaire are not real members and they haven't made any money by using this system.
I know this because I've seen them in other scam videos, which means that they are making money by doing video testimonials for scam programs.
For example, this man has appeared in other scams like Click4Surveys: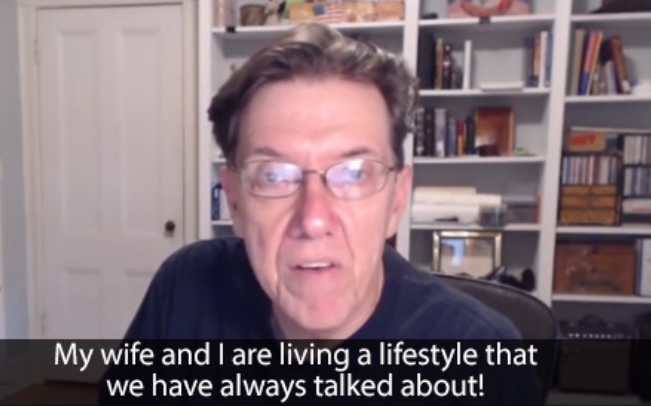 Here you can see his Fiverr gig: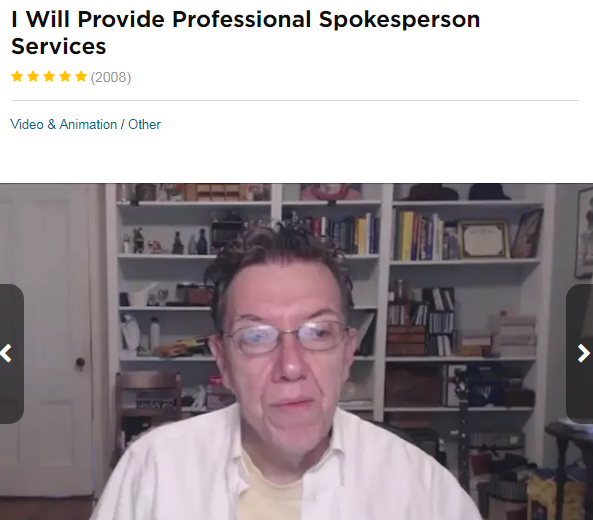 This one and the others are getting paid to say that they are making thousands of dollars with Home Income Millionaire, when in reality they haven't even bought it.
When a program has fake testimonials is a red flag because it means that there's probably no one who has made money but the owners. So there are no real members who have succeeded with Home Income Millionaire. 
Apart from that, there are no positive Home Income Millionaire reviews. If this program worked, there would be some positive reviews but everything I've read about it is negative.
RECOMMENDED: Check Out How I Make A 4-Digit Monthly Income Here!
Who's Mark Jennings?
---
Another red flag is the fact that Mark Jennings doesn't show his face and doesn't reveal how we can get in touch with him.
If he's so successful, why doesn't he show up? Why isn't he transparent about who he is? He does nothing to prove that he's not like the other scammers.
The truth is that Mark Jennings is not the real name of the owner of Home Income Millionaire. Don't you think that there would be more information about him if he was really a millionaire?
The owner of this program is not revealing who he really is because he/she doesn't want to face the consequences of ripping people off.
I have reviewed hundreds of websites like this one and have realized that the people behind them hide their identities because that's the way they can avoid getting sued or persecuted by their victims.
Home Income Millionaire review – Is Home Income Millionaire a scam?
---
After everything I've found about Home Income Millionaire, I have to say that it's a scam.
The lies, the fake testimonials, the fake owner, the fact that Home Income Millionaire is not even a real system… there's nothing real about this. They even lie when they say that there are only 8 spots available because they want you to buy on impulse.
This is a get-rich-quick scam like many others that we can find online. These programs only work for the unethical owners to get richer, so there's no way I will buy it.
I don't like to call everything a scam because not all websites with misleading claims are scams. Some of them actually allow you to get a refund.
However, Home Income Millionaire is not like that because they don't give you the option to get your money back. So buying into this is wasting time and money, in my opinion.
I personally cannot trust individuals who promise something awesome to make money at other people's expenses. This is unnecessary, unacceptable and unethical. It's a way of hurting people, which doesn't make the world a better place.
What you decide to do is up to you, but I could never recommend Home Income Millionaire and feel good about it. 
Final verdict: Stay away from Home Income Millionaire.
Here's something that really works to make passive income
---
If you're tired of scams and done-for-you systems that don't work, it's best that you focus on building your own business using a method that works.
When I first got started, I also fell for systems that didn't work, but when I realized that making an income online takes time and effort, I stopped wasting my time on those get-rich-quick schemes.
I'm so glad that I learned about a business model that has been working for decades for people from all over the world.
This is a newbie-friendly business model that allows you to make money from other people's products & services. You'll be able to choose whatever you want to promote, so you can choose products that you like or use yourself =)
In other words, you can build this business based on a topic you're passionate about. Pretty cool, right?
I'm living proof that this business works, as you can see below: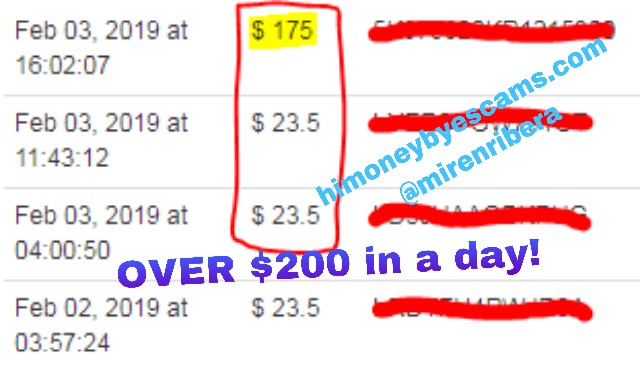 If someone like me can do this, I believe anyone who takes action can do it too. As long as you are willing to follow step-by-step directions and never give up, you can make it happen.
If you are interested in learning how I did it and how you can do it too, get my FREE guide here: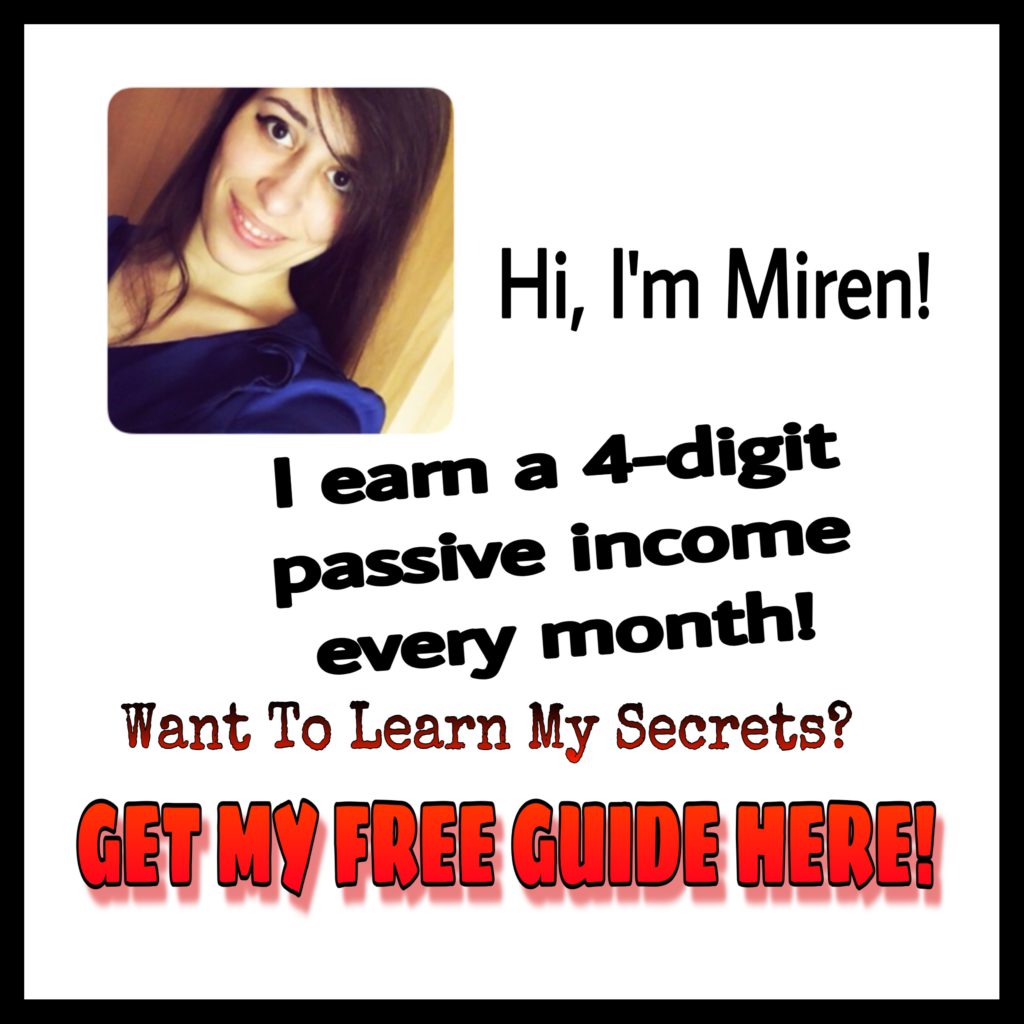 In this guide, I explain the 4-step formula you can use to build your business. And I also show you how you can get started today for free!
You see, in my guide I reveal the platform that showed me everything I know, which is the same place where many people have found their path to online success.
Like I said, my guide is FREE (just click here to start reading it), so you have nothing to lose and a lot to gain =)
Oh, and what if you ever get lost or stuck? If you have any issues or questions, you will be able to receive help and support from my favorite community of Internet marketers. You'll see how you always get your questions answered 🙂
Stop wasting your time on scams and start your online biz today!
I'll leave this quote here:
If you want something you have never had, you must be willing to do something you have never done.
I hope this Home Income Millionaire review has been useful to you and you will make the best possible decision.
Feel free share it with whoever you believe that will benefit from it!
If there's something else you want to know or you have any questions or would like to share your experience, please leave a comment below and I'll get back to you ASAP!
Whatever you do next, I wish you nothing but the best =)