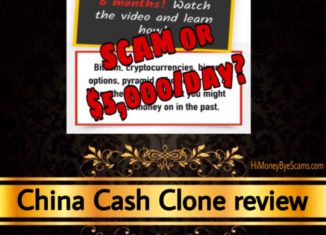 Have you been asking yourself "Will China Cash Clone scam me?" or "Is chinacashclone.com a legit system to make money online"?
If you have these kind of questions, I'm glad that you have landed on this China Cash Clone review because here I reveal how this system really works.
The Internet is full of scammers that want to take your hard-earned money, so I'm glad that you are doing your due diligence. That's the way to avoid frauds and discover the legit way to earn money online!
When it comes to China Cash Clone, here you will find some red flags to take into account and whether you can benefit from this product or not.
China Cash Clone review summary
---
Name: China Cash Clone
Website URL: chinacashclone.com
Owner: "Daniel Barber"
Launch date: May 2019
Best for: The owner and affiliates
Price: $9 + upsells
Recommended? No
---
If you're sick of scams, check out my 1st resource to make a 4-digit monthly passive income HERE!
---
What is China Cash Clone about?
---
China Cash Clone is said to be a system that includes a money-making software that can help you make $5,000 per day.
It's a software that works by exploiting a little-known glitch in the Internet, which is something that allows you to copy the method that many people in China are using to make a fortune.
According to the spokesman, "Daniel", you don't need to spend more than 10 minutes a day to make this software work for you, and it doesn't even matter if you have no prior experience or technical skills.
This system is supposed to make the process of making thousands of dollars online very easy because everything is done for you.
Oh, and you can start making money the very same day you get started, even if you've never made a dime online.
Well, that's what he says. But I personally have lost the count of the times I have heard this kind of claims, so what he says is nothing new to me.
I have reviewed lots of websites and products like this one and I have realized that most of them don't deliver what they promise. 
After watching the China Cash Clone sales video, I can say that it's full of hype because the spokesman basically tells you what sounds amazing but he doesn't tell you everything you need to know.
I know it's easy to get excited when you see those testimonials claim to have earned $60,000 in 2 weeks or $710,000 in 5 months. This is something that definitely makes this "system" look like the way to achieve financial freedom within a short period of time.
However, the truth is that the sales video is just a tool for the owner of this product to make money himself/herself. They tell you what sounds great to lead you to spend your hard-earned money.
And then, once you have made the payment, you realize that the inside is different than what they told you outside.
Making the kind of money they talk about is completely possible, but it takes a lot of work, learning, effort and time. Success doesn't happen overnight and there's no secret system or software that can give you money on demand.
RECOMMENDED: Check Out How I Make A 4-Digit Monthly Income Here!
Does China Cash Clone work?
---
China Cash Clone doesn't work to help you make money, it works for the owner and affiliates to profit themselves.
So, if you hope to make fast money with China Cash Clone, you will get disappointed because this "system" is not as awesome as they have told you.
If you purchase it, you will not get access to a system or software that does everything for you. Instead, you will get access to some training that shows you how to build a WordPress site that has the WooCommerce plugin, which means that your site will look like an online store.
You also get some training videos on how to import products into your store and how to fulfill an order each time you sell a product.
The good thing about this business model called dropshipping is that you don't need to create your own products. You'll be reselling other people's physical products without having to store them.
It sounds like a simple business but it takes waaay more than 10 minutes a day because there's a lot of tasks involved.
For example, you will have to search for the products you want to sell, you also have to search for competitors' prices, you also need to learn how to build your store, how to drive visitors to your store, how to fulfil orders…
Oh, and you also need to take care of refunds and customer service. All of this takes work and time, and the more sales you make, the more work you have to do unless you have the money to hire people to work for you.
It's possible to make a full-time income with dropshipping, but the problem I see with the China Cash Clone training is that it doesn't contain everything you need to know to build a successful business and make the kind of money they talk about.
For example, they don't provide training on how to bring traffic to your website, which is essential for your business to work. Without traffic a.k.a. people coming to your site, there's no sales or money to be made.
Will China Cash Clone scam you? 5 red flags revealed!
---
If you still have doubts about China Cash Clone and are wondering how I know it doesn't work as advertised, let me give you some solid proofs.
Red flag 1 – Fake earnings
---
If you are wondering if there are people who are making money with China Cash Clone, the answer is that there aren't any successful members.
For example, the ones you can see in the China Cash Clone sales page aren't real members and have nothing to do with China Cash Clone. They haven't purchased this product!
As you can see, it says that they joined in 2018, which is not true because China Cash Clone didn't exist back then.
According to a reputable source named whois.com, the chinacashclone.com domain name was registered in March 2019, so there's no way those people joined in 2018.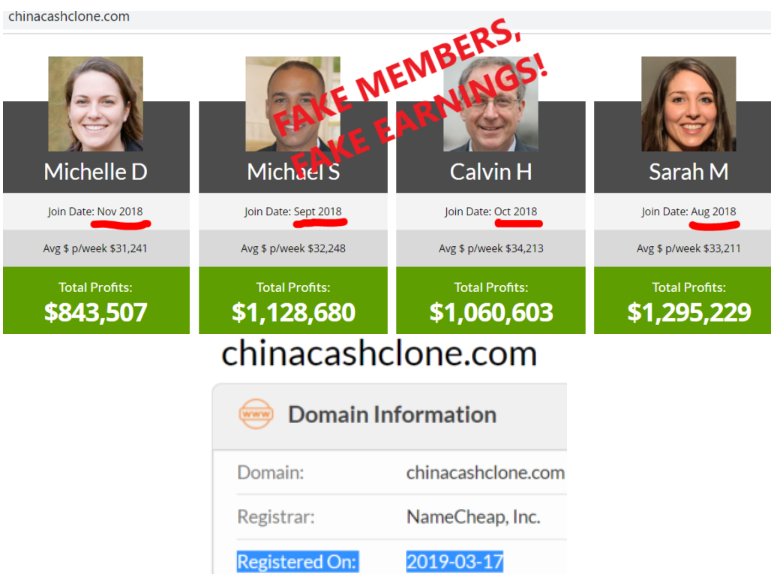 The truth is that those people aren't millionaires. It's all a complete fabrication! There are no successful members so the owner of chinacashclone.com has invented these testimonials to gain credibility.
Red flag 2 – The video testimonials are fake
---
Apart from the fake earnings and testimonials, the video testimonials are fake too. They haven't tried to make money with China Cash Clone.
The reason they claim to have earned thousands of dollars with this product is that they get paid to say that. The owner of China Cash Clone has paid them to say what he/she wants.
For example, this girl is a Fiverr actress who has appeared in other videos for low-quality products. Below you can see her Fiverr gig: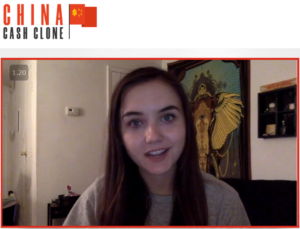 Red flag 3 – Fake comments
---
The comments you can read in the China Cash Clone sales page are fake because they haven't been written by real members.
Those comments have been written by the owner or people behind this product. You can try to leave a comment and will see how it does not work. 
I tried to leave a comment but it didn't get added to the others. So what's the point? 
The reason they have that comments section is that they want you to try to leave a comment because that's how they get your email address. They want to collect as many email addresses as possible because they can use them for profit.
Sick of scams? Want to make passive income every day?
Check Out My FREE Earn Money Online Guide Here!
Red flag 4 – It costs way more than $9
---
Another point I want to make is that building a dropshipping business costs way more than $9.
The $9 initial fee is only the cost to get access to the China Cash Clone members area, but you can expect more costs.
If you pay $9 to get access to the members area, you can expect to get bombarded with some upsells that cost hundreds of dollars. They will promote these upsells like something you need to make money faster or increase your profits, but it's all hype.
The truth is that these upsells are no better than the front end offer. And you can also expect to find promotions for other products/tools inside their members area.
As you can see, they do the most to make as much money as possible.
Red flag 5 – No information about the owner
---
Last but not least, who's the real owner of China Cash Clone?
We're told that the owner is Daniel Barber, but how can we believe it's true?
I personally don't think that the real owner's name is Daniel Barber because there's no real proof that he's a real person. He doesn't show up and he doesn't even tell us how we can get in touch with him.
You see, if he's a millionaire why doesn't he show his real identity? Doesn't he own a website or isn't he on social media? There's no information about him outside the chinacashclone.com website.
After having reviewed lots of sites and programs, I can say that the ones that don't provide any real information about the owners tend to be low-quality products or scams.
The owner of China Cash Clone doesn't do anything to prove that he or she is different than the other scammers, so I cannot trust him/her, especially after having seen that the testimonials are fake.
China Cash Clone scam review – Final conclusion
---
Is China Cash Clone a scam? If that's what you are wondering, the answer really depends on your point of view.
There are people who will call China Cash Clone a scam because it doesn't live up to its promises and it's being advertised in a scammy way.
But there are others who will not consider it a scam because they give you something for your money.
In my opinion, China Cash Clone is not a 100% scam because it's being sold through ClickBetter, which means that you can get your money back in case you buy it.
If you are interested in starting a dropshipping business, you might benefit from it. But you can find this kind of information for free online, so there's no need to purchase China Cash Clone.
I personally haven't bought it because it's not worth my time. After all, they state that the average purchaser is not making money using their product:
So why purchase this product if doesn't really work for people who buy it?
What you decide to do is up to you, but my final verdict is that I do not recommend China Cash Clone.
Here's how you can make passive income every day
---
If you really want to earn passive income online, you need to keep in mind that you will have to work way more than 10 minutes a day.
Dropshipping is just a business model, but it's not for everyone because not everyone likes to take care of refunds or fulfil orders. At least that's the reason I decided to quitted dropshipping to get involved in another business.
The business model I now use is similar to dropshipping because it allows you to make money from other people's products and services. 
Also, this business doesn't require you to spend money on advertising or deal with refunds, so it's more newbie-friendly in my opinion. And the income potential is the same.
When you get people to buy something through your link, you earn commissions! I'm living proof that this business works, as you can observe here: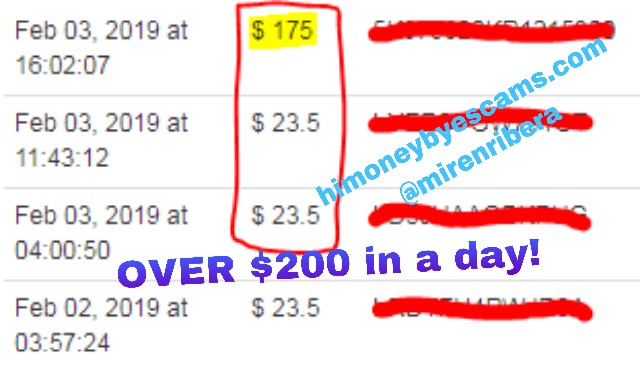 If you are committed to learning and taking action, I believe you can do this! There's people from all over the world who are achieving great results in this business.
In case you are interested in learning how this business works, you can get my FREE guide here: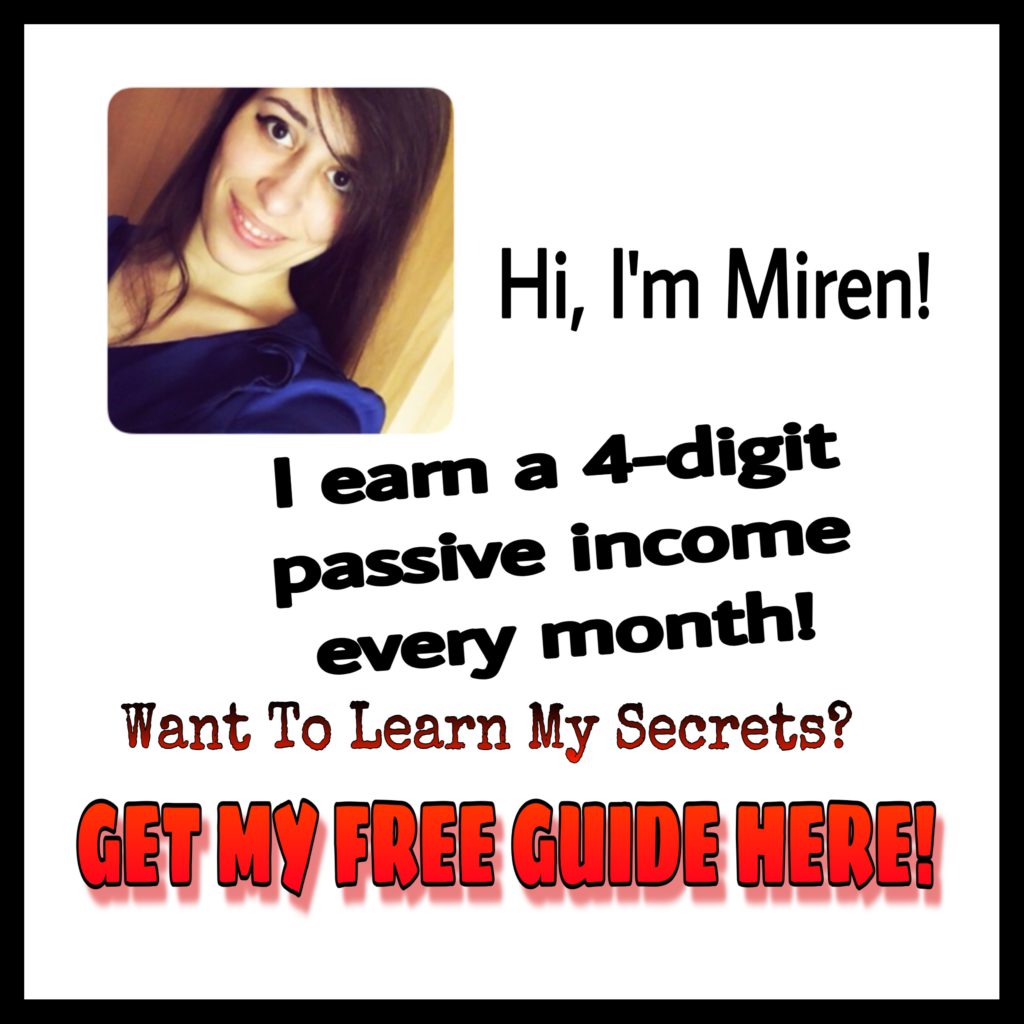 In this guide, I explain the 4-step formula you can use to build this business. You will also discover how you can get started today for free!
You see, in my guide I reveal the platform where I started for free, which is the same place where I could get the tools and the training I used.
Like I said, my guide is FREE (just click here to start reading it), so you have nothing to lose and a lot to gain =)
Oh, and what if you have any questions or doubts? If you ever get lost or stuck, you will be able to ask questions to a community full of like-minded people! You'll see how you always get your questions answered 🙂
Stop wasting your time on low-quality products and start your passive income journey today!
I'll leave this quote here:
If you want something you have never had, you must be willing to do something you have never done.
I hope this China Cash Clone review has been useful to you and you will make the best possible decision.
Feel free share it with whoever you believe that will benefit from it!
If there's something else you want to know or you have any questions or would like to share your experience, please leave a comment below and I'll get back to you ASAP!
Whatever you do next, I wish you nothing but the best =)