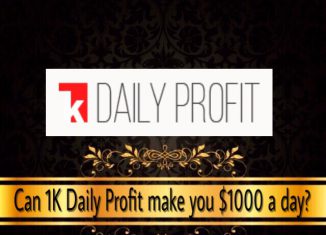 Welcome to this 1K Daily Profit review!
Today I'm going to talk about another online program that I came across recently, which is called 1K Daily Profit. 
I was curious to know what it's about and if it's possible to make $1000 a day with it, since that's what they claim.
If you're wondering how it works and whether it can make you any money or not, keep on reading.
.
1K Daily Profit review
---
Name: 1K Daily Profit
Websites:
www.1kdailyprofit.com

www.1k-daily-profit.com

www.1kdailyprofit.co

www.1k-daily-profit.co

www.1k-daily-profit.org

www.1kdailyprofit.net

www.1k-daily-profit.net

www.1kdailyprofit.biz

www.1k-daily-profit.biz

www.1kdailyprofit.me

www.waltergreenfreemoney.net

www.getmaxprofitsnow.com/1kdailyprofit
Owner: "John Becker"
Created in: 2015
Price: "Free"
Overall Ranking: 0/10
.
---
If you're sick of scams, check out my 1st resource to make money online here!
---
.
What is 1K Daily Profit about and who it is for?
---
1K Daily Profit is supposed to be a binary options trading software that generates a minimum of $1000 a day. John Becker, the supposed CEO of this software, claims that it is completely free to get started and that you'll only need to work 1 hour a day.
So who wouldn't like to work an hour a day and make $1000? I bet everyone would like it.
But don't be blind to those claims, there are a lot of these kind of programs and systems circulating on the net, which result in being scams, and this one is not an exception.
They claim that it's for everyone and that you don't need to have any previous experience in trading because their software is powered by an algorithm that wins trades with 99.8% accuracy, which is completely fake because the chance to win in trading binary options is like 50%.
They also claim that you don't need to pay any money to get started, which I will explaining why that's not true in another section of this review.
.
The sales video already makes it suspicious
---
In this section I'm going to analyze the sales page and video, where we can observe some factors seen before in other scams like Millionaire Blueprint or Steal My System.
.
I couldn't help but laugh when I read this one, like what private invitation? I wonder if Google is their friend because I found the page thanks to it 😆 
Wonder why do they make this false claim? They want you to believe that not everybody knows about the page and make you feel like you're a special and lucky person, but the truth is that the page is public and they want everybody to find it and join.
.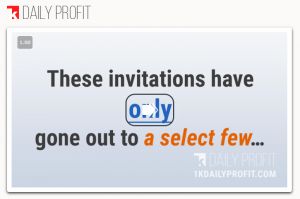 This one supports the previous one. It just doesn't make sense because there's no way you've received an invitation, since nobody has sent you the link to that page. In my case, I found the page by searching about online programs on Google.
.
This one is funny because he already mentions the word "scam", which is something that makes you question it even more. Later in the video, he shows you how he starts trading and making money, what is fake and proves the lie.
He also says that he's been scammed before to make you feel sorry for him and make you think that he's not going to scam you.
.
As you can see above, he claims that he won't promise you millions, but later in the video he says that his community has earned over $100 million. This is how he denies the first statement.
Another thing is, why does he mention "community" if he said before that only a few people know about the software? 
.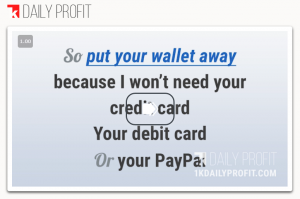 .
Another thing scammers do is to lie about the price. This guy first tells you that he won't need any of your financial information because it's free, but later in the video he says that you only need $250. 
.
They play with your emotions
---
Now's the time to show you how this guy plays with your feelings in order to make you join his crap.
.
The "never seen before" phrase is to get you interested in what he's going to say, in order that you don't leave that page. He wants you to be like "what's this good thing I'm going to discover?".
After that, he tells you how his partner and he "cracked the code to profiting from the global financial crisis", these typical stories con artists make up that have no real proof.
.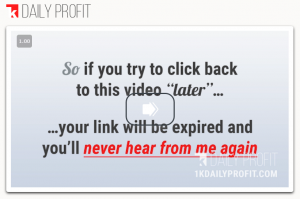 This one is to prevent you from leaving that page, so you stay until the end and join. The truth is that there's a lot of links and domains that take you to this video. Funny how I can leave the page and come back whenever I want, through the same link.
.
Does this phrase sound familiar to you? It usually comes from the "get-rich-quick" scams. They prey on your hopes and dreams of having the lifestyle you've always dreamed of and doing what you want without having to worry about money.
.
1K Daily Profit is a scam
---
After showing you some scammy factors that are present, I'm going to prove with pictures that anything related to 1K Daily Profit is indeed a fraud.
Let's go!
.
Proof 1 – Fake CEO
---
John Becker is the supposed creator of 1K Daily Profit, but it's all fake. Let me tell you how I found it.
First of all, I found out that that page is in two languages: English and Spanish.
Therefore, I checked the page in Spanish by typing "www.1kdailyprofit.com/es" in the search bar and saw a change in the 1K Daily Profit owner's name.
See what I mean below: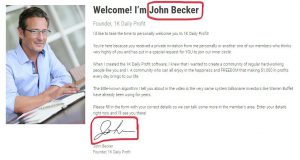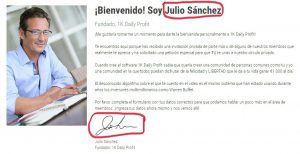 See the evidence that the CEO's name is completely fake? 
Then I was like "if the name's fake, the picture may be fake too", so I searched "businessman teleworking" on Google images, and observe what I found:
.
Pictures of this model can be found on stock photos websites like dreamstime.com and shutterstock.com. 
Anyway, these pictures confirm that "John Becker" is a character made up by the scammers, who will never reveal their real identity.
.
Proof 2 – False testimonials and comments
---
Now let's see the proofs about the fake testimonials and comments.
After finding out that the owner is not real, I thought that it was more than likely that the comments and testimonials were false too.
First of all, I searched for those Facebook and Twitter comments and users but didn't find anything, so I knew I wasn't wrong when I thought that it was all lies.
Then I checked again the page in English and Spanish and finally convinced myself that nothing about 1K Daily Profit was real:

.
It's clear that the names and pictures are made up and photoshopped, but you can also notice how there are no grammatical errors, which makes it less authentical because not everybody writes in the same way.
.
Avoid it at all costs!
---
As I mentioned earlier in this review, the real price of this software is $250, same as the Millionaire Blueprint scam. That's the minimum amount required to get started with any broker. 
The people behind this software will earn a commission for every person they refer to the scam broker. The fake testimonials (the ones who appear in the video) are actors that can make anything for $5, so they'll also make some money.
In the end, they all get a profit off of your hard-earned money. 
Something I didn't talk about is the reason why they own at least 8 domains. Their goal is to scam as many people as possible, so the more pages and domains they have to promote their scheme, the more people they'll reach and deceit.
Honestly, I would stay away from it if I were you, since it's proven that nothing about this software is real and won't do you any good. It is all designed with pure malice and bad intentions.
.
A better alternative to making money online
---
I'm really tired of these scams and evil people, all they do is ruin other people's lives and make the Internet marketing industry have a bad reputation. 
It's possible to make a living online and even a fortune, but it's not easy neither fast. Nothing good that lasts long-term will come to you without hard work and determination, this is the truth.
If you're serious about building an online business or making money online, I encourage you to give Wealthy Affiliate a try.
You can choose to learn what really works or continue to search for programs that can make you rich quick, something that doesn't exist.
.
Thank you for reading my 1K Daily Profit review and I hope I've shown you enough proofs that this thing doesn't work.
If you have any questions or comments about this topic or anything related to Wealthy Affiliate or making money online, feel free to leave a comment below and I'll reply to you. Thanks for dropping by! 🙂