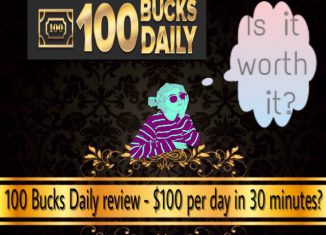 Hey people!
Today I'm going to review a product I've come across named 100 bucks daily. If you've heard of it and wonder whether it works or it's just another scam, then you're in the right place because I'm going to explain what it's all about to help you decide whether it's right for you or not.
Make sure you read my honest review to find out the truth!
.
100 Bucks Daily review
---
Name: 100 Bucks Daily
Website: 100bucksdaily.com
Creators: Billy Darr, David Kirby, Justin Opay
Created in: 2017
Price: $9.95 + upsells
Overall Rating: 43/100
.
---
If you're sick of scams, check out my 1st resource to make money online here!
---
.
What is 100 Bucks Daily about?
---
100 Bucks Daily is a training program supposed to teach you how to turn $5 into $100 daily while working half an hour or less per day and that you can make $100 over and over again by repeating the process.
Billy Darr claims that his method is for beginners and that you don't need any prior experience or technical skills because it's all covered inside the training. 
He claims that he created 100 bucks daily because David and Justin thought that people needed a method that taught them how to make money fast (in less than 24 hours), since all free money-making methods take so long to work.
According to him, this is a "never-before-seen" method for making money online, but this is not true. He won't teach you a brand new method, you'll be taught to promote affiliate offers or even his products by making YouTube videos and promote them with Google Adwords, which is nothing new. Note that you won't learn how to build a real business.
.
What is included in 100 Bucks Daily?
---
If you end up purchasing 100 Bucks Daily, you'll supposedly receive the following:
The money template. Template that Billy uses to turn $5 into $100 or more per day.
Step-by-step video training. Billy claims that he'll show you what you need to know to get started and make money by tomorrow.
Audio version of 100 Bucks Daily. Audio version of the training that you can listen on your phone and tablet.
2x live Q&A money calls. 2 private members Q&A to get your questions answered.
Bonus #1 – $15,281 video case study. You'll apparently get to know how Billy made $15,281 in a matter of days. 
Bonus #2 – Instant money VIP group. You'll get access to this group to know about the latest money-making strategies and interact with Billy, David and Justin.
Bonus #3 – $300/day 365 days in a row case study. Billy will show you how one of his students earned $300 per day within a year.
All of this costs $9.95, which is affordable. However, this is only the start of a sales funnel. Therefore, if you purchase 100 Bucks Daily you'll be offered additional products (upsells & downsells), they'll try to convince you to buy these products by telling you that you need them to get to the next level. 
Upsell #1 ($17). 10 website templates that you can use to start making money "fast".
Upsell #2 ($27). Advanced traffic training program.
Upsell #3 ($47). Ninja plugin to get results 5x quicker.
Upsell #4 ($97). 1 to 1 call with Billy, who will apparently show you how he scaled their online efforts to a 6 figure yearly income.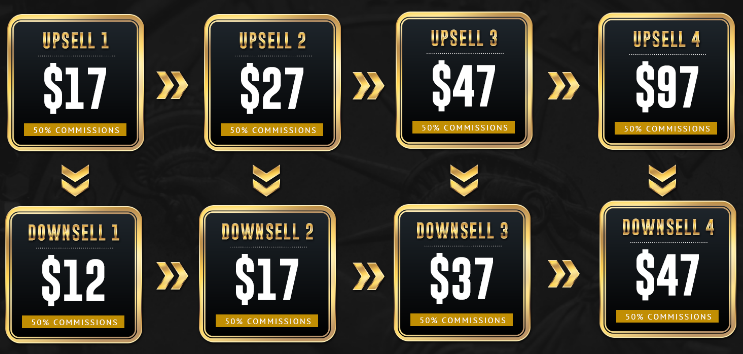 .
What I like & don't like about 100 Bucks Daily
---
There are some things about 100 Bucks Daily that seem ok to me, but there are others that don't look genuine in my opinion.
.
What I like about 100 Bucks Daily 🙂 
---
The creators of this training program are not fictional characters, they're real.
You can contact Billy, Justin and David via Facebook.
You can get a refund (30 day money-back guarantee).
The training is easy to understand.
You can earn some money with the method they teach you.
.
What I don't like about 100 Bucks Daily 🙁 
---
Billy doesn't reveal the information about the upsells and downsells in the 100 Bucks Daily main page. I think that all the information about the prices should be explained in the main site because nobody likes to be presented with unexpected costs after purchasing the product.
He shows a lot of pictures of his earnings. It's ok to show some proofs of what he earns, but it's kind of annoying that he shows more than two because that's something that scammers usually do. 
The hype. Billy claims that you can make $100 per day starting today and that it will only take you half an hour or less to have this set up, what I think it's too much taking into account the amount of time you put in. Nothing great comes easily or fast as they say.
Fake scarcity. I'm sure you've seen some fake countdowns like the one in the picture. I know there are some that are not fake, but this one it is because I refreshed the page a couple of times and the countdown resetted back to 11. Therefore, the price doesn't increase when the counter goes down to 0.

2 annoying pop-ups. Not 1, but 2! This is another element that it's usually present in the scam sites. They do the most so you don't leave the site without giving them your email or purchasing the product.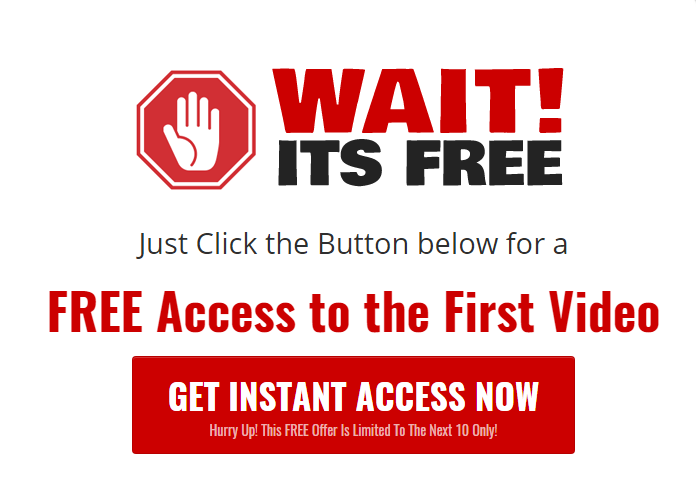 .
Is 100 Bucks Daily a scam?
---
I won't call 100 Bucks Daily a scam because you're getting something for what you're paying for. It's not a scam like Hedge Formula Group or CFD Society. You can give it a try if you want and ask for a refund if you don't like it.
However, I won't be recommending this training program because it's not a high quality product since they don't deliver everything they promise. They make exaggerated claims when they say that you'll earn $100 per day while only putting in 30 minutes of effort or less. 
Note that Billy has more products similar to this one, like why not focus on a product and make it better instead of creating a bunch of low quality products? 
Another thing is that they use some tactics used by scammers and they don't even reveal all the information you need to know like the upsells and downsells in the main page, so they're not being transparent neither genuine. 
.
An ethical way to earn money online
---
There are many ways to make money online, but if you want to earn that money that will impact your life, then affiliate marketing is one of the best business models because it benefits everyone involved in it and it enables you to start for free.
If you want to create and grow an affiliate marketing business, then I recommend that you check out a digital marketing platform called Wealthy Affiliate (free to try, no credit card required!).
At Wealthy Affiliate you won't only get the proper training to build your business, you'll also get help and support from the community members and the founders.
If you would like to know more about Wealthy Affiliate, click the button below to read my full review:

.
When you join, you'll complete your profile and I and other members will welcome you and help you get started. I'm so excited to see you inside! 😀 
I hope this review has been helpful to you and now you know what you need to make the right choice. Don't hesitate to share it on social media so more people can benefit from it.
If you have any comments or questions related to 100 Bucks Daily, making money online or Wealthy Affiliate, then drop a comment below and I'll reach out to you ASAP. 
Best wishes 🙂