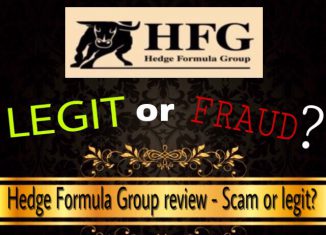 Hey guys, 
I've recently come across a site called HFG (Hedge Formula Group), so as always I had to check it out and find out what it's all about.
Make sure you read my honest review to find out the truth about the Hedge Formula!
.
The Hedge Formula Group review
---
Name: Hedge Formula Group
Website: thehedgeformula.co
Owner: "George Dalio"
Created in: 2017
Price: "Free"
Overall rating: 2/100
.
---
If you're sick of scams, check out my 1st resource to make money online here!
---
.
What is Hedge Formula Group about?
---
The Hedge Formula is said to be an auto trading software created by the Hedge Formula Group. This software is supposed to predict with 98% accuracy if any trade is going to go up and down. 
The alleged creator of HFG, George Dalio, claims that only 100 people will get to watch that video (the HFG promotional video you can find on their site) and that you've been one of the selected ones. He says that he and his team don't want the software to get abused and exploited, so they'll deleted it when the video gets 100 views.
Then he says that your chance of earning thousands of dollars per day will disappear too, so that's when the word "scam" came to my mind because scammers always say this kind of stuff to make you feel guilty if you don't do what they tell you.
After that, this man says that he's not trying to sell anything and that you can put your credit card away and close your wallet. Sounds familiar? To me yes, I've heard of this in other scam videos.
Then he starts talking about how the formula he used made him more than $29 million last year and how it can make you a millionaire if you take advantage of that "life-changing opportunity". 
He also claims that most systems work against you and make you lose your money, but that his system is different. I honestly don't believe that he's different because I've heard the same thing in other scam videos.
That old man just says this and that he wants all scam softwares to be stopped because he wants you to believe that he's not going to scam you.
.
How does Hedge Formula Group work?
---
Well, Hedge Formula Group only works for the people who have created it, the scammers behind it. 
Yes, Hedge Formula Group is a scam. That's what I concluded after watching the promotional video. 
If you've taken a look at the HFG site, you may be wondering why it's a hoax as it doesn't appear a "pay now" or "buy now" button. Let me explain.
In the second page (the page you're directed to after entering an email and name), you're told to enter your name and email again, plus a password and your phone in order to get started.
If you do, they'll assign you one of their recommended brokers and tell you that you need to fund your account with a minimum deposit of $250 to activate your trading account.
They don't ask for a payment but the moment you make the $250 investment, they're already getting paid. Why? Because their recommended brokers pay them commissions for bringing people who make the investment. 
If you fund your account with $250 or more, then don't expect to get that money back to you. These crooks recommended brokers are usually unlicensed and don't let traders to transfer their money to their bank account.
If you think that you may make some money (not what they promise), think again. You won't earn any penny because they've designed that software in a way that won't let you transfer any money to your bank account.
If you ask them for a withdrawal, they'll make excuses like "you have not reached the minimum threshold" or they won't give you a response. If they do reply, it will be to incite you to invest more because con artists want to remorselessly get away with everything they can.
.
Is Hedge Formula Group a scam?
---
Hedge Formula Group is a scam, as I said before. Everything about it is purely fabricated to steal people their hard-earned money.
If you're still not sure why the Hedge Formula Group is BS, then go see the proofs I've posted in this section.
.
Red flag 1 – The testimonials are not real
---
I've seen some of the HFG testimonials appear in other scams I've exposed before like Dubai Lifestyle App and The Bitcoin Code. Most of these testimonials are Fiverr actors the scammers pay in exchange of a positive opinion.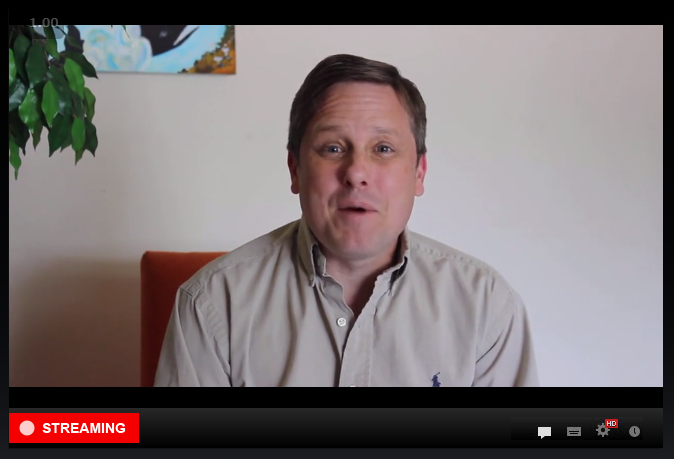 As you can see, these paid actors have appeared in more than a scam video, so don't believe what they say. They earn a living by talking positive about systems that don't work, nothing genuine about it.
.
Red flag 2 – Scammy pop-up
---
If you've been scammed before or have visited a scam site, then this kind of annoying pop-ups may look familiar to you.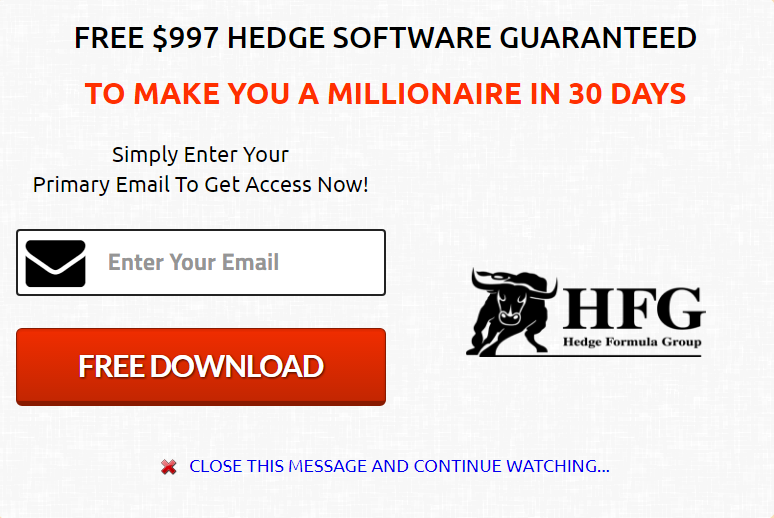 The typical get-rich-quick scam pop-up. If you enter your email, expect to get a bunch of spam emails about scam softwares like this one. If I were you I would immediately close this pop-up because it won't benefit you in any kind of way.
.
Red flag 3 – They sell you dreams 
---
"George Dalio", another hired actor by the scammers, simply tells you what the fraudsters have told him.
He tells you that you can become rich quick if you become a member of the Hedge Formula Group and that you'll be able to have the lifestyle you've always wanted by buying your dream home and all that fancy and luxurious stuff.
They just do it to get you excited so you don't question their real intentions and end up joining.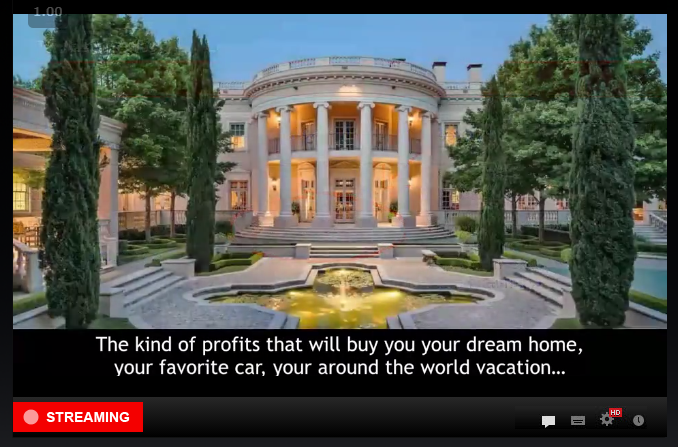 .
Red flag 4 – What does HFG really mean?
---
These criminals have just copied the logo for the Hedge Formula Group scam. I noticed this by finding out the Hedge Fund Group website. See what I mean below: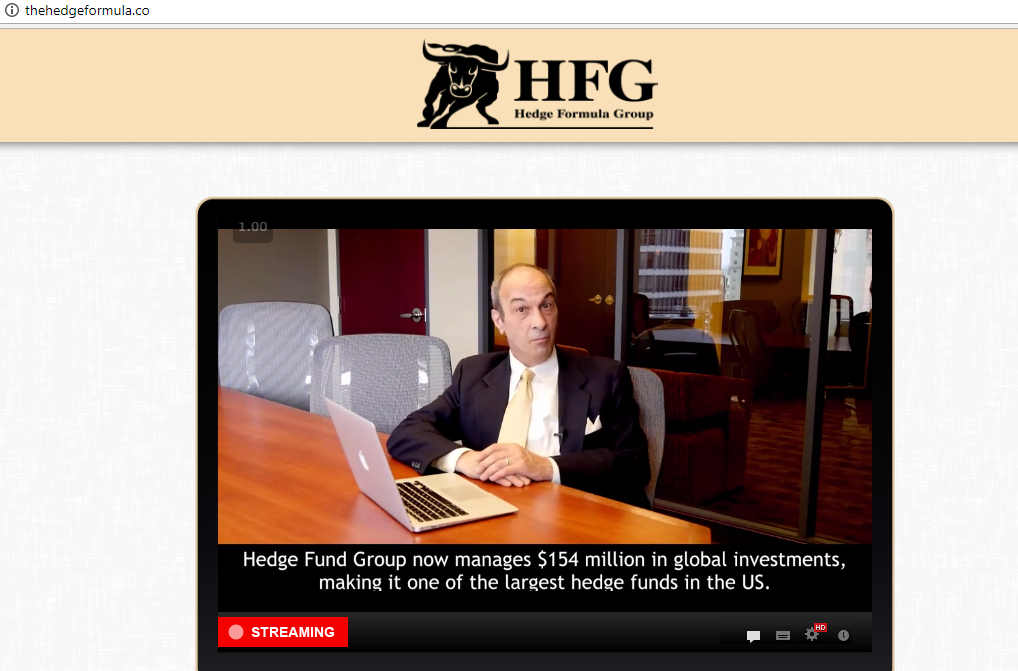 I searched for information about George Dalio but there's nothing about him in the Hedge Fund Group site, so it's confirmed that "George Dalio" is an actor the swindlers hired to create the Hedge Formula Group scam. 
These fraudsters stole the Hedge Fund Group logo and changed "Fund" for "Formula". What would you rely on more: a site that only contains a video and a sign up form (Hedge Formula Group hoax) or a site with sections like about us, FAQ, contact information… (Hedge Fund Group)? Clearly the second one.
.
My final thoughts
---
I believe I've provided enough information and proofs that expose the Hedge Formula Group as the scam it is. If you've heard of Hedge Formula Group and have been thinking whether to join or not, I hope this review has helped you make the right choice.
There's no system or software that can make people rich in a short period of time and without putting in the effort. Earning money online is no magic, as I explained in a post I wrote about the truth about making money online. 
If you're just starting out or struggling to find a legitimate money-making opportunity, then I highly recommend that you check out Wealthy Affiliate (free to try).
It's a digital marketing platform for people who want to create and grow a successful online business based on their passions or simply make money online. 
You won't only get courses and tutorials that teach you to build your own business, you'll also get help and support from the community members (myself included) and owners!
If you want to know more about Wealthy Affiliate, click the button below to read my detailed WA review:

.
I hope this review has been of help to you and you never become a victim of scams like Hedge Formula Group. Please feel free to share this review on social media so more people can know about this fraud.
If you have any questions or comments regarding Hedge Formula Group, making money online or Wealthy Affiliate, don't hesitate to leave a comment below and I'll reply as soon as possible. Thanks for reading! 🙂 
Cheers =)