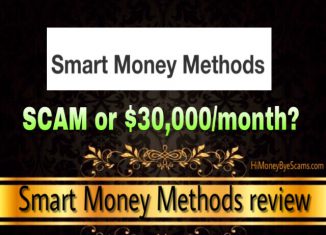 Welcome to my Smart Money Methods review!
You have landed on the Smart Money Methods sales page (smartmoneymethods.com) and are wondering if this is the perfect program to become financially free? 
Or is Smart Money Methods a scam that will leave you with less money and waste your precious time?
First of all, I need to congratulate you for taking the time to do your research before buying into another online money-making product.
This is the way to avoid scams and find the real way to earn money online!
I have reviewed lots of products and systems like this one and most of them (not to say all of them) turn out to be duds, so I'm sure Smart Money Methods is no different.
In this review I will explain what Smart Money Methods is about, how it really works, the scam signs that I have found, what other people have not told you and more.
Smart Money Methods review
---
Name: Smart Money Methods
Website URL: smartmoneymethods.com
Creator: "Mark Foster"
Price: $37 + upsells
Created in: July 2018
Overall Ranking: 2/10
---
If you're sick of scams, check out my 1st resource to make money online here!
---
What is Smart Money Methods about?
---
Smart Money Methods is a ClickBank product that came out some days ago so I thought I would check it out to see if it was like the others I've reviewed.
The moment I came across the Smart Money Methods sales page I thought it would be another low-quality product because it had the typical characteristics: a high-income claim, a sales video and a lack of important information.
But I didn't want to think it was not worth it so I started watching the sales video and did intensive research before reaching any conclusions.
The spokesman for the Smart Money Methods sales video really knows how to get you excited. 
He claims his "smart money methods" will make you $30,000 a month and you only need to work 30 minutes a day.
According to him, anyone can make money using these methods because they are very easy to make money with. They don't require you to have any prior experience or special skills. 
And the best part is, you can start making money the same day you get started. Sounds amazing, right?
Not only that, you can work from anywhere as long as you have a laptop/smartphone connected to the Internet. 
These methods are supposed to be something that you have never seen before.
Well, I have watched multiple sales videos like this where they claim to have a secret system or "never-seen-before" method but then I found out they are nothing new.
Another huge red flag is the fact that they don't mention what they are exactly selling or what these methods are about.
In my opinion, they don't really care about you making an informed decision because, if they did, they would tell you what you really get for buying it.
The reason why they don't mention what you are getting or what you will be doing to make money is because they don't want you to do your research and find out if the methods they talk about are legitimate or not. 
If you knew what they are really offering, you would do some research to determine whether or not it's worth the price, right?
I have personally bought many of these "secret" systems in the past and they all turned out to be ways to make money online that I had already heard of.
Truth be told, there are no legit ways to make the kind of money that they talk about in the short period of time they say. 
Making money online is not magical and there are no push button systems that can make you instant cash.
That's why I believe that you will get frustrated or disappointed if you buy Smart Money Methods and expect it to be the solution to your current financial situation.
How does Smart Money Methods really work?
---
Smart Money Methods works just like most ClickBank products that I have reviewed.
The truth is that it doesn't work like they tell you in the sales video. The way it really works is to make money to the con artists who are behind this product.
They are taking advantage of the fact that there are people who are in need of urgent cash and don't know how the process of making money online works.
Instead of telling you what you get if you decide to buy it or what tasks you will have to do to make money, they are selling you this product as if it were the ultimate solution to making a living online in a short amount of time.
But the thing is, there are no products or methods that will make you money without doing much work. They are basically selling you something that doesn't really exist.
The easier a method is, the less money you will earn. 
Yes, it's possible to earn the kind of money they say, but it takes a looot of work and time to make it.
It's very misleading
---
After watching the sales video, I noticed that they are not even clear about what Smart Money Methods is about.
Why are they telling you that you can earn $30,000 a month but then they claim that the methods they teach you can make you some extra money?
I mean, extra money is way less than $30,000 a month so what they say doesn't really make sense.
Oh, and there's a moment they mention this is a 100% legitimate and easy to follow system, which is not the same thing as "money methods".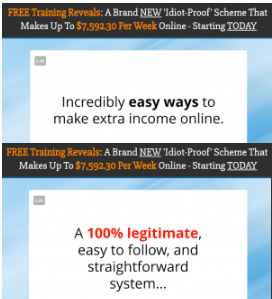 Not only that, it makes no sense that they are selling something that can supposedly make you $30,000 a month for only $37. Why would they offer a valuable system/method for only $37?
So what are you really getting if you decide to purchase Smart Money Methods? You will get some training about a few ways of earning money online, some of which you can use to make some extra cash and others that can help you make a full-time income online.
The problem is that the training is low-quality, which means that it doesn't go over everything you need to know to make the amount of money they talk about. 
In other words, the training is not thorough so it's easy to get lost not knowing what to do. 
The upsells
---
The fact that they will bombard you with upsells after making your payment is an indication that the initial product (Smart Money Methods) is not as good as they want you to believe.
After paying the initial $37, they will try to convince you to purchase these two other upsells:
Upsell 1 –  Smart Money 2.0 ($197) 

Upsell 2 – Smart Money Pro ($177)
They will tell you that these additional products can make you money faster or that it's all done-for-you so that you end up giving them more money.
The truth is that they tell you what you want to hear to take your hard-earned money.
If the initial product doesn't work as advertised, what can you expect from these upsells? 
Well, the good thing is that you will be able to get a refund if you are not satisfied with these products because they are sold through ClickBank. I've personally never had a problem to get my money back.
But is it worth it to buy something that doesn't work as promised? Yes, you can get your money back, but what you cannot get back is your time.
Click here to check out my FREE Earn Money Online Guide!
Is Smart Money Methods a scam?
---
What I know for sure is that Smart Money Methods delivers some training for your money, but the training provided is not good enough to make you the kind of money they talk about in the sales video.
In other words, this product doesn't work like they tell you, as I said before.
So is Smart Money Methods a scam? The answer to this question actually depends on how you define a scam.
In my opinion, this is just a low-quality product like many others that I have exposed before and don't recommend:
With that being said, I want to point out some of the red flags and scam signs that I have found because they indicate Smart Money Methods is not as legitimate as it seems.
Mark Foster is probably a fictional character
---
According to the spokesman, the owner of Smart Money Methods is Mark Foster.
However, he doesn't show any picture of himself that helps us confirm he's not a fictitious character.
Well, there's a moment in the sales video where he shows us a picture of him with his parents.
To be honest, I couldn't help but laugh when I saw that picture because it looked fake to me. So I did an image search and found out that this picture can be found on other sites.
Below you can see the proof:
What does this mean? The people who appear in that picture are not Mark and his parents.
The truth is that the creators of Smart Money Methods have downloaded this picture from another site and used it for the sales video.
As I said before, I've watched many sales videos like this and it turns out that the story they tell and the characters they use are usually fake.
Scam artists usually don't reveal their real identities to avoid getting persecuted by their victims.
So how can we trust the owners of Smart Money Methods if they don't show up? The fact that they are not being transparent about what they are offering is enough for me not to trust them.
No genuine positive reviews
---
We are also told that the people who are using this Smart Money Methods products have been making up to $7,500 a week, but I don't believe it for several reasons.
First of all, they don't show any picture of these testimonials to confirm that real people are using it.
Second of all, they don't show any real proof that confirms people are making money thanks to this product.
Third of all, there are no positive Smart Money Methods reviews. 
The reviews that I have found are from people who are trying to make a quick commission by selling this product.
So, don't you think that there would be some positive reviews if it were true that people who have bought this product have been earning thousands of dollars a week?
"Limited spots available" fake claim
---
Another thing that did not surprise me is that they claim there are limited spots available or that only a limited number of people will get to watch this video.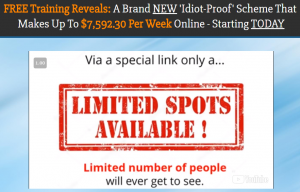 I've heard the same thing in other videos so I know that this is not true for several reasons.
Firstly, this sales page is not private so anyone can access it.
Secondly, you can leave that page and come back next week and you will see that nothing has changed.
Thirdly, why would they limit the amount of sales they can make? These scam artists will never reject a single payment because they want to make as much money as possible.
Lack of legal information
---
Last but not least, they don't provide any legal information which is another red flag.
I actually got surprised by this one because most ClickBank products that I have reviewed provide a privacy policy or terms & conditions page, but not Smart Money Methods.
This is another reason why I do not trust this product. Any legitimate program or company would provide a privacy policy, disclaimer or terms & conditions page.
The fact that Smart Money Methods does not provide any of this information means that there's no way to know how they are going to use the information we give away. Are they going to keep it private or are they going to sell it to third parties? No way to know. 
A real way to make a full-time income online
---
Smart Money Methods is very misleading and doesn't live up to its promises, so I don't recommend it.
It's possible to earn the kind of money they talk about but it takes time and will definitely not happen without making efforts.
Another thing is, it's important that you learn from a comprehensive, in-depth training because this way you will not get lost and will not have to figure it all out yourself.
I've tried many ways to earn money online but it wasn't until I discovered a legitimate business model & training that I learned how to make a consistent income online.
This business model is newbie-friendly and takes advantage of the millions of products & services that are being sold online every single day. It will only get better because every day more and more products are available.
There are many people who are making money using this business model, but it didn't happen instantly or without doing much work.
Making a full-time income online is like anything worth achieving in life. It takes commitment, time and effort.
Now that I'm making a consistent income month after month, I feel I can help other people do the same. That's why I created a FREE step-by-step earn money online guide that you can check out below:
In my guide, I show you what I do to make money online, how the process works, why it works, the business model I use, the training and tools that I use…
And I also show you how to get started for free! Yes, you can rest assured knowing that you don't have to spend a penny to check it all out =)
In addition, you will not have to do this alone. I will also show you how you can get free help and support from a huge community of like-minded people who really want to see you succeed!
Not only that, I will be there for you so you can get in touch with me whenever you need help. 🙂 
I'm so excited for you to say bye to the scams and get on the right way to make money online!
CHECK OUT MY FREE EARN MONEY ONLINE GUIDE HERE!
I hope this Smart Money Methods review has been helpful to you and you will make the best possible decision. Don't hesitate to share it with whoever you believe that will benefit from it!
If there's something else you want to know or you have any questions, feel free to leave a comment below and I'll get back to you ASAP! ? 
Whatever you do next, I wish you nothing but the best =)