Welcome to In.Yestor.net review!
Are you wondering if in.yestor is a scam? Or is it a legit website to make more than $150 per day?
If you have these kind of questions, you have come to the right place because this In.Yestor.net review reveals everything you need to know about this platform.
You know, the Internet is full of fraudsters who steal people's money with no remorse, so I'm glad that you're doing your due diligence.
That's the way to avoid getting scammed and find the best method to generate daily passive income online!
For your information, this In.Yestor.net review does not include any referral link because I have decided not to promote this platform.
Instead of promoting it, my purpose is to help you decide whether in.yestor.net is good for you or not.
In.Yestor review summary
---
Name: In.Yestor
Website URL: in.yestor.net
Owner: Hidden
Cost: Free to sign up (but it can end up very expensive)
Who is it for? The owners
Do I recommend it? No, it's a fake website!
---
If you're tired of scams, check out my 1st resource to make a 4-digit monthly passive income HERE!
---
What is In.Yestor.net about?
---
In.Yestor is a platform that claims you can make money for completing simple tasks and getting referrals. This kind of websites are called GPT (Get Paid To) websites and are only to make extra money.
The fact that In.Yestor claims you can make a full-time income just by installing some programs and getting referrals is a big red flag because legit GPT websites don't pay that much.
In fact, all GPT websites that claim you can earn over $100 a day end up being scams that don't pay.
They claim you receive $10 after signing up, $0.5 per referral and 30% of your referral earnings. It doesn't sound much but the fact that you at least need $120 to request a withdrawal is a big red flag because it's too much if you compare it to legit GPT websites.
You see, In.Yestor is not the kind of site you can use if you need fast money. Well, my research makes me believe this platform is a complete waste of time.
If making $1000 a month or $100 per day was that easy, then there wouldn't be so many people struggling to make ends meet. 
As someone who has exposed hundreds of websites, I can say that In.Yestor doesn't work differently from other websites that I avoid.
How In.Yestor.net really works
---
In.Yestor does not work in a way that you like because it's not a website that you can trust to make money.
It's basically a website that exists to collect people's personal data and then sell it to other scammers. They ask for your email, your name, your password and your payment information because that's the information they need to take your money.
You know, they will try all the possible email and password combinations to access your personal accounts and take all your money and useful information.
The reason they want you to get so many referrals is that the more people who sign up and give their information, the more money these fraudsters will get.
Oh, and the reason they let you join for free is that they want you to believe it's not a scam. They're not asking for your money, but they're asking for information that can get them money.
In addition, you need to be careful with the programs and apps you download because they contain malware and viruses. You don't want to get your device damaged, right?
Fake testimonials
---
The owners of In.Yestor.net want you to believe that there are people making money with it. They don't want you to know that they're not paying members.
I know their testimonials are fake because those pictures appear on other websites with other names:
Because of this, I cannot trust in.yestor.net and the other website. I'm sure there are many other websites that have these fake testimonials so I wouldn't be surprised if the scammers behind it are the same people.
When a website has fake testimonials, it means that the owners are trying to hide something. What I think they're trying to hide is the fact that In.Yestor does not pay.
You know, if members were getting paid, the testimonials would be real. The fact that all the testimonials are fake is something that makes me think there are no members getting paid.
No info about the owners
---
They don't disclose who has created In.Yestor or how we can get in touch with them, they don't even provide pictures of themselves.
So how can you trust a website whose owners are not being transparent? They want us to be honest about our personal data, but they're not honest about themselves, don't you think that's unfair?
From my experience, I can affirm that many of the sites that turned out to be scams didn't reveal any info about their owners or had fake characters. 
It makes sense that scammers avoid showing up because they know what it could happen if their victims found them out. They know that they would get fined, sued or reported, so they want to avoid it at all costs.
If they faced the negative consequences of their crimes, they wouldn't be able to keep creating scams. So these unethical individuals do the most to be able to rip people off without getting caught.
Unfortunately, most members realize they have been ripped off when it's too late and they have already given their information and wasted their time.
Just the fact that there are no positive In.Yestor reviews is an indication that it's not as awesome as they claim. When a website/ company works, there are positive reviews from members and customers. And that's not the case for in.yestor.
Fake contact information
---
When it comes to support, they don't offer any. They provide some numbers and an email address, but the problem is that they are fake.
As you can see, there's no mail server for their email address, which means that the email address provided doesn't really exist.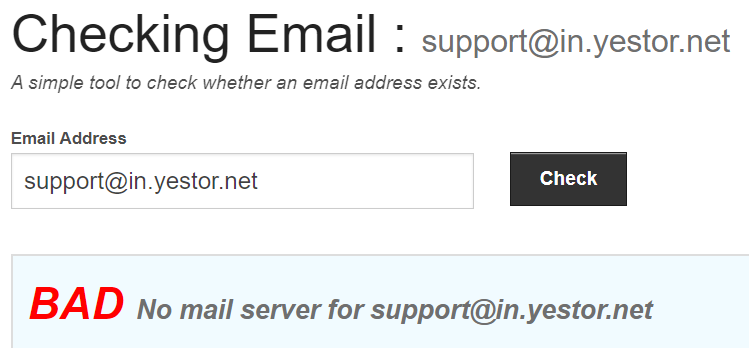 If you email them, they will not reply. This is an indication that they don't want to hear from members.
You know, any legit company offers some support, so the fact that In.Yestor.net does not offer any help is enough for me to conclude that their owners don't have good intentions.
Is In.Yestor.net a scam?
---
With all the scam signs that in.yestor.net has, don't you think it has to be considered a scam?
In my opinion, the people behind in.yestor.net are the same who created other scam websites, since they have similar claims and work the same way.
Let's sum up the red flags:
No information about the owners

Fake testimonials

It looks like other scam websites

Negative reviews

Lack of contact information 

Unrealistic income claims
The owners of this scam changed its name to mislead potential victims, since they know that if potential members find honest negative reviews, they won't join.
Making money online requires dedication, time, effort and skills. I don't know of anyone making a substantial income just by completing tasks and sharing links, so don't believe anyone who promises you a big amount of money by doing little.
So for me, in.yestor.net is a complete waste of time and effort, that's why I have decided not to promote it. I don't want anyone to get scammed.
Many of the people who have fallen for this kind of websites end up not only feeling frustrated, but also guilty for having told others to sign up.
What you decide to do is up to you, but my final verdict is that it's best to stay away from In.Yestor.net at all costs.
Stop wasting your time! Your path to making hundreds a day starts now!
---
If you want to earn money by completing surveys or tasks, you could earn about $2 per day, which I believe that is not worth your energy.
When I was getting started, I tried a few survey sites but I looked somewhere else because there's not much money to be earned with surveys, not to mention that I got frustrated every time I got disqualified.
The truth is that you can earn more with your 9 to 5 job than with paid surveys or tasks. That's why I don't recommend surveys or GPT sites to people who are looking to make an income online.
If you have wasted time on a fake site like In.Yestor.net, it's time for you to take action to achieve your goals.
You know, you cannot get your wasted time back, so it's important to make sure that your next efforts go towards a real way to make you money.
I'm not going to say that you don't need to work or make efforts because I would be lying, and I hate lies. 
The truth is that if you put in the time and effort, you can make your dream a reality! The business I'm using is called affiliate marketing, which is about helping people find solutions to their problems, and if they purchase something that can help them, I earn commissions.
I'm living proof this business works, as you can see in one of my payment proofs: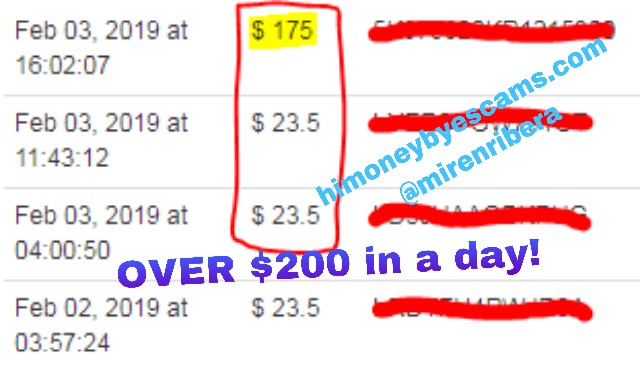 Why am I showing this? Because I don't want those scammers to make you lose hope, I want you to see with your eyes what's possible.
If you're committed to making passive income, I invite you to check out my FREE guide here: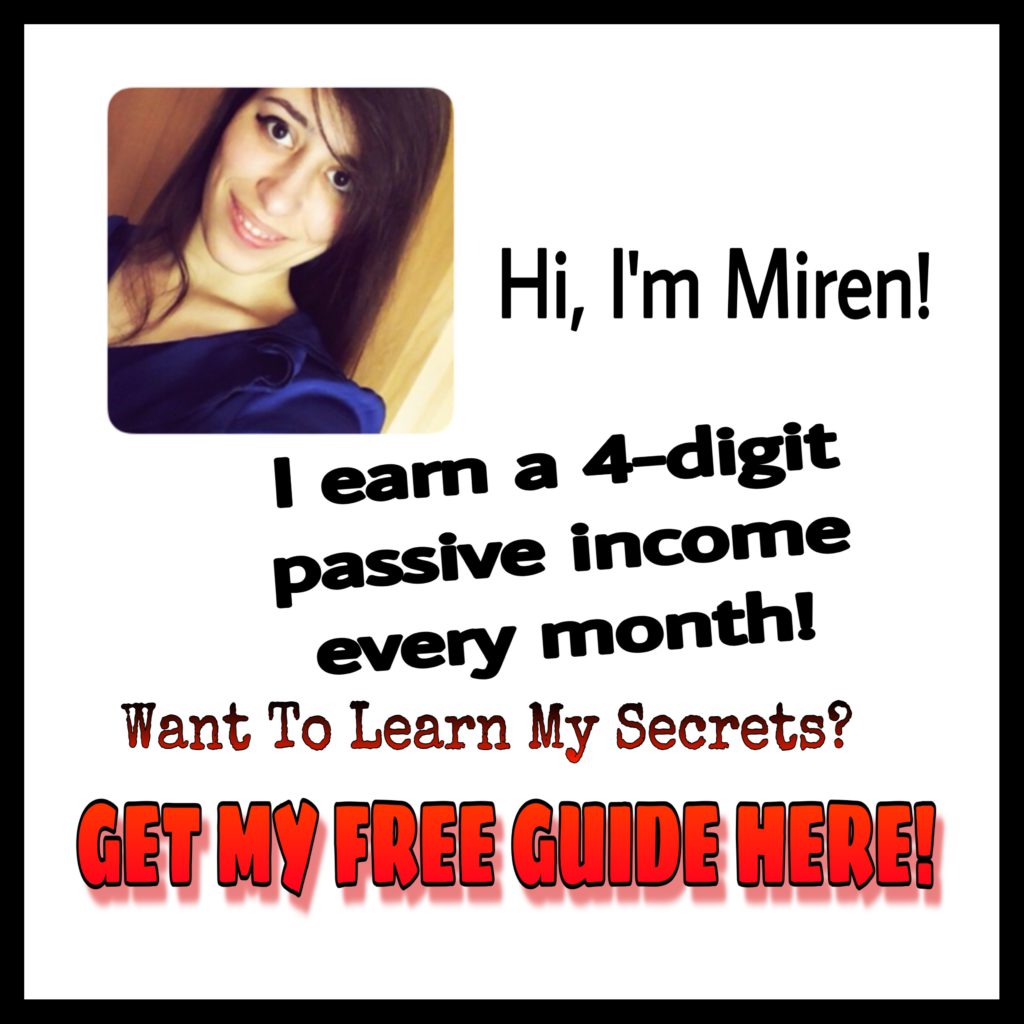 My guide is FREE (no login information required, just click here to start reading it), which means that you have nothing to lose and a lot to gain 🙂
Oh, and what if you ever have questions or need support? No problem! I'm not like those fraudsters because I'm honest about who I am and I also show you how you can message me. 
If you read my free guide until the end, you will learn how you can get started today for free, what training and tools I've used, the reasons this method works, proof that it works and so on. 
Stop wasting your time on dangerous scams and get your affiliate marketing business started today!
I will leave this quote here:
If you want something you have never had, you must be willing to do something you have never done.
I hope this In.Yestor.net review has been helpful to you and you will make the best possible decision.
Feel free to share it with whoever you believe that will find it useful!
If there's something else you want to know or you have any questions about In.Yestor.net or would like to share your experience, please leave a comment below. I love hearing from you all!
Whatever you do next, I wish you nothing but the best =)