Hey everyone!
Have you come across DrawMoney.club and are wondering whether it's a good site to make money or is DrawMoney.club a scam that we need to avoid?
I'm glad that you've done your research because DrawMoney.club is not what they claim and I've decided to prepare this review to let you all know the truth and help you make an informed choice.
.
DrawMoney.club review
---
Name: DrawMoney.club
Website URL: drawmoney.club
Owners: Hidden
Created in: December 2017
Price: Free to join
Overall Rating: 0/10
.
---
If you're sick of scams, check out my 1st resource to make money online here!
---
.
What is DrawMoney.club about?
---
DrawMoney.club is a site that claims to offer you a way to earn money by viewing ad units and getting referrals.
According to the information on their site, you can earn like 10 cents per ad view and 50% of the money your referrals make.
They say you can easily earn $100 per day equal $3000 if you view ad units for a few hours.
It sounds too easy and good to be true when we take into consideration the fact that making money online comes with hard work and time.
Apart from that, it seems like it's a good opportunity for everyone because it's free to sign up and there's no prior experience or special skills required.
When it comes to payments, they claim to make payments via PayPal, Western Union, credit card and bank account.
It all sounds pretty simple as the only thing you need to do is to share your referral link and view ad units, something that we do everyday on social networks. So wouldn't it be fantastic to get paid for it?
But after doing intensive research regarding DrawMoney.club, I reached the conclusion it's not a legit site.
.
How DrawMoney.club is supposed to work
---
They require you to fill in a form with a username, a password, an email address and a number of a picture. 
After that, you'll get access to the user area where you can find your referral link, similar to the one in the picture below:

So you can share it wherever you want like Facebook, Instagram, Twitter, private message, forums, blogs… and then you'll earn 50% of the earnings of the people who join through your link.
50% of your referral earnings is too much in my opinion.
When it comes to making money by viewing ads, you'll have to click the button "start watching payed ads" and then will get taken to another page like this: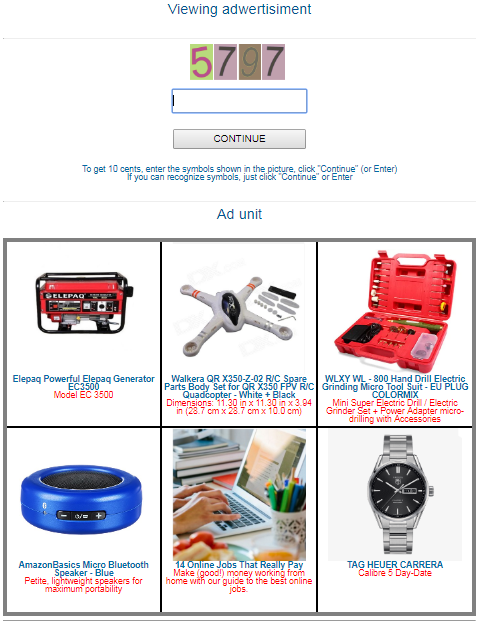 In order to earn 10 cents, you only have to type a 4 digits number like "5797" and click continue. So you're supposed to earn $100 per day if you do that 1000 times.
Sounds cool, doesn't it? 
I know it sounds amazing, I would tell all my loved ones about that site if it really worked, but the truth is that it works very different from what they claim.
.
Why DrawMoney.club will not pay us
---
The truth is that DrawMoney.club will not pay us because it would make no sense if they did.
The reason why they will not pay us is because they're not getting paid if we view those ad units. 
Those ad units are just pictures of products that have links embedded. The thing is, those links are just normal links instead of affiliate links, which means that DrawMoney.club is not affiliated with the stores of the products seen in the ad units. 
As you can see below, the link highlighted is not an affiliate link:
Apart from that, they're not offering any products or services of value and they let us join for free, which means that they're not getting paid. That's why it would make no sense that they paid us.
They would get into huge debt if they paid us without them making money first.
Therefore, why did they create the DrawMoney.club site? I mean, no one is going to pay for a domain or build a site for nothing. People behind DrawMoney.club have a purpose. 
.
What's the purpose of DrawMoney.club?
---
First of all, the owners of DrawMoney.club want as many people as possible to join because they want to collect as many information as possible.
And then they'll sell your information to other companies or scam artists. That's why you can expect to receive spam and junk emails in your inbox.
This is very dangerous because they're putting you at a risk for identity theft.
But that's not all. If you reach the $150 minimum payout threshold and try to claim your payment, they'll ask you to buy referrals.
The problem is that these referrals are fake and what they really want is to get your financial information and charge you as many times as possible. 
And then, when they have your money, they will not allow you to log in to your account. That's what scam artists do, after getting what they want, they run and hide.
.
Is DrawMoney.club a scam?
---
DrawMoney.club is a scam, I have no doubt about it.
Their real purpose is to make money at your expense instead of helping you make money, as I've explained before.
With that being said, let's see some red flags that prove DrawMoney.club is not legit.
They don't have any important page. They don't have privacy policy, earnings disclaimer or terms & conditions page. This is not a good sign because those pages contain essential and legal information that can help you determine whether you want to get involved with a company/site or not. Why are they hiding how they're going to use the information you provide them? This is an indication that they don't really care about us making an informed choice concerning them.
Lack of support. They have a support section but the comments are more than likely invented by them. The fact that they tell you to register before being able to ask questions is a red flag because it means that their main goal is to get you to join instead of helping you with your questions. They don't provide an email address, which indicates that they don't really care about us.
No information about the owners of DrawMoney.club. There's no way to know who's running the show. I noticed they have a footer menu where it says "about us", but I clicked it and got taken to their FAQ section. Why don't they reveal who they are? Why don't let us know who we're dealing with? I personally don't trust sites whose owners don't show up because I consider it to be a lack of transparency.
Their news section makes no sense. They have a news section where you can read the updates they've made over the last few months but the truth is that it's all fabricated because some news dates are prior to the DrawMoney.club domain registration date (December 12th 2017), so it makes no sense that they've made updates before creating that site.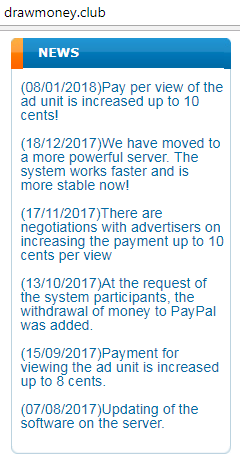 .
My closing thoughts
---
I don't recommend that you try out DrawMoney.club because it was not designed to help you earn money online.
They want you to believe that you can earn free and easy money just to get your personal and financial information and charge you as much as possible, so I recommend that you stay away from that site as it will not benefit you in any way.
Sites like DrawMoney.club, ThNews18.com and MyLove4Money.com have only been created to generate profits to its owners.
In fact, most sites and programs that claim you will earn money easily or fast end up being scams or low quality programs so I highly suggest that you avoid them.
Truth be told, earning a living online requires real work, patience, persistence and learning from your part. If it really were as easy as scam artists claim, don't you think everyone would be doing this?
If you dream big and are committed to doing what it takes to make a full-time income online and more, then I really believe that my favorite digital marketing platform will be beneficial for you.
This platform is very affordable (free to get started) and provides courses, step-by-step training, video tutorials and other useful tools that will guide you through the process of building an affiliate marketing business in a way that's sustainable for the long haul.
I've been a member of this platform for almost 2 years and I've never looked back. I don't only love their high quality training and tools, I also love how supportive and friendly lots of members are, like you can literally ask a question and there's always someone willing to help you out! I'll personally be there for you too =)
If you would like to find out more, click the button below now:
It's time to stop the scam madness! Looking forward to seeing you inside =)
I hope this review has been helpful to you and you will make the right choice.
If you have any questions or want to share your thoughts with us, don't hesitate to drop a comment below and I'll get back to you soon!
Whatever you do next, I wish you the best 🙂