Hi there!
Have you come across a site called MyLove4Money and are wondering whether you can earn money easily or is MyLove4Money.com a scam that doesn't live up to its promises?
Well done on doing your research and landing on this review because you're about to find out the truth about MyLove4Money and will end up making an informed decision concerning it.
.
MyLove4Money review
---
Name: MyLove4Money
Website: mylove4money.com
Owner: Unrevealed
Created in: January 2018
Price: Free to join
Overall Rating: 0/10
.
---
If you're sick of scams, check out my 1st resource to make money online here!
---
.
What is MyLove4Money.com?
---
MyLove4Money.com is supposed to be a site that offers a simple and easy way to make money online.
They say that all you have to do is sharing your referral link and get others to click it and join MyLove4Money.com. You'll make $5 per every link visit.
Sounds good?
In fact, they're giving us the chance to make money by doing something we usually do. I mean, who doesn't share links on social media? 
It sounds way too good to be true because it's free to join and anyone can do this as special skills or prior experience are not required.
But is MyLove4Money really that great or is it not real? Let's see how it's supposed to work.
.
How MyLove4Money is supposed to work
---
First of all, you have to fill out a form with a username, an email address, a password, your name (optional) and an address (optional) in order to register.
Then you'll get access to your account dashboard, where you can find your affiliate link, similar to the one in the picture:
As you can observe above, you get a $10 bonus after signing up.
So all you have to do is sharing your referral link and get others to join. They claim you'll earn $5 each time someone visits the MyLove4Money site through your link.
However, have they forgotten to mention how much are we going to earn per referral? Like it's not the same to get paid per link visit than per referral. I dislike the fact that they're not clear about it.
But this is not all, the payment withdraw section is a little bit confusing:

I personally don't like the fact that they're not clear about the payment methods they use. 
In their homepage they claim they make payments via PayPal, bank wire, Western Union and cheque. But then in the account area it says the withdrawal type is Bitcoin and they don't let you change it.
I don't understand why they claim they're offering various ways to get paid but then they don't let us choose it. 
But this is not all. There are other things that prove MyLove4Money is not what it claims, which I'm going to talk about in the next section.
.
What's the real goal of MyLove4Money.com?
---
I don't like to be the bearer of bad news but helping you earn money online is not the real goal of MyLove4Money.com. Their real goal is to make money themselves. 
They claim that they're getting paid for bringing traffic to some advertisers, but this is not true because the MyLove4Money site has no ads. They don't even have any products or services.
So how can they make money if they let you join for free? Well, they're letting everyone join for free because they want to collect as much personal information (like your name, address and email address) as possible and sell it to other companies and scammers.
Therefore, you can expect to receive undesired emails from people you don't know. 
And that's not all. They also try to make money through affiliate marketing, which is a lucrative business model but the problem is that the owners of MyLove4Money.com are not doing it the proper way.
Let me explain why.
If you reach the $300 minimum payout threshold and try to cash out, they'll ask you to complete a fake captcha test which is basically a list of offers (like taking surveys, signing up to other sites, downloading apps…) that have affiliate links embedded.
This means that they'll get paid commissions if you complete some tasks or pay for something through their affiliate links.
There's nothing wrong with getting paid for getting others to do tasks or buying something. The problem is that these offers might be related to other scam sites or apps that contain malware, something that is not beneficial for you.
But the problem here is that they will not pay you even if you complete all those offers. 
.
Is MyLove4Money a scam?
---
Yes, MyLove4Money.com is a scam without any doubt.
They lie about the payment methods, they will not pay you and they're after your money and information. 
With that being said, let's see other red flags that prove how much of a fake site MyLove4Money.com is.
.
No information about the owners
---
There's no section or page about them so there's no way to know who is running MyLove4Money. 
They don't mention any names or show any pictures of them, which means that they're trying to hide something.
I personally don't trust sites whose owners don't show up. Keep in mind that scammers usually fake their identities or avoid revealing them so that they don't get persecuted by the scammed.
.
Their contact information is fake
---
There's a page where you can find their two email addresses to contact them, but the problem is that they're fake.
I checked out whether they exist or not and they don't. If you try to contact them via those email addresses, you'll get the "mail delivery subsystem", which means that those email addresses don't exist.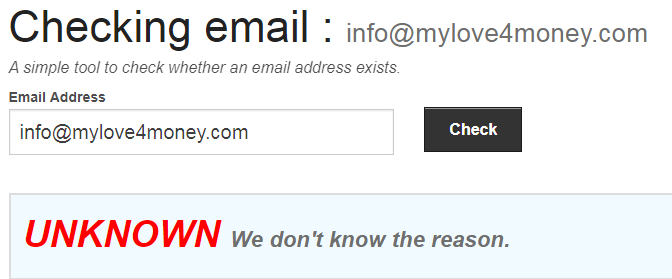 Why do they lie about their contact information? Because they don't really care about us and they don't want to hear from us. This confirms that their real intentions towards us are not good.
.
Lack of important information
---
I noticed they don't have a earnings disclaimer, terms & conditions or privacy policy page, which is a red flag because this is essential information to address.
The fact that they're not being transparent about how they'll use your personal information or whether it will be secure or not indicates that they don't care about you making an informed decision concerning them.
.
A real place to earn money online
---
MyLove4Money is definitely blacklisted and not recommended. 
They trick you into believing you'll make easy money just to get your personal information and send you to bad offers and scam sites they're affiliated with. 
I personally use affiliate marketing to make money, but the difference between me and MyLove4Money.com is that I don't deceit people or lead them to scam offers. 
Instead, I show them the right way to make money using the great and simple affiliate marketing business model. 
The fact that this business model is simple doesn't mean it's easy to make money with. Making money online is not easy and doesn't come without putting in the effort.
The truth is that you'll have to work your butt off if you're really committed to making this happen. Great things don't come easily or overnight, they're built with time.
With that being said, if you're willing to do what it takes to make a full-time income online, I strongly believe my favorite digital marketing platform will be beneficial for you.
This platform is very affordable (free to join by the way) and offers step-by-step training, courses, video tutorials and other useful tools that will guide you through the process of building an affiliate marketing business the proper way.
I also let you know that you can rest assured knowing that inside this platform there's always someone there willing to help you out! I'll personally be there for you =)
If you're interested in learning more, click the button below now:
It's your time to get on the right track to make money online! Looking forward to seeing you inside =)
I hope you've found the answers you were looking for regarding MyLove4Money.com.
Feel free to leave a comment below if you have any questions or opinions. I always love hearing from you!
All the best 🙂