Hi guys!
Today I'm going to review a brand new trading software called Maximus Edge AutoBot. It's recently come out and it's getting lot of buzz so I thought I would review it and let you all know the real nature of this software.
If you're wondering whether Maximus Edge AutoBot is a reliable software or just another of the numerous scams we can find on the net, make sure you read this review before making any kind of investment.
Let's start this Maximus Edge AutoBot review!
.
Maximus Edge AutoBot review
---
Name: Maximus Edge AutoBot 
Websites:
maximusedge.com

maximus-edge.com

maximusedgeautobot.com
Owner: "Max"
Created in: 2017
Price: "Free"
Overall Ranking: 10/100
.
---
If you're sick of scams, check out my 1st resource to make money online here!
---
.
What is Maximus Edge AutoBot about?
---
Maximus Edge AutoBot is a brand new semi-automated binary options software that it's supposed to be adjusted to all types of traders, beginners and experienced ones. 
The alleged creator of this software, Max, claims that he and his team have adjusted, tweaked and optimized the five most popular indicators to make them as profitable as possible to potential investors.
This software has up to 84% winning rates and operates this way:
Analyzes the market during price range periods.

Identifies trends as they occur.

Determine their strenght and whether they're are likely to profit or not.

Proceed accordingly to the results obtained previously.
This software is presumed to be created by people with knowledge and experience in trading, that's why it's different from most softwares out there, according to Max.
The Maximus Edge AutoBot website looks kind of legit and doesn't seem to be a scam software, but after watching the sales video I started suspecting about its legitimacy and did some research to come to the conclusion I'm going to talk about in the next section.
.
Is Maximus Edge AutoBot a scam?
---
Maximus Edge Autobot is a scam, in my opinion. 
I must say this software doesn't present the typical scam signs that other scam softwares have, maybe because they wanted to make this software look more reliable.
If you've come across this software and are kind of skeptical, pay attention to the proofs I'm going to post in this section, because they expose this software as the fraud it is.
.
Red flag 1 – No way to verify the owner's identity
---
The alleged founder of this software introduces himself as "Max" or "Maximus" but he doesn't say his surname and doesn't tell us any way to contact him. 
I searched for information about him and his background history but didn't find anything outside the Maximus Edge AutoBot website.
Therefore, there's no way to verify his real identity so I believe he's an actor that has been paid to recite a script.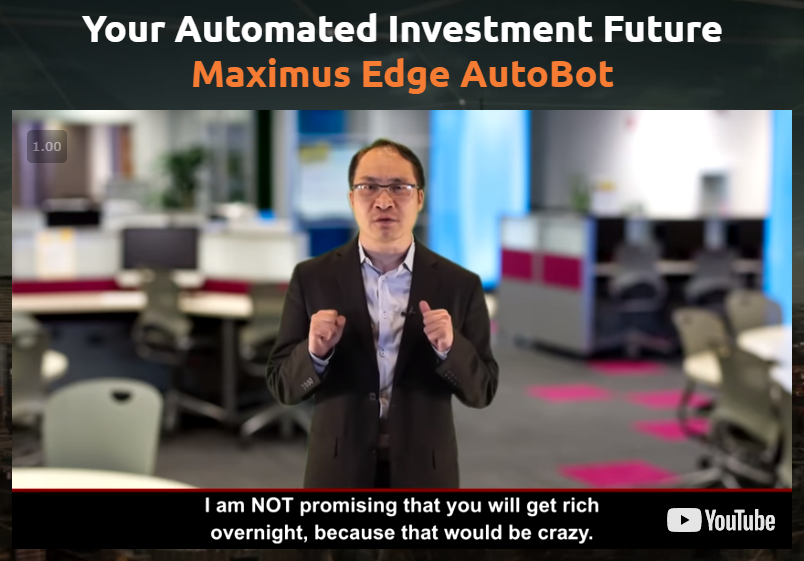 Note that lots of con artists may tell you that they're not promising that you will get rich quick in order to make you think that what they're offering is not a get-rich-quick scam. They know that it would be obvious that it's a scam if they promised easy riches.
Furthermore, I found out that he's acting in front of a green screen. They've purchased it in sites like Shutterstock or Proplates.

.
Red flag 2 – Fake members 
---
If you've watched the Maximus Edge AutoBot sales video and page, you may have noticed that there were no testimonials or positive reviews. 
However, if you log into the software, there's a section named "Social" were you can see pictures and names of supposed members. 
Here's what I mean:
So I did image searches and found out they had stolen the pictures and invented the members names.
"Marc Howell"'s real name is George Bradley, you can click here to take a look at his Twitter profile.
"Stanley Kelly"'s real name is Sam Soffes, he has a YouTube channel (as seen below) and you can check out his Twitter profile too.

I believe the real creators of Maximus Edge AutoBot have not posted testimonials on the main page or sales video to make it look different from other scams. But once inside the software, you can see how fake it is.
.
Red flag 3 – Unregulated broker
---
This software deals with unlicensed brokers like CFDStocks, which is a big red flag.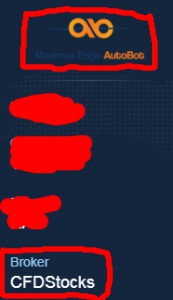 Take into account that CFDStocks is not regulated by any authority. Most unregulated brokers steal their customers money.
People behind Maximus Edge AutoBot are affiliated with unlicensed brokers, who pay these scam artists big commissions for every paying customer they bring to the brokers.
I've read some negative reviews on CFDStocks, most of the people who've written them claim to have lost their money.
My advice for you is that you check out whether a broker is regulated or not before making any type of investment.
.
Red flag 4 – It's not free like they claim it to be
---
"Max" claims that this software is 100% free, but that's not true because you'll be asked to fund your trading account with at least $250.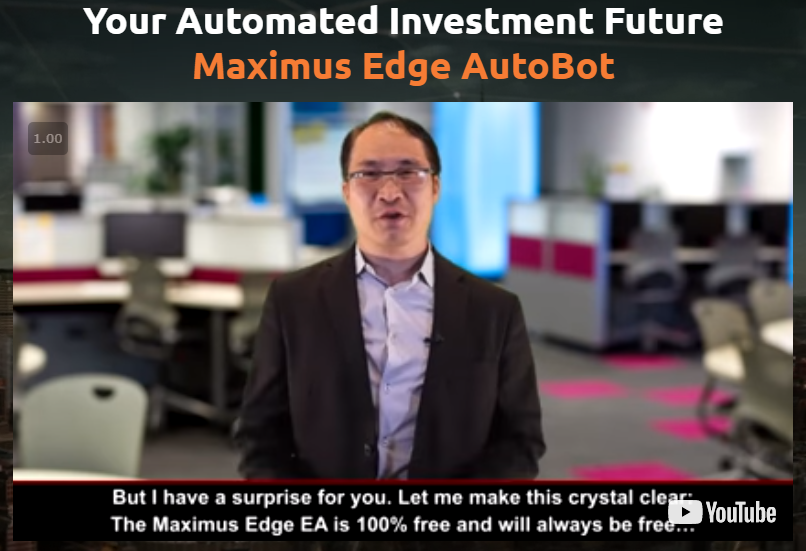 There's no free software out there. You always need a minimum amount of money to start trading. This one is quite common in scams.
Even though they won't tell you to pay, you'll be paying them if you make the $250 investment as you'll be giving them your credit card information and then they'll use it to their advantage.
.
Red flag 5 – They pressure you to join
---
He claims that this offer will not stay around for long so you need to act fast. He doesn't say the time that's left or the number of spots available not to make it look like a scam.
However, he wants to rush you into joining as you can see below: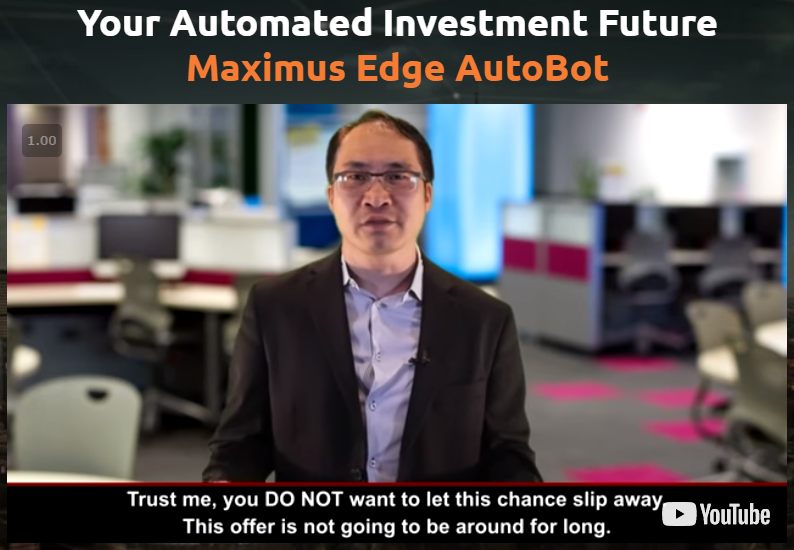 If their software is that good, why rush? A legitimate company wouldn't try to force you to join.
.
Red flag 6 – "Start profiting today, no hard work"
---
According to "Max", you won't need to learn a thing to start trading because that software will do all the hard work for you.
To be honest, I don't agree with this. Trading requires skills, learning and patience. It's no different than building a business.
You need to acquire basic trading knowledge, study the markets and keep on learning every day. There's no software or system that will do all the hard work for you.
This man also claims that you can start making a profit today. He doesn't say that you'll make a lot of money, but "today" means "fast".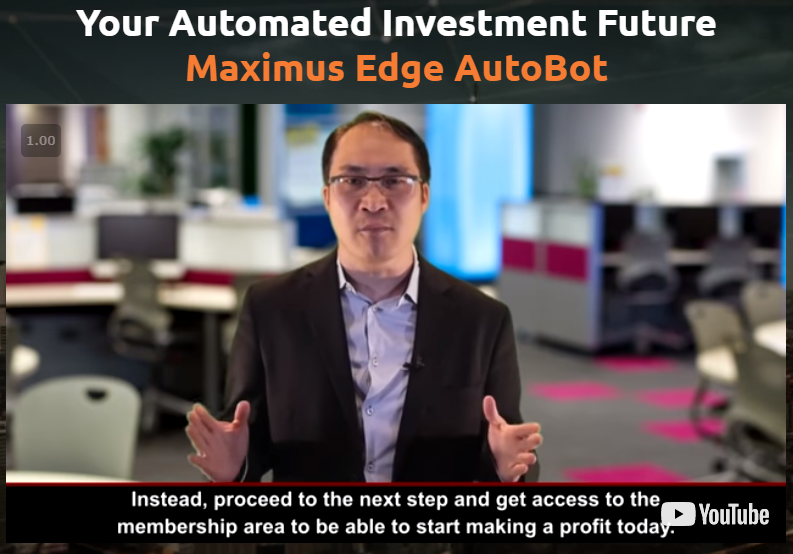 So thanks to this magical software, you'll be able to make money overnight and won't need to learn a thing. Do you believe such claims? We all know that nothing good in life comes in an easy and fast way. 
.
Can Maximus Edge AutoBot make you money?
---
In my opinion, Maximus Edge AutoBot won't make you a penny because the red flags I've posted in the previous section scream "scam!".
Apart from that, you also need to take into consideration that trading is very risky. I recommend that you don't invest money you can't afford to lose. 
If you scroll down to the bottom of the Maximus Edge AutoBot site, you'll read this disclaimer:
See how it says that you may lose some or all of your invested capital? This is important to take into account but not something that's said in the sales video, that's why I believe they hope it will go unnoticed and you won't read it.
This software doesn't work differently than other scam softwares I've also exposed like the following:
If you haven't heard of any of these scams before, this is how they operate:
First of all, they'll ask you for your personal information like your name, email, phone number and password.
If you provide this information, you'll be assigned a broker and will get access to your trading account.
Then they'll ask you to fund your account with at least $250 (the broker's minimum requirement) to start trading.
If you make the investment, no matter if you win or lose the trades, they won't let you withdraw your money, not to mention that they'll call you to entice you to invest more by telling you that that's the only way to earn your money back.
Moreover, they'll send you spam emails related to other scam offers.
If you're wondering what pockets your money will land in, the answer is this: the unlicensed broker, the creators of the Maximus Edge AutoBot software and their affiliates.
I've read positive reviews about this software, but guess what? Many of them are talking positive about this software because they're earning commissions to do so. Yes, they're getting paid for every paying customer they bring to the scam brokers.
.
My final verdict on Maximus Edge AutoBot
---
Let's remember some of the reasons why Maximus Edge AutoBot should not be trusted:
There's no way to verify the owner's real identity and he's likely to be a paid actor.
They lie about the price by saying it's free when it costs $250.
There are no real testimonials, the members profiles inside the software are invented.
They say that you don't need to learn a thing or work hard to make this software generate profits for you.
They pressure you to sign up.
There are lots of fake review sites out there that claim these scam softwares to be legit, but the truth is that they are affliated with them so their main goal is to make money, they don't care whether you lose money or not.  
Watch out who you give your personal and financial information to, there are lots of swindlers out there, who are trying to hide their real intentions in every way possible. 
Another thing that tells me this software is not reliable is the fact that it's new and came out last month (August 2017), so how there are people claiming that it's the best trading software of 2017? I guess they're just saying this to make a quick buck.
My advice for you is to stay away from Maximus Edge AutoBot and anyone who claims this software to be safe. They're clearly lying to you and only care about their own benefit. 
By the way, earning a living online in an ethical way is possible. It's not easy or quick like most unethical marketers and fraudsters claim it to be.
The truth is, making money online is like making money offline. It requires real hard work, commitment, learning, patience, persistence, among other factors.
If you're willing to do what it takes to generate an online income, there's platform I've been recommending that you'll love.
This platform offers step-by-step training and courses that will teach you to build an online business from scratch, the right way, the way that works.
You'll learn to create a business based on what you love so this will make the process more amusing. 🙂 
Another thing I love about this platform is the fact that you can start for free (not a free trial, no credit card required) to see whether it's for you or not.
My top recommended platform also has a supportive community full of like-minded people who are willing to give you a hand with any question or issue you may have along the way.
Not to mention that the founders of this platform are usually interacting with the members and helping them out too!
If you're interested in knowing more about my top recommendation, you can now click the banner below to read the detailed review I wrote about it:
.
I hope I've helped you with this review and now you have enough knowledge to make an informed decision. Don't hesitate to share this review on social media so more people can benefit from it.
You can leave a comment below if you have any questions or would like to share your opinion about Maximus Edge AutoBot or other online programs/systems. You can also request a review and I'll be more than glad to help you out. 
Whatever you do next, I wish you the best! 🙂