Hi people!
Have you ever heard of My Internet Success Coach? I just stumbled upon its website and it looked like a scam page, but I wanted to go deeper to find out the truth and write a review to let you all know whether it's worth it or not.
In this review I'll merely explain what is My Internet Success Coach, how it works, whether it can benefit you or not and more!
So let's get straight up to this review!
.
My Internet Success Coach review
---
Name: My Internet Success Coach
Website: www.myinternetsuccesscoach.com
Owner: "William Chase"
Created in: 2014
Price: "Free"
Overall Ranking: 1/10
.
---
If you're sick of scams, check out my 1st resource to make money online here!
---
.
What is My Internet Success Coach about?
---
Just the second I started watching My Internet Success Coach sales video, I felt something wasn't right about it.
William Chase, the alleged creator of My Internet Success Coach, claims that he's going to give you something very valuable for free just for watching that video. Too good to be true right?
He's going to share some confidential information so he doesn't want you send anyone else to that page. The thing is, that page is public so anyone who has an electronic device and an Internet connection can watch that "secret video" lol.
You're supposed to get the same exact system that William has been using to earn thousands of dollars per day, named My Internet Success Coach. But he doesn't explain what this system is about.
He then starts talking about how poor he was and how lucky he got when he was given this system by his friend Zachary, who became a millionaire thanks to a system he was using over and over. 
This system is supposed to be amazing because it's not only 100% legal and ethical, it also helps other people and gets you paid. It's beginner friendly, 100% automated and all done-for-you.
He goes on and on talking about how much money he's made by only working 20 minutes a day. He only had to set it up and let it run on its own.
According to William, you won't need to learn anything, create any website or blog, waste hours writing content, put up advertisements, or trade binary options. His magical system allows you to live the life of your dreams and buy anything you want.
So he says that his system will give you automated, quick and easy to set up commission portals and then someone of his team will guide you, and then you'll only need to fill in a short form to tell them where to send your money. However, he still doesn't explain where this money comes from. 
Just after watching the "My Internet Success Coach" sales video, I was already convinced it was a scam. More on this in the next section.
.
Is My Internet Success Coach a scam?
---
My Internet Success Coach is a scam, in my opinion.
If you've watched My Internet Success Coach sales video and taken a look at that site, you may have noticed some red flags or perhaps you also felt something was off since the beginning. 
In this section I'm going to post some unquestionable proofs that show My Internet Success Coach should not be trusted.
.
Who is William Chase?
---
The man who presents My Internet Success Coach doesn't show his face. He claims his name is William Chase but doesn't show how he looks like.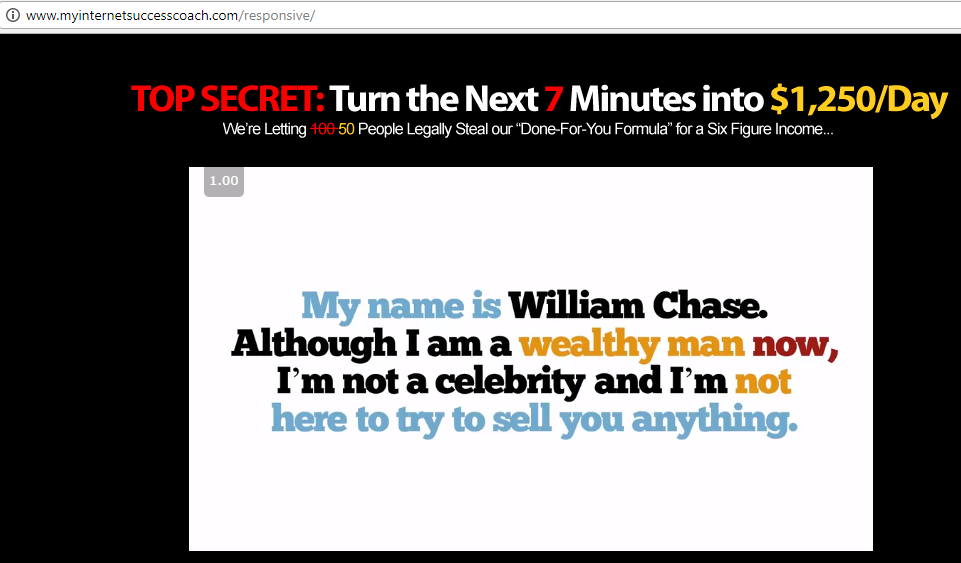 I searched for information about him and his relation to My Internet Success Coach but found nothing. In My Internet Success Coach website there's no information as to how we can get in touch with him. 
I've seen something similar happen in other scams I've reviewed like Retired Millionaire and 700 Profit Club.
Therefore, there's no way to verify his identity. I believe he's just a voice actor the people behind My Internet Success Coach paid to recite a script. 
This is one of the reasons why I wouldn't rely on My Internet Success Coach. Would you trust a system whose creator is unknown?
.
The fake testimonials
---
There are several people who appear in the video and claim that My Internet Success Coach has changed their lives by making them a lot of money that has enable them to quit their jobs and have their dream lifestyle, but all of this is fake.
All of them are paid actors that can easily be found on freelancing sites like Fiverr. Most of these actors only charge $5 per video so it's a no brainer for the scammers. They pay them just to make their system appear legit.
Another thing is, we're also shown some pictures of people who're supposed to be members of My Internet Success Coach. See an example below:
So I did this image search and found out it was on a stock photography site called FreeArt: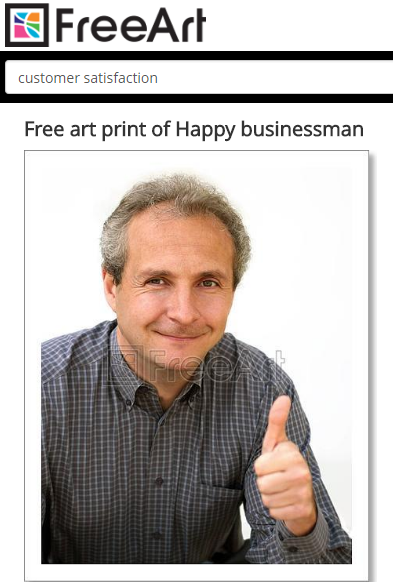 This just indicates that the rest of the pictures are also stock pictures or have been stolen from other sites around the net. It's clear that these so called testimonials are not genuine.
.
The "make money fast, no hard work" kind of system
---
So William or whoever he is, talks a lot about how his system is going to make you money in less than 24 hours and that you won't need to put in the work to make it happen.
You'll only need to work 20 minutes per day to set the system up and that's it. You'll see how the amount of money this system makes you will increase day after day. 
Well, I assure you this is complete BS. If it were that easy, we would all be rich by now. 
Some of his claims don't even make sense. He first says that his system will make you from $1,000 to $5,000 in 90 days.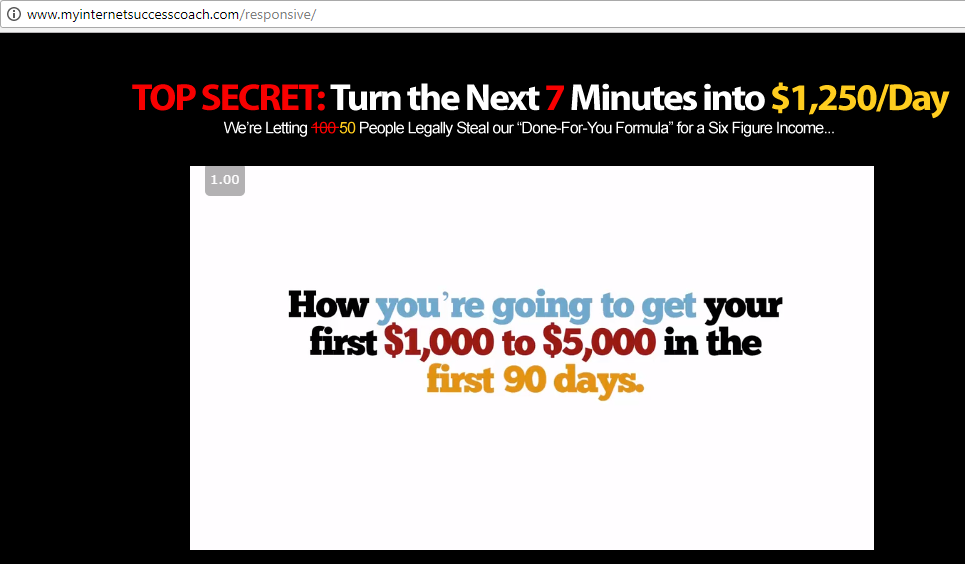 And then he tells you that you'll have made more than $100,000 in 180 days. 
If you do some math, $5,000 in 90 days would be $10,000 in 180 days, not $180,000. 
.
The fake guarantee
---
So you're guaranteed to make $100,000. At least that's what "William" claims.
However, the disclaimer we can find at the bottom of My Internet Success Coach site doesn't say so.
The disclaimer states that the typical purchaser doesn't make money with that system and you're not guaranteed any income or success. Therefore, there's no guarantee as it's said in the sales video.
I guess they don't say the truth in the video because then nobody would purchase this product. They hope that the disclaimer will go unnoticed and you won't read it, that's why it's written in a tiny letter. 
.
This system is not free
---
Since the beginning of the video, you're told that you're going to be given this system for free.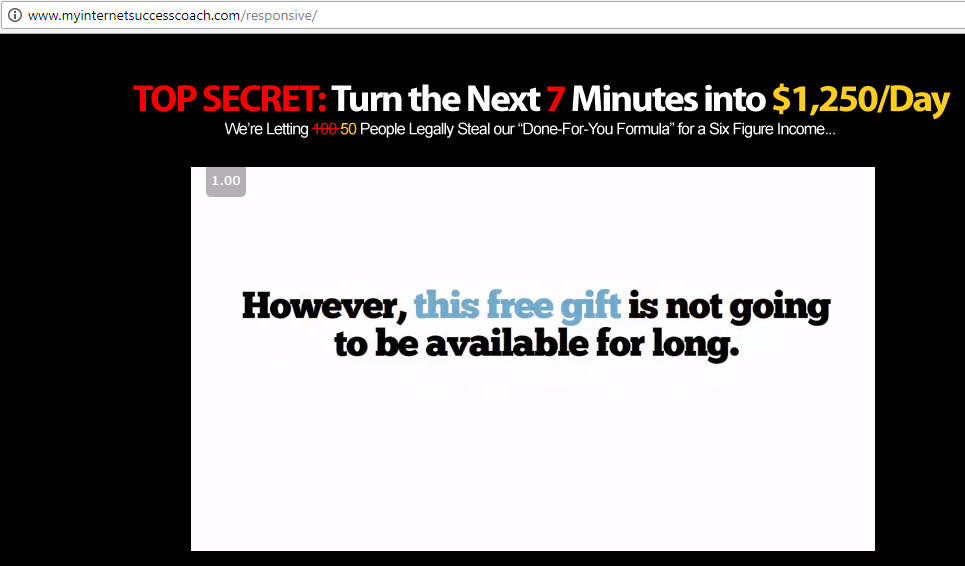 Nonetheless, before the video comes to an end, "William" claims that he had to spend $256,000 to develop this system and it costs $15,000 to maintain it.
So he doesn't want to lose money and that's why you'll need to make a little investment to get access to it, a $49 fee.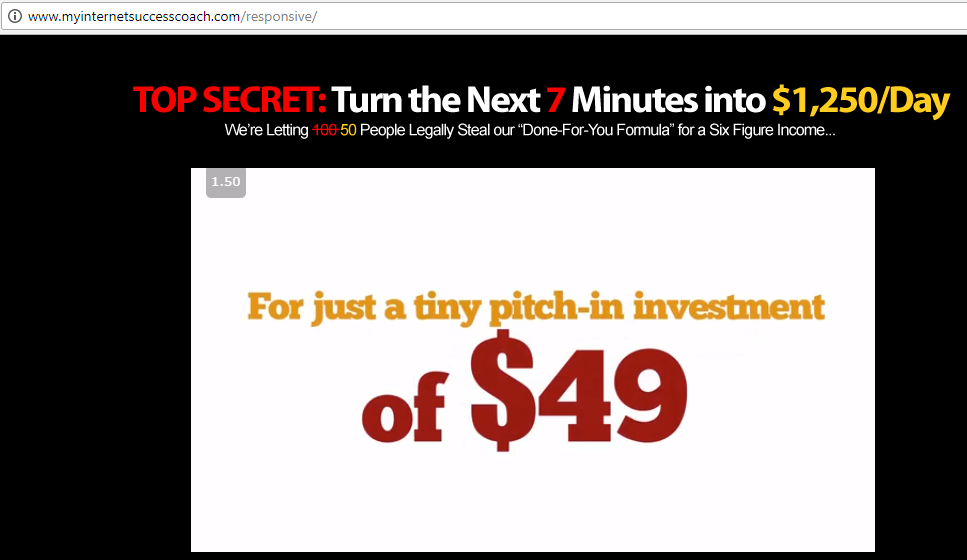 Oh, and if we take into account that he said he was poor, how did he get all that money to develop the system?
If his system works that well, why doesn't he let you pay for it after you've made the money?
.
What does it happen if you join My Internet Success Coach?
---
If you enter your email in the form you can find below the sales video, you'll be taken to another page where you'll need to fill in a form and make the payment.
And guess the surprise! The price is not $49, it's $98 as seen below:
The moment you pay the $98, you already are part of MOBE (My Online Business Education). I've already seen this program being promoted through other scam pages like Automated Daily Income. 
First of all, after paying $98, you'll get a coach/sponsor who will guide you through a 21 step training. This training will basically teach you how to recruit other people into the same system and sell them the high-ticket products MOBE offers.
However, if you want to make those commissions they talk about in the video, you'll first need to spend thousands of dollars on MOBE products. Your coach will try to incite you to purchase those products so they can earn those vast commissions.
The products they offer may contain some good training on Internet marketing, but they're too expensive if we take into consideration that you can learn the same stuff for way less than $500 or even for free in other platforms like the one I recommend.
.
My final thoughts 
---
My Internet Success Coach is nothing more than a sales funnel used to lead people to MOBE. I guess the person or the people who have created My Internet Success Coach are MOBE affiliates.
Even though MOBE may offer some valuable lessons that will teach you to earn money online, their products are overpriced and that's one of the reasons why I won't be recommending it to beginners or people who are on a low budget. 
I really dislike the deceitful tactics and lies they use in the "My Internet Success Coach" to get people into MOBE. They lie about the price, the testimonials, the limited number of spots available, the earnings…
They lack transparency and honesty. It's not what they offer what makes me not trust them, it's the way they're promoting it. What can you expect to learn from people who're lying to you? Nothing good. 
In conclusion, my advice for you is to stay away from My Internet Success Coach and MOBE. Making money online is possible, but not the way these unethical marketers want you to believe.
You won't earn money online today, overnight or tomorrow. This is something that requires real hard work, time, dedication, consistency, among other factors.
If you're the type of people who is really willing to do what it takes to earn a living online or more, then you'll love a platform I've been recommending for more than a year now. 
This platform has been in business for more than 12 years and offers step-by-step training and courses on how to create and grow an online business in a way that's profitable for the long-term. 
Apart from the training and education, I love many things about this platform, the following are two of them:
It enables you to start for free, no credit card required. You can get the starter/free membership that includes 2 free websites, free hosting, training on how to get started and more!
The community members (included myself) and owners are very supportive and willing to help you out with any question or issue you may have. I've personally always had my questions answered!
If you're interested in learning more about my top recommendation, I encourage you to click the banner below to read the detailed review I wrote about it:
.
So we've come to the end of this review! I hope it has been useful to you and now you have enough information to make the right choice. Feel free to share it on social media so more people can benefit from it.
In case you have any questions or would like to share your opinion about My Internet Success Coach or other programs, drop a comment below and I'll be very glad to connect with you. I love hearing from my readers! 🙂 
Have a great day 😀