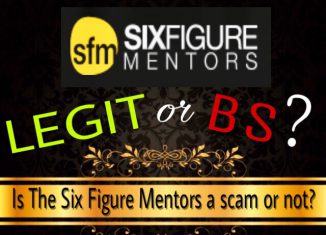 Hey there!
Today I'm going to write a review about an online platform called The Six Figure Mentors.
If you want to know whether The Six Figure Mentors is a great opportunity to make an online income or it's just another scam, then make sure you read this review.
I'll be explaining what The Six Figure Mentors is about, what it's inside, how much it costs and more.
So let's get started with this Six Figure Mentors review!
.
The Six Figure Mentors review
---
Name: The Six Figure Mentors
Website: https://thesixfigurementors.com/
Founders: Stuart Ross & Jay Kubassek
Created in: 2010
Price: from $25 per month to $2,500 per year
Overall Ranking: 55/100
.
---
If you're sick of scams, check out my 1st resource to make money online here!
---
.
What is The Six Figure Mentors about?
---
The Six Figure Mentors is a digital marketing platform that was created in 2010 by two online entrepreneurs named Stuart Ross and Jay Kubassek. 
This platform is supposed to provide training, tools, resources and community support to help you succeed in the online business world.
According to Stuart and Jay, this program is suited for people from all walks of life: grandparents, stay-at-home parents, college and university students, existing business owners, people who don't like their job…
Even though they don't say a thing about MLM, this program offers a multi level marketing business opportunity, as I'll explain later in this review.
SFM reminds me of other companies like Digital Altitude or Empower Network (already out of business) because of its high-ticket products.
.
What does The Six Figure Mentors include?
---
As an affiliate, you can join the program for free. In case you want to get access to the training, they give you a free trial for 30 days, but you need to provide your credit card information before joining. This is what this free trial includes:
Access to the members site, which includes an step-by-step online business success module.
A recording of one of the founders visionary call where they share advanced insights and explain SFM developments.
A business system consultant, who will be there to support you along the way.
Access to the Digital Skills platform, which includes educational 60-120 second videos.
Once this free trial finishes, you'll need to pay for one of the following memberships if you want to stay in The Six Figure Mentors:
Student membership. It includes affiliate tools like done-for-you affiliate links and sales pages, sales funnels, marketing banners, a customizable link generator & tracking generator, live event recordings, the "Digital Skills Platform" and the "Digital Business System" introductory module. Price: $25 per month.
Essential membership. This one includes the same as the Student membership, the "Digital Business System" modules, an step by step marketing blueprint, a training library, the "Digital Business Lounge" premium membership, access to the private community site, weekly live training webinars and the chance to choose a SFM live event (events take place in the US, UK and AUS). Price: $297 enrollment fee + $97 per month.
Elite membership. The same as the Essential membership, a system setup certification, the "Digital Skills Platform" elite courses, recurring webinars featuring industry experts and prominent leaders. Price: $2,500 per year + they require you to purchase the Essential membership before this one.

I admit that they provide some valuable training and tools that can help you no matter the business you're in.
However, some of the resources and tools like the done-for-you sales pages and sales funnels are to get you to promote SFM to other people. 
.
The Six Figure Mentors compensation plan
---
It is important that the compensation plan gets taken into account when it comes to promote The Six Figure Mentors.
Below you can take a look at the SFM payout structure:
The Six Figure Mentors memberships I mentioned in the previous section, are not the most expensive.
Note that you'll be offered other products like DEA Silver, DEA Gold, DEA Platinum and DEA Black.
These ones are included in the Digital Experts Academy (another program founded by Stuart Ross and Jay Kubassek too).
See how much those products cost? From $3,000 to $20,000.
Let's say that you want to earn $2,000 commissions with SFM. You'll need to spend more than $2,000 on the Essential and Elite memberships and then sell the Digital Experts Academy Black (the most expensive product) which costs $20,000.
Without purchasing the most expensive memberships (Essential and Elite), you won't be able to earn commissions off the most expensive products (DEA products).
Another thing is, if we take into consideration that these are digital products, the commission percentage is not very high in my opinion (some companies/programs pay 50-75% commissions).
I believe this is because this is not like the typical affiliate program where the affiliates only make commissions off the sales they make.
SFM has a two-tier affiliate program. If you take a look at the payout plan, you'll read "2nd tier membership referrals". 
How is this different from a normal affiliate program? Well, in this one you don't only make commissions off the products your referrals purchase, you also can earn commissions off the products the "referrals of your referrals" buy. 
The structure of a two-tier affiliate program would look like this:
Yes, it looks like a multi level marketing program, but it's more simple.
Let's see two examples of how much you can make as a SFM affiliate:
You are a SFM Elite member, then Person A (your referral, a SFM Essential member) purchases a Graphix Creator (it costs $99 per year), you'd earn $50.
Then Person B (Person A's referral, a SFM Student member) buys a Simple Lead Capture (it costs $29.95 per month), Person A would earn the 20% of $29.95 ($5.99) and you would earn the 30% of $29.95 ($8.985).
.
Is The Six Figure Mentors a scam?
---
The Six Figure Mentors is not a scam, in my opinion. A scam takes place when you pay for something but get nothing in return (for example MT Soft, Millionaire Blueprint, Cloud Track Trader or Dubai Lifestyle App), but this is not the case with SFM.
These are some reasons why SFM is not a scam:
The SFM founders are real people and you can contact them via Facebook and Twitter.
The SFM testimonials are real people too (not paid actors or invented characters that are usually present in scam products).
If you become a SFM member, you're actually getting some training and tools of a good quality.
I'm not a SFM member but I'm sure there are people who are making money thanks to this platform, as well as others who are not benefiting from it.
We all know that there's not a perfect program out there. What works for someone may not work for you, and vice versa. Therefore, if you join SFM I don't recommend that you invest an amount of money that you can't afford to lose.
Even though The Six Figure Mentors is legit, I won't be recommending it to newbies or people who are on a low budget, since you'd need to spend hundreds or even thousands of dollars before seeing the "full-time income online" point.
If you're just starting out and are willing to do what it takes to earn a living online or more, then there's a platform I highly suggest that you take a look at.
This platform is has already been in business for more than 12 years and it's free to join (not a free trial, no credit card required, it's free as long or as little as you want it to be).
It includes step-by-step training and courses that will help you start an online business from scratch and take it to the next level.
You'll be taught to build a business based on your passions, which I think it's great because it will make the process more enjoyable for you. 🙂 
And not only that, you'll also get support and help from the community members (included myself) and founders! I've personally been a member of this platform for more than a year now and my questions have always been answered. 🙂 There's always someone out there that will help you out with any questions or issues you may have.
If you would like to learn more about my top recommendation, click the banner below to read the detailed review I wrote about it.
.
I hope this review has been helpful to you and you have enough information to make the right choice for you. Don't hesitate to share it on social media so more people can benefit from it.
If you have any questions or would like to share your opinion about The Six Figure Mentors or other online programs, feel free to leave me a comment below and I'll get back to you ASAP. I always love hearing from my readers! 🙂