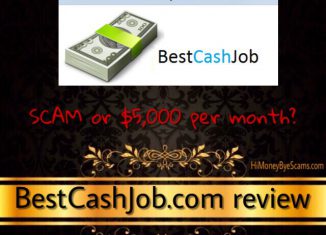 Hey there!
I guess you've landed on this page because you've come across a site called Best Cash Job and are wondering whether it's that easy to earn money from that site or is BestCashJob.com a scam?
I'm glad that you've found this review because I'm going to reveal what Best Cash Job really is and whether you can benefit from it or not.
.
Best Cash Job review
---
Name: Best Cash Job
Website URL: bestcashjob.com
Owner: hidden
Created in: September 2017
Price: free to join
Overall Rating: 0/10
.
---
If you're sick of scams, check out my 1st resource to make money online here!
---
.
What is Best Cash Job?
---
Best Cash Job claims you can earn $10 for each small task, which only takes 30 seconds to complete. It sounds like you can make money fast and easily. Sounds great, right?
They claim to help young professionals collect better & more useful data across all channels by doing simple tasks. 
According to the information on their site, they make payments from the 26th to the 30th day of each month via PayPal, MoneyGram, Payza and check.
To be honest, I didn't join with my personal details because I noticed things I didn't like in their homepage. Let's see what I mean in the next section.
.
Is Best Cash Job a scam?
---
I hate to be the bearer of bad news but Best Cash Job is a scam that won't make you any money.
In this section I'm going to post some scam factors and red flags I found out while doing my research.
.
Lack of important information
---
There's no about page or information about the people who have created it. Why can't they show up?
I personally don't trust sites whose creators hide. The fact that they're hiding is a red flag as it means they don't want you to know who they are. 
Most (not to say all) legit companies & sites reveal its owners and have a customer service, something Best Cash Job doesn't have.
I clicked their FAQ and support sections to see what I found out and it took me to their home page. Why did they create the "FAQ" and "support" buttons if those pages don't exist? 
Apart from that, they don't even have a terms & conditions or privacy policy page. How are they going to use the information you give them? No way to know it. 
Note that ethical companies and sites have at least one of those pages.
People behind Best Cash Job don't seem to care about you because they're not being transparent about their intentions and they show they don't want to hear from you as they don't mention any way you can get in touch with them or ask them questions.
.
A fake testimonial
---
The comment and testimonial you can see in their homepage are completely fake.

I searched for this Joshia Frauhmin guy and Session electronics Philippines and found nothing of relevance. 
The comment is invented by the scam artists behind BestCashJob.com and that man from the picture above has nothing to do with that fake site.
The con artists have downloaded that picture from other sites and used it to create a fictitious character.
If BestCashJob.com was really legit then they wouldn't have created a fake testimonial to make you think that it works.
.
Why do they ask you for your address?
---
Why do they want to know your address and mention "cheque" if they claim they also make payments via Paypal, Payza and MoneyGram?
I mean, wouldn't they first let you choose the payment method and then ask for your address in case you want to get paid by check?
So I created an account and confirmed they only let you get paid via check a.k.a. cheque:

I guess they only allow you to get paid via check so that they can make excuses in case you don't receive it. 
The fact that they're not even transparent about the payment method is a red flag. 
But truth be told, they will not pay you. No one who has joined this site has got paid so it doesn't really matter how they claim they'll pay you if in the end they won't make any kind of payment. More on this later on this review.
.
What about the easy tasks?
---
After joining I saw the only task they tell you to do is to share your referral link and you'll earn $10 each time someone visits the Best Cash Job site through it.
Below there's an example of a referral link:

So I can share that link on social media and earn $10 each time someone visits the Best Cash Job through that link, right? Wrong. 
I know that they won't pay me and I don't want other people to get into that fake site so I won't share it. 
To be honest, I was expecting there would be surveys to complete or another kind of task.
Why can't they be more specific about what you'll have to do in their homepage? Why don't they say you'll have to share your referral link before joining? 
And it doesn't even make sense that they're going to pay you $10 for each link visit. They don't have any ads or products on their site. They offer no value. So where does their money come from? 
If they're not getting paid then they will not pay you. No one gives free money for nothing. There must be a reason why they want people to visit their site. 
Click here to check out my top recommendation (FREE to get started)!
.
What is BestCashJob.com's real purpose?
---
The reason why they're telling you'll earn $10 if people visit their site through your link is to get other people to join in order to collect their personal information.
Their goal is to collect as much information as they can so that they can sell it to other scam artists. You can expect to get unwanted emails from sites or people you haven't subscribed to.
They'll try to convince you to purchase scam products/systems and get you into other scam sites.
But this doesn't end here. If you join BestCashJob.com, manage to reach the minimum payout of $300 and claim your payment, they'll ask you to complete a fake captcha test, something that's never ending!
This captcha test is basically a list of tasks like surveys or sites you'll have to sign up to. And the catch here is that some of these sites are scam sites or sites that ask you to subscribe to a monthly membership or make some kind of payment. 
Why do the owners of BestCashJob.com want you to join those sites? Because they're affiliated with them. Whenever you pay for something through their affiliate link, they'll get paid. That's another way they make money.
So they try to trick you into believing that it's free and easy to earn money just to collect your personal details, get you to sign up to sites you don't want, pay for stuff you might not need and do time-consuming tasks like taking surveys.
.
My final conclusion
---
My advice for you is that you stay away from BestCashJob.com as it can't be trusted. They lie about their real intentions, they also lie about the money they have paid as they haven't paid anyone… 
Everything about that site is fake so there's no way I can recommend it. It will only waste your time and money.
I remember some days ago one of my readers commented that she had joined another fake site and was so excited to withdraw the $2,400 she had earned but they didn't pay her. I imagine how frustrating it must be to dedicate time to something thinking that you'll get rewarded and then find out that it was a hoax…
That's what happens with scam sites like NewsMain17.com and Sharesmore.com. They trick you into believing you'll get paid just to get your personal details and sell them for profit.
I suggest that you stay away from these sites & programs that promise you easy and fast money as they usually end up being scams.
It's possible to make a living online but it doesn't happen the way those scammers claim. It takes real work, dedication, patience and time. Success doesn't happen overnight or without doing nothing.
If you're looking for a reliable place where you can get started in the online business world, I believe my favorite digital marketing platform will benefit you.
This platform includes courses, resources, video training and other useful tools that will walk you through the process of building a business online in a way that's sustainable for the long-term.
I also let you know that you're not alone in this, once you're inside the platform I and other bloggers & entrepreneurs will support you. You can ask whatever you want about this business knowing that there's always someone willing to help! 🙂 
I also love the fact that this platform allows you to start for free, so you can join to test this platform and see if you like it. 
If you'd like to know more simply click the button below now:
.
Hopefully this review has been helpful to you and I've saved you from that fake site.
Feel free to leave a comment below if you have any questions or opinions regarding BestCashJob.com or anything else. I'll get back to you ASAP! 🙂 
Have a great day! =)