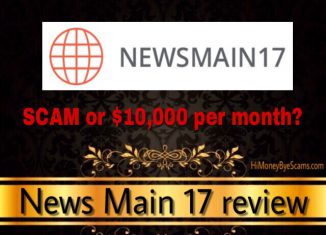 Hey there!
Some days ago I came across a site called NewsMain17.com and knew I had to take a closer look just to find out if this one was the real deal or just another one of the countless scam sites. 
So I decided to write this review to let you all know what News Main 17 really is so that you make the right choice concerning that site.
.
News Main 17 review
---
Name: News Main 17
Website URL: newsmain17.com
Owner: unknown
Price: free to join
Created in: November 2017
Overall Rating: 1/10
.
---
If you're sick of scams, check out my 1st resource to make money online here!
---
.
What is News Main 17?
---
News Main 17 is a site that claims you can earn over $10,000 per month for reading news. 
News Main 17 works as an intermediary between readers and mass media. According to them, media pays them to bring readers to their sites and then News Main 17 pays 80% of that sum to readers.
You can make from $3 to $4 for every piece of news you read and they let you read as much as 30 pieces of news everyday, so you can earn 100 bucks per day approx.
I know it would be great if they gave the option to receive daily payments but they only allow you to cash out once you have earned $2,700. 
Apart from that, they say you can also earn money by referring other people to News Main 17. You only have to share your affiliate link on social media and then you earn $170 per referral and 15% of your referral's earnings. 
So it looks like they pay more for getting new sign ups than for reading the news. You can earn as much as $3,000 per month for reading the news, but you can earn much more for getting referrals. 
According to what they say, you can earn $8,500 per month if you get 50 people to join News Main 17. 
In my opinion, $170 per referral is too much, especially when we consider that it's free to join.
Therefore, is there a catch? Yes, more on this in another section.
.
How News Main 17 works
---
I saw some red flags in the News Main 17 site so I didn't sign up with my personal details.
After joining, you'll see this list of news you can click to read:
And then you get to another page where there's a list of the sites where you can read a news article: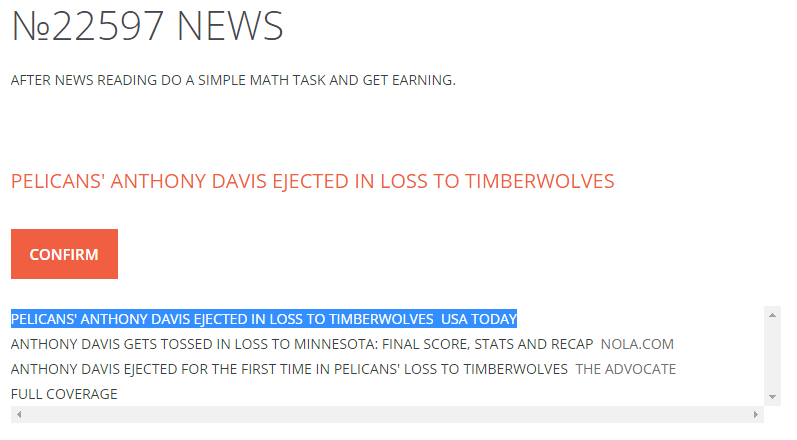 I noticed that I could confirm I had read these news without reading them because I clicked confirm and only had to do some math just to get the $3.17. 
I also saw clicked the "get a bonus" option to see how I was going to earn $70. And it was really easy as the only thing I had to do was to sum two amounts, as seen below:

So now I have $73.17 in my account balance: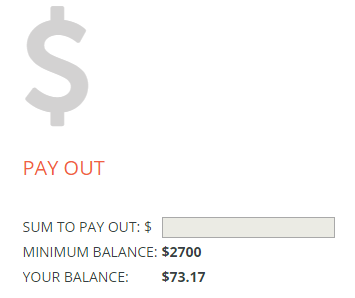 Doesn't it seem so easy to make money from this News Main 17 site? Like I can come back every day and earn another $70 & more and manage to have at least $2700 by the end of the month.
I can even share this affiliate link below and earn $170 per day if I get a referral per day:
But I won't do it because I don't want you to get into that fake site.
After taking a closer look to News Main 17 I came to the conclusion that I will not get paid.
.
Why News Main 17 will not pay you
---
The truth is that News Main 17 will not make you any money. 
I won't try to reach the $2,700 minimum payout threshold because I know that they won't pay me. Why? Because they're not getting paid by the media. If they're not making money, they will not pay anybody.
News Main 17 has no ads or products on their site. According to them, their source of income is the media. But the truth is that they're not getting paid by those news sites. 
Truth be told, a news site is not going to pay you $3 or more for just reading the news. Yes, these news sites have ads but they don't get paid that much for just a visitor.
Imagine if you had a site and you had to pay $3 per visitor, but no one made a purchase. Then you wouldn't be making money so it wouldn't make sense that you paid $3 to each visitor as you would get into debt. 
So, why does News Main 17 claim they'll pay you if they're not getting paid? What are they after? 
.
What is the purpose of News Main 17?
---
The main purpose of News Main 17 is to make money at your expense. Yes, News Main 17 was created to generate profits for its owners.
How can it be a scam if it's free to join? Well, they claim it's free to join just to get your personal information. That's why they claim you'll make money if you get other people to join.
They want to know your email address, your password and your name to sell it to other scam artists, so you can expect to receive spam and junk emails related to other scam sites or offers.
And this is not all. When you have reached the $2,700 minimum payout threshold and want to cash out, they'll ask you for your Payza or PayPal account number to steal your account.
.
Is News Main 17 a scam?
---
Yes, I'm 100% sure that News Main 17 is a scam. 
Apart from the fact that their earnings claims don't make sense, their site has other scam signs and red flags that tell me a lot about their real intentions.
Let's see these red flags:
They have no privacy policy or terms & conditions page. All legit sites and companies have a privacy policy or terms & conditions page. The fact that News Main 17 doesn't have one of them is a red flag because they don't let you know how they're going to use the information you give them.
There's no way to contact them. They don't provide any email address or another way to get in touch with them. This proves that they don't want to hear from you, they don't want to help you in case you have questions or issues.
They don't need your account number to pay you. In order to pay you via PayPal or Payza, they only need to know your email address. The fact that they ask for your account number is an indication that they're after something else.
Lack of information about the owners. They don't show any pictures of them or mention their names. Why are they hiding? I personally don't trust sites whose owners don't show up.
.
My final conclusion
---
My final verdict is that News Main 17 is not worth your precious time or hard-earned money.
They don't pay people and the only thing they're after is your money and personal information so there's no way I can recommend it. Too many red flags. 
It's possible to earn $10,000 per month and more but it will not happen easily and without doing nothing. Things don't work like these scam sites & systems claim. They take advantage of people who know nothing about making money online. 
The truth is that making a full-time income online requires you to put in the work, have patience and stay persistent, among other factors. It's no different than earning a living offline. 
If you're looking for a legitimate online money-making opportunity, I highly suggest that you check out my top recommended digital marketing platform.
This platform provides courses, step-by-step training, video tutorials and other marketing tools that will teach you to build a thriving business online.
I love the fact that this platform is very affordable and you can even join it for free to try it out and see if you like it. 
This platform offers many ways to get help and support, so can count on me and other bloggers and online entrepreneurs to help you during your journey =) 
Looking forward to seeing you inside! If you want to learn more about it, you can click the button below now:
This is your time to say bye to online scams and get on the right track to making money online!
I hope I've answered the questions you had regarding NewsMain17.com. 
Don't hesitate to leave a comment below if you want to share your opinion or have any questions. I always reply to my readers! =)
Best wishes 🙂