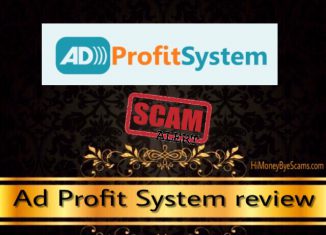 Hi there!
Have you stumbled upon the Ad Profit System and are wondering whether this one will really work for you or is Ad Profit System a complete scam?
I'm glad that you've done your research because I've prepared this review to let you know the truth about this system. I found out that it's not what they claim it to be and I'm going to show why.
.
Ad Profit System review
---
Name: Ad Profit System
Website: http://adprofitsystem.com/
Owner: "David Smith"
Created in: July 2017
Price: "Free"
Overall Rating: 0/10
.
---
If you're sick of scams, check out my 1st resource to make money online here!
---
.
What is Ad Profit System?
---
The man who narrates the Ad Profit System video claims to be David Smith, and he's apparently fallen for online scams too.
He claims to have gone through a very difficult time in his life. His wife was 1 month away from having a baby and he had lost his job, they had no money and they were about to lose their home. He purchased every single system that promised fast money. 
It's such a sad story but there's a thing that makes no sense. If they had no money, how did they purchase every "get-rich-quick" system? 
He got mad that nothing he tried worked until he "cracked the code" and came across the profit ad system.
This miraculous system made him $982 in under two hours from flipping a few ads. And he didn't have to work hard to earn that money. 
Thanks to his amazing system, you can finally forget about scams and start making $5,000 per day. 
And the best part of all, this system is free to use and you don't need any prior experience or tech skills.
So this system will give you free money without putting in the effort, right? Wrong. 
The truth is that this system will not work like "David" claims, let's see how this system really works in the next section.
.
How Ad Profit System really works
---
Ad Profit System is no different than other binary options trading scam systems.
In order to join, they'll ask you to complete a form with your name, your email address, your phone number and a password.
Then you'll get access to this trading system and they'll ask you to fund your account with at least $250 in order to start buying ads. 
This is where the scam comes into play. After making the $250 deposit, there's no guarantee that the trades will be profitable.
The scam artists behind Ad Profit System are affiliated with unlicensed brokers that are known to get away with the traders money.
Most (not to say all) of these automated systems are not designed to win all the trades, they're designed to lose on purpose so that the broker and its affiliates (for example, the scammers behind Ad Profit System) get your money.
The only ones who get to profit here are the illegal brokers and the unethical people who created Ad Profit System. 
If you make the $250 investment and see that you're losing your money and then try to transfer the amount of money left to your bank account, they won't let you make any withdrawal and will make excuses like you need to reach a minimum amount of capital to withdraw it.
So you can expect them to call you and try to convince you to invest $250 again. They might say that the system lost your money because it had some kind of glitch but you'll earn your money back if you fund your account.
Apart from that, you can also expect them to spam you with other scam offers or even sell your information to other con artists.
Their main purpose is to get away with as much money as they can, they have no limits and they don't even care if you're risking your life savings.
.
Is Ad Profit System a scam?
---
Ad Profit System is a scam, without any doubts. 
There are many red flags and scam signs that expose Ad Profit System as the fraud it is. 
.
David Smith doesn't show up
---
The spokesman claims to be David Smith but he doesn't show any picture of him and he doesn't even tell us any way to get in touch with him. Why is he hiding?
There's not even an about page to find out about Ad Profit System as a company. There's no way to know the people we are dealing with here.
.
Lack of important information
---
The Ad Profit System site has no privacy policy, earnings disclaimer or terms & conditions page.
There's no way to know how they're going to use the information you give them, so I wouldn't be surprised if they shared or sold your personal details to other con artists, as I said earlier in this review.
This is a red flag as it indicates a lack of transparency. All legit sites & companies have at least one of these pages.
.
The testimonials are fake
---
The video testimonials are paid actors and the comments are completely fabricated. The scam artists have downloaded those pictures from other sites and used them to create fake testimonies. 
I'm sure that people who appear in those pictures may not even be aware of the existence of the Ad Profit System.
Let's see one of them:
Her real name is not Jennifer. I did an image search and found out she's Cristina Cordova:
The same thing happens with the rest of testimonials like the one below: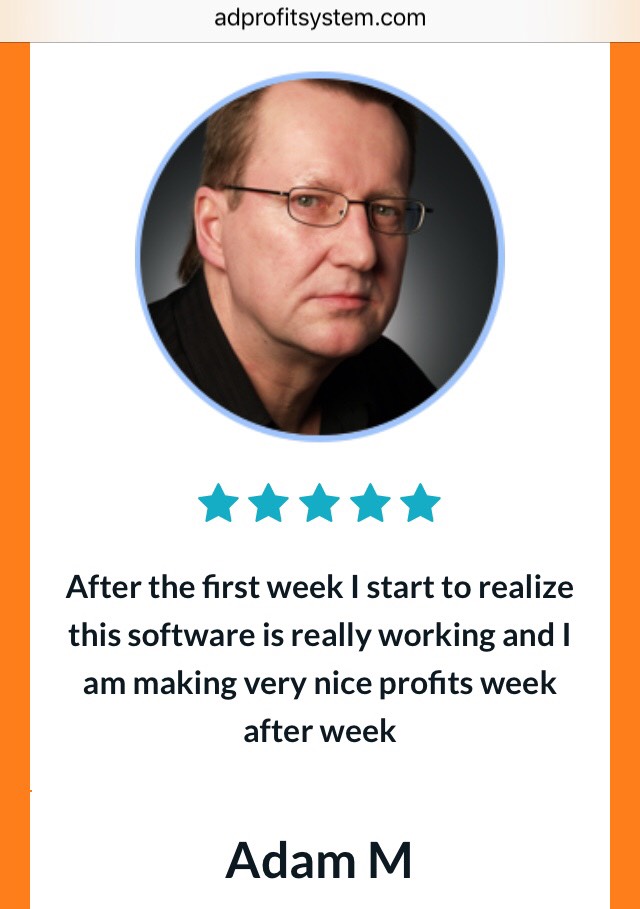 That man above is a stock model and that picture can be found on pexels.com: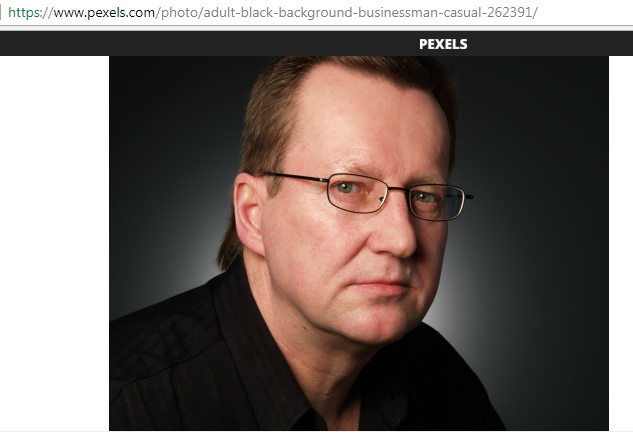 If Ad Profit System was really that good, then they would have no need to invent the comments and create fake identities. 
There aren't even positive reviews about this system on the net. It only makes money to the swindlers who have created it.
.
They lie about the price
---
I've lost the count of the times they claim this system is free to use. 
That's not true because you won't be able to use it without funding your account with at least $250, which is far from free.
They don't make sense when they tell you to fund your account and then claim this system is free. What does the word "free" mean to them??
.
They play with your feelings
---
They try to get you to join as soon as possible when they claim the spots available are limited.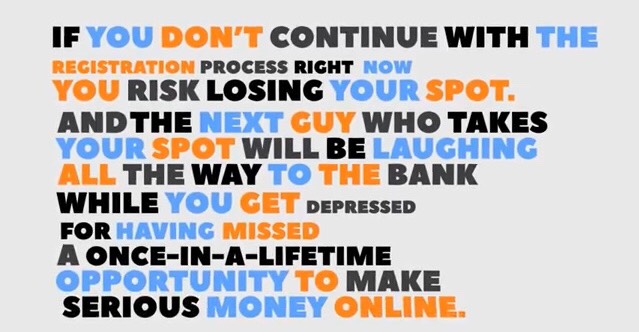 They also want you to imagine how jealous you'll feel if you miss out and see other people being successful instead of you. They want you to make your decisions based of negative emotions instead of logic.
.
My final thoughts
---
Ad Profit System is not a system you should rely on to make a substantial income online. 
The only ones who get to benefit from it are the scam artists who have created it. They're the ones who want to get rich quick at your expense.
They lie about the price, their identity, the testimonials… there's no way I can recommend it. This system will only waste your time & money so my advice is that you stay away from it.
Other similar systems to avoid are the following:
The truth is that there's no program or system that you can use to demand money without doing nothing. If it were that easy, then everybody would be rich by now.
Making money online is like making money offline, it requires you to work hard, be patient and persistent.
If you're looking for a legitimate place where you can learn to generate a full-time income online, then I encourage you to check out my favorite digital marketing platform.
This platform provides courses, step-by-step training, marketing tools and other resources that will help you start an online business from scratch and take it to the next level. 
You can also rest assured knowing that I and other bloggers & entrepreneurs will be there for you. You can ask any question and there's always someone willing to help! 🙂 
I also love the fact that you can join this platform for free because I believe it's an amazing chance for you to see what's inside for yourself without any worries.
If you're interested in learning more about my top recommended platform, click the button below now:
.
I hope you've found the answers you were looking for concerning Ad Profit System and you now know what to do next.
In case you have any questions or opinions, don't hesitate to leave a comment below. I always reply to my readers! 🙂 
Cheers =)