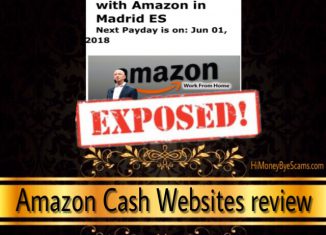 Welcome to my Amazon Cash Websites review!
I recently got sent an email that contained a link about a work-from-home opportunity, so I clicked on it to see what it's about and got taken to the Amazon Cash Websites page.
I have come across other pages like this in the past so I know what it's about and how it works. I thought that I wasn't the only one who got sent to that page so I decided to write a review to let other people know what Amazon Cash Websites is really about.
I guess you're here because you have questions about this "make money online" opportunity. You might be wondering is Amazon Cash Websites a scam or the real deal, right?
Well, you're in the right place because here you will find everything you need to know about this program. I also need to congratulate you for taking the time to do your research before buying another online money-making product! This is the way to avoid scams and find the real way to earn money online!
My purpose with this Amazon Cash Websites review is to help you make an informed decision by the end of this post.
Amazon Cash Websites review
---
Name: Amazon Cash Websites
Website: multiples
Created in: May 2018
Price: $47 + upsells
Overall Rating: 1/5
---
If you're sick of scams, check out my 1st resource to make money online here!
---
What is Amazon Cash Websites said to be?
---
Amazon Cash Websites claims to be a new work-from-home program that will help you make money with Amazon.
They claim you don't need any experience or special skills to make money. You only need an Internet connection and a smartphone/laptop to make this work.
You will be able to set your own schedule and work as much or as little as you want. It all sounds great and the whole news article is designed to get you excited and buy into this program.
They also talk about how this amazing program changed the life of a 37 year old father named Chris, who lost his job back in 2015. He was invited to try this program for free and now allegedly earns $14,000/month.
All he had to do was to choose his own hours and work a schedule that fits his lifestyle as a father. He now gets to spend more time with his family, which makes him feel blessed. 
However, they don't mention what he exactly did to earn money. They claim he was given his own website that makes him money, but nothing else.
They make it sound as if it were easy to make a full-time income online, but I can tell you right now that it's not. The whole article is very misleading and full of lies. It's a fake news article created to promote another scam program. 
I've noticed that scam artists usually create fake news articles to get people to pay for their scam products, so this is nothing new to me. 
The truth is that this is not a new work-from-home opportunity, it's been around for a long time already. I'm going to explain how it really works so that you know how they try to scam you.
How Amazon Cash Websites really works
---
According to the information on the fake news article, you only need to take three steps to make money:
Visit the "Amazon Cash Websites" and fill out the application to see if you qualify.

Pay for the small enrollment fee to get access to the program.

Complete your online tasks and choose how you want to get paid.
And now I ask: didn't they claim this was about making money with a website and Amazon? What kind of tasks will you have to do to make money?
When I read "complete your online tasks", I thought they meant something like filling in forms, taking paid surveys or downloading apps. But this program doesn't have anything to do with surveys or other kind of tasks.
I personally don't like the fact that they are not clear about what this is about. They tell you to buy this program without telling you what you need to know to make an educated decision.
The whole article is full of the scam links. No matter where you click, you will be taken to the scam program page. So I clicked on one of those links and landed on the scam site. 
Below you can see how it looks:
When I landed on that scam page, I was like "what about Amazon Cash Websites? There's nothing about it here". 
This scam page looks like another get-rich-quick scheme because it has the typical red flags:
$500/day just by pressing a button.

8 positions available. 
Don't get me wrong, it's possible to earn $500 per day online, but it does not happen just by pressing a button. Making a living online takes a lot of work and dedication. Only low-quality or scam programs claim this is easy or fast, just to take your hard-earned money.
When it comes to the positions available, this is a fake scarcity tactic they use to get you to fall for this scam as soon as possible. There are no limits when it comes to the amount of spots available because they want as many people as possible to fall for this scam.
They've sent a lot of emails to promote this scam, so there's no way this is a limited offer.
If you watch the sales video, you will realize that the spokesman doesn't mention anything about Amazon or online tasks. He merely talks about how much money you can earn thanks to a "money sucking website".
He just tells you what you want to hear to part with your money. The training you will get if you buy into this program is basic training that doesn't go over everything you need to know to start making money.
Oh, and you can also expect to get bombarded with upsells. This is how these scammers make the most money.
You can check out my Money Sucking Website system review if you want to learn more about how this poor quality program works.
Click here to check out my top recommendation (FREE to get started)!
Is Amazon Cash Websites a scam? Yup
---
There's no doubt that Amazon Cash Websites is another work-from-home scam. It's not the name of the real program they're selling, which is one of the big red flags. 
I mean, you wouldn't like to receive something different from what you have purchased, right? 
Apart from that, the whole news article is full of lies and fake claims, which I'm going to point out next.
Chris Peters and his family are made up characters
---
Chris Peters and his family are made up characters. All his story is completely invented by the con artists behind this scam.
The people from the picture below are not Chris and his family. The truth is that these people might not even know that their picture is being used to promote a scam.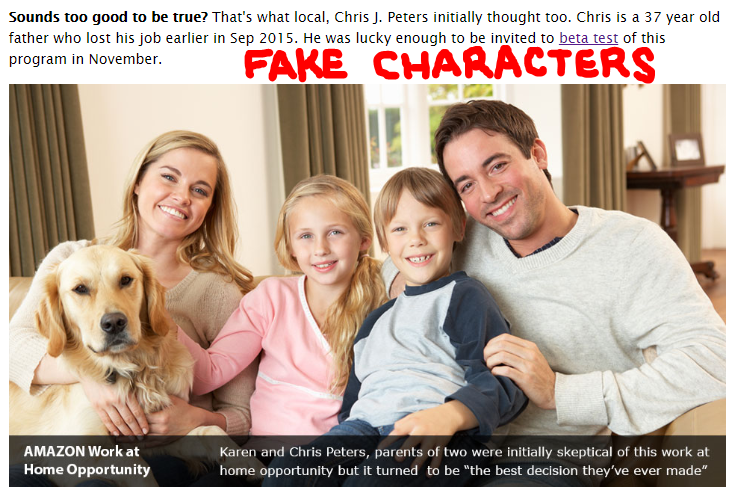 I know they're made up characters because I did an image search and found out that this picture is a stock image found on Shutterstock: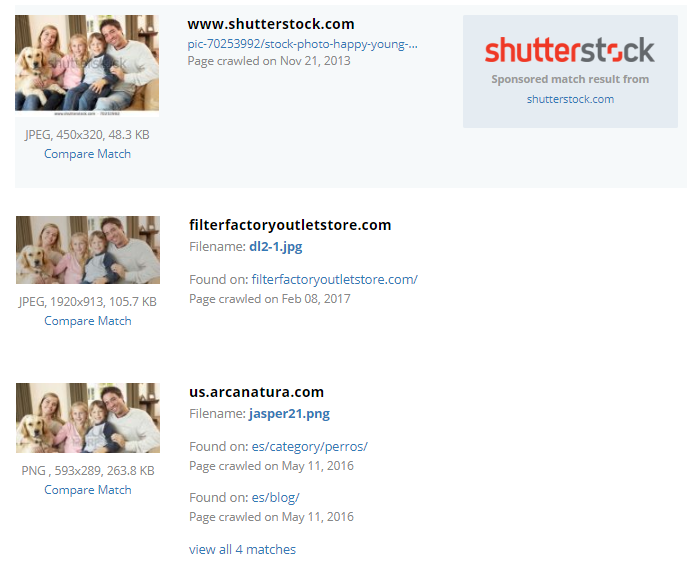 The earnings screenshot is fake
---
If Chris Peters is a made up character and the story they tell us about him is fake, then I thought that the earnings scheenshot was also fake.
I was not wrong. I found out that the earnings screenshot are from 2011, when Google changed the AdSense interface: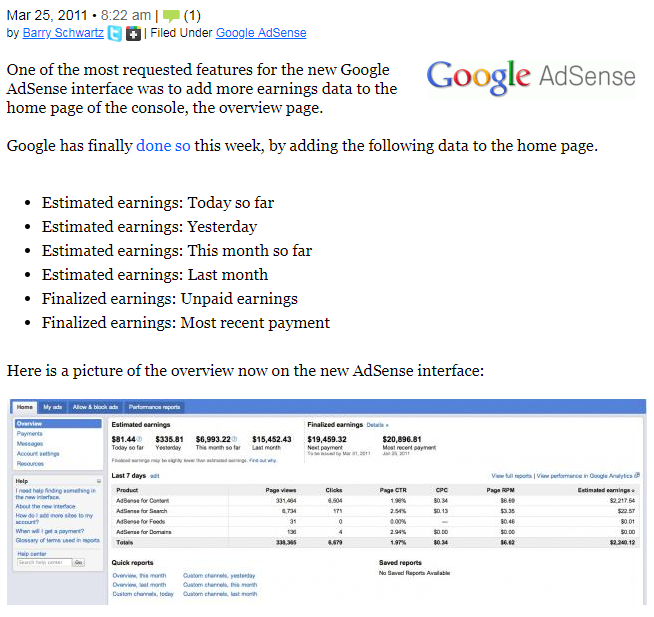 So yeah, everything is invented and fabricated. Those earnings have nothing to do with making money from Amazon.
The tweets are a complete fabrication
---
The tweets from the right bar of the Amazon Cash Websites page are completely fake. The people who appear in these pictures are not real members of Amazon Cash Websites and are not Twitter users.
If you search those tweets on Twitter, you will not find them.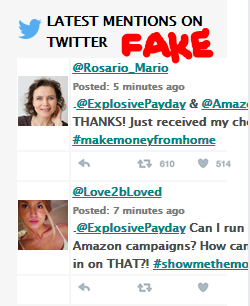 I did an image search and I actually didn't get surprised when I saw the stock image. Scammers usually use stock pictures to create fake testimonies.
They contradict themselves
---
They first claim you only need to work 1-2 hours a day, but when they explain how to join, they claim "work only 2-5 hours a day".
Why can't they be clear about what you exactly have to do and how much you will need to work? By saying that you don't need to work much, they're creating false expectations.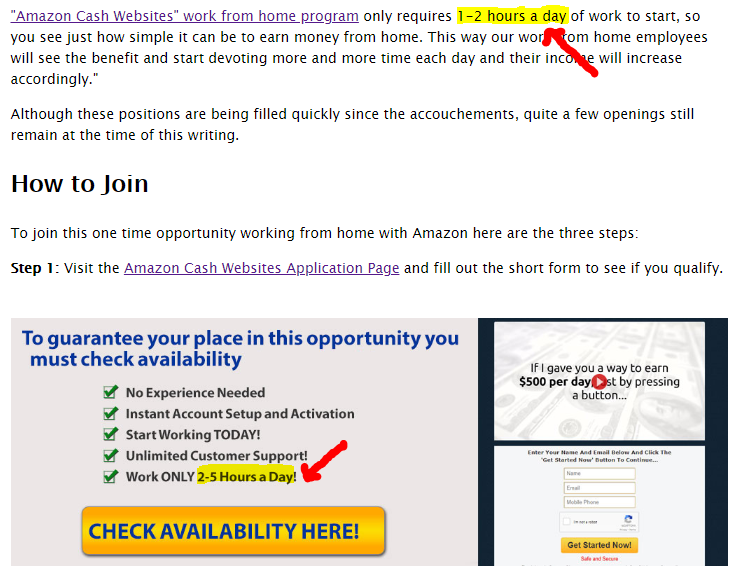 They want people to believe that they will not have to do much work to make money, but the truth is that it requires a lot of work, especially if you're a beginner. 
I don't like programs like this that claim making a living online doesn't take much effort or time. They're giving people false expectations, so people end up getting disappointed when they realize this is much harder than they thought.
This is not a job
---
Another lie they tell you is that this is a job.
Well, I can assure you that this is different from an online job. This would be a job if they paid you depending on the amount of hours you worked, but the truth is that they will not pay you for the time you spend doing this.
If this were a job, then they wouldn't tell you to pay an enrollment fee. A job wouldn't require you to make a payment upfront.
In this case, you could put in 40 hours a week and still not get paid a dime. In fact, the first month you might not earn any money. No one can tell how much is going to take you to make money because there are so many factors to take into account (your work ethic, your experience, your skills, your knowledge, your budget…).
So what is this? A business. This is a business, which is different from a job. You will get paid depending on the sales you make, something different than getting paid for the time you spend working.
How do I know this is a business? Well, as I said, I watched the sales video and also reviewed the "Money Sucking Website system" some weeks ago. In the video, the spokesman mentions "affiliate marketing websites", which means that the program is focused on the affiliate marketing business model.
Your job as an affiliate marketer will be to promote other companies' products/services and make a commission for each sale you make. In other terms, you will work as an intermediary between a company and a customer.
Affiliate marketing is a legitimate business model and I personally use it to make money. It can be very lucrative when used correctly.
When it comes to the Amazon Cash Websites, the problem is that they're not being transparent about what you will have to do. They do not even mention that this is a business, not a job. I see they're targetting people who are looking for a job and want to earn money from day one.
And the problem I have with the Money Sucking Website system is that the training they provide doesn't go over everything you need to know to build an affiliate marketing business that is profitable for the long-term. I explain all of this in my Money Sucking Website system review.
My final verdict on Amazon Cash Websites
---
I definitely don't recommend Amazon Cash Websites or the MSW System.
They're not honest about what they're offering, they use fake characters and testimonials to promote this scam, they use false scarcity tactics, the training they provide is basic… There's no way I can recommend it, but the final decision is up to you.
When people realize that there are no easy or fast ways to make money online, then they will stop wasting their time on "make money online" scams. 
Truth be told, if making a living online was easy, then don't you think that most people would have already made a fortune?
When it comes to making money online, there are more scams than reliable programs I can recommend. After trying many ways to make money, I've reached the conclusion that building an online business is the way to go if you want to make a job-replacing income online.
As I said before, I use the affiliate marketing business model to make a consistent income month after month. In fact, there are many people using this business model to make a living online.
I love the fact that this business model allows people to make money from something they're passionate about and also takes advantage of the million of products that are being sold online every single day. Yes, you will learn how to make money from Amazon products. 🙂 
It takes time and work to build a thriving affiliate marketing business, but it's definitely worth it.
With the right step-by-step training and easy-to-use tools, I believe that anyone can achieve success in this business.
By clicking the button above now, you will learn how this business works, why it works, where you can get the training and tools I'm using…
And I also show you how you can get started for free! Yes, you will see how to get started without spending a penny =)
On top of that, you also get the chance to connect with other bloggers & Internet entrepreneurs and receive lots of help and support!
LEARN ABOUT MY TOP RANKED PROGRAM NOW!
This is your chance to stop getting scammed and get on the right track to make money online! If I can do it, so can you =)
I hope you have found the answers to the questions you had in this Amazon Cash Websites review. Feel free to share it with whoever you believe that might benefit from it.
If you have any questions or you want to share your opinion, don't hesitate to leave a comment below and I'll get back to you soon. ? 
Best wishes!