Welcome to my review of El Bandito By Brendan Mace!
You have come across the El Bandito sales page and are wondering if this product can help you make $419 an hour?
Or maybe you are skeptical and have questions like "is El Bandito by Brendan Mace a scam?", am I right?
Well, first of all I need to congratulate you for taking the time to do some research before purchasing another money-making product.
As you may already know, the Internet is full of scams so doing your research is the way to avoid scams and discover the real way to earn money online!
To be straightforward with you, I'm not affiliated with this product so you will not see me telling you to buy it just to earn a commission.
In this El Bandito review, I will show you what this product is about, whether or not you can make money with it, what other people have not told you and more.
El Bandito review
---
Name: El Bandito
Website URL: elbandito.net
Owners: Brendan Mace, Jono Armstrong and Anthony Mancuso
Launched in: July 2018
Price: $12.95 + upsells
Overall Ranking: 3/10
---
If you're sick of scams, check out my 1st resource to make money online here!
---
What is El Bandito about?
---
The moment I came across the sales page for El Bandito, I thought it was another low-quality product because of the high income claim.
I remember some days ago I wrote about another product called Instant Payday Tricks which promised you could make $800 per hour.
El Bandito is not different from it because they claim you can earn $419 per hour thanks to an easy new method, only with 1 hour of work.
This is supposed to be a newbie-friendly method that doesn't require you to:
Spend money on traffic

Have tech skills or prior experience
Anyone can finally make money online thanks to this method. Jono even claims there are people who have earned $100 the same day they got started. Sounds cool?
And of course he knows that most products out there look different on the outside but they are the same old crap on the inside. The good news is that El Bandito is different, that's what Jono claims.
In other words, this method is apparently the solution to making money online fast which is what a lot of people are looking for.
Honestly, I'm not even surprised that he tells you everything you would like to hear. They try to get you excited just to take your money.
I have reviewed other Warrior Plus products and it turns out that most of them (not to say all) always claim to offer a new method but the truth is that they do not provide anything new.
They don't even mention anything about this method or what you will have to do to make money.
The sales page and video are very misleading because they are full of fake claims and do not provide all the information you need to take into consideration in order to make an informed decision.
As I said, I'm not surprised that they do this because the same happens with other products created by marketers like Brendan Mace:
How does El Bandito work?
---
El Bandito does not work like they tell you in the sales page because it's not that easy and fast to make money online, especially if you are starting out.
Not only that, the training they provide is not good enough to make the kind of money they tell you, since it's not in-depth training that goes over everything you need to do.
This product is geared towards making money by selling other people's products, which is called affiliate marketing.
I'm very familiar with this business model because I use it to make money online myself, so I know that it can be very lucrative when used the right way.
The problem with El Bandito is that they don't show you the proper way to use this business model.
The training will walk you through this process:
Join affiliate networks/programs to find products that let you purchase its license rights.

Build a squeeze page to collect emails from people.

Open an Aweber account so that you can connect your squeeze page with your email list.

Buy traffic to drive it to your squeeze page.

Once people have entered their email address, they will be shown the product you want to earn money from so that they can purchase it right away.

If they do not buy the product, you can promote it to them by sending them emails, since you now have their email addresses.

You will earn a commission each time someone purchases one of your recommended products through your affiliate link.
You can do this as many times as you want and promote as many products as you want.
It doesn't seem a difficult process but the truth is that it's not as easy as it sounds. 
This method will require you to spend money on traffic in order to get people to enter their email address in the squeeze page.
The problem with this is that you cannot expect a high conversion rate for your first campaign, especially if you are a beginner.
You will have to do a lot of trial and error in order to find out what works and what does not work. That's why, before you spend money on ads, you don't really know how much you will have to spend in order to find the "formula" that makes you lots of sales.
Not only that, you also need to take into consideration that they will not reveal the places/platforms where they buy traffic from.
Why? Because they don't want anyone to steal their traffic sources. 
What they do is to mention traffic sources that many people have already heard of, like Bing Ads. They will never tell you exactly what they do to get the results they get.
The training also covers some free traffic methods like SEO and forum marketing, but the problem is that they don't explain it in detail. That's why you will have to learn from other sources in order to discover how you can do affiliate marketing in a way that you don't have to pay for traffic.
But this is not all, they don't teach you how to find high-quality products to promote, they teach you to find products like El Bandito or other JVZoo Internet marketing products so that you can purchase their license rights and earn 100% commissions.
There are two problems with this:
They are telling you to directly get involved in the Internet marketing niche, which is not for everyone. It's better to choose a niche/topic you have a passion for so that you don't get bored in the long-term.

Many JVZoo and Warrior Plus products are not high-quality, which means that you can expect your subscribers to ask for refunds and even unsubscribe from your list.
Because of this, it's important that you choose the right niche and relevant products/services that can really help your audience, something El Bandito does not teach.
Click here to check out my FREE Earn Money Online Guide!
Is El Bandito by Brendan Mace a scam?
---
El Bandito does not live up to its promises because they don't provide enough training for you to earn $419 per hour, not to mention that they don't teach the proper way to do affiliate marketing.
So is El Bandito a scam? I know some people would call it a scam because of what I said, but others will not call it a scam because they provide something for your money and you can also get a refund.
In my opinion, El Bandito is just like other Brendan Mace's products that you can learn something from but not everything you need to know to build your online business properly.
With that being said, I found some red flags that you need to be aware of so let me reveal some ugly truths to you…
They are not transparent when it comes to the cost
---
They claim El Bandito costs only $12.95, but there's way more than that. They want to earn waaay more than $12.95 per buyer.
Just like other WarriorPlus products, El Bandito has some upsells and downsells that they will bombard you with after paying the initial $12.95.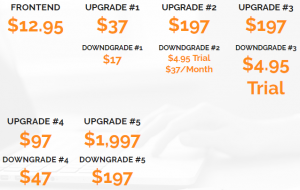 This is an indication that the initial product is not as good as they want you to believe.
Let's see what's included in these upsells:
Upgrade #1 – Done-for-you campaigns that you can use to promote El Bandito. Price: $37.
Upgrade #2 – Limitless traffic for 365 days, which enables you to place your ad pixel on El Bandito sales page so that you get visitors to your landing page. Price: $197.
Upgrade #3 – Lifetime affiliate campaigns, which are templates for other products they launch. Price: $197.
Upgrade #4 – License rights, which enables you to earn 100% commissions by selling this product as your own products. Price: $97.
Upgrade #5 – Brendan Mace's personal coaching, which I don't believe is worth the price because he doesn't teach you some techniques that are not good to build a long-term online business. Price: $1997.
Downgrade #5 – Brendan Mace's digital coaching, which will give you access to Brendan Mace's coaching materials. Price: $197.
I personally don't like the fact that they are not honest when it comes to the total cost because this is something to take into consideration before making a purchase.
I mean, would you like to buy an item and then be told that you need to buy another item to make the first item work? I know I wouldn't like it.
It's marketed as a get-rich-quick scheme
---
Another thing I don't like is the fact that El Bandito is marketed in a very misleading way, since it's not really a solution to make hundreds of dollars right away.
In my opinion, unethical marketers that promote their products as a way to make money easily or fast are not doing any favor to the Internet marketing industry because they are not helping newbies.
Their fake claims give newcomers and beginners false expectations, which makes some of them lose hope and faith when it comes to making a full-time income online.
When it comes to El Bandito, it's no different from the other products that promise you can earn a living online quickly or without doing much work. You will not make $419 per hour or $100-$200 a day just after getting started, especially if you don't have any online presence (no email list, no website, no social networks).
Yes, it's possible to make $100 or $200 a day online, and even more, but it will not happen when you are starting out. It will take you time, commitment and work to reach those figures.
Fake scarcity
---
I noticed that they tell you to hurry up because there's only 1 copy left, which is a complete lie.
The truth is that there are unlimited copies left because these people want to make as many sales as possible.
They will never limit the amount of money they can earn because if they did, why would they spend time on creating these products?
El Bandito came out last week (as of this review) so there's no way there's still 1 copy left. You can leave their sales page and check it out later and nothing will have changed.
It's best to build a complete online business
---
I don't recommend El Bandito because it's not a high quality product that lives up to its promises.
It's not a good solution for long-term success  and I don't like the way they are marketing it because as I said, it's kind of unethical and I personally don't want to do business with people who deceive and lie to honest people who are just looking to make a living online.
I have reached the conclusion that it's very important to focus on providing value and helping your audience in order to build a long-term online business.
As I said, if you are in it just to make money and don't care about benefitting your audience, you cannot expect to achieve much success.
Yes, you might make a quick buck but people will not take you seriously and will not buy from you in the long-run.
Also, you cannot only rely on an email list, it's also important that you have your own website to make your business more complete. 
Because of this, learning from a source that provides step-by-step training and great tools to help you build your online business is the way to go.
I personally did that and now I'm making a consistent monthly income through affiliate marketing. I love the fact that I don't have to spend money on traffic because I learned the way to create something that attracts free traffic.
There are many people using this business model the way I'm using so I believe you can do it too, as long as you are committed to putting in the work and time.
This post would be too long if I had to explain it all here so I created a FREE step-by-step affiliate marketing guide where you can find how it all works:

In my free guide, you will discover how I make money with affiliate marketing, why this business model works so well, the step-by-step training and tools I used and more!
I will also show you how and where you can get started for free! Yes, you don't need to provide any financial information to check it all out and decide if this is right for you!
Not only that, you can also get free help and support from me and other affiliate marketers and Internet entrepreneurs! Revealed in my free guide!
Are you ready to leave the incomplete products behind and get on the right way to build a long-term online business? 
CHECK OUT MY FREE AFFILIATE MARKETING GUIDE HERE!
I hope this El Bandito by Brendan Mace review has been helpful to you and you will make the best possible decision. Don't hesitate to share it with whoever you believe that will benefit from it!
If there's something else you want to know or you have any questions, feel free to leave a comment below and I'll get back to you ASAP! ? 
Whatever you do next, I wish you nothing but the best =)