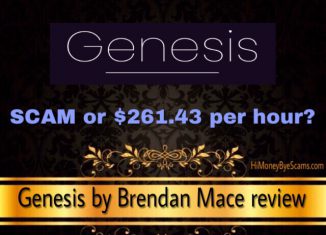 Hey guys!
Genesis is Brendan Mace's newest product so I thought I would check it out to find out whether this one was worth it or not.
Make sure you read my review to know what you need about Genesis in order to make the right decision by the end.
.
Genesis review
---
Name: Genesis
Websites:
https://www.creategenesis.com/now

https://www.creategenesis.com/enroll
Creators: Brendan Mace, Kevin Fahey and Dalton Scott
Price: $13.25 (as of this review) + upsells
Created in: 2017
Overall Rating: 61/100
.
---
If you're sick of scams, check out my 1st resource to make money online here!
---
.
What is Genesis about?
---
Genesis is supposed to be an Internet marketing product about a method that shows how you can earn at least $261.43 per hour using free traffic.
They claim this method can work for anyone and you don't need any special skills or previous experience to do this. All you need is a laptop and an Internet connection.
They call this method "Genesis" because it starts working the same day you get started. It only takes 20 minutes to set up and beginners are apparently making over $200 per hour.
You don't need to build a website, build an email list, create your own product or pay money to get visitors to your offers.
Brendan then mentions some people who have earned thousands of dollars in little time like John Mulry who is said to have made $25,000 in his first 10 weeks. But Brendan doesn't mention that John is no newbie!
Brendan doesn't exactly explain how you will make money with Genesis and I don't like the fact that he claims you can start earning $200 per hour in a short period of time because making money online is not that easy, especially if you're just starting out.
.
What does Genesis include?
---
Genesis is about the method Kevin Fahey teaches in his $5,000 private coaching. 
This is what you'll get after paying the $13.25 (price has been increasing lately):
Genesis video training. It's a proven roadmap for earning over $200 per hour online using a free traffic method.
Real life case study. You'll find out how Kevin got results with the Genesis system in a few minutes.
Bonus #1 – 10X your results hack. This bonus is said to help you generate 10 times more profits with the Genesis system.
Bonus #2 – Case study: 10K in 30 days. This is Brendan's case study where they explain how Brendan went from 0 to 10K per month after applying what Kevin taught him.
Bonus #3 – $500K Blueprint. This one shows you how their "super affiliate" made $500K in one year.
All of the stuff above costs $13.25, but you also need to know that they'll offer you some additional products. Let's see the upgrades & downsells:
Upgrade or downgrade #1 – DFY campaigns ($37 or $17). These are funnels that are done-for-you, which will save you time from creating the funnels yourself.
Upgrade or downgrade #2 – License rights ($97 or $47). This one will allow you to sell Genesis as your own product and get 100% of the profits.
Upgrade or downgrade #3 – Brendan Mace's coaching ($2,000 or $197). This one is to have Brendan as your mentor. If you pay $2,000 you'll get personal access to Brendan and the $197 is only his digital coaching materials (you don't get access to him).
.
Is Genesis a scam?
---
Genesis is not a scam, it's actually a decent product. 
After taking a closer look I found out the Genesis method is about affiliate marketing.
You'll basically learn to find other people's products to promote (included Genesis and other Brendan Mace's products), drive traffic to your offers and earn commissions for each sale you make. 
This can be a very lucrative business when it's done the right way. 
With that being said, let's see what I like & don't like about Genesis.
.
Pros
---
The owners are real people. I mean, they're not paid actors or some made up characters found in scam systems. 
The training is easy to follow. 
The option to get a 30 day refund. 
It's possible to make money with the Genesis method. Affiliate marketing is a proven business model that has been working for decades.
.
Cons
---
They don't tell you about the upsells. They don't mention the upsells in the sales page, something I believe it's important that you know about in order to make a good decision. Knowing all the costs before making a purchase is something you want.
It's not as easy as they claim. It's possible to earn $200 per hour with affiliate marketing but it's not as easy and fast as they claim. You'll have to put in the work and effort to make it happen, especially if you're new in the online marketing arena. Note that Brendan and the other marketers have been doing this for years so it's easier for them to make money fast.
Making money is not guaranteed. If you check out their earnings disclaimer, you can read that there's no guarantee you'll earn money. It's up to the effort and time you put into this. Apart from that, you can expect Brendan, Kevin and Dalton to send you emails related to other offers.
.
My closing thoughts
---
Genesis is not a scam because you'll actually get some training that can help you make money. 
I don't like the fact that they make it look like it will be easy when the truth is that you'll need to work hard, be patient and persistent in order to get great results.
Keep in mind that great things have never come the easy way, no matter what you do in life.
There's no shortcut or system that will make you money instantly the same day you purchase it.
All get-rich-quick schemes only work for the people who have created them so I recommend that you stay away from programs and people that claim you'll make money fast without making efforts.
If you're committed to doing what it takes to earn a living online, then I highly suggest that you check out my favorite digital marketing platform.
Inside this platform you'll get courses, video trainings, step-by-step training and other effective tools that will guide you through the process of starting and growing an affiliate marketing business. 
Once you're inside, I and other members will welcome you and help you get started. There are many ways to get help and support inside this platform so you can go and ask whatever you want as there's always someone willing to give you a hand. I've been a member of this platform for over a year already and never looked back.
Another thing I love about this platform is that they offer a free membership so you can join for free and see if you like it without any worries because it's risk-free.
If you're interested in learning more about my top recommendation, click the button below now:
.
I hope this review has been useful to you and you now have enough information to make the decision that best suits your needs.
In case you have any questions or opinions concerning Genesis or anything else, feel free to leave a comment below and I'll get back to you ASAP.
Best wishes! 🙂