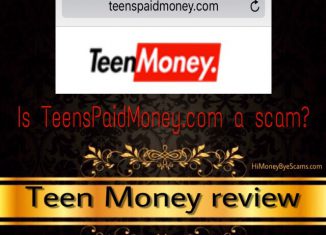 Hey there!
I've lately seen TeensPaidMoney.com a.k.a. TeensEarnMoney.com being advertised on Facebook groups so I thought I would check it out and see what it is about.
If you've come across that site and are wondering if you really can earn money with it or you should avoid it, you're in the right place because I'm going to explain the truth about TeenMoney in this review so that you make the right decision.
.
TeenMoney review 
---
Name: TeenMoney
Websites: 
http://teenspaidmoney.com/

http://teensearnmoney.com/
Owner: hidden
Price: free to join
Created in: 2017
Overall Rating: 0/10
.
---
If you're sick of scams, check out my 1st resource to make money online here!
---
.
What is TeenMoney about?
---
TeenMoney is a site that claims you can make make money by referring people to their site and completing easy tasks like taking surveys and downloading apps.
They apparently are the #1 Teen Affiliate Network and work with various ad companies.
According to the information on the TeenMoney homepage, you earn $25 when you signup and $10 for every person who signs up through the referral link you get after joining.
However, you can't cash out until reaching the minimum payout threshold of $125. 
So it doesn't sound like a difficult way to earn some cash, right? You can join for free and then get 10 people to sign up through your link and you've already earned $125. 
So I was going to join until I noticed some red flags I'll explain later in this review.
In fact, this site doesn't look like other scam sites (the typical page with a sales video and a "make thousands" today claim).
However, they say you can earn $500 today and lack important information so I thought I would give random details to join.
.
How TeenMoney works
---
In order to join, you'll have to complete a form with your name, your email address, a password, a username and your country.
Then you get your referral link ready to share it and then you're supposed to get paid via PayPal.
I didn't share my link because I don't want anyone to join this scam site.
Apart from that, I noticed their site doesn't work properly. The first time I clicked on their terms page I got taken to a YouTube video that was about TeenMoney being legit.
I guess the person who has created is one of the unethical folks who are behind TeenMoney.
.
Can TeenMoney make you money?
---
TeenMoney only makes money to the people who have created it. 
If you manage to reach the $125 minimum payout threshold and claim your payment, they'll take you to fill in surveys, sign up to other sites and complete other annoying tasks. They'll never pay you.
The thing is, these offers never end and if you make some kind of payment, they'll get paid as these con artists behind TeenMoney are affiliated with these other fake sites. That's one of the ways they make money.
You also need to be careful as they'll try to get you to download games or apps that contain virus or malicious software.
Another way they earn money is by selling your personal information to other scammers so you can expect to get spam emails related to other scam sites & offers. They'll try to get as much information and money as they can. 
I believe people who have been sharing their referral links to get other people to join TeenMoney don't know it's a scam. They claim you can make money "for free" just to get other people to sign up and steal their information.
.
Is TeenMoney a scam?
---
There are too many red flags that indicate TeenMoney is a scam, which I'm going to explain in this section.
.
Fake endorsements
---
They claim to have been featured on well-known companies & news networks like Forbes, CNN, NBC, BuzzFeed…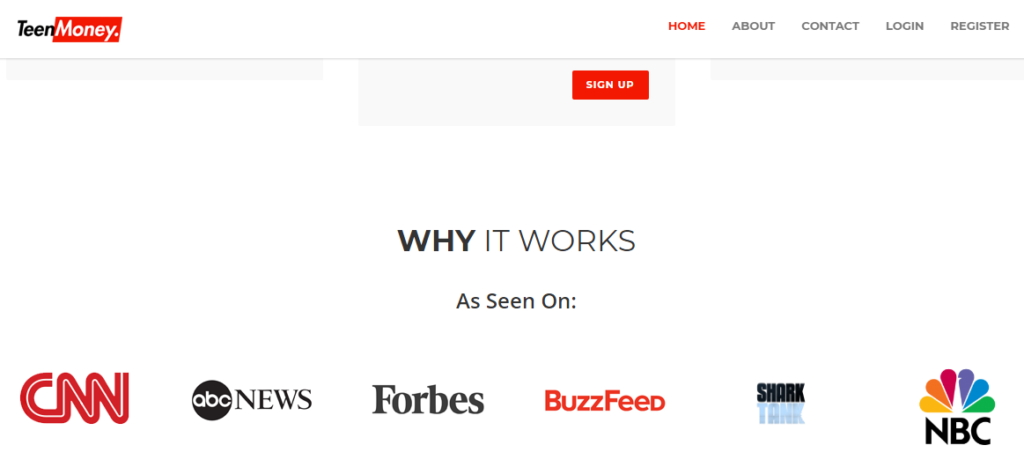 Truth be told, they have nothing to do with these well-known companies. They've just used their logos to gain credibility and make you believe that TeenMoney is legit. 
.
False contact information
---
Their contact information is completely fake. It's just there to make you believe that you can contact them if you have questions or issues.
The address above is not real. I did a search and found out that 1189 17th Ave isn't in New York, it's in Apache Junction (Arizona). 
.
How long has TeensPaidMoney.com been in business?
---
They claim to have been in business since 2008 but this is totally fake and it's easy to prove it. As you can read below, they claim to have existed for 9 years.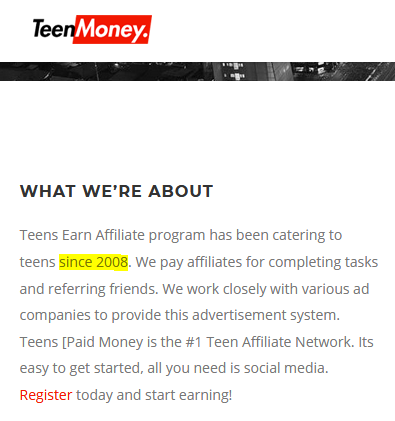 I looked for the TeensPaidMoney.com domain information and it looks like their domain was registered on November 12th 2017!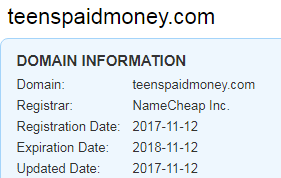 .
No positive reviews
---
I'm sure nobody that has joined TeenMoney has been paid. If it were true that it's possible to earn money that easily then there would be positive reviews. When something really works, you'll find positive reviews about it.
Unlike other scam products/sites, TeenMoney doesn't have an affiliate program so that's why there are no "fake positive" reviews.
.
They don't even make sense
---
According to them, their money comes from advertisers but without anyone buying anything, it's not possible that they get paid $10 for each person that signs up to their site. 
Just imagine you manage to get 15 people to join TeenMoney through your referral link and nobody make a single purchase. Then people behind TeenMoney will not get paid so they will not pay you. The $500 per day claim is just absurd.
We can also see that there are no ads on their sites so what advertisers are they talking about? What advertisers do they work with? Those advertisers are the scam sites and offers they try to get you into when you try to cash out.
.
My final thoughts
---
TeenMoney a.k.a. TeensEarnMoney.com & TeensPaidMoney.com is nothing more than a site that will waste your time and money.
They don't even reveal their real identity which is another red flag. Legitimate companies reveal their founders and owners names. TeenMoney says nothing about who's running it so that's another reason that site should not be trusted.
They tell a lot of lies and the fact that nobody has really got paid confirms that it's not worth it. I'm glad that you've done your research and have found my review. I hope you didn't give the TeenMoney con artists your information.
I've come across other sites similar to TeenMoney, for example DollarTable.online and Fix Monthly Income.
It's possible to earn $500 per day online but it will not happen the way these scammers claim. They're the ones who want to make money at your expense.
Making a full-time income online requires hard work, learning, patience and determination, among other factors. Success will not come without making efforts. If it were that easy then everybody would be doing this.
If you're starting out and willing to do what it takes, I highly suggest checking out my favorite digital marketing platform.
This platform provides step-by-step training, video tutorials, courses and other useful tools that will guide you through the process of building a thriving business online in a way that's sustainable for the long-term.
Once you're inside this platform you'll get help and support from me and other members. I've been a member for more than a year already and I've never looked back. 
I also love the fact that this platform is free to join (no credit card required) so you can try it out without spending a penny and see if you like it =)
If you're interested in learning more, you can click the button below and read my review of my top recommendation now:
.
Thanks for reading this review, I hope you've found the asnwers you were looking for. Don't hesitate to share it with whoever you believe that may benefit from it.
Feel free to leave a comment below if you have any questions or opinions concerning TeenMoney or anything else and I'll give you a prompt response.
Have an amazing day! 🙂