Hi there!
Have you stumbled upon a site called Crypto VIP Club and are wondering if it's true that you can make $17,000 per week or is Crypto VIP Club a scam to avoid?
I hate to be the bearer of bad news but I've checked it out and I can say that Crypto VIP Club is not a software you can rely on to become financially free.
In this review I'm going to explain what Crypto VIP Club really is and why you should stay away from it.
.
Crypto VIP Club review
---
Name: Crypto VIP Club
Website URL: cryptovip.co
Founder: "Andrew King"
Price: "Free"
Created in: 2017
Overall Rating: 6/100
.
---
If you're sick of scams, check out my 1st resource to make money online here!
---
.
What is Crypto VIP Club about?
---
Crypto VIP Club is said to be a software that can make a lot of money by trading cryptocurrencies like Bitcoin and Ethereum.
Andrew King, the alleged founder of Crypto VIP Club, claims you can make $2,500 every single day for the rest of your life, starting today.
He defines Crypto VIP Club as an "exclusive inner-circle for everyday people who are making thousands of dollars working from home".
According to him, all the people who have joined his amazing software have been earning $17,000 per week and are on their way to becoming millionaires.
This software is very easy to use because all the complicated calculations and analysis are done for you, so you don't need any experience or knowledge in cryptocurrencies or trading as all the hard work is already done.
Anybody can make money with this software because it tells you exactly what you need to do and what buttons to click. 
And the best part of all is the fact that this software is free. Yes, Mr King claims he doesn't want your money and the Crypto VIP Club is not even a sales page.
So if this software is such a treasure why is he going to give it away for free? What's the purpose of the video presentation? What business is he doing?
Let's see how this magical software really works in the next section.
.
How does Crypto VIP Club really work?
---
In short terms, Crypto VIP Club only works for the con artists who have created it. I'll elaborate.
They first tell you to complete a form with your name and email address.
Then you get taken to another page where you can watch another video where "Andrew" explains how this software works.
He claims that you have to complete a form with your name, your email address, a password and your phone number.
After that, you'll have to activate your broker account, and here is where the scam comes into play.
In order to activate your trading account, they'll ask you to fund your trading account.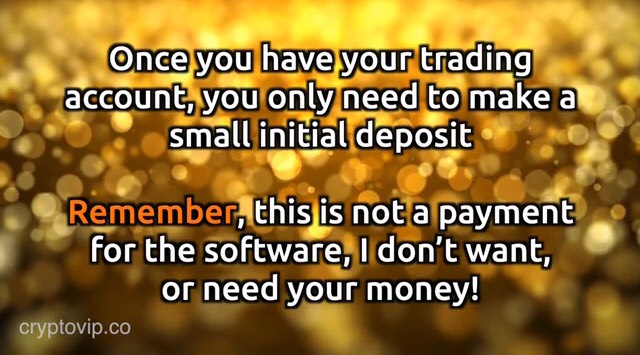 They don't say how much money you'll need to fund your account but it usually is $250. I know that because I've come across many scams like this one in the past.
Don't be fooled by the fact that they claim this is not a payment. You'll have to make an initial investment, what means that you'll have to give them your credit card information before being able to test the software and here's where the danger comes. 
Yes, the access to the software is free but without making an initial deposit it will be useless because you'll not be able to trade.
They claim to work with the best brokers so you don't have to worry because your profits are safe and secure. This is completely fake as these unethical people work with unlicensed brokers that part with the trader's money. 
.
What can you expect from Crypto VIP Club?
---
Once you have made the initial deposit, you can expect the unregulated broker to manage your money in a way that's not beneficial for you.
You'll turn the auto trader button on and then the software will start placing losing trades until your initial deposit gets down to $0.
Then you can expect the scammers to call you and try to incite you to invest more. They'll make excuses like there has been some kind of glitch and that you can earn your money back and more if you make another investment. 
Keep in mind that these scam artists never limit themselves when it comes to the amount of money they can get and they don't care if you lose all your money. 
They'll try to get as many people as possible to join and make a deposit as the unlicensed brokers they work with pay them for every single depositor.
Apart from that, these crooks will most likely sell your information to other fraudsters so you can expect to receive spam emails related to other scam offers.
.
Is Crypto VIP Club a scam?
---
The Crypto VIP Club sales page and video is full of red flags so I have no doubt that it's a scam.
.
Andrew King is a fictitious character
---
Andrew King is not the real creator of the Crypto VIP Club software. The people who have created don't reveal their real identity as they don't want anyone who gets scammed to report or persecute them. 
Con artists usually use fake characters for their scam. One thing I've noticed is that they usually use pictures of good looking people.
In this case, they've used this model picture you can find on Pixabay. I'm sure this guy doesn't even know his picture has been used without his consent.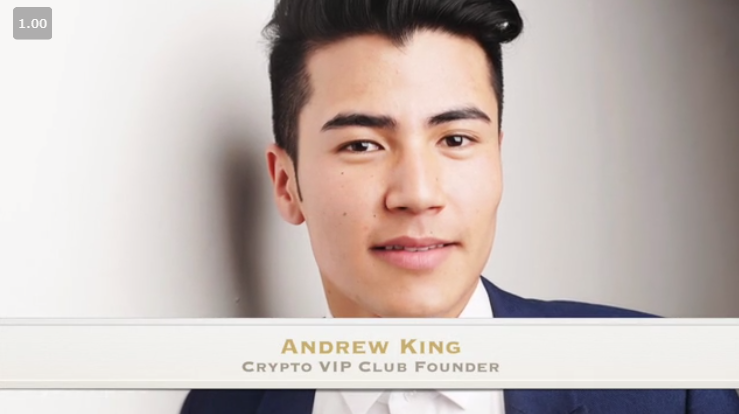 The fact that they hide doesn't necessarily mean that it's a scam but I consider it to be a lack of transparency. I personally don't trust programs/systems whose real owners don't show up.
.
The fake endorsements
---
They claim Crypto VIP Club has been featured on famous news networks like CNN, Financial Times, Forbes and Time. 

The problem is that this is completely fabricated. I've searched for Crypto VIP Club on CNN and there's nothing about this miraculous software.
It's not the first time I see logos of well-known news networks on scam sites. They use these logos to make you think that their product has been recognized by the media but when you do some searches you find out it's totally fake. 
.
The fake comments & testimonials
---
The people who appear on the Crypto VIP Club sales video are not real members of this software. They haven't even tried it. 
They claim to have made thousands of dollars thanks to it just to get paid by the unethical people who run this scam. 
Apart from that, you can also read three comments and two Facebook comments. The problem is that they're invented so the people who appear on those pictures have nothing to do with this crappy software.
Let's see one of those comments below: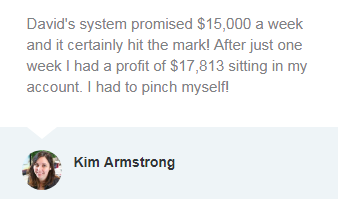 I guess the scam artists have written these comments without thinking much lol. Who is this David they're talking about? Isn't Andrew the name of the creator of this system?
Kim Armstrong is not the real name of the woman from the picture above. Her real name is Lise Statelman, as seen below: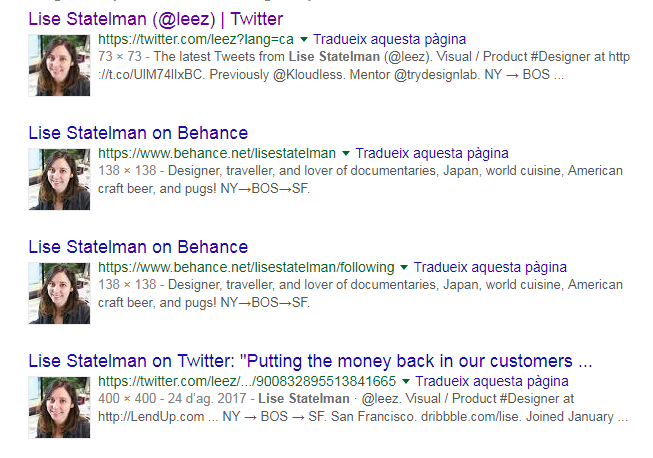 The Facebook comments are also fake. I see they're mentioning the Bitcoin Gold Bot system, which has nothing to do with Crypto VIP Club. Perhaps Bitcoin Gold Bot is the name of another scam they're creating.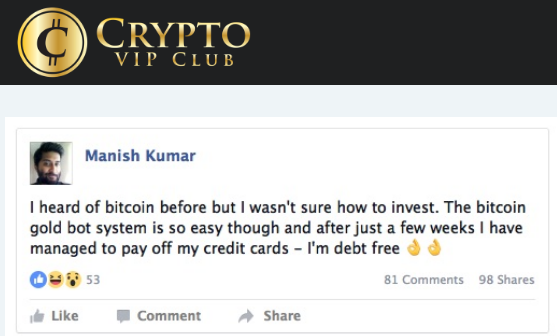 I found out the picture of that man in other sites:
.
The typical get-rich-quick scheme
---
I consider a get-rich-quick scheme to be a system that claims you can make thousands of dollars in a short amount of time. 
I've heard some scammers claim that their product is not a get-rich-quick scheme because it will not make you a millionaire overnight and this is true but it's a tricky claim. They make that claim to make it look more realistic.
The thing is, making thousands or even hundreds of dollars overnight without working can also be considered a get-rich-quick scheme. Getting rich quick doesn't necessarily mean you'll make millions overnight. 
These kind of schemes have never benefitted the average person who has tested them. The ones who will get rich quick here are the creators of these systems a.k.a. the scam artists.
.
My closing thoughts
---
I don't recommend the Crypto VIP Club because it will not make you any money. It's only designed to generate profits for the fraudsters who have created it.
After finding out so many red flags there's no way I'll test it. To be honest, I haven't rated it 0 because their hyped up claims have made me laugh, especially when they claim that only a few people will watch that video lol. I've heard similar claims in other scam videos.
Be careful with the fake reviews sites out there. I've found out a bunch of fake reviews about the Crypto VIP Club software. They're "scammers affiliates" and claim this software to be legit just to earn a quick buck.
I've lately come across lots of cryptocurrency scams. I see scammers are taking advantage of the popularity of cryptocurrencies.
Let's see other scam softwares you need to avoid:
It's possible to make a lot of money by trading cryptocurrencies but stay away from softwares and systems that claim you'll make thousands of dollars overnight. 
If you're starting out and are looking for a legitimate money-making opportunity, I highly suggest that you check out my favorite digital marketing platform.
This platform (free to join) offers courses, step-by-step training, video training and other tools that will guide you through the process of building a successful business online. 
Inside the platform you'll get to meet like-minded people who are on the same path as you. This is where I got started and I'm still amazed at how supportive the members and owners are, you can ask a question and there's always someone willing to help you out. 
There are many things I love about this platform, if you want to learn more about it I encourage you to click the button below now:
.
That's it for today! I hope I've provided the information you were looking for concerning Crypto VIP Club. 
In case you have any questions or want to share your thoughts with us, feel free to leave a comment below and I'll get back to you ASAP.
All the best! 🙂