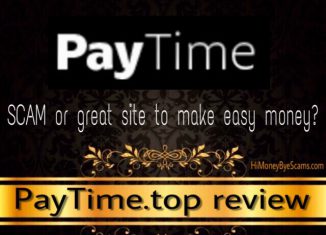 Welcome to my review of PayTime.top!
I've lately seen people advertise PayTime.top on Facebook groups so I thought I would check it out to discover if it's really a good site to make money or just another scam to stay away from.
If you've come across PayTime.top but are hesitant to join it, make sure you read this review to find out the truth and end up making the right decision.
.
PayTime.top review
---
Name: PayTime
Website URL: paytime.top
Owner: unknown
Created in: 2017
Price: free to join
Overall Rating: 15/100
.
---
If you're sick of scams, check out my 1st resource to make money online here!
---
.
What is PayTime.top?
---
PayTime.top is another site that claims you'll get paid to complete tasks like the following:
Download free apps. They pay from $2 to $20 for each app you download.
Fill in surveys or sign-up for trials. You can earn from $5 to $200 per each survey or sign-up.
Share posts on Facebook. They have banners that you can post on Facebook groups and get paid $0.5 per valid post.
Get referrals. You can earn $1 for each referral.
Promote products & courses. They have a list of digital products and courses that you can promote via your affiliate link and earn from $25 to $150 for each sale you make.
And the best part is that anyone can earn money with this as it's free to join and you don't need any special skills to perform those tasks.
You get a $10 bonus for signing up but they won't let you cash out until you have reached the minimum payout threshold of $50. They claim to make payments on the 30th day of each month via PayPal, Payoneer, Payza, Skrill or wire transfer ($100 minimum). 
.
How does PayTime.top work?
---
In order to join, you'll have to complete a form with your name, your email address, a username and a password.
After signing up I took a look at the dashboard and saw something I didn't like. 
In their homepage they claim you only have to reach $50 to get paid via PayPal, Payza, Skrill or Payoneer, and $100 to get paid via wire transfer. But then in the payments section you can read a different thing:
Why aren't they honest about the minimum payout threshold? Why don't they say that you'll have to reach $100 to get paid via Payoneer and Skrill and $500 to get your money via wire transfer?
I also checked out the banners section, the "invite friends" section, the "promote movies" section and the tasks section.
.
What you'll find in the banners section
---
In the banners section you'll find out some banners to download. These banners are PayPal payments snapshots like the one below:
To be honest, I don't believe this payment proof is real. It's not that hard to create a fake screenshot nowadays so I believe these snapshots are made to promote PayTime.top on social media and get referrals.
They tell you to join Facebook groups related to online jobs & making money online and then post those banners there. And then you can earn $0.5 per each post and $1 per referral.
I won't be doing this because there's no way to verify those snapshots are real. Posting those banners on social media is a way to rip people off. That is actually how I got to know about PayTime.top. I saw someone posted that picture on a Facebook group.
People behind PayTime.top want you to believe that those are real payment proofs so that you and other people who see it think it works but the truth is that they're completely fabricated. 
If you take a look at the snapshot above you can notice that the month of the payment is July 2017. I believe it's fake because I searched for the PayTime.top domain information and found out it was registered on July 17th 2017.
I personally don't believe someone has earned $209.25 in 2 weeks just by completing tasks like taking surveys or downloading apps. That payment proof has been uploaded by people behind PayTime.top just to rip people off since the beginning.
.
What you'll find in the tasks section
---
They claim you'll get paid $5 per task. In order to start a task, you'll have to click the "Launch task" button and a new tab will be open. This is what you'll find:
I don't know why the offers are in Spanish but these offers are about downloading books, downloading games & music and updating Whatsapp. I clicked some of them and I got taken to sites where you need to sign up or start a 7 day trial in order to complete those offers.
If you take a look at the screenshot above, you can notice that I highlighted the tracking id (a part of their affiliate link). This means that if I sign up to one of those sites or start a trial and make some kind of payment, the owners of PayTime.top will get paid. That's one of the ways they make money.
Therefore, it's not really free to make money with PayTime.top because you'll have to pay in order to complete those offers. 
.
What you'll find in the "promote movies and TV shows" section
---
In this section you can search for a movie or a TV show you want to promote and then you'll get a link that you can copy and paste on social media.
Let's see an example:

And after sharing the link you're supposed to earn $15 per each sign-up. 
However, they don't explain where the money comes from. I checked out the 123movies.press site and I didn't like it as it's not secure and new tabs opened when I was about to register, so that site is kind of suspicious. 
The fact that they don't say if 123movies.press require people to pay to watch movies leaves me thinking that they will not pay you. If 123movies.press doesn't pay people behind PayTime.top, then you won't get paid. 
.
Is PayTime.top a scam?
---
There are several reasons why I believe PayTime.top is a scam.
Let's see some red flags that show PayTime.top should not be trusted:
No information about the company. There's no about page or any other section where the owners of PayTime.top present themselves. Why are they hiding? I personally don't trust sites whose creators don't show up.
No privacy policy or terms & conditions page. All legit sites and companies have a privacy policy or terms & conditions page, something PayTime.top does not have. There's no way to know how they'll use the information you give them.
Fake payment proof. As I explained in the previous section, that payment proof they have in their site is not real. Apart from that, there are no "real positive" reviews about PayTime.top so there's no way to confirm that PayTime.top is paying its members.
Fake endorsements. If you scroll down to the bottom of the PayTime.top site, you'll see they claim to have been featured on well-known sites like Entrepreneur, Elite Daily, Forbes… but the problem is that this is fake. I searched for PayTime.top on Elite Daily and found nothing.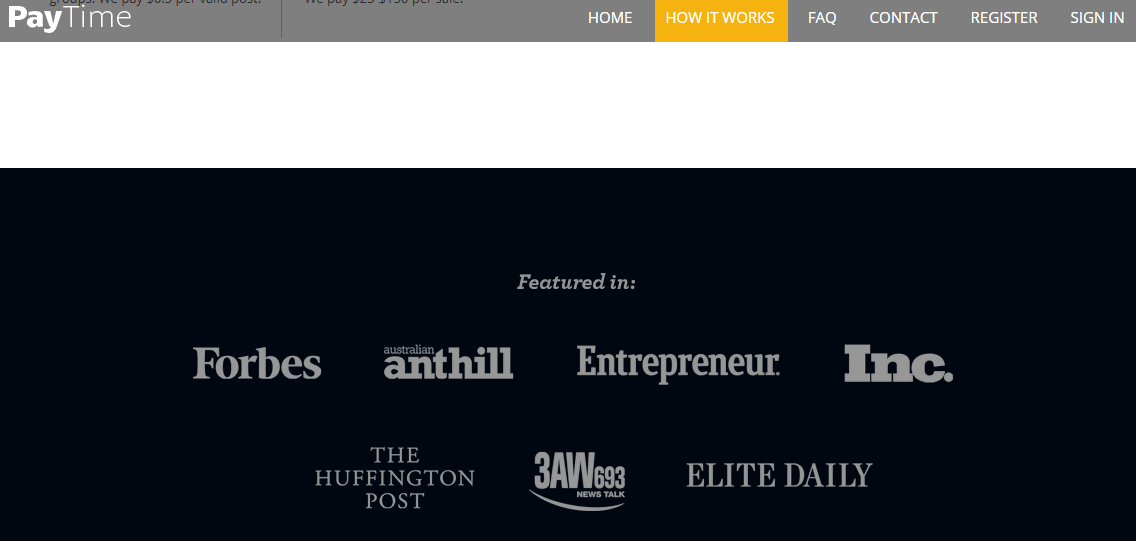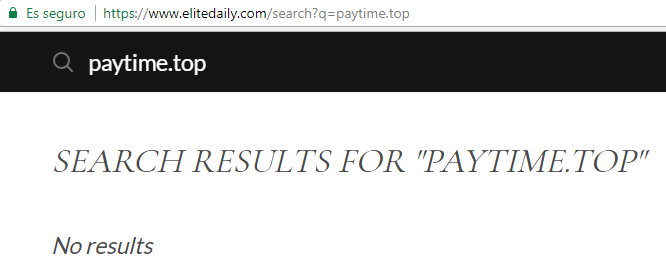 What about the online courses and digital products? In their homepage they claim to have a list of courses & products you can promote but after joining you'll see that there are no courses or products listed.
They're not transparent as they don't explain how they make money. They say nothing about where the money comes from. Let's say that you refer 50 people and earn $1 per each referral and then you claim your payment but they won't pay you if no one pays them. They don't say that you'll have to pay to complete some offers and that they're affiliated with the sites you'll have to sign up for.
.
My final conclusion
---
I believe PayTime.top is not a site we can rely on to make money. PayTime.top only makes money to its creators. It reminds me of another fake site that I exposed some days ago called TeenMoney.
They lack transparency and honesty when it comes to who they are and how they're getting paid. Not to mention that they lie when they claim to have been featured on well-known companies.
Apart from that, the fact that they claim you'll get paid like $10 for each survey that you complete is not true because survey companies don't pay that much, they usually pay from $1 to $5 per survey. You can read this article I wrote about making money by taking surveys.
They make it look like it's so easy to make money by performing simple tasks like completing paid surveys or downloading apps but it's not that easy. Don't get me wrong, it's possible to make money on PTC sites but it's time consuming and they don't pay much money.
If you're only looking to earn extra money then I recommend that you check out ClixSense. 
If you're searching for a legitimate place where you can learn to make a full-time income online, then I highly suggest that you check out my favorite digital marketing platform.
I let you know that this is not a get-rich-quick scheme, you'll need to work hard and invest time in this to earn a living online.
This platform is very affordable (free to join) and provides step-by-step training, courses, tutorials and other useful tools that will help you build a thriving business online. 
You can also count on me and other bloggers & entrepreneurs to support and help you during the process of building your business. This platform offers many ways to get help and support, you can jump into the live chat and ask a question or just leave me a message on my profile =)
If you're interested in learning more about my top recommendation, click the button below now:
.
I hope you've found the answer to the question "is PayTime.top a scam?" and now you have enough information to know what to do next.
In case you have any questions or want to share your opinion, don't hesitate to leave your thoughts in the comments section below. I always reply to my readers! 🙂 
All the best!