Hey everyone!
Have you come across Limitless Commissions and are wondering whether it's legit or is Limitless Commissions a scam?
Well I'm glad that you have done your research and have landed on this review because you're going to find out the truth about Limitless Commissions and will end up making a good choice.
.
Limitless Commissions review
---
Name: Limitless Commissions
Website URL: http://limitlesscommissions.com/
Creator: Matt Driscoll
Price: $49 + upsells
Created in: 2017
Overall Ranking: 21/100
.
---
If you're sick of scams, check out my 1st resource to make money online here!
---
.
What is Limitless Commissions about?
---
The second I stumbled upon the Limitless Commissions sales page I started watching the sales video where they claim that I've been number 68 out of 70 and that I've qualified to get access to a private system that generates over $10,000 per day.
So looks like I've hitted the jackpot, right? Lol. I almost fell off my chair when I heard that as I couldn't stop laughing. I've heard a similar thing in other scam videos.
So the man who narrates the sales video claims you can become a millionaire in 6 easy steps. 
He claims to be Matt Driscoll and he's made millions thanks to this system he's going to talk about.
Even though he's already a millionaire, his goal is to make $50 million dollars this year so he's looking for people like you to join his team as he makes money when you make money.
According to him, you won't have to do much work or dedicate much time to this as this system is done-for-you. You're going to get the websites, the marketing tools, a "millionaire mentor" and a sales team who will close the sales for you.
You'll basically have to send "free traffic" to a company that offers high-ticket products and then you'll get to earn thousands of dollars in commissions, from $1,000 to $10,000 per sale.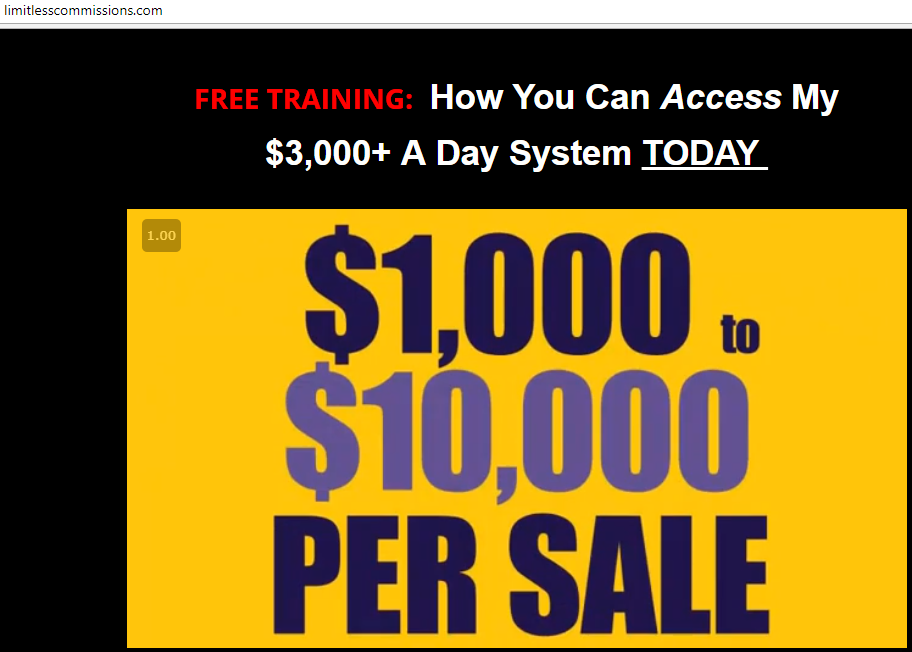 I don't like the fact that he claims you're going to get a free entrance to the company but then he says that it'll finally cost $49 as he needs to make sure you're serious about it. Why can't he mention the real cost upfront?
He makes this system sound amazing but the truth is that making thousands of dollars online is not as easy as he claims. There are some important details that he doesn't explain and you need to know to make an informed choice.
.
How Limitless Commissions works
---
Limitless Commissions is not the real name of the program you're getting into. I believe they haven't mentioned the name of the real program because of the negative reviews that can be found on the net.
So the real program/system they're trying to get you into is called MOBE (My Online Business Education) a.k.a. MTTB (My Top Tier Business).
If you click the button below the sales video, you'll get taken to the checkout page where you can see that you're getting the Laptop Lifestyle System, which costs $49 and is basically another name for MOBE.
What you're getting with the Laptop Lifestyle System is a 21 step training that will serve as a way to get you started. 
This program is a high-ticket program and it's true that it's possible to earn huge commissions, but what they don't say is that you'll have to purchase the MOBE memberships before you can promote them to others and earn commissions.
These memberships are very expensive as they cost thousands of dollars. The cheapest one is Silver and it costs $2,497, and the most expensive is Diamond and costs almost $30,000!!!
Not to mention other costs like the monthly affiliate fee that is $19.95/month and the inner circle membership goes from $27/month to $295/month or $216/year to $2,360/year.
So you can earn a looot of money, but you'll have to spend it before you get to earn it. This is something not mentioned in the sales video and I believe it's important that you know about it before getting into MOBE. I know I would want to know all the costs involved before making a purchase.
When it comes to the "millionaire mentor" you'll get, he/she will help you make sales and will close the sales for you, but note that he/she will also try to get you to buy into the MOBE pricey memberships in order to make money off your purchases.
.
Is Limitless Commissions a scam?
---
In my opinion, Limitless Commissions is a scam because it doesn't live up to its promises. They don't tell you everything you need to know about the real program and they also make it sound way too easy to make thousands of dollars per day.
With that being said, let's see some of the lies and red flags that are present in the Limitless Commissions sales video.
.
The testimonials are fake
---
I've lost the count of the amount of times I've seen this Fiverr actor appear in scam videos:
He claims to have made over $10,000 in a single day but this is completely fake. He isn't involved in MOBE, he's been paid to recite a script. 
He's been involved in other scams like 1K Daily Profit and Retired Millionaire.
He sells his acting services on sites like Fiverr: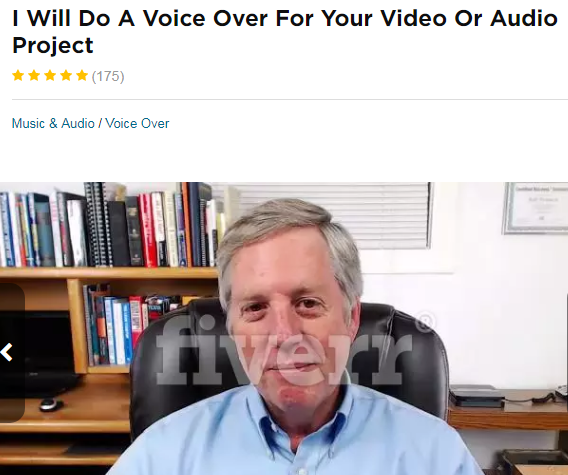 .
What about the $500 at the end of the video?
---
Matt claims you'll earn $500 for free if you watch that video until the end but you and I haven't received them. 
Imagine if that was true how many people would be watching that video right now lol. That's just a fake claim to get you to stay watching the video until the end. 
No one guarantees that you'll make money. In fact, the average MOBE "consultant" earns $700 per year in commissions, according to their income disclosure.
.
Have you been selected?
---
They want you to believe that you've been selected to make you feel special but the truth is that no one has been selected lol. That video is available to anyone who has an Internet connection.
If that page was private then it would be possible to have been selected but that page is like any other public site out there. And the truth is that they want as many people as possible to join them.
.
Build an online business without spending thousands of dollars
---
I don't recommend that you fall for Limitless Commissions and end up joining MOBE. It's possible to make money with MOBE but you'll have to spend thousands of dollars before you get to start earning enough money so that's very risky for most of us.
I also don't like the fact that they don't explain everything you need to know about what you're getting into. You don't want to buy something without making sure that that is what you really need.
With that being said, you don't need to spend thousands of dollars to build a business online. In fact, you can get started without spending a penny! But also note that this requires consistent effort and patience and success won't happen overnight.
If you're looking for a legitimate place where you can learn to build an online business like I'm doing, I highly suggest that you check out my favorite digital marketing platform.
This platform is very affordable (free to join) and provides step-by-step training, business tools, video tutorials and other courses that will guide you through the process of starting an online business from scratch and take it to the next level. 
I love many thing about this platform, one of them is the fact that there are many ways to get help and support. You can rest assured knowing that you're not alone in this! 🙂
If you're interested in learning more, click the link below and read my review of my top recommendation now:
 .
I hope you've found the answers you were looking for and now you have enough information to make the right decision.
Feel free to leave a comment below if you have any questions or want to share your thoughts with us. I'll get back to you ASAP!
Cheers =)