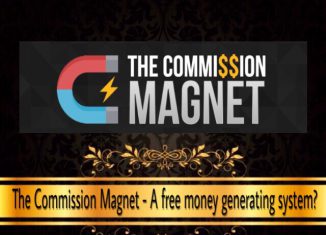 Hi there!
I recently came across a brand new product called The Commission Magnet, so I did a research to know what it is about and whether it delivers what's promised or not.
In this review, I will be explaining what's The Commission Magnet, what's offered within it, how it works and more.
Let's go!
.
The Commission Magnet review
---
Name: The Commission Magnet
Website: www.thecommissionmagnet.com
Creators: Glynn Kosky & Dr. Abdullah
Created in: 2017
Price: from $5.95 to $97
Overall Ranking: 4.5/10
.
---
If you're sick of scams, check out my 1st resource to make money online here!
---
.
What is The Commission Magnet about?
---
The Commission Magnet is a brand new product that is supposed to teach you secrets and strategies to get tons of free traffic so you can generate a lot of money through affiliate and CPA (Cost Per Action) offers.
Glynn claims that for the past months he has been working behind the scenes and has found out free traffic methods that have made him a vast amount of money through promoting affiliate products, and he has been able to travel the world to all the places he had dreamed of.
He also says that anyone who follows the course and the modules correctly can start making hundreds of dollars within hours, even people who have no experience in the digital marketing world or have never earned money online.
Doesn't it sound too good to be true? Well, let's see what this product exactly includes and how much it costs in the next section.
.
What does The Commission Magnet include?
---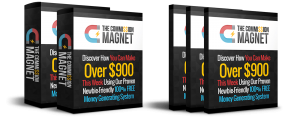 .
Front end – The Commission Magnet video course
---
This video course is supposed to teach you how to set up a system that is ready to get free leads on a daily basis that ultimately makes you commissions by promoting affiliate products and CPA offers. Price: $5.95 – $9.95 (100% commissions for affiliates).
.
OTO 1 – Done for you package
---
Glynn claims that this upsell is a done for you package that you can use to plug into a free traffic source so you can start making money fast. It sounds good but I don't believe in it because there's no way to get free traffic in a fast way out of thin air. Price: $19/$12 (50% commissions for affiliates).
.
OTO 2 – Email marketing course + DFY email swipes
---
This one will get you access to a video training course teaching you how to do email marketing the proper way and get some email swipes, which will help you to use solo ads to get traffic. This one seems good but not extraordinary. Price: $27/$17 (50% commissions for affiliates).
.
OTO 3 – High paying affiliate program database + List of lead magnets
---
This upsell offers a document that contains a list of high paying affiliate programs (supposedly used by Glynn and his partner) and a list of lead magnets to incite people to opt in to your email list. Price: $37/$27 (50% commissions for affliates).
I think this one is a waste of money because you can do your research and find high paying affiliate programs and products on affiliate networks like Clickbank, Jvzoo and Amazon and all over the Internet.
.
OTO 4 – License rights to The Commission Magnet funnel + Skype consultation
---
The last and more expensive upsell will allow you to license Glynn's products and resell them as if they were yours, so you'll get 100% commissions for each sale. You'll also get the chance to interact with Glynn via Skype for 30 days to get help with email marketing. Price: $97/$47 (50% commissions for affiliates).
.

.
Look out for these signs!
---
While I was watching the promotion video and the main page, I found out some scammy factors we all need to be careful with before making any kind of purchase or joining any company or program.
.
Another "private invitation"
---
Glynn claims that if you've come across The Commission Magnet's main page and video is because you've been privately selected by one of his friends or business associates, as you can see below: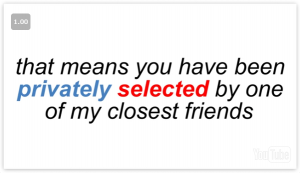 Well, this is not true because I found out this product thanks to WarriorPlus, a public website which can be visited by anybody who has an Internet connection. You can also find that page by typing "www.thecommissionmagnet.com" on Google, so there's no way the page is private. Sorry but I couldn't help laughing when I read "you have been privately selected" lol.
.
The fake countdown and fake number of spots left
---

These ones are very common in scams. 
I know both are fake because I visited that website yesterday and found the same stuff. Whenever I refresh the page, the countdown goes back as how it was when I first arrived.
The number of copies left never reach 0, so there's not a limited number of copies or spots. I'm sure that if I check that page again in a few hours, nothing will have changed.
The truth is that they want as many people as possible to purchase The Commission Magnet.
.
Page not updated + another fake time counter
---
I checked the page for The Commission Magnet affiliates and read that they're supposed to go live on Monday 6th February, as you can observe below:

This is clearly not updated because it's been more than a month since 6th February, so they should have already gone live. 
Another thing is, the countdown is fake because you can refresh the page and see how it goes back as it was the first second you stumbled upon that page.
.
That annoying pop-up
---
Looks familiar? I bet.
If you've read some of my other reviews where I expose scams like Dubai Lifestyle App and Profit Maximizer, you may already know that fraudsters use these kind of pop-ups to entice you to join or buy their system or product.
.
Kind of a get-rich-quick scheme
---

This one is not like those get-rich-quick schemes that claim that you can become a millionaire within 3 months, but what I don't find realistic is that you'll only need to dedicate half an hour or an hour every day to achieve this, according to Glynn.
It's possible to make $900 or more per week, but it requires time and effort to make it happen.
.
Is The Commission Magnet a scam?
---
Even though this product presents some scammy factors, it is definitely not a scam. Glynn Kosky is a real person and I found out that you can contact him via Facebook and Skype. They offer a 30 day money back guarantee, so you can ask them for a refund if you purchase this product but end up not liking it.
However, I don't believe it's a high quality product so I won't be recommending it.
There's only one online platform that I really recommend: Wealthy Affiliate. This platform is the place where you will learn to turn your passion into an online business through step-by-step training.
Therefore, if you dream big and are serious about making money online, I suggest that you click the button below to know more about it.

.
Thanks for reading my review on The Commission Magnet. I hope the information I've provided has helped you in some way.
If you have any questions or feedback regarding The Commission Magnet, Wealthy Affiliate or anything related to online scams, don't hesitate to leave a comment below. I'll be more than happy to hear from you and connect! 😀