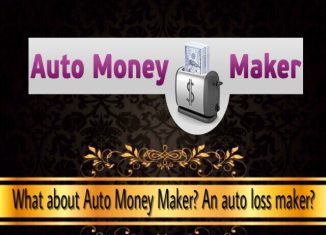 Hey everyone!
I've recently stumbled upon a website called Auto Money Maker. The title already sparked my curiosity so I investigated what it was all about.
In this review I'll be covering what's Auto Money Maker, how it works and whether it can make you money or not.
.
Auto Money Maker review
---
Name: Auto Money Maker
Website: www.automoneymaker.co
Owner: "Arthur McCool"
Created in: 2016
Price: "Free"
Overall Ranking: 0/10
.
---
If you're sick of scams, check out my 1st resource to make money online here!
---
.
The promo video is similar to other scam videos
---
The minute I started watching the video, the word "scam" already came to my mind.
Let's see what I didn't find genuine about the video in this section.
.
The minute the video starts playing, you can watch some people saying that this software called Auto Money Maker has changed their lives for the better because they can now afford to do things like buying a new car, travelling the world…
But then I read that I was one of the only 500 lucky ones to watch that video, what made me question it because that video is public so anybody can access to it by doing a simple Google search.
After that, the supposed creator of Auto Money Maker, Arthur McCool starts saying that he's going to tell me everything I need to know to make real money online and that he's not trying to sell anything so I can put my credit card away.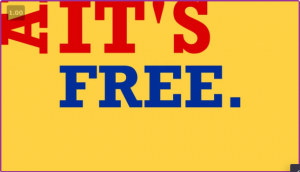 He also claims that he wants to help people who need financial help, people who have no job and struggle to pay the bills… because no one deserves to live that kind of life.
After that, he explains what scammers are all about and why his software is different. To be honest, the more he talks about what his software is not, the more convinced I am of what this so-called software really is.
Then he claims that his software will almost always make you win trades because it has a winning rate of 92%, what I find it's so unrealistic because it's not that easier to always win by trading binary options.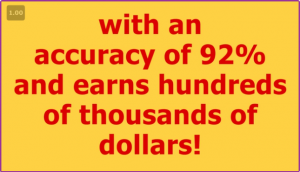 At the end of the video he tries to convince you to join Auto Money Maker by stating that it won't cost you anything and that it can make you richer than you've ever dreamed of, without you needing to put in the hard work.
This just sounds too good to be true, like nobody will help you become a millionaire for free.
.
Why is Auto Money Maker a scam?
---
After watching the two promo videos (the main promo video and the promo video you can watch after entering your email), taking a look at the main page and doing some searches, I reached the conclusion that Auto Money Maker is another crap you need to stay away from.
.
Fake testimonials
---
This one is not rare. Scammers will usually pay Fiverr actors to get positive reviews for their shitty program or software.
I found out that one of the testimonials who appears on the Auto Money Maker is a paid actor who can be found on Fiverr by searching for jasondeh1. 
See what I mean below:
The real creators of Auto Money Maker (a.k.a. the con artists) want us to believe that a lot of people have got amazing results from their software, but the truth is that they've bought all those positive opinions.
.
Fake comments
---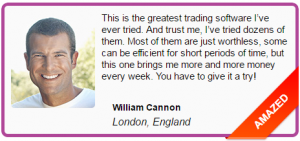 I noticed that all the comments on the Auto Money Maker sign up page were positive, so I did some Google searches to find out whether these comments and testimonials were real or not.
I found William Cannon's picture on another website, as you can see below:
This makes clear that William Cannon is a made up character. Scammers stole the picture from another website and invented the comment.
.
Fake screenshots
---
If you watch the main promo video, you'll see some screenshots of the profits earned and their respective dates, but is this really authentic?
Those supposed earnings are from 1st April 2016, so I looked for the "automoneymaker.co" domain registration date and found that it was registered on 15th August 2016:

This proves that this software didn't exist on April 2016, so all the profits screenshots are fake and made up to make you believe that Auto Money Maker works, but the truth is that everything about it it's fake.
.
They play with your emotions
---
Fraudsters use some abusive tricks to catch your attention and persuade you to do what they want.
They tell you that you'll make a lot of money in a short amount of time. They target people who are desperate to earn money, so they make these false claims to get people excited. 
They pressure you to join their software. They say that this is your only opportunity to get rich and that you need to join as soon as possible to make sure that you don't miss out.
They use annoying pop-ups to incite you to enter your email and join. You'll see these kind of pop-ups appear whenever you're about to leave their website.
They show pictures of beautiful places and expensive stuff like mansions, hotels, cars… to get you hyped up. They want to make you believe that you'll be able to live the dream lifestyle by doing what they tell you to do.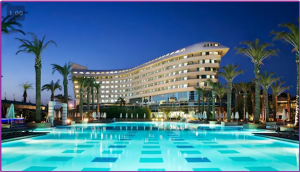 .
My final advice
---
This scam is no different from other binary options scams like Millionaire Blueprint and Freedom Circle. As soon as you join, you're redirected to an unlicensed broker and asked to make a deposit of $250 as a minimum. 
Then that's when you get scammed. The broker will manage your account in a way that makes you lose trades, and the con artists who referred you to the broker are the ones who get vast commissions. At the end, you're the one who loses all the money you've invested. They won't even allow you to withdraw it.
We've seen some proofs that show the truth about Auto Money Maker scam software, so my final conclusion is that everything about it it's fake and designed to steal your hard-earned money. 
I believe the best way to make money online is by building your own online business through affiliate marketing.
If you have no idea where to get started, I recommend that you check out Wealthy Affiliate.
WA is an online business platform where you'll learn how to create and grow a digital business through step-by-step courses and training.
Not only this, you'll get help and support from experts and all the community members (myself included) so you never feel stuck or lost 🙂 

.
I hope you've found this review useful and you never fall for scams like Auto Money Maker. Please feel free to share it on social networks so more people can get to know about it.
If you have any questions or opinions regarding the Auto Money Maker, other scams or making money online, don't hesitate to leave a comment below. It will be a pleasure for me to connect with you! 
All the best in whatever you do next 🙂