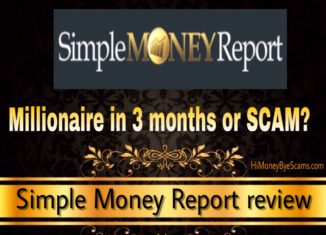 Welcome to my Simple Money Report review!
Looking at Simple Money Report (smoneyreport.com) and wondering if this money-making opportunity will give you the financial freedom you desire? Or is Simple Money Report a scam that will leave you with less money than you have?
I've reviewed many products like this one and the truth is that most of them (not to say all) are not what they appear to be, so it's great that you've done your research and have landed on my review.
Here you will find what Simple Money Report really is, how it works and more.
.
Simple Money Report review
---
Name: Simple Money Report
Website URL: smoneyreport.com
Owner: Not revealed
Price: $97 initially + $10,000s
Overall Ranking: 18/100
.
---
If you're sick of scams, check out my 1st resource to make money online here!
---
.
What is Simple Money Report about?
---
The Simple Money Report first landing page claims you're going to discover a simple money site that will allow you to:
Become your own boss

Take control of your financial future

Work whenever you want
Sounds amazing, right? Oh, and you don't even need any previous experience or tech skills to do this.
Then, you only have to complete a form with your name, your email address and your phone number (optional). I personally gave some dummy information because I like to know what I'm getting involved with before giving away my personal details.
After that, I got access to another page with a sales video and some testimonials. It looked very familiar to me but I was like "who knows, maybe it's different from the other scam videos", so I started watching it.
The spokesman really knows how to get you excited when he talks about how some people have become millionaires in a short period of time like 92 days.
They've supposedly used some simple money sites and have only had to work like 1.5 hours per week.
He makes it sound like these money sites are kind of magical or have something special that helps people earn money on autopilot.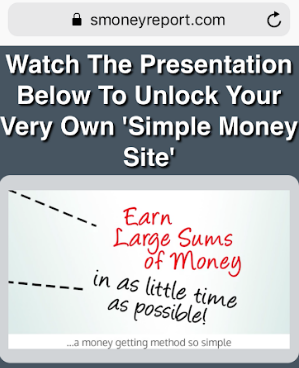 Sounds like something you to try, right? Honestly, some years ago when I was getting started I would have been so tempted to try systems like this one.
But now that I know what it takes to make money online, I will not bother trying it. 
I can tell you right now, there's no such thing as becoming a millionaire in 3 months. Yes, there are many who have made a fortune, but they've had to put in the work and time.
So how does this program really work? How do these simple money sites make money? Let's see the truth.
.
How Simple Money Report really works
---
Truth be told, Simple Money Report is not the real program they're selling you here. Notice how the spokesman doesn't mention "Simple Money Report" in the sales video?
He mentions Simple Money Sites, which is another page that I exposed some days days ago. Both Simple Money Sites and Simple Money Report are the same. They have been created to get you to buy into the same program.
You might be wondering, which program? MOBE (My Own Business Education). I know this thanks to the Simple Money Report purchase agreement:
Whenever I read "$500 guarantee" or "21 steps" I think of MOBE because it's the only program that uses those terms in their promotional pages.
What you need to know about MOBE is that it's a high-ticket MLM program that basically teaches you to earn money by promoting MOBE itself.
And another thing is, it's really expensive. The $97 initial fee is only to get you started with this 21-step training, but this is just the beginning.
MOBE provides these pricey packages and memberships:

As you can observe above, they cost thousands of dollars!! Not to mention the monthly or yearly memberships.
The thing is, you will have to purchase each package you want to earn money from.
Therefore, if you want to make the big commissions from the Platinum and Diamond levels, you will have to spend over $40,000!
And then, after purchasing them, you will eligible to promote them and make commissions for each sale.
Know that whenever you purchase a MOBE's package, your personal coach a.k.a. your sponsor will earn commissions. And whenever you make a sale, he/she will also earn money. That's why this "personal mentor" will help you make sales.
In order to make more money, you will have to teach the people you've recruited to get more people into MOBE. And so on and on. It's a cycle that never ends.
MOBE works similar to other MLM companies like Amway or Herbalife, but the difference is that MOBE's products are digital and cost thousands of dollars.
And MOBE does not even have retail sales, something that makes it a cash gifting scheme as the money goes from member to member. People outside MOBE can't purchase the products without joining.
.
Why this is not as easy as they claim
---
Your job will be to get other people to buy into MOBE, something you will do by using the "simple money sites".
The problem is that these money sites a.k.a. landing pages don't have the potential to get free organic traffic because they will not get good rankings on the search engines.
Therefore, you will have to do paid advertising to drive traffic to those sites. 
The spokesman claims you can turn $5 into $100, but the truth is that you will have to spend waaaay more than $5 to recruit the few people who are willing to spend thousands of dollars on MOBE's packages.
Honestly, who has thousnads of dollars to invest into digital marketing products? Most people do not, that's why you will have to spend a lot of money to find the ones who crazy enough to make huge investments.
So yup, you will not only have to spend thousands of dollars on MOBE's packages in order to get the right to sell them, you will also have to spend money on paid traffic.
.
Is Simple Money Report a scam?
---
I have to say that yes, Simple Money Report is a scam because it doesn't exist as a program or system.
I mean, you wouldn't like to receive something different than what you've paid for, would you? I know I would feel ripped off if I purchased a shirt and got a skirt instead.
Therefore, if they're calling this program Simple Money Report, they shouldn't be trying to get you to purchase a program that goes by a different name because it gets you confused.
So, what about MOBE? Technically, it's not a scam. But I don't like the fact that they're using unethical marketing tactics to promote it.
The reason why they don't mention this program in the Simple Money Report sales page is because it doesn't have a good reputation, so they know you probably wouldn't purchase it if you knew it upfront.
I've explained how this program really works, and now let's see some red flags that you need to be aware of:
The testimonials are fake. The video testimonials are paid actors and the pictures from the other testimonials are stock pictures, which means that it's not true that those people are making thousands of dollars per day with this system. For example, the one below has appeared on many other scam videos like

UDC Income System

and

30 Minute Money Methods

.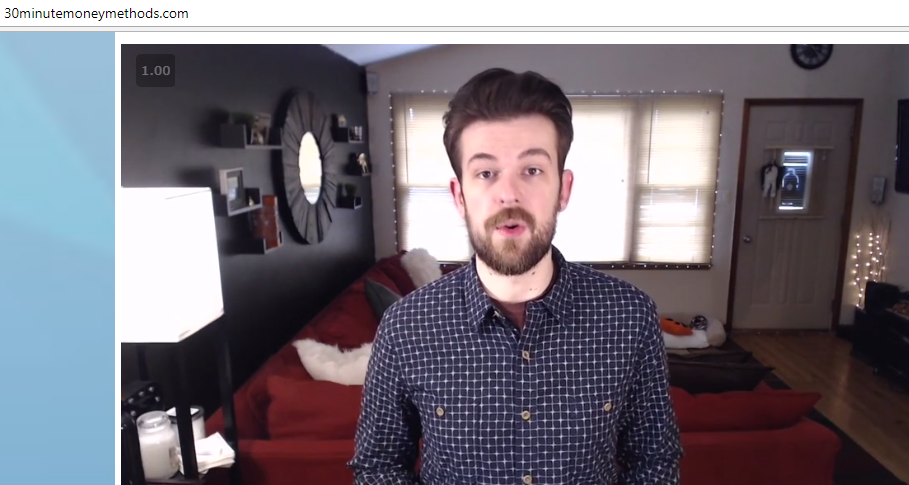 No information about the owner/s of Simple Money Report. I don't like the fact that the spokesman doesn't mention his name and doesn't even show up. The owner of Simple Money Report might be a MOBE affiliate who's looking to get new recruits, but the fact that he doesn't show up leads me to believe he's trying to hide something, just like scam artists do.
Lack of transparency when it comes to the price. I've never liked programs or systems that can't say the truth about the costs because it's something important to know to make a good decision. In this case, they contradict themselves by saying that they normally charge $197 but it really costs thousands of dollars, as I've explained in the previous section.
.
My online biz does not cost thousands of dollars
---
I highly do not recommend that you fall for Simple Money Report and buy into MOBE for several reasons.
I personally don't like that they're not honest about what you're exactly getting involved with, not to mention the unethical sales tactics they use.
The moment you understand that there's no such thing as getting rich quick or making money without working much, it's when you'll leave these get-rich-quick schemes behind.
The good news is that you don't need to spend thousands of dollars to make a full-time income online.
The business model I'm using has enabled me to earn a consistent income month after month.
It doesn't require me to purchase the products I want to make money from and I also know how to get free organic traffic to my offers, so I don't need to pay for ads to earn commissions.
I believe that anyone who puts in the effort and gets the right step-by-step training and tools, is capable of making a full-time income doing what I'm doing.
By clicking the button below now, you will learn how this business works, where and how to get started for free and more.
This business you'll learn to build will be sustainable for the long run and will be based on something you're passionate about.
Additionally, you'll get to meet many like-minded people, Internet entrepreneurs and bloggers willing to help and support you, not to mention that I'll personally be there for you too =)
LEARN ABOUT MY TOP RANKED PROGRAM NOW!
Stop wasting your time or money on scam programs and get on the right way to earn money online!
I hope this review has been helpful and now you'll make the right choice.
If you have any questions or opinions concerning Simple Money Report or anything else, feel free to leave a comment below and I'll get back to you soon 🙂 
Have a great day!