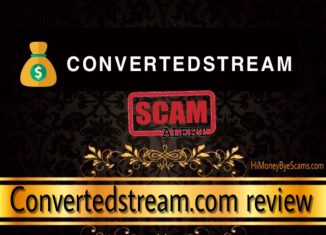 Welcome to my Converted Stream review!
You've come across this GPT site and are wondering if it's going to help you earn money, right? Or is ConvertedStream.com a scam that you need to stay away from?
It's good that you're skeptical about this money-making opportunity because it's not what it appears to be.
The purpose I have with this review is to let you know the truth about convertedstream.com so that you end up making an educated decision.
.
ConvertedStream review
---
Name: Converted Stream
Website URL: convertedstream.com
Owner: Unknown
Created in: February 2018
Price: Free to sign up
Overall Rating: 1/10
.
---
If you're sick of scams, check out my 1st resource to make money online here!
---
.
What is ConvertedStream about?
---
ConvertedStream.com is a website that apparently offers a very easy way for people to earn money online.
What you have to do here to make money is not hard or complicated. All you have to do is to share your ConvertedStream referral link on Twitter, Facebook, forums, private message, blogs, chats… wherever you can think of.
And then, when people join the ConvertedStream site through your link, they will pay you. They claim you will also get paid $1 for every visit your link gets.
They also say that you can earn $5 for each easy task you complete.
According to them, you can earn up to $500 per day only working 2-3 hours a day. This is kind of unrealistic when we take into account that GPT (Get Paid To) sites are just a way to earn extra money.
Even though it's possible to earn $500 per day online, there's no such thing as earning this amount of money with only 2-3 hours of daily work. 
That's why I thought that ConvertedStream is not what they claim it to be. They make it sound like you can earn a lot of money easily and fast, something typical of most scam sites.
And the fact that it doesn't require you to have any experience or previous skills and it's free to join, makes it tempting to try it out.
I can tell you right now that ConvertedStream is not a reliable money-making opportunity. Let's see the truth about it.
.
How ConvertedStream really works
---
In order to join, you will have to complete a form with a first name, a last name, an email address and a password.
After that, you will get access to the dashboard and will see your referral link ready to be shared, similar to the one below:

I personally will not share that affiliate link and I will not even try to get other people to join ConvertedStream because I would only be doing a favor to the scammers if I did. More on this later.
Now let's see the other ways we can allegedly make money:
They claim they will pay us $5 if we upload a YouTube video promoting ConvertedStream.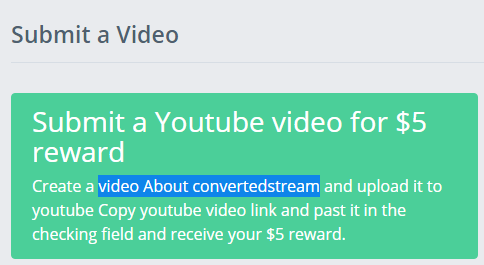 They have a section called "make more money" where you can find a list of online money-making products. The problem here is that these programs are not high quality programs, they're considered low-quality/scam programs that don't live up to their promises.
.
The truth about ConvertedStream
---
Now you might be wondering, what do those poor quality programs have to do with ConvertedStream?
They're supposed to help you earn more money, but this is not true. ConvertedStream does not have your best interest at heart.
The reason why ConvertedStream lists those programs is to get you to purchase them and make money themselves. Yeah, their main goal is to benefit themselves, not you.
They're affiliated with those low-quality programs, so they will earn commissions if you buy them through their affiliate links.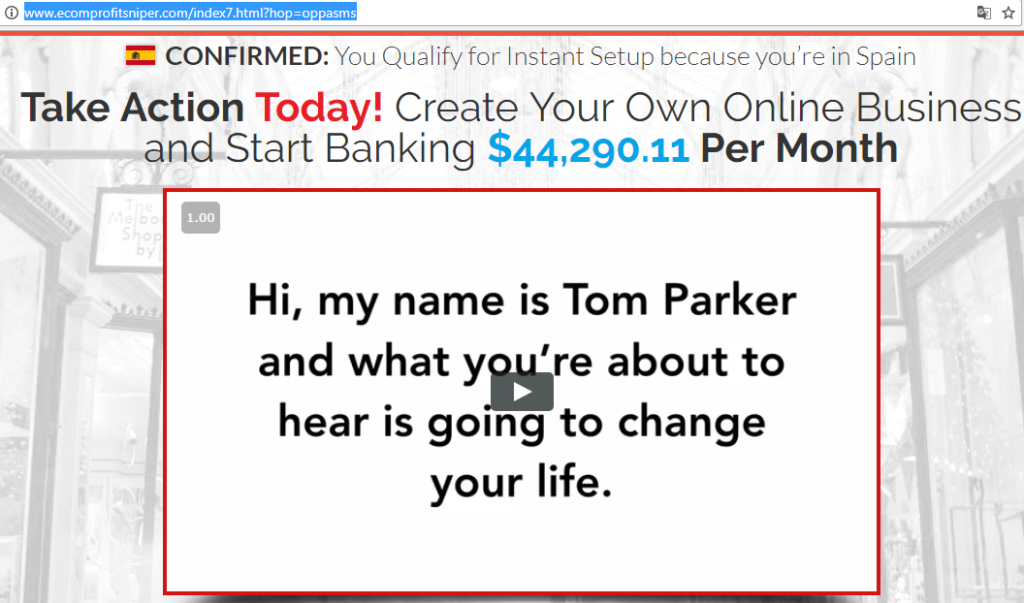 As you can observe below, I highlighted their affiliate link for eCom Profit Sniper (a low-quality e-commerce program that I've already reviewed).
Most of these programs they're promoting make high income claims like "earn $2000 per day starting today" and are not honest when it comes to making money online. 
They are marketed as get-rich-quick schemes because they make it seem like making money a lot of online fast is normal and realistic, which is not. 
That's why I don't recommend that you purchase those programs. They were not created to benefit the customer. 
Apart from that, what they're offering is not the only thing that matters, the way they're offering it is something you also want to considerate.
I personally don't like the fact that they're creating fake expectations because this gives the whole Internet marketing industry a bad reputation.
Many newcomers think that there's a loophole or a magic money-making system and then they give up when they see that they're not getting the results they expected.
With that being said, selling scam products is not the only way the unethical people behind convertedstream.com make money.
Their other goal is to collect as many personal details as possible. That's why they tell you to share your referral link. The more people who join, the more money they will make.
And then, when they have collected lots of email addresses, they will sell them to other companies or con artists.
Therefore, you can expect to receive many junk and spam emails if you have used your main email address to sign up to ConvertedStream.com.
.
Is ConvertedStream.com a scam? Some red flags
---
After doing some research and looking deep into ConvertedStream, I can say that yup, it's a scam that will not make you any money.
I've explained what their real intentions are and now I'm going to post some scam signs that you need to be aware of.
.
No information about the creators of ConvertedStream.com
---
There's no way to know who's the person/people who are running ConvertedStream.com. There's no section where they show pictures of themselves and they don't even mention their names.
I personally like to know who's behind a site or program whenever I come across one because it gives me an idea of what I can expect.
The fact that the owners of Convertedstream.com don't show up leads me to believe that they don't want us to know who we're dealing with, something that scammers do. They usually don't reveal their identities or use other people's pictures to create fake identities.
.
The comments are fabricated
---
The comments you can read on Convertedstream.com are not written by real members. They have been invented by the con artists.

The reason why I believe they're fake is because there are no pictures of the people who're supposed to have written them.
Apart from that, those comments don't make any sense. There's no such thing as joining a money-making opportunity and make a job-replacing income in a short period of time like 2 days.
And there's no way "Amir" joined few months ago because it's not even been a month since the convertedstream.com domain was registered. Today is 13th March 2018, and ConvertedStream was created on 24th February 2018, according to its domain information:
.
What about their terms?
---
Before creating a ConvertedStream account, you can check out their terms and conditions page which reveals the truth. 
Take a look at the screenshot I took:
As you can read above, the ConvertedStream site was created for a commercial purpose, which means that the scammers built it to generate profits themselves.
I mean, it makes sense that they want to earn money from their site, no one invests in something for nothing.
But the problem is that they want to make money at your expense. You can also read that you cannot get paid from that sitem which means that they will never send you any money.
That's why I obviously do not recommend ConvertedStream.com. It's very unethical the fact that they're deceiving people to only make money themselves.
.
Build your own online business instead
---
The way you can stop falling for scams like ConvertedStream is by keeping in mind that making money online is not easy or fast.
If you think about it, a lot of people would already be financially free if earning a living online was as easy as the scammers want you to believe. 
Online money-making opportunities that claim you can earn money overnight are only scams that make the scam artists richer.
The good news is that there are many people who are making money online in an ethical way (myself included), but they all have in common that they have had (and have) to put in the effort and time.
Yes, you don't have to lie or deceive people to make a full-time income online. The business model I'm using has given me a way to earn a consistent income online while helping other people.
I believe that anyone who is willing to learn, work and be patient and persistent, can make a job-replacing income online and even more. It's just a matter of time and commitment.
The training platform where I got started and still very active today has given me the step-by-step training and tools I need to build this business.
By clicking the button above now, you will learn where to find what you need to build an online business based on your passion, how this business works, how to get started for free and more!
To add to it all, you will not only get my full help and support, you will also get to meet other like-minded people, bloggers and Internet entrepreneurs as well 🙂 
I'm so excited for you to leave the scams behind and start building your future!
LEARN ABOUT MY TOP RANKED PROGRAM NOW!
I hope you have found the answers to the questions you had regarding ConvertedStream and now you know what to do next.
If you have any questions or want to share your opinion, don't hesitate to leave a comment below and I'll get back to you ASAP =)
Best wishes!