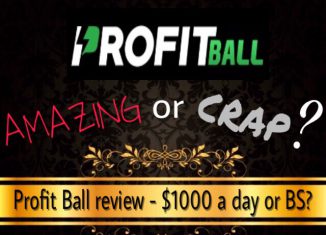 Hey people!
Today I came across another so-called software, this time a sports software called Profit Ball. 
As always, I wondered if this one was legit or just another of the countless scams we can find around the net, so I checked it out and did a research to write a review and help you make the right choice.
Make sure you read my review to find out the truth about Profit Ball!
.
Profit Ball review
---
Name: Profit Ball
Websites:
https://profitball.co/lp.php

https://profitball.biz/lp.php
Owner: "Terry Mason" & "Joshua Ethan"
Created in: 2017
Price: "Free"
Overall Ranking: 1/100
.
---
If you're sick of scams, check out my 1st resource to make money online here!
---
.
What is Profit Ball about?
---
The designer of Profit Ball, Terry Mason, claims that the idea behind Profit Ball is to profit from sponsors' stocks before the mass sales by using a sports psychology strategy.
He and the co-founder of Profit Ball, Joshua Ethan, state that their amazing software analyzes the sponsors and winning teams and then is able to timely invest in the stocks of those sponsors before the sales start.
They claim that this software has generated more than $6,400,000 in the last four years and now they're giving away 7 free lifetime memberships.
They are giving it away for free because they want more members testimonials and proofs of the money they make with their fascinating software Profit Ball, and then they'll sell it for a monthly fee of $4,700.
They guarantee that these lucky 7 people who join will at least earn $1000 per day, equal $7000 per week, and that they'll be able to start profiting just minutes after joining. Doesn't it sound too good to be true? 
The fact that there are still spots left is weird as if it were that amazing, it would have sold out so fast. 
Their earnings claims don't even make sense and the fact that sports psychology isn't related in any way to binary options trading because binary options is traded in currency pairs, not stocks. 
Therefore, this makes me believe that Profit Ball is really another ugly scam. More on this later.
.
How does Profit Ball really work?
---
After watching the sales video and the second video (the one you find in the second page after entering a name and an email) and doing a research, I can conclude that this software only works for the people behind it, the con artists.
Profit Ball is not designed to make you money, it's been created to rob you instead. But how? I'll elaborate.
They claim that you don't need anything to get started, it's 100% free and you don't need to know anything about binary options trading. Well, the truth is that it's not possible to earn the profits they claim without making some kind of investment.
A software that brings money to your wallet by doing nothing simply does not exist. Anyone who insists that is possible to generate mass profits with an auto trading software without putting in the effort is definitely a liar.
This one works no differently than other scam softwares I've already exposed like these ones:
Before the promotional video ends, you'll be asked to fill in a form with your name and email. Then you'll be taken to another page where there's another video and then "Terry" and "Joshua" will tell you the steps you need to take to get started:
Secure your spot by filling out your name and email again, a password and your phone number.

Fund your trading account with at least $250 to activate it.

Turn the auto trader on to start trading.
If you do what they tell you and deposit your $250, then you've already fallen for the scam.
They claim that having that money in your trading account is like having it in your bank account because it's your money so you'll be able to withdraw it whenever you want, but this is a big lie.
When you make the $250 investment, you're also giving them access to your credit card information, what means that they can steal all the money that's in there. Note that these crooks have no limits when it comes to the amount of money they're willing to steal.
Even if you deposit the money and you win the trades, they won't let you withdraw any of your funds.
There have been people who already knew that some of these binary options softwares are scams but still tried it because they thought that there were no risk involved as they would be able to withdraw their money whenever they wanted.
The hard truth is that the moment you give them your credit card information, your money is already on their pocket.
These scammers are affiliated to unregulated brokers that simply part with their clients money. Therefore, these brokers pay the scam artists vast commissions everytime they bring paying clients to them.
Everyone involved in Profit Ball (the broker, the scammers, the paid actors…) just want to make money at your expense.
When you realize that it's a scam, you can contact them to ask them for your money but they'll make excuses like you haven't reached the minimum threshold, and will also try to trick you into investing more by telling you that it's the only way to earn the money you've lost. 
Their main goal is to steal everything they can and get away with it, they don't care about other people and are not capable of empathizing.
Profit Ball won't make you a dime, will waste your hard-earned money and your precious time instead.
.
Is Profit Ball a scam?
---
Of course, Profit Ball is a scam. In the last section I've explained how it works. 
Now I'm going to post the proofs that expose Profit Ball as the fraud it is.
.
Who are Terry Mason and Joshua Ethan?
---
If you search information about Terry Mason and Joshua Ethan, you'll find people with these names but no one with their faces, so outside the Profit Ball website there's no information about the alleged creators of Profit Ball. 
I can 100% confidently say that they're actors that the con artists have paid in exchange of a script to recite. Everything they say in the videos in reality comes from the scammers' mouth.
.
What about that little note at the bottom of the Profit Ball site?
---
If you scroll down to the bottom, you'll see a text written in a tiny letter. This text reveals a part of the truth about Profit Ball. 
Remember that they claim that everyone who joins is guaranteed to generate at least $7000 per week?
Well, this note doesn't say so:

Why couldn't they tell us about it in the video? Clearly, they hope this fine note will go unnoticed so potential investors will join without knowing the truth.
.
How long has Profit Ball been in business?
---
"Terry Mason" claims that Profit Ball has generated $6,400,000 in the last 4 years, so this fantastic software is supposed to have been in business for at least 4 years. 
Let's do some math: this software has apparently generated $1.6 million per year, which equals 133,333.3 per month and $4383.56 per day.
Therefore, if each member makes $1000 per day, there can't be more than 5 members using this software! This already proves that their earnings claims don't make sense.
Anyway, I also checked out the ProfitBall.co domain information and see what I found out:
This shows that this software was created this year so the statement that it's been generating profits for 4 years is completely fake!
.
From Bank Tracker Bot to Profit Ball?
---
It wasn't unexpected that the testimonials would also be paid actors, and here's the proof: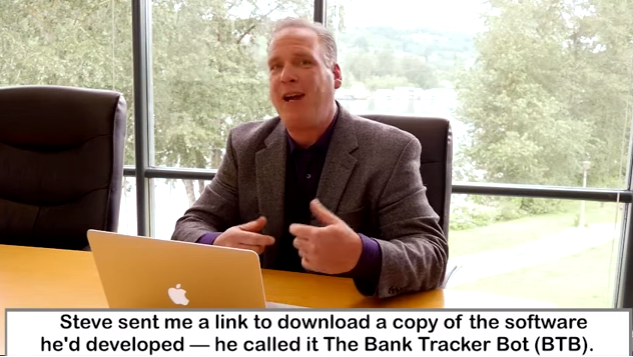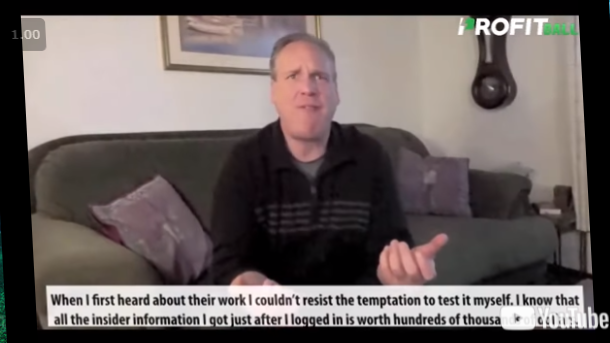 I found out this paid actor was also involved in another scam software named Bank Tracker Bot (already out of business). These swindlers always pay actors (who can be found on outsourcing sites like Fiverr) in exchange of positive opinions and comments about their crappy product.
Truth be told, these people who talk wonders about these get-rich-quick schemes haven't even tried them. Why? They're all scams and simply don't work.
.
My final conclusion and recommendation
---
I believe I've given enough reasons and provided enough proofs that show the malicious nature of Profit Ball. 
Note that there's no software that makes magic and makes you money fast without putting in the effort. If your goal is to earn a living online, you'll need to work hard and stay persistent. It won't come easy but it will be worth it.
There are many ways to generate an income online, but Profit Ball is not the answer. I don't even recommend trading binary options because it's highly risky, you need to start with at least $250 and it also requires some skills and learning. 
In conclusion, if you want to save time and money, stay away from Profit Ball.
If you dream big and are willing to do what it takes to earn a living online or more, then I recommend that you check out Wealthy Affiliate. It's an online business platform that's free to join where you'll learn to create and grow your own business from scratch. 
This platform doesn't only include the proper training, it also includes a community full of online entrepreneurs who help and support each other.
Therefore, if you join you'll receive help and support from the community members (included myself) and owners too! 

The moment you join, I and other members will welcome you to the community and help you get started! Looking forward to seeing you inside! 😀 
I hope this review has saved you your money and time and you never become a victim to online frauds like Profit Ball. Please feel free to share it on social networks to let more people know about this scam.
In case you have questions or simply want to share your opinion regarding Profit Ball or Wealthy Affiliate, don't hesitate to leave a comment below and will reply as soon as possible. Thanks for reading!
Whatever you do next, I wish you the best!