Hey guys!
Today I've come across another site called Instant Cash App that I thought it was a scam because of the layout of the page, but I wanted to check it all out to find out the truth about it and write a review for those of you who may be thinking whether to join or not.
I'm going to explain what Instant Cash App is about, how it works and whether it can make you money or not so you end up making the right choice.
.
Instant Cash App review
---
Name: Instant Cash App
Website: instantcashapp.net
Owner: "Mark Davis"
Created in: 2016
Price: "Free"
Overall Ranking: 1/10
.
---
If you're sick of scams, check out my 1st resource to make money online here!
---
What is Instant Cash App about?
---
Instant Cash App is a binary options auto trading software that will apparently make you $2000 or more each and every day of the year starting the moment you join, this is what claims Mark Davis, the alleged creator of this magical software.
Well, he even claims that members from countries like USA, UAE and the UK are cashing in $4000 per day. 
Another thing is that it's all done for you on complete autopilot and that it will only take you 5 minutes to set it up, according to Mr Davis.
Furthermore, he also states that you'll be earning at least $500,000 per year with his wonderful software.
He explains that the reason why his magical Instant Cash App will make you this vast amount of money is because this software predicts the financial markets and places winning trades 93,56% of the time.
After that he says that he's only giving this chance to 50 people so you need to act fast not to miss out.
Sounds familiar? To me yes, I've heard a similar thing in other scam videos.
Scammers always claim that you need to act fast because there are limited spots and a lot of people are joining, which is completely fake. They create this sense of urgency to get you inside their crap and steal your hard-earned money. 
.
Can Instant Cash App benefit you?
---
The rotund answer is no, Instant Cash App won't benefit you in any way. It's only designed to generate profits to the people who've created (a.k.a. the scammers). 
How can it be possible that the con artists behind it get paid if "Mark" claimed it to be 100% free? Let me tell you.
If you enter your email and name on the form you find in the Instant Cash App main page, then you'll get taken to the second page where Mr Davis appears in a video and tells you to fill in the form by entering your name and email again, plus a password and your phone number.
I've already lost the count of the times he's repeated that you'll have earned $2000 by tomorrow morning. Then he tells you that you'll need to fund your trading account with $250 or $300 to activate it and turn the autotrader on.
Without making the $250 investment, you won't be able to allow their magical software to make you those life-changing profits. Therefore, as you can see, this software is not free as Mr Davis claims it to be.
Here's where the scam comes into play. If you make the $250 deposit, you can already forget about them. Yes, he claims that that's not a payment and that you can take it whenever you want, but it's not true.
When you deposit the money, their trusted broker will manage it and won't let you transfer it to your bank account. If you win the trades, they'll call you to convince you to invest more so you can make more money.
They're capable of telling you to invest everything you have to steal you everything they can. These scammers don't limit themselves when it comes to the amount of money they can steal. 
Let's say that you invest the $250 and make $2000 per day like they claim. Then they'll call you (that's why they wanted to know your phone number) to tell you to invest $1000 so you can make $10000, and that you'll be able to withdraw it when you have $10000 in your trading account.
In the case you lose the trades, you'll contact them to ask them to withdraw your money. They'll make excuses like "you haven't reached the minimum threshold" and will incite you to invest more so you can make the money back. 
No matter if you win or lose the trades, they'll always try to persuade you to invest more and won't let you withdraw any penny.
These scammers work with unlicensed brokers, something that's illegal because these brokers only steal the clients money.
Therefore, the fraudsters will get paid massive commissions off your money and the rest is for the broker.
Don't let them trick you when they say that you can get rich by doing nothing, they're the ones who want to get rich quick at your expense.
Other scam softwares that operate the same way are the following:
.
Is Instant Cash App a scam?
---
Yes, I'm 100% confident that Instant Cash App is a scam. As I've explained in the last section, this software is only magical to its owners, what means that it's only designed to generate lots of profits to those crooks who've created it.
If you're still not sure why it's a scam, then pay attention to this section because I'm about to post some proofs that expose Instant Cash App as the scam it is.
.
Who is Mark Davis?
---
I've searched for information about this guy and found out he doesn't exist. He's not on social networks and the only site where he appears is the Instant Cash App page. He's an actor the scammers have paid so he recites the script about their crap.
.
What about the bottom of the Instant Cash App site?
---
If you take a look at the bottom of the Instant Cash App site, you will see a little note that says the hard truth. Perhaps this note is at the bottom because these swindlers didn't want people to notice.

Profits are not guaranteed, so it's false what "Mark" claims. Remember how he said that everyone who joins Instant Cash App is guaranteed to earn at least $2000 per day? Obviously, not true.
.
How long has this software been in business?
---
"Mark" claims that every year this software is given for free to 50 members and that they've been doing this for at least 2 years (2014 and 2015). But did this software really exist 3 years ago?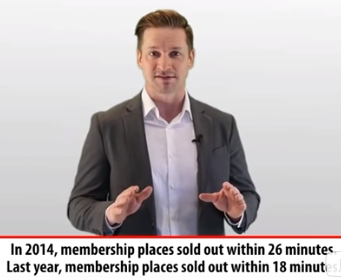 I found out that this is just another lie because the Instant Cash App site domain was registered last year, as you can see in the picture below:

.
Are the testimonials real?
---
More stuff they lie about. They show some pictures of people who're supposed to be members and their account balances, but none of this is true.
They've just stolen or purchased these pictures in other sites like iStocks and invented the characters.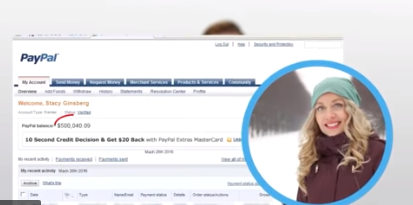 .
More red flags
---
They play with your emotions and prey on your hopes and dreams of living a luxurious lifestyle and not having to worry about paying the bills anymore.
They show you beautiful pictures like the one below, related to the fancy lifestyle to get you excited so you start daydreaming and don't question their real intentions.
.
My final verdict and recommendation
---
A free software that can make you that "quit your job" money overnight doesn't exist. All softwares and products that claim that will make you earn money fast and without doing nothing, are scams. 
Making money online is not magic, it requires skills, passion, hard-work, persistence, among others. If it were that easy, don't you think that everybody would be doing it?
The good news is that it's possible to earn a living online or more, but it's not the way the scam artists claim it to be.
If you're committed to building your own business from scratch, then I highly recommend that you check out Wealthy Affiliate (free to join).
WA is an online business platform where you'll learn to create and grow a digital business based on your passions/interests, which will make the process more enjoyable 🙂 
Apart from the proper training, you'll also get help and support from me and the community members, the owners included!
If you would like to know more about Wealthy Affiliate, click the button below to read my full review.

If you join, you'll first complete your profile and I and other members will welcome you and help you get started. Looking forward to seeing you inside! 🙂 
I hope this review has been helpful to you and you never become a victim to scams like Instant Cash App. Please don't hesitate to share this review on social media to let more people know about this fraud.
If you have any questions or want to share your opinions regarding Instant Cash App, other scams or Wealthy Affiliate, feel free to leave a comment below and I'll reply ASAP. Love hearing from my readers 🙂