Hi everyone!
Looking at HelloMoney.online or Pocketpay.online and wondering if you will get paid after reaching the $300 minimum payout threshold? Or are these sites a complete scam to avoid?
Well, first of all I need to congratulate you for taking the time to do your own research because this is the way to avoid scams and find the real way to earn money online!
My honest review will show you why HelloMoney.online and PocketPay.online are two scam websites that you need to stay away from.
There are many websites like these ones that I have exposed so I know how these fraudulent sites work and I can guarantee that you don't want to mess with them.
PocketPay.online and HelloMoney.online review
---
Name: 
PocketPay.online

HelloMoney.online
Websites:
pocketpay.online

hellomoney.online
Owners: Hidden
Created in: August 2018
Price: Free to sign up
Overall Rating: 0/10
---
If you're sick of scams, check out my 1st resource to make money online here!
---
What is PocketPay.online or HelloMoney.online about?
---
I thought I would expose PocketPay.online and HelloMoney.online in the same post because these two websites are like clones.
The only difference between them is their name and their domain name, everything else is identical, just like you can observe in the image below:

See the similarities? There are too many websites like these two. For example, startjob.online and earningpart.com (already shut down) are almost identical as well.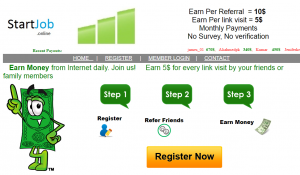 They claim you can earn $10 per each person who signs up through your referral link and $5 per each unique click your referral link gets.
So the only thing you need to do is to register to one of these sites, get your referral link, share it on social networks like Facebook, Twitter and Google+ and that's it.
You tell people this is free to join, your link will get many clicks and you will get referrals! 
The fact that you will see your earning balance rise and rise will get you very excited and you will be like "I can't wait to reach $300 to get paid", so you will share your referral link like crazy to get as many referrals and link visits as possible.
If only making money online was that easy… lol. Everyone would have already made a fortune online if these sites were real. 
Just the fact that you are here on this review tells me that you are skeptical of them. It's normal, when something sounds good to be true it usually is.
Both PocketPay.online and HelloMoney.online are no different than other websites I have exposed.
There are so many people who fall for these websites so I've made it my mission to help as many people as possible avoid getting scammed and point them out in the right direction.
How do PocketPay.online & HelloMoney.online work?
---
PocketPay.online and HelloMoney.online work in a way that will not benefit you.
These websites will waste your time because they will not make you any money, which is what you are looking for, right?
The truth is that these sites only make money to the people who have created them, nobody else. The owners of PocketPay.online and HelloMoney.online are the same con artists that just want to profit at your expense.
There's no way to earn $10 for getting someone to join a website that doesn't require any upfront payment and it makes no sense that they are going to pay you $5 each time someone visits their site through your referral link.
Maybe you thought that it could not be a scam because it's free. I remember talking with someone who asked me how a site like these ones could be a scam if it doesn't require you to make any payment.
Well, let's see how they really work.
They will use your personal information for profit
---
The reason they tell you to share your referral link and invite people to register is because they want to get as many members as possible.
Telling you to get other people to join is like asking you to do free marketing for them. Why am I saying "free"? Because they will not pay you, they will not compensate you for your efforts.
They want as many people as possible to join their sites because when someone joins, the owners of these sites get their email address. So they want as many email addresses as possible.
And then, once they have a huge list of email addresses, they will sell them to other companies or scammers.
Email marketing is a big business because there are many people looking for subscribers to market their products to, so it's possible to make a lot of money by selling email addresses.
The problem here is that the owners of PocketPay.online and HelloMoney.online are doing this without your consent, which is illegal. 
I mean, they don't provide any legal page like terms & conditions or privacy policy where they state the way they are going to use people's personal data.
Because of this, what they are doing is illegal.
So what if you have used your main email address to register? You can expect to receive emails from people who sell products/services related to making money online.
I don't recommend that you check out those emails because some of them might contain links to scams you don't want to mess with.
These unethical people will also collect your password, so I suggest that you change your email or PayPal password if it's the same you have used to join PocketPay.online or HelloMoney.online.
What if you reach the minimum payout threshold of $300?
---
Wondering what it will happen if you reach the minimum payout threshold and claim your payment?
You will be asked to complete a fake captcha test which is basically a list of offers to complete.
Well, if you have already tried to cash out you will have seen that it's not possible.
These offers are CPA (Cost Per Action) offers, which means that the people behind PocketPay.online and HelloMoney.online will get paid when you complete them.
That's what they really want. They want you to take all these surveys and download all the stuff regarding these offers just to make money at your expense.
I mean, I'm sure you wouldn't take those offers if you knew that they are not going to make you any money.
Some offers require you to give away your credit card details or make some kind of payment, which I'm sure that you don't feel like doing…
And I don't recommend that you do it either because some of these sites might be fraudulent, which means that you could get involved in more scams.
In my opinion, there would be nothing wrong with these offers if the people behind PocketPay or HelloMoney compensated you for your time and efforts, but they only care about making money themselves so they will leave you with nothing. Such an selfish goal that they have, don't you think?
Click here to check out my FREE Earn Money Online Guide!
HelloMoney.online & PocketPay.online scam signs
---
You might be wondering how I'm so sure that HelloMoney.online and PocketPay.online are complete scams.
Well, as I told you, there are so many websites like these that I have exposed before. Let me list some of them:
I didn't have to join these websites to know they are fake. There are some scam signs that already indicate something is not right with them.
Lack of important information
Who's behind PocketPay or HelloMoney? Can we trust these people?
They don't reveal their identities or anything that can help us determine who are the owners of these websites, so I cannot trust them.
I have exposed many scams and have noticed that scammers usually hide under fake characters or avoid showing up, which doesn't surprise me because they don't want to get caught.
Not only that, another indication that these websites are not reliable is the fact that they don't provide any legal page that you would expect to find on legitimate sites.
No privacy policy. No earnings disclaimer. No terms. Nada. So how can we trust them? No way. 
The website stats are fake
I don't know if you have taken a look at their website stats but the truth is that they are completely fake. See them below:

In my opinion, it makes no sense that both websites have the same number of members and have paid the same amount of money. It's clear that they are invented and absolutely fake.
The truth is that the unethical owners haven't paid anyone but themselves. I haven't found any positive reviews, I have only seen people advertise these two websites on social media just because they think they will make money.
If these websites were that awesome, don't you think they would have real positive reviews? 
What if you want to contact the owner of these sites or anyone to get help? I'm sorry but they don't provide any customer service or any way you can contact them.
Yes, they mention an email address on each site but the problem is that they don't exist so you will not get any response if you send them an email.

I personally sent an email to one of the addresses provided and you know what? I got the "mail delivery subsystem" message, which indicates that the message could not be delivered. This is what happens when an email address doesn't exist.
Why do they lie about their email addresses? I believe they want us to believe that they are there to help us so that we register, and we only realize they don't provide any real contact information once we have tried to contact them.
Someone who really wanted to help you wouldn't lie about their contact information. It's obvious that the people behind HelloMoney and PocketPay don't care about us.
These unethical people only care about their own benefit so I have to conclude that I don't recommend HelloMoney.online or PocketPay.online.
What's the truth about making money online?
---
As I said, there are tons of websites like HelloMoney.online and PocketPay.online that are only there to waste your time and make money at your expense.
If these kind of websites really worked, don't you think most people would have already made a killing online?
Truth be told, earning money online is not as easy as these scam sites want you to believe. They are taking advantage of the fact that there are people who need urgent cash or are looking for an easy way to make money online fast.
If you are one of those people who need to money as fast as possible, I suggest that you look for a job because making a full-time income online takes time, commitment and hard work.
Yes, GPT (Get Paid To) and PTC (Paid To Click) sites can help you make some money within a few days but you would only make a few dollars and would have to spend a lot of time to reach their minimum payout threshold to get paid.
Because of this, I believe that a job would make you more money in the short-term.
If you already have a job and are looking for a way to make a living online, then I suggest that you focus on building an online business.
That's what I did and I am now earning a consistent income month after month. I also know I will have to keep on putting in the effort and time to increase my income.
There are many people using the same business model that I'm using to make money online.
It's a business model that has been working for many years already and only keeps getting better because every day there are more products and services available to sell online.
You will be able to choose a topic you have a passion for to build your business around, which will make you enjoy the process =)
There's so much to say when it comes to this business so I created a FREE step-by-step earn money online guide where I explain how it all works:
You will learn why this business works, the 4 steps you need to follow to make it work, the step-by-step training and tools I have used…
Not only that, my free guide also reveals how and where you can get started today for free!
This is not like a traditional business where you need a lot of money to get started, this online business allows you to get started for little to no money!
In addition, my free guide also shows you how to get free help and support from me and other inspiring people who are on the same path as you!
Remember that there was a time these people weren't earning any money online, so what's stopping you from getting started?
CHECK OUT MY FREE EARN MONEY ONLINE GUIDE HERE!
I hope this HelloMoney.online and PocketPay.online review has been helpful to you and you will make the best possible decision. Don't hesitate to share it with whoever you believe that will benefit from it!
If there's something else you want to know or you have any questions, feel free to leave a comment below and I'll get back to you ASAP! ? 
Whatever you do next, I wish you nothing but the best =)