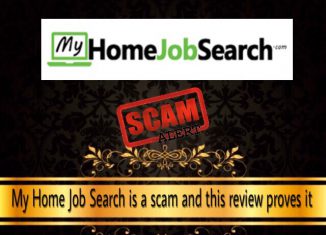 Welcome to My Home Job Search review!
If you've come across My Home Job Search but don't know whether it's a scam or worth your time & money, you're in the right place because I'm going to explain why you need to avoid My Home Job Search.
There are many many scams around the net and sometimes it's not easy to know whether a product or program is a scam or not because they come in many different ways.
My Home Job Search website looks legit and it doesn't seem a scam at first, but I looked deep into it and found out it shouldn't be trusted.
My purpose with this review is to unveil the truth about My Home Job Search so that you make an informed decision.
.
My Home Job Search review 
---
Name: My Home Job Search
Website: myhomejobsearch.com
Owner: "Michael Anderson"
Created in: 2016
Price: Free or $29
Overall Ranking: 13/100
.
---
If you're sick of scams, check out my 1st resource to make money online here!
---
.
What is My Home Job Search about?
---
The first moment I came across My Home Job Search I thought this site was legit and a good place to find work-from-home jobs, hence the title My Home Job Search. 
If you're looking to work from home you may have come across that site to see if you can find a job. 
This is how the My Home Job Search looks like:
That site looks pretty professional and who wouldn't like to make from $14 to $56 working at home?
Oh, and it says that over 485,000 people like them on Facebook, so they might have helped a lot of people find a job and are quite popular, right?
They claim all their work at home jobs to be reviewed and verified before being allowed in their database and they only work with companies that pay their employees, sounds good?
So I scrolled down to the bottom of the My Home Job Search site and saw this disclaimer written in a tiny letter:
What does it mean that "the typical purchaser does not make any money using this system"? What system are they talking about? Isn't this supposed to be a job search site?
And what are they selling? If they're selling something that can't make you money then they're not providing a valuable service.
That disclaimer reminds me of other disclaimers I've already seen in other scam sites that I have exposed too. 
After reading that disclaimer I was almost convinced that My Home Job Search is a scam, but I wanted to take a deeper look and see what else I could find.
.
Is My Home Job Search a scam?
---
Yes, My Home Job Search is a scam that won't help you find work from home jobs. 
Their whole home page and sales video (the video you can watch after signing up) has some red flags that you need to be aware of.
.
The testimonials are not real
---
There are 5 testimonials that appear in the My Home Job Search site, but they're all fake. 
I did some images searches on Google and found the pictures of those testimonials can be found on stock photography sites on the net.
Let's see one of them:

As you can see above, the picture can be found for sale on Shutterstock. This means that people behind My Home Job Search used that picture and invented a name and a positive review and to create a false testimonial.
I'm sure they've done the same thing with the other testimonials too.
I found out they used the same pictures to create fake testimonies for another similar scam site named My Home Job Connection, which I already exposed some days ago.
Below you can see one of My Home Job Connection's fake testimonials:

As you can observe above, they've used the same stock picture to create 2 testimonials. In the My Home Job Connection, this man's name is supposed to be Tony.
So how come his name is Kevin in My Home Job Search? It's totally nonsense. It's clear that people behind those two scams have invented the names and the comments. 
I wouldn't be surprised if people who created My Home Job Search are the same that created My Home Job Connection.
.
The fake Facebook likes
---
The Facebook likes that appear at the top of the My Home Job Search are completely fake because it's not possible to like it. 
This is just an image and they can put any amount of likes they want to. If you search for their Facebook page you'll see that it doesn't exist.

.
They use pressure tactics
---
In the My Home Job Search sales video they try to convince you to buy the My Home Job Search Platinum Membership, which costs $29. 
They lie about the amount of spots available. They want you to believe that they're limited but this is not true and we can see the fakeness in the picture below:
Above the video it says that there are 3 positions remaining, but if you take an eye below the video there are 2.
Truth be told, the amount of positions available is unlimited and you'll see the same thing every time you watch the video.
This is a scarcity tactic scam artists have always used to create a sense of urgency. They want you to join or purchase their crap without thinking. 
.
Michael Anderson is a fictional character
---
The guy who narrates the My Home Job Search sales video claims to be Michael Anderson but there's no evidence.
There's no way to know more information about him and there's no way to verify his real identity.
To be honest, that man who narrates the sales video sounds like a voice actor, I've heard the same or similar voice in other scam videos.
I don't know about you, but I wouldn't trust a site whose real creators are unknown. The fact that they don't reveal who they're means that they're trying to hide something, which is a big red flag.
.
How does My Home Job Search really work?
---
Before you get to see what's inside My Home Job Search, this is what they tell you to do:
Enter a zipcode.

Take a survey where they ask you for your desired weekly income, how many hours can you work, when you can start working and if you have basic typing skills.

Complete a form with your name, your email, your phone number and select a job type.
After that, you'll be taken to the sales video where they try to convince you to pay for the Platinum Membership.
I personally didn't pay for this because I don't expect them to provide anything of value. After seeing all the lies and the red flags I came to the conclusion that My Home Job Search is not worth it.
I went to the members area and what they do is they try to get you to join paid surveys sites like MySurvey and Survey Junkie and outsourcing sites like Fiverr.
These sites are legit but people behind My Home Job Search lie about the amount of money you can earn. They claim paid surveys sites to pay like $50 per survey, which is too exaggerated.
I wrote an article about the truth of making money by completing surveys online and explained that most sites pay from $1 to $5 per survey.
Most paid surveys are not fast to fill in and can take you like 15 minutes or more to complete because you can't just reply whatever you want.
It's possible to get paid by taking surveys but not much, only extra money. If you want to earn a living online I don't recommend you to try to earn money by filling out surveys, it can be very time consuming.
Another thing I found out in the My Home Job Search members area is a section of money-making opportunities like Home Earning System, which I don't recommend because it's not legit.
I also checked out the "Job Listings" section and got surprised because they actually have a list of real jobs. I clicked some of them and they take you to sites like ZipRecruiter, which is a legit site.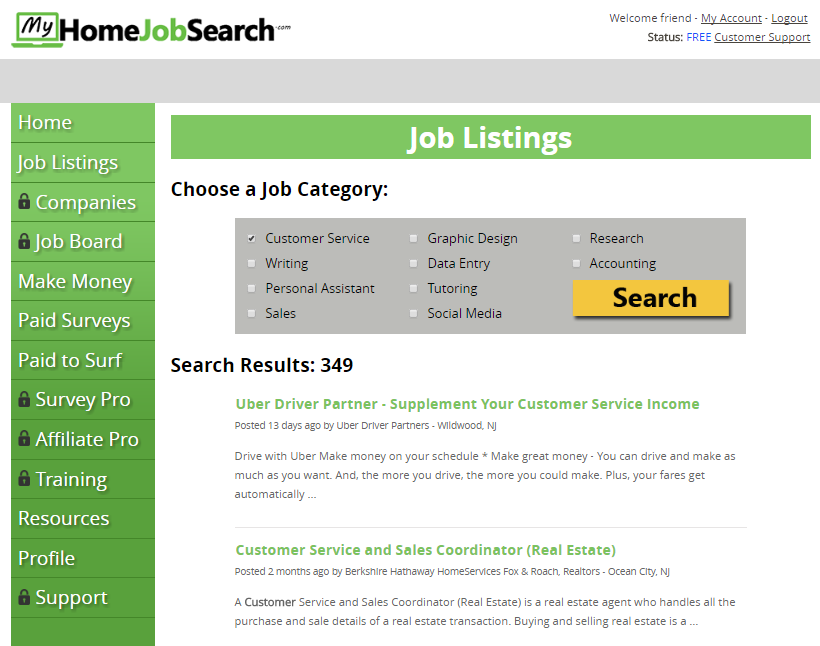 However, those jobs are not work from home jobs. If you came across My Home Job Search, it was to find out stay at home jobs, right? 
Apart from that, most of those jobs that are listed (not to say all of them) are for people who live in the US. I don't think you'll be interested in them if you don't live in the US, unless you're planning to move.
.
My final verdict 
---
My Home Job Search is not worth your time and money, in my opinion. Even though you can make money by joining some of the sites they recommend, but not the amounts they claim.
Another thing is, they make it look like it's easy and fast to earn money online, when in reality it takes real work, patience and time to make a full-time income from home.
What they really want is to get you join to sites (both legit and scammy sites) they're affiliated with. If you join one of those sites through their affiliate link and you make some kind of payment, they'll earn money.
They're using the affiliate marketing business model to earn money, apart from the My Home Job Search membership which costs $29.
Affiliate marketing is a lucrative business model when used properly. The problem is that the real creators of My Home Job Search are not doing it right, they're trying to make money by deceiving and lying, which is not ok because they don't really care about their clients.
If you're looking for an online job, I'd go look somewhere else.
If you're searching for a legitimate money-making opportunity, then there's a digital marketing platform that I'm sure it can benefit you.
This platform provides step-by-step trainings, video trainings, courses and other resources that will help you create and grow an online business. 
You'll learn to turn your hobby/hobbies into a business, so the fact that you'll be doing something you love will make the process more enjoyable.
Apart from that, once you're inside this platform, you'll meet bloggers and online entrepreneurs who will help and support you along the way. I've been a member of this program for more than a year already and I've always had my questions answered. 🙂 
Another cool thing about this platform is that it's free to join, so you can check it out and see if you like it with no worries because there's no risk involved.
If you're interested in knowing more about my favorite platform, I encourage you to click the button below to read the thorough review I wrote about it:
.
I'm glad that you've done your research and have come across this review, I hope I've helped you out and now you have enough information to make an informed choice. Don't hesitate to share it with whoever you believe that may benefit from it.
If you have any questions or thoughts regarding My Home Job Search or whatever that's related to online scams or making money online, feel free to leave a comment below and I'll be very glad to connect with you.
Best wishes! 🙂