Welcome to my review of Payingood.com!
You've come across Payingood and have some questions, right? You might be wondering whether PayinGood.com is a legitimate money-making opportunity or is it just another scam that will leave you with less money than you have?
Well, I'm glad to see that you have taken the time to do your research because there are many scams on the net so it's important to make sure you know what you're in front of in order to make the best possible choice.
In this review, you're going to find out what Payingood is really about, how it works and whether it will help you earn money or not.
.
PayinGood.com review
---
Name: PayinGood
Website URL: payingood.com
Owner: Unrevealed
Created in: February 2018
Price: Free to sign up
Overall Rating: 1/10
.
---
If you're sick of scams, check out my 1st resource to make money online here!
---
.
What is Payingood.com?
---
Payingood.com is apparently a site that makes it easy for most people to make money online.
According to them, you only have to share your Payingood referral link wherever you want like forums, blogs, Twitter, Facebook, chats… and then they will pay you $1 for every visit your link gets.
Additionally, they claim you can also earn $5 for each easy task you complete.
In my opinion, this looks like an opportunity to make some extra money, even though they claim you can make something like $100-$500 per day and you only need to work 2-3 hours daily.
When it comes to withdrawals, they're supposed to send payments via Payoneer, Western Union, Payza, PayPal and bank wire when you reach the minimum balance of $100.
It sounds amazing because this is something anyone who has an electronic device and an Internet connection can do. We all know how to share links, so getting paid for it sounds too good to be true.
And the fact that it's free to register makes it enticing to join and try if it works.
I always do some research in order to decide whether or not to get involved in these kind of money-making opportunities and I've found out some red flags that lead me to believe Payingood.com is not what it appears to be.
.
An insider look at Payingood.com
---
In order to join, you'll have to complete a pre-registration survey like this: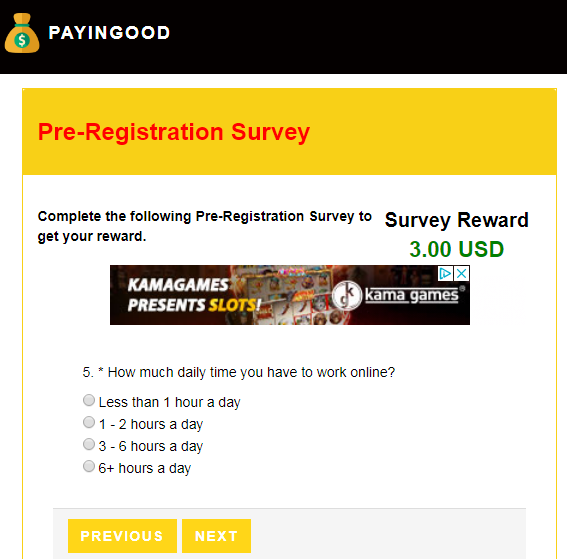 They ask questions like your age, how much time you can dedicate to work and your experience in the digital marketing world.
They're supposed to pay you $3 for completing this short survey.
After that, you'll have to fill out a form with a name, an email address and a password.
Once inside, you'll see a referral link like the one below, ready to be shared:
Apart from sharing your referral link, they'll supposedly pay you $5 for creating a YouTube video promoting Payingood.
Another one of the sections you can find is about making more money so I thought I would find some tasks to complete like taking surveys or clicking ads, but I found online money-making programs instead.
The problem with these programs is that they're low-quality or scam programs, which means that they're not the most reliable sources to make money online.
I've reviewed hundreds of "make money online" programs and systems so I know those programs are scams because of the red flags and scam signs that I noticed on their sales pages.
.
Why does Payingood.com exist?
---
The truth is that Payingood.com only exists to generate profits for the people who've created it. 
The reason why the creators of Payingood.com are promoting other poor quality programs is because they will make money if you purchase them.
Yes, Payingood.com is affiliated with those programs. I know this because they're using affiliate links.
As you can observe in the picture above, I highlighted their affiliate link for the Paid Social Media Jobs program.
The people who are running Payingood.com will make commissions if you buy Paid Social Media Jobs and the other low quality programs through their affiliate links.
Most of these programs are overhyped and focus on how easy and fast you're going to make money and how much money you can make.
If these programs were actually saying the truth and were providing good training that can help you make money, then there would be no problem.
But they're spreading misinformation and do not really care about helping you earn money.
This is not ok because the only ones who get to benefit here are the con artists behind those programs and the owners of Payingood.com a.k.a. the "con artists' affiliates". They're not helping their customers meet their needs, which in this case would be making money.
This is not the only way they make money. The unethical people behind Payingood.com also earn money by collecting email addresses and other personal information in order to sell it all to other companies or swindlers.
This is why they tell you to share your referral link and get other people to sign up. The more people who sign up to Payingood.com, the more personal information they collect and the more money they will make.
Therefore, if you've used your main email address to join Payingood.com, you can expect to receive spam and junk emails from people you haven't subscribed to.
.
Is Payingood.com a scam?
---
Yes, Payingood.com is not a reliable money-making opportunity because it does not live up to its promises.
They're supposed to help you make money but the truth is that they try to trick you into getting other people to join to make money themselves.
At the end, no matter how many referrals you manage to get, they will not pay you. They will not send you any money.
Let's see the red flags that prove Payingood.com is not what it appears to be.
.
No information about the owners of Payingood.com
---
There's no way to know who's behind Payingood.com. They don't show any pictures or mention any names. Why don't they want us to know who they are?
Whenever I come across a site, I like to know who's created it in order to determine whether I can trust it or not.
The fact that the owners of Payingood.com don't show up leads me to believe that I cannot trust them because that's what scam artists do. They usually create fictitious characters or hide their identities in order to avoid persecution.
.
The comments are invented
---
The comments you can read on Payingood.com are not real, they're a complete fabrication.
Firstly, there are no images of the people who've written the comments.
Secondly, if you read the comment in the middle, this "partner" has supposedly joined Payingood.com some months ago, which is not possible because Payingood.com has been around since February 24th 2018 (today is March 1st 2018).

As you can see below, the Payingood.com domain was registered on February 24th 2018: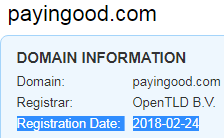 .
What about their terms & conditions?
---
If you take a look at the Payingood.com terms & conditions, you'll get to know the truth.
As you can read above, the Payingood site was created for a commercial purpose, which means that the con artists created it to earn money themselves.
You can also read that you cannot get paid from that site, which means that they will not pay you.
If they were trying to earn revenue in a honest and ethical way, then there would be nothing wrong. But they're wasting your time to make money, so I highly do not recommend Payingood.com.
.
My final conclusion on Payingood.com
---
As I said, there's no way I can recommend Payingood.com because it will not make you any money, but the final decision is up to you.
Remember that I said they use affiliate links to get you to purchase other low-quality programs? Well, I also use affiliate marketing but the difference between what the owners of Payingood.com do and what I do is that I do not link people to scam products.
The truth is that you do not have to deceive people in order to make money. Affiliate marketing is a lucrative business model when you use it the right way, it's given me a way to earn a consistent income month after month.
It's not happened easily or quickly and I've definitely had and have to put in the effort and time, but it's paying off. 
I believe that anyone who works hard and has the step-by-step training, marketing tools and support can make a full-time income through affiliate marketing.
The training platform where I got started and still very active today has given me what I need to build this business. 
You'll learn how to build an affiliate marketing business from the ground up, how to get started for free and more!
Not to mention that you'll always get my help and support and will get to meet other bloggers and Internet entrepreneurs as well 🙂 
Now it's your time to stop falling for the scams and get on the right track to make money online!
LEARN ABOUT MY TOP RANKED PROGRAM NOW!
I hope you've found the answers to the questions you had concerning Payingood.com and now you know what to do next.
As I always say at the end of my posts, if you have any questions or opinions don't hesitate to leave a comment below. I'll get back to you ASAP!
All the best 🙂