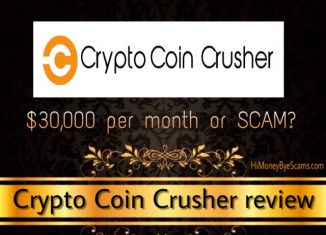 Welcome to my Crypto Coin Crusher review!
Have you come across the Crypto Coin Crusher sales page and are wondering if this software will help you become financially free? Or is Crypto Coin Crusher another one of the countless trading scams?
It's always good to look for reviews before getting involved in a money-making opportunity because you need to be well informed in order to make the best possible decision.
In this review, I'm going to show you what Crypto Coin Crusher really is, what you need to know that they don't tell you and more!
.
Crypto Coin Crusher review
---
Name: Crypto Coin Crusher
Website URL: cryptocoincrusher.com
Owner: "Alex Riles"
Created in: February 2018
Price: $37 + upsells
Overall Ranking: 2/10
.
---
If you're sick of scams, check out my 1st resource to make money online here!
---
.
What is Crypto Coin Crusher?
---
The moment I came across the Crypto Coin Crusher sales page, I thought it was a scam software because the layout was very similar to other get-rich-quick scams pages.
But a book can't be judged by its cover so I thought I would watch the sales video and do some research before reaching conclusions.
Crypto Coin Crusher is supposed to be a crypto signals software that can make you $1,000 per day.
The spokesman claims this software analyses the crypto market with "military-grade" precision and will tell you which coins to buy (for example, Litecoin and Ethereum), how much and when to buy or sell them.
This software sounds too good to be true because it doesn't require you to have any prior skills or knowledge about trading cryptocurrencies.
You will not even have to do any analysis or try to understand any complex charts, there's no risk involved apparently and it can work automatically. 
So is Crypto Coin Crusher the software that will definitely help you achieve financial freedom?
Let's see how it works.
.
How does Crypto Coin Crusher work?
---
This software is supposed to work in a way that can help anyone achieve financial freedom from home.
According to Alex Riles, this only costs $37 and then you get access to video tutorials that will explain what to do to make money with this amazing software.
It's supposed to be based on a trading algorithm and the "outlandish" techniques that Alex used to get rich trading.
This software is so effective at predicting the market for yourself that you can achieve a fast ROI (Return On Investment). 
I personally don't like the way it's advertised because it looks like any get-rich-quick scheme, especially when we consider the fact that it's said to have a 99.99% accuracy, which is unheard of and unrealistic.

Let's face it, any type of trading requires a certain level of risk, and there's no software that can predict everything 99% accurately. 
Do you believe a software that apparently make you $30,000 per month would be sold for only $37? Anything of value is not that cheap. If a software like Crypto Coin Crusher really worked as advertised, it would not be affordable for most people.
Yes, it's possible to generate a large sum of profits by trading cryptocurrencies, and there are people who've got wealthy by doing so.
But they've had to learn some skills and have not relied on an automated software like Crypto Coin Crusher.
I've come across many automated trading softwares like Crypto Coin Crusher and they all turn out to be scams that lose the trades.
In fact, if you check out the Crypto Coin Crusher disclosure, you can read that you could lose some or all of your investment:
This proves that Crypto Coin Crusher is not a special and exclusive software, and it's not true when Alex claims that it's risk-free.
.
Is Crypto Coin Crusher a scam?
---
I can't say that Crypto Coin Crusher is 100% scam because I haven't tested it, but after everything I've found out I'm surely not trusting this software.
In this section I'm going to explain why I don't believe you should invest in this software either. Let's see the red flags and scam signs that expose Crypto Coin Crusher as the fraudulent software it is.
.
Alex Riles doesn't show up
---
There's no way to know if the owner of Crypto Coin Crusher is Alex Riles or not because they don't show any picture of him.
The fact that they don't show any picture of him leads me to believe that they're trying to hide something. I don't believe the story of the sales video because it's similar to other stories from other scam videos.
There's no information about him outside the Crypto Coin Crusher website.
This could mean that Alex Riles might be a fictitious character and the real owners of Crypto Coin Crusher remain hidden. 
Scam artists usually do that. They hide their identities or create fake characters.
I personally don't trust softwares or programs whose real owners don't show up. 
.
The testimonials are fake
---
After seeing that the testimonials are fake, I got more convinced about Alex Riles being a fake character.
I did some image searches and it turns out that all the comments are a complete fabrication. The con artists behind Crypto Coin Crusher have stolen the images and have invented the comments.
Lol it's funny how the name of those two testimonials and the comments coincide with the names of the fake testimonials of the Bitcoin Code scam:

You can also notice that the headlines of the Bitcoin Code and Crypto Coin Crusher also coincide. This makes me believe that the scammers behind the Bitcoin Code and Crypto Coin Crusher are the same.
I remember that the man who's supposed to be Chris Hadid in the Crypto Coin Crusher also appears in another scam site named MySurveyJobs.com, which I exposed some days ago.
When will these scam artists get tired of using other people's pictures without their consent? 
In conclusion, none of the testimonials of the Crypto Coin Crusher sales page is real, which leads me to believe that this software doesn't work for anyone but the con artists who are running it.
If you think about it, if Crypto Coin Crusher was really that good, they wouldn't have created fake testimonials. 
.
They're not transparent when it comes to the real cost
---
They claim this software only costs $37, but this is not true.
I found out their affiliate page and see that they will try to get you to pay way more than $37.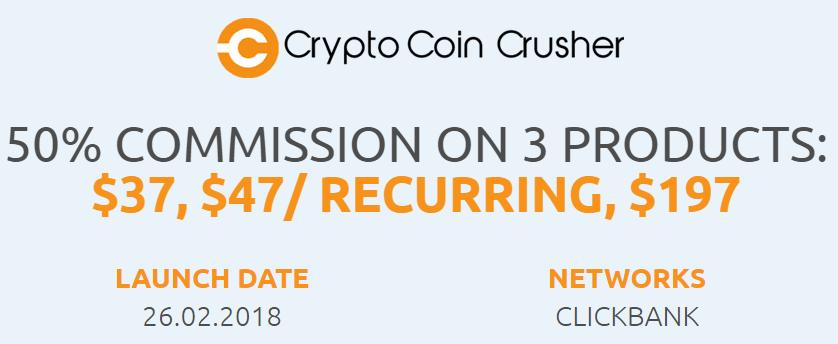 The problem is that they don't explain what this $47 monthly fee is for or what the $197 package includes.
The fact that they don't explain what value these other products have is a clear indication that they just care about making money. They don't really want to help you.
I personally don't trust people who hide details like the cost or what you're going to receive for that price. 
.
My final verdict
---
My final verdict is that Crypto Coin Crusher is not worth your money or time. 
There are many red flags that tell me this software is not legit and doesn't live up to its promises. Let's recapitulate:
The testimonials are fake.

The owners of Crypto Coin Crusher don't show up.

They're not transparent when it comes to the real price.

It's similar to the Bitcoin Code scam.

They use fake scarcity tactics to get you to buy into it.

They're not honest when it comes to the risk of trading.
There's no way I can recommend a trading software like this. The only good thing I see is that it's a ClickBank product so you can get a refund if you end up purchasing it. 
I personally haven't bought it because of the scam signs I've seen, but the final decision is up to you.
The way you can stop falling for scams is by keeping in mind that there's no software or push button system that will make you money without working. 
Making money online requires you to learn, work hard, have patience and stay persistent. The day I realized what it takes to make a living online is the day I started putting in the effort and time, and I have no regrets.
The business model I use has given me a way to earn a consistent income month after month, and I believe you can do this too if you're committed to putting in the work.
I know this is different from cryptocurrencies, but I thought that people who want to make money by trading cryptocurrencies might also be interested in building an online business.
With the right training, marketing tools and support, you'll be able to build a sustainable online business based on something you're passionate about.
If you would like to learn more, click the button below now:
You'll get to know how this business works, how to get started for free and more!
I also want you to know that you'll get to meet like-minded people who're willing to help and support you along the way, not to mention that I'll be there for you too =)
I'm so excited for you to get in the right way to make money online!
I hope you've found the answers you were looking for concerning Crypto Coin Crusher.
If there's something else you want to know or want to share your opinion, don't hesitate to leave a comment below. I'll get back to you ASAP!
Have an amazing day! 🙂