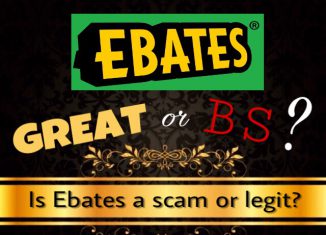 Hey guys!
Have you ever heard of Ebates? I had heard of it some months ago but I didn't check it out. Sometimes you hear of something interesting and are like "I'll check it out later" but then you forget about it.
So some days ago "Ebates" came to my mind and I finally took a look at it to see what it is really about and whether it's a scam or worth my time.
I decided to write a review to let you all know the truth about it before joining.
.
Review of Ebates
---
Name: Ebates
Official site: ebates.com
Founders: Alessandro Isolani and Paul Wasserman (the current owner is Rakuten)
Type: Online shopping
Created in: 1998
Price: Free to join
Overall Ranking: 75/100
.
---
If you're sick of scams, check out my 1st resource to make money online here!
---
.
What is Ebates about?
---
Ebates is an online platform that was founded by two Deputy District attorneys in Silicon Valley back in 1998. In 2014 it was acquired by a Japanese firm named Rakuten for $1 billion.
This platform gives you the chance to earn some cash back for the purchases you make at the stores they're affiliated with. In other terms, if you buy something through Ebates, you can get some of your money back.
When I found about it, I was like "how come I didn't know about this before?".
If you're wondering how it is possible that you can get paid for shopping, I'll explain.
Ebates is affiliated with over 2,000 big stores like Amazon and Walmart that pay them for referring customers.
For example, if you buy something on Amazon through Ebates, Amazon will pay Ebates a percentage off the money you've paid, you'll get the product you've purchased and then Ebates will give you some of the money they've got paid.
Some of the stores and brands Ebates is affiliated with are the following:
Amazon

Walmart

eBay

Macy's

Apple

Expedia

Booking

Hoka One One

Groupon

HP
As I said before, Ebates is affiliated with over 2,000 stores, so this review would be too long if I listed them all lol.
Ebates is basically acting as an intermediary between you and the stores. They're using the affiliate marketing business model, which creates a win situation for everyone involved.
The supplier makes a sale, Ebates earns a commission off the sale, you get the product you've purchased and you also get some of your money back. This is a good way to reduce expenses, don't you think so?
.
How does Ebates work?
---
Joining Ebates is free and simple, you can do it here. You can sign up by using your Facebook account, Google+ account or your email address. You'll see you'll have to choose between a $10 Walmart gift card and a $10 Ebates cash bonus.
Once you have joined, I suggest that you go to "Account Settings" (under your name at the top right corner) and complete your profile by adding your mailing address and choosing whether you want to get paid via PayPal or by check.
After that, you can check out whatever section you want. This is what you'll find out:
All Stores. Here you'll find all products categories like travel, clothing, electronics… and all stores where you can purchase products from each category.
Double Cash Back Stores. Here you can check out which stores have doubled the percentage of cash back.
Hot Deals. This section is great to see promo codes, coupons and daily deals. You also get to know their expiration date.
In-Store Cash Back. Here you can see which stores offer you the chance to get cash back when you shop offline. This is a good option for the people who live close to the stores that are offering this. You'll have to add a credit card and link it to the offer you're interested in before making the purchase.
Search bar. You can search for stores, coupons and products. I believe this is the fastest way to find if the product you're looking for is available in any cash back store. When you click on a product, you're then taken to the store website to purchase it.
Collections. Here you'll find different stores and brands that have a luxury collection, an athleisure collection, a wedding collection and a handbag collection.
I recommend that you read the cash back terms of the store you're going to shop at because some stores don't offer cash back on high volume orders.
For example, if you want to buy a laptop, HP is one of the stores that offer the highest cash back percentage, but not for more than 10 orders per month.
When you make a purchase, you can expect to get your cash back 2 days after your purchase, or even more, depending on the store. In order to get the money sent to your PayPal account or by check, you'll first need to reach the minimum payout threshold which is $5.
.
Pros & Cons of Ebates
---
I believe Ebates is a great site to save money in the long term, but it also has some cons.
.
Pros of Ebates
---
You can save money. If you usually do online shopping, making purchases through Ebates is going to save you some money in the long-term.
It's easy to understand. It's not difficult to find how much cash back you're going to receive because all the stores show the cash back rate and explain other important details like the cash back terms. Moreover, there are instructional videos so that you don't get lost.
It has been in business for almost 20 years as of this review. Ebates has existed since 1998, which is a good indicator that proves this company's legitimacy. The more time a company has been in business, the more legit it's likely to be.
You can earn money by referring people. You can earn $25 per referral when they join through your personal link and shop. The more people you refer who make purchases, the more you can earn, as seen below:
Good customer service. There have been some complaints about people not getting their cash back shown up in their accounts or not getting their payments, but there's a help center where you can track your cash back and contact them. They'll eventually solve the issues.
There's an Ebates app. You can download the Ebates app on the App Store or the Play Store. I downloaded it and it's easy to use.
It's free to join. You don't need to spend a penny to sign up. It's great because you can check it out before purchasing anything and see if you like it.
There's an Ebates Google Chrome extension. This extension will notify you when you're on a online store that has Ebates available so that you don't need to log into Ebates before shopping. If you do most of your shopping online, I recommend that you often check out Ebates to keep yourself informed about coupons and other hot deals.
Ebates offers a Visa card which you can earn more cash back with. The Ebates Visa card allows you to earn up to 3% more on your purchases. This one is for people who're used to using credit cards in a responsible way.
With Ebates Hotels you can get a 7% cash back. The travel category is one of my favorites because you can book a hotel room and get cash back regardless of your country. This doesn't happen in product categories because there are stores that don't ship worldwide.
.
Cons of Ebates
---
You can't get paid without reaching the minimum payout threshold of $5. If you are the type of person who doesn't usually shop online, you can't expect to reach the $5 fast. However, I believe that reaching $5 of cash back is not that hard if you purchase on stores that have a high cash back rate.
Ebates only sends money 4 times per year. Only 4 times per year might seem insufficient, but this is something that also depends on the companies Ebates is affiliated with as not all companies pay commissions the same day they make sales. Therefore, Ebates needs time to collect the payments and then pay their customers. 
Some categories of some stores don't offer cash back. Ebates is affiliated with many stores, but that doesn't mean that they pay cash back for all their products. Some stores only offer cash back for products of 5 categories.
Missed payouts. There have been times that people have not been paid their cash back. Whenever this happens, you'll have to let customer service know about this so they can sort it out, but you'll need to wait some more months, until the next payout. Being patient in these situations is essential.
Cancelled cash back. Ebates can cancel your cash back if a store doesn't pay them.
Some stores don't ship overseas. I've noticed that some stores only ship to countries like the US, so this is a disadvantage for most people who live in different countries because they can't benefit from some cash back offers.
.
My closing thoughts
---
If you want to join Ebates, these are some of my advices:
Choose PayPal as the payment form instead of a check so that you wait less to get your cash back the day of the payout.
Enable cookies on the electronical device you're using to do shopping because they're necessary to track your purchases.
Try to make your purchase the same day you click from Ebates to make sure the purchase is tracked properly. You can check out all the times you've clicked to do shopping from Ebates on "Shopping Trips" under your name at the top right corner of your Ebates account.
If you know the store you want to shop at, make sure you take a look at all the coupons on Ebates before shopping.
Don't purchase what you don't need. Just because you can get cash back, that doesn't mean that you should start purchasing stuff you don't need. Avoid falling into the trap of consumerism.
Ebates offers a legitimate service and it's a great option for those who are searching to save money and make some extra money. I believe it can be beneficial for everybody, like who doesn't need extra money? It's also free to join so you have nothing to lose.
However, you can't rely on Ebates to earn a living online because you'll always have to spend more money than you can earn, so you'll never generate a profit from this.
If you're the kind of person who is looking to make that "quit your day job" money, then I suggest that you start thinking in terms of building your own business, which is a different thing than what you can earn with Ebates.
At the beginning of this review, I said that Ebates uses the affiliate marketing business model, and this is the one that I highly recommend to get started with because it's a lucrative and "not costly" business model. 
There's a digital marketing platform where you can find resources, step-by-step training, courses and lessons that will help you create and grow an affiliate marketing business. You'll learn to build this business the right way so that it can be profitable in the long run.
Another thing I love about this platform is that it's full of bloggers and online entrepreneurs who will support and help you out whenever you have questions and issues. I've been a member of this platform for over a year and there's always been someone who has interacted with me and replied to my questions.
In addition, this platform is free to join so you can check it out to see if you like it without worrying about revealing your credit card information!
If you're interested in learning more about my top recommendation, click the button below right now and see how beneficial this platform can be for you:
.
I hope this review has been helpful to you. Do you have any experience with Ebates? In case you have any questions or want to share your opinion on Ebates or another online platform, feel free to leave a comment below and I'll get back to you ASAP.
Whatever you do next, I wish you the best! 🙂