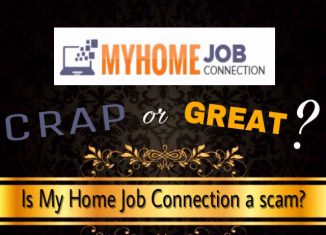 Hey y'all,
Today I discovered a site called My Home Job Connection, which looked like a trustworthy site.
However, I always like to look deeper into every site I come across, so that's what I did and now I'm writing this review to let you all know if you should give My Home Job Connection a try or not.
Without further ado, let's get this review started!
.
My Home Job Connection review
---
Name: My Home Job Connection
Website: MyHomeJobConnection.com
Owner: unknown
Created in: 2016
Price: "Free"
Overall Ranking: 17/100
.
---
If you're sick of scams, check out my 1st resource to make money online here!
---
.
What is My Home Job Connection about?
---
My Home Job Connection is supposed to be a site where you can find part-time or full-time work from home jobs in your area. 
This site looks professional the first time you see it like it doesn't look like one of those scam sites that promise you to make money the same day you join.
It doesn't even mention anything about business opportunities, so the second I stumbled upon it I thought it was a great place to find a job that you like.
They claim that all jobs are verified legitimate before being allowed in their database, and they only work with companies that are known to pay their employees.
Some of these companies that need your help are Amazon, Apple, Target and Netflix.
They say that many of the jobs available don't require you to have a degree/diploma or previous experience. 
This is supposed to be free and they claim to make money via sponsors and advertisements.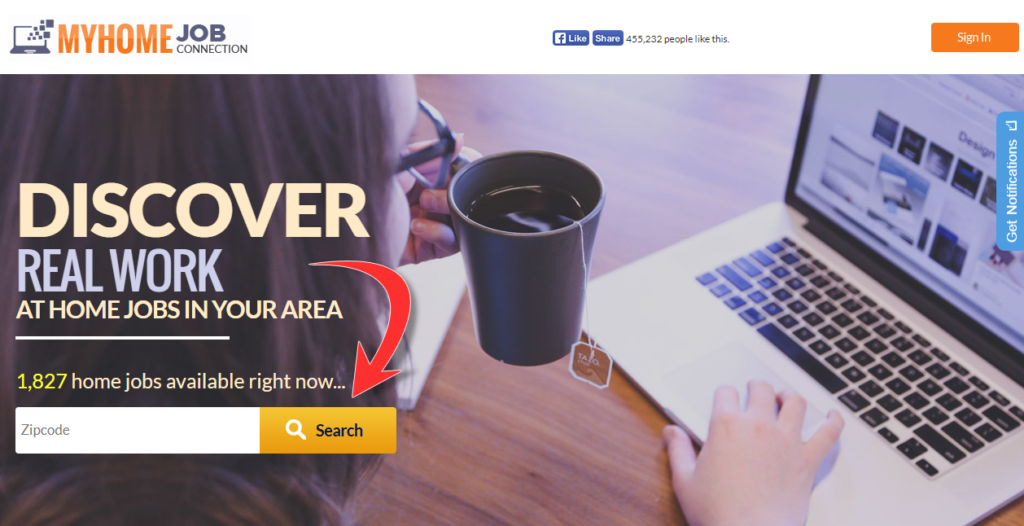 So I was liking everything I was seeing on that site until I noticed some stuff that looked very ugly. Stuff that is common in scam sites.
This showed me that My Home Job Connection is not what it claims.
.
Is My Home Job Connection a scam?
---
If the only thing I took into account was the My Home Job Connection main page, then I would call it a scam because it has some red flags that tell me this place shouldn't be trusted. 
However, if you join you can find some legitimate sites that are not scams.
With that being said, let's see what's fake about My Home Job Connection.
.
No information about the owner/s
---
This site doesn't have a section where you can know who the people behind this site are. They only talk about My Home Job Connection but they don't reveal who they are. 
This is a red flag because the fact that there's no information about the people who've created My Home Job Connection means that they're trying to hide something.
If we knew who they are, we would have more information to determine whether these people deserve our trust or not.
I don't know about you, but I personally wouldn't trust a site whose creator is unknown.
.
The fake Facebook likes & social media icons
---
I scrolled down to the bottom of the My Home Job Connection site and found some social media icons, then I clicked them to see their social media profiles but I got taken to the top of My Home Job Connection.
So this means that they are not on Facebook, Twitter, Pinterest or Instagram. They have no social networks accounts. I even searched for them on those social networks but found nothing.
What are they doing those social media icons there? They're unnecessary in my opinion.

If they have no social media profiles, then the 455,232 Facebook likes that appear at the top of the site are also fake.
I guess they've posted them there to gain credibility and make you believe that My Home Job Connection is popular.
.
The false testimonies
---
The My Home Job Connection site has a section where you can read positive comments from 5 people who are supposed to be members of this site.
Let's take an eye at one of them:
I did an image search and found out this picture of "Kim" on a stock photography site, as you can see below:
This is a proof that none of the testimonials shown on the My Home Job Connection site are real, they're fabricated.
People behind that site have got those pictures from other sites around the net and have used them to create fake testimonials and the comments are invented.
I don't think there's someone that has a positive opinion about My Home Job Connection, hence those fake testimonies. 
.
What if you join My Home Job Connection?
---
You'll first have to enter your zipcode in a form at the top of the page. Then you'll get access to a short survey where you'll be asked questions like what weekly income you desire, how many hours you can work per week, when can you start working…
After that, you'll need to complete a form with your name, email address, phone number and choose your job type to create your account.
Then you'll be led to a page that claims you can earn $100 within a day:
Let me tell you that this is not going to happen. They're lying when they say that making money online is easy because we all know that it requires real effort and it takes time.
They tell you to sign up to those 3 paid survey sites, and even though they're not scam sites, you're not going to earn $100 in a day because you don't get paid much by completing surveys.
Most paid surveys sites usually pay from $1 to $5 per survey, so you would have to complete lots of surveys to earn $100 per day.
Another thing is, surveys are not fast to fill out, some surveys have a lot of questions and you can't reply whatever comes to mind.
I wrote an article about making money with paid surveys, you can check it out here.
If you continue to step 2, you'll be taken to a page where it's said that members are making over $3,000 per week. 
They tell you to click the play button to discover what this amazing opportunity is, so I did it and got taken to another page where it said it was not available.
It's not the first time I see a page like that where the resource is not available. I've seen that page other times that I was looking to access a more-than-likely scammy site, so I guess this page was also a scam site that got shut down or perhaps they changed its domain and people behind My Home Job Connection haven't updated it yet.
Then I went to the members area, clicked some banners and got to the same page I got before. Those offers were not found. The only one that worked took me to Fiverr (through an affiliate link by the way).
After that, I went take a look at the job board and I got surprised that it actually worked and 768 jobs were found. 
I clicked some job offers and got taken to websites called ZipRecruiter and AllTruckJobs, which are legit. 
.
My final thoughts on My Home Job Connection
---
The only good thing about My Home Job Connection is that it takes you to real jobs sites, but nothing else is good about it.
Let's recapitulate what we've found:
Unknown owner.

Fake and unnecessary social media icons.

Fake Facebook likes.

Fake testimonials.

They try to get you to join unreliable sites, but the links don't work.

You can find real jobs in the job board. 
Conclusion: My Home Job Connection has more red flags than good stuff. It's 83% scam (that's why I rated it 17 out of 100). 
If you're wondering how it can be a scam if it's free, the answer is that they're affiliated with all the websites (most of them scam sites) they try to get you to join.
They're trying to earn money through affiliate marketing, but they're not doing it the right way. They're lying and promoting crappy sites which is not good at all.
This shows that they don't really care if you find the job you are looking for, they just care about making money.
I don't know about you, but I wouldn't feel comfortable giving people behind My Home Job Connection my personal information. They're not trustworthy because they lie to you, they've shown that they don't really care about their customers well being. 
If you give them information like your email address, you can expect them to send you scam offers to your inbox.
If you're looking for a job, I'd go look somewhere else if I were you. 
If you're looking for a real & legit work-from-home or money-making opportunity, then know that it will require you to work hard, have patience and be persistent. You won't make it overnight but in the end it will be worth it.
If you're willing to do what it takes to generate an income online the right way, then there's a digital marketing platform that I'm sure you'll love.
This platform provides courses, video trainings, step-by-step trainings and more resources that will help you start an online business from scratch and take it to any level of success.
This business will be based on your passions, which will make the process more enjoyable because you'll be doing something you love.
Apart from that, in this platform you'll get to meet other like-minded people who are on the same path as you. They'll support and help you out whenever you have questions. I've been a member of this platform for more than a year and there's always been someone who has answered my questions! 
In addition, they allow you to sign up to this platform for free without you having to give your credit card information, this is great because you can join for free and see if you like it, you have nothing to lose and a lot to gain. 🙂 
There are a lot of things I love about my favorite platform, if you're interested in learning more, click the button below right now to read the detailed review I wrote about it:
.
That's it for today, folks! I hope this review has been helpful to you and you have enough information to make the right choice. Feel free to share it with whoever you think that may benefit from it.
In case you have any questions or opinions on My Home Job Connection or other online sites/programs, drop a comment below and I'll give you a response as soon as possible.
Have an amazing day =)