Hey everyone!
You've come across CoinHitPay and are wondering whether it's a legit site to make money or is CoinHitPay a scam that will waste your time and energy?
Well, I first want to congratulate you on doing your research because there are many scams out there and you need to make sure you know what you're really getting involved in before trying out a site/program.
In this review you're going to find out what CoinHitPay.com really is about and whether it can benefit you or not.
.
CoinHitPay.com review
---
Name: CoinHitPay
Website URL: coinhitpay.com
Owners: It cannot be determined
Price: Free to sign up
Created in: January 2018
Overall Rating: 5/100
.
---
If you're sick of scams, check out my 1st resource to make money online here!
---
.
What is CoinHitPay.com about?
---
CoinHitPay.com is supposed to be a site that provides an easy way to earn money online.
They claim to be an advertising and traffic selling company that pays its members for referring people to their site.
They say that you can easily earn $1000 per week and you'll only have to refer 10 people per day.
All you have to do is to share your Coinhitpay affiliate link wherever you want like Facebook, forums, blogs, Twitter, Whatsapp…And they are supposed to pay you $5 for each person who visits CoinHitPay through your affiliate link.
When it comes to withdrawals, they require you to reach $300 in order to cash out. They claim to send payments via PayPal, Payza, MoneyGram and cheque.
Doesn't it sound amazing? Like anyone can do this. I mean, anyone can share a link as this requires no special skills or prior experience. And it's not that hard to get others to join because it's free. 
.
Can you make money with CoinHitPay.com?
---
They claim you can make money with CoinHitPay, but the truth is that they will not pay you.
After all, it would make no sense that they paid you. Why? Because no one is paying for joining.
They claim they're getting paid for bringing traffic to their advertisers, but that's not true.
When you take a look at their site, you can see that there are no ads so what advertisers are they talking about?
People who click your referral link will not be displayed any ads so they're not making money because they're not advertising anything.
And the fact that they are not offering any product or service means that they're not getting paid for what they claim to be. They're not an advertising company.
Therefore, if they're not getting paid, they're not going to pay you. Nobody gives free money.
.
The real purpose of CoinHitPay.com
---
So if the owners of CoinHitPay.com are not getting paid for what they claim, why did they create Coinhitpay? What do they want to achieve?
What they're really after is your personal information. They want to collect as much information as possible and then sell it to other companies or scammers.
That's why they want you to get other people to join. And the reason why the minimum payout threshold is $300 (quite high) is because they want you to get a lot of referrals fast.
They say that you're going to earn $5 per referral because they want you to get at least 50 referrals. The more personal information they have, the more they get paid.
They claim you're going to get paid so that you build their business (get as many people as possible to join), which is selling other people's information.
But that's not all. They also try to make money through CPA offers.
If you reach the $300 and try to cash out, you'll be asked to complete a fake captcha test which is basically a list of offers like downloading apps, filling out forms, signing up for trials… 
These offers have affiliate links embedded, which means that the owners of CoinHitPay will make money if you complete them.
CPA and affiliate marketing is a great business model but the problem here is that the owners of CoinHitPay are not using it the right way, since they tell you nothing about those offers. It's when you try to cash out that you find them.
Not to mention that some of those offers might take you to sites that contain malware or viruses.
.
Is CoinHitPay a scam?
---
When a site or program wastes your time and doesn't live up to its promises, then yes, it's a scam.
In the previous sections I've explained why they're not going to pay us and what their real intentions are, but there's more.
The CoinHitPay site is full of red flags and misleading information, which tells me that site is not trustworthy.
.
They contradict themselves
---
In their homepage they claim they're going to pay you $5 for every link click, but they also claim they're going to pay $1. 
So what's the truth? Why do they contradict themselves? I guess they're not clear about how much they're going to pay because they're not going to pay anything, as I've explained earlier in this review.
I personally would not trust a site or program that is not clear about important details like this.
.
No information about the people behind CoinHitPay
---
This one doesn't surprise me, to be honest. Most scam sites don't reveal the people who are running them or create fake characters.
In this case, there's no information about who is behind CoinHitPay, they mention no names and show no pictures.
Why don't they let us know who they are? What do they have to lose?
I personally don't trust sites whose owners don't show up.
Note that most legit companies and sites reveal who are the people who have created it.
.
They lie about the payment methods
---
In their homepage, they claim to make payments via PayPal, MoneyGram, Payza and cheque.
However, once inside, you'll see that the withdrawal type a.k.a. the payment method is cheque (check) and they don't let you change it.
This indicates a lack of transparency when it comes to the payment methods, why don't let us choose how we want to get paid?
.
Lack of important information
---
The conhitpay.com site looks very basic, in my opinion.
Not only they don't have an about section, they don't even have a privacy policy, terms & conditions or disclaimer page.
This is a red flag because knowing that information is important in order to make an informed choice.
And the fact that they don't let us know what they're going to do with the personal details we give them means that they don't care about us making the right choice concerning their site.
.
Their email address is fake
---
After seeing that they didn't give the option to choose the payment method, I thought of emailing them to ask how to change the payment method from cheque to PayPal.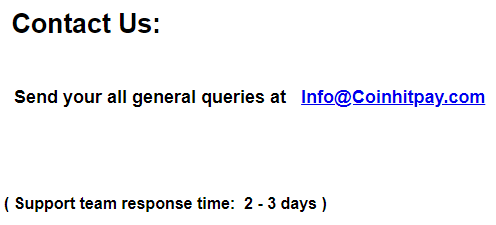 So I checked out whether their email address exists or not and it doesn't.

This is why I will not waste my time on emailing them. If I do, I will get the "mail delivery subsystem", which means that their email address does not exist. 
So it's completely fake that it takes them 2 or 3 days to reply, they will never reply.
The fact that they lie about their email address is a clear indication that they don't care about us. They don't really want to help us make money.
And there's no other way to contact them. They only let us know this fake email address.
.
My final words
---
I don't recommend that you try out CoinHitPay.com because it will not benefit you in any way.
They lie about their contact information, they're not transparent about the payment method, they don't reveal who they are, they contradict themselves, they lie about their real intentions…
There's no way I can recommend a site like that as it was only created to make the scammers money.
If you've tried it already, I suggest that you stop using it and learn real ways to make money online.
I've come across many sites like CoinHitPay. Sites that claim you can earn money easily without doing much work. And you know what? Most of these sites (not to say all) end up being scam sites that want to collect personal and financial information.
When it comes to making money online, you need to keep in mind that it's not easy and you'll have to put in the work and time.
But hey, if you're willing to work and learn, why not go for it? If I'm doing this, so can you.
If you're serious about making a full-time income online, then I strongly believe that you can benefit from my top ranked digital marketing platform.
This platform has existed for over 12 years and it's being constantly updated and improved.
It's very affordable (free to join) and provides step-by-step training, video tutorials and other useful tools that will guide you through the process of building an affiliate marketing business in a way that's sustainable for the long haul.
I've been a member of this platform for almost two years and have never looked back. I've learned so much and have also made money!
If you're interesting in learning more, click the button below to read my full review now:
It's your time to say bye to the scams and get on the right way to make money online!
If you have any questions or opinions regarding CoinHitPay, feel free to leave a comment below and I'll get back to you ASAP.
All the best =)