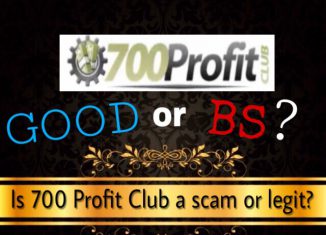 Hey everyone!
I recently stumbled upon another site. This one is called 700 Profit Club. To be honest, the second I saw this site I automatically thought it was just another one of the countless scams we can find on the net.
But I checked it out as I'm very curious and like to find out the real nature of the sites I come across. I also thought I'd write a review to let you all know whether this program is worth it or not so you end up making the right choice.
Without going further let's start this 700 Profit Club review!
.
700 Profit Club review
---
Name: 700 Profit Club 
Website: http://700profitclub.com/
Owner: unknown
Created in: 2017
Price: "Free"
Overall Rating: 1/10
.
---
If you're sick of scams, check out my 1st resource to make money online here!
---
.
What is 700 Profit Club about?
---
Just when you start watching the 700 Profit Club sales video, you're promised to make $700 per day in less than 24 hours. Oh, and it's all done for you.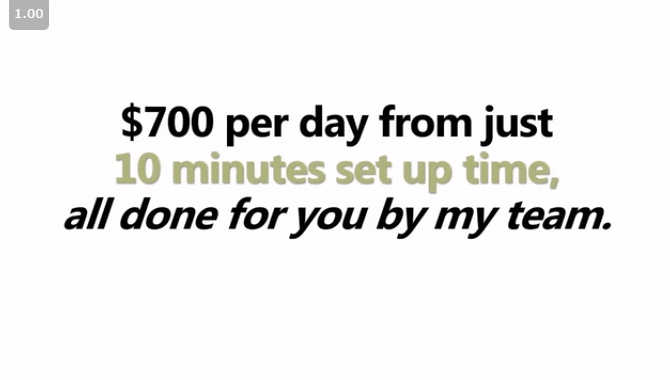 Another thing is, they claim they're not going to sell you anything, so it's free right?
These kind of claims just make me think 700 Profit Club is a scam because what they say sounds too good to be true.
How is someone going to make you earn $700 per day fast and without you putting in the effort??
Then this spokeswoman claims that she's been earning money online for 5 years and has already made 7 millions dollars. 
Then she explains that 5 years ago she was in the same situation as you, and the only thing between you and that kind of money is misinformation. I kind of agree, but she's not even telling you how you're supposed to make $700 per day on complete auto-pilot.
She keeps showing snapshots about her earnings but doesn't talk about the most important thing you need to know before making a purchase or joining a program.
After that, she introduces "CoolHandle" as an "online sensation" and how easy it is to start making money from this. I've lost the count of the times she says that everybody who has joined her system is now making $700 per day.
Another thing to point out, she says that it doesn't matter if you have 0 skills or haven't made any penny online before.
She also explains that all 700 Profit Club members have been given an optimized website for free and then they started making $700 per day.
To be honest, I don't believe those claims and after watching the sales video I was already convinced 700 Profit Club should not be trusted. 
Anyway, let's see how 700 Profit Club really works in the next section.
.
How does 700 Profit Club really work?
---
This spokeswoman (she doesn't even reveal her name), says that you need to do the following to make her system work for you:
Grab your piece of the CoolHandle with her free 700 Profit Club optimized website.

Let her team monetize it for you.

Sit back and watch the money roll in.
She claims she's giving that website for free because everytime you make money she makes the 5% of that, but you get to keep 100% of the profits.
I don't know about you, but for me this doesn't make sense like where does the money come from?
Oh, and "today" is the "last day" she's offering it for free. "Tomorrow" this will cost $2,500 set up plus $289 per month. 
In fact, this is not true because I watched this video for the first time yesterday and nothing has changed. But she says that to rush you into joining. 
If you enter your email in the form below the promo video, you'll be taken to another page where another video will start playing. 
She claims that after you set up your CoolHandle hosted website, you'll be able to earn $1.2 million a year. 
However, if we do some math we can conclude that this is a fake claim. She's been saying that you'll earn $700 per day, what would be $21,000 and would result on $252,000 a year. 
According to her, CoolHandle sites seem to draw 10 times more traffic and profits than other hosting companies. 
However, after looking for CoolHandle reviews I found out that this hosting company has a lot of complaints and negative reviews (you can check them out here), as you can see below:
I obviously wouldn't like my website to be hosted at a company that has negative reviews and more than $41,500 losses from customers. 
So the next steps she tells you to take to secure your "free website" are these:
Choose a domain name to get your CoolHandle hosting account.

Select your hosting plan.

Activate your "$700 per day cash flow".
She tells you to choose the 3 years hosting plan because it's supposed to give you more benefits, but the truth is that they want to make bigger commissions.
Yes, people behind 700 Profit Club are affiliated with CoolHandle, so they'll earn commissions everytime someone buys a CoolHandle hosting plan through the 700 Profit Club website.
If you choose the 36 months hosting plan, it will cost you almost $250, as you can observe below: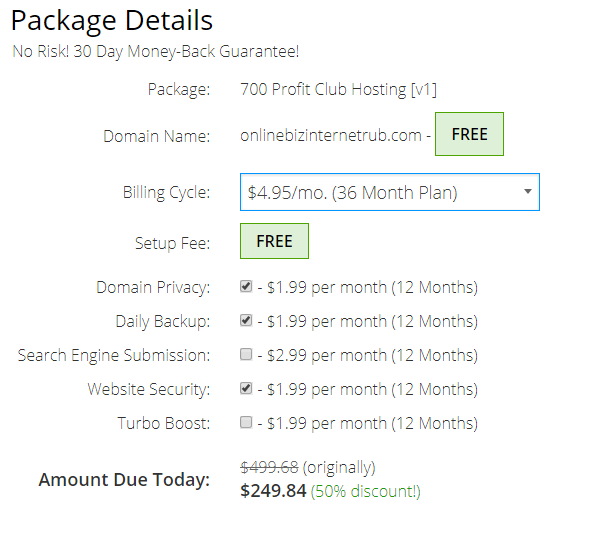 This just shows that it's not free to get the "amazing 700 Profit Club website". Another thing to take into account is that there are other website hosting providers that charge less than CoolHandle and don't have those negative reviews. 
What I know for sure is that I won't pay this company to host any of my websites and I won't be recommending it to anyone. It's not just the price, it's the poor customer service they offer.
So if you pay for a CoolHandle hosting plan, expect the 700 Profit Club con artists to earn big commissions and you'll get a website but it won't make you any money.
Why? Because it will have no content or anything valuable so it won't be getting any traffic, something important when it comes to making money from a website.
This is what they don't tell you in the 700 Profit Club videos. They don't explain how that website will be earning you money. And there's no button you can click that will make you $700 per day.
If it were that easy, don't you think that everybody would have already purchased a CoolHandle hosted website? 
.
Is 700 Profit Club a scam?
---
700 Profit Club is a scam, in my view. The website is full of hyped up claims and lies, everything on it is pure fabrication.
In this section I'll post some undeniable proofs that expose 700 Profit Club as the hoax it is.
.
No information about the owner
---
The spokeswoman who presents 700 Profit Club on the videos doesn't even tell us her name. Without knowing her name, there's no way to verify her identity. 
In the 700 Profit Club website there's no information about the site, no privacy policy and no disclaimer.
Would you trust a site whose owner is unknown? I obviously would not.
.
Fake testimonials
---
If you've watched the 700 Profit Club videos, you've seen pictures of people who're supposed to be 700 Profit Club members and have made thousands of dollars. 
The truth is that those pictures are stolen from other websites and the names and earnings are invented.
So "John" from the UK has apparently made $1,454.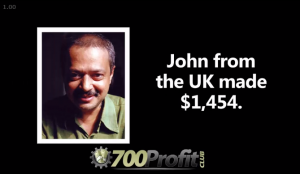 But the picture below proofs that John isn't the real name of this man of the picture.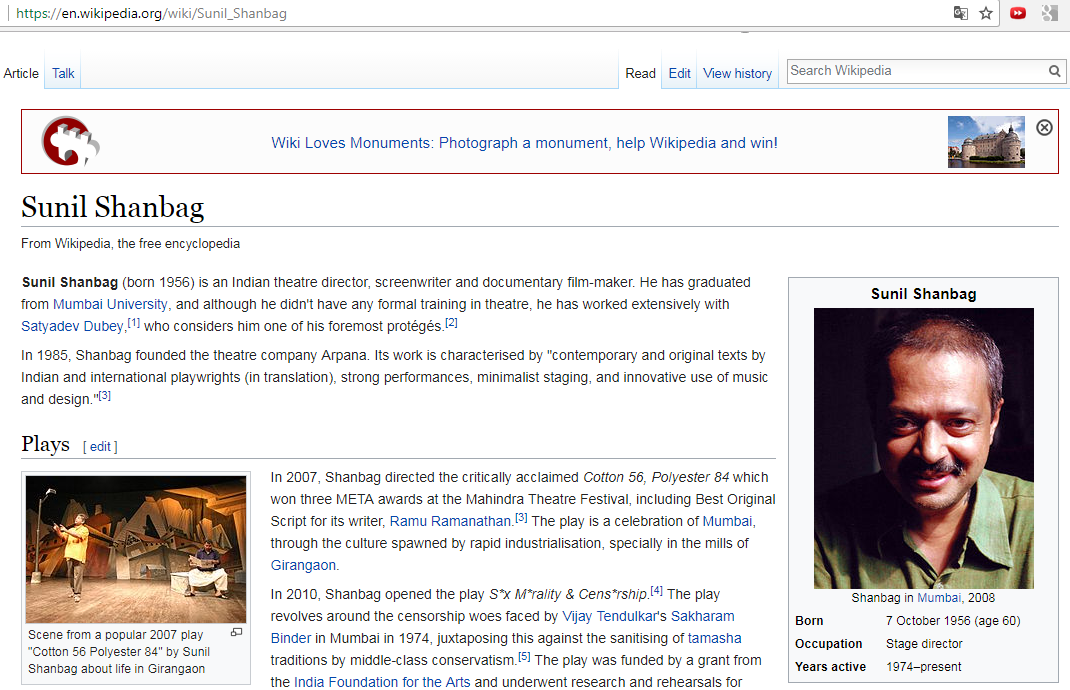 His real name is Sunil Shanbag, as stated in his Wikipedia profile. As you can read, he has nothing to do with 700 Profit Club.
Let's take a look at another 700 Profit Club testimonial.
So I did another image Google search and found out that this woman picture can be found in various websites.
These two proofs demonstrate that the testimonials shown on the 700 Profit Club videos are completely false.
.
Fake claims
---
So this is what you can read above the 700 Profit Club sales video.
These kind of claims are something scam artists use to create a sense of urgency. They want you to believe that your chance to generate lots of profits will expire if you don't act fast. 
The truth is that by doing that what they really want is that you hurry up to make the join their crap and make a purchase. They want to steal your money as soon as possible.
If you've ever watched these kind of scam videos, the screenshot below may look familiar to you. These scammers usually claim that they're going to give you something for free, but then we find out this is not true. They'll make you pay before giving you something.
In this case, they want you to pay for a CoolHandle hosting plan, so there's nothing free. Free, easy and fast money is something that doesn't plainly exist, so don't believe anyone who tells you this kind of BS.
.
My final advice and recommendation
---
You won't get anything valuable by purchasing that CoolHandle hosting, you will make the scammers richer if you do so.
My advice for you is to stay away from 700 Profit Club and CoolHandle because it will only waste your time and money.
Making money with a website is possible, but it requires patience, hard work, consistency, among others.
If you want to earn a living online or more, I suggest that you avoid all kind of systems and programs that promise you easy riches and start thinking in terms of building an online business. 
There's only one platform that I always recommend to people who are committed to building their own business. This platform has already been around for 12 years and has a community with thousands of members.
Apart from providing the step-by-step training and courses that will guide you to create and grow a digital business, you'll also get help and support from the community members (myself included) and owners! 🙂 
Another thing I love about this platform is the fact that it enables you to start for free. They offer a free membership that includes 2 websites, free hosting and more! This is great because you have nothing to lose by trying it out.
You can learn more about my top recommendation by clicking the banner below, I wrote a detailed review about it.
.
I hope this review has been of help to you and you make the right choice. Feel free to share this review on social media so more people can benefit from it.
In case you have any questions or opinions related to 700 Profit Club or other online programs, don't hesitate to leave a comment below and I'll get back to you ASAP. 
Cheers! 🙂