Hey there!
You've come across EarninGood.com and are wondering whether this one will work for you and help you make money online or is EarninGood a scam that will not make you any money?
I'm glad that you've decided to do your research before getting incolved in EarninGood.com because it turns out it's not what they claim it to be and I'm going to explain the truth within this review.
.
EarninGood review
---
Name: EarninGood
Website URL: http://earningood.com/
Owner: Unrevealed
Created in: December 2017
Price: Free to sign up
Overall Rating: 1/10
.
---
If you're sick of scams, check out my 1st resource to make money online here!
---
.
What is EarninGood about?
---
EarninGood is a site that offers an "easy" way to make money online.
According to them, all you have to do is to share your EarninGood referral link wherever you want, like Facebook, Twitter, forums, blogs, Instagram, private messages… and then you'll earn $1 for each unique visit your link gets.
They claim you can earn at least $150 per day and $4500 per month and they make payments via PayPal, Western Union, bank wire, Payoneer or other payment methods you like.
Pretty simple, right?
It sounds too good to be true because you don't need any previous experience or special skills, it's free and you can work anywhere where there's an Internet connection thanks to it.
This is something anyone who wants to make extra money can try as sharing a link is something anyone can do.
Apart from that, they say they also offer some tasks you can complete daily and earn at least $5 per task. It's good the fact that they offer various ways to make money.
But after looking deeper into the EarninGood site I noticed some things I didn't like, which made me start suspecting.
.
What can you find inside EarninGood.com?
---
After completing a form with your name, your last name, your email address and a password, you'll get access to the dashboard.
There you'll see your affiliate link ready to be copied, pasted and shared. A link similar to this one below:

Here I got kind of confused because in their FAQ section they claim you can earn money by getting other people to join their site and then they claim you can earn $1 for each link visit ($1.50 for US visitors), which is not the same.
Why don't they mention how much we can earn for getting other people to join? 
If you try to make money by getting link visits, you need like 100 unique link clicks to reach the $100 minimum payout threshold and claim your payment. 
When it comes to the tasks that you can do to earn $5, I didn't find any task. They don't have a section of tasks to complete. I thought I would find a section of offers like paid surveys, signing up to other sites, downloading apps… but they don't have this section.
Apart from that, they have a section named "make more money", but this section doesn't have simple tasks to do. What this section has is 3 online money-making opportunities, which is not the same as simple tasks.
The problem here is that these 3 "make money online" opportunities are kind of get-rich-quick schemes and low quality programs.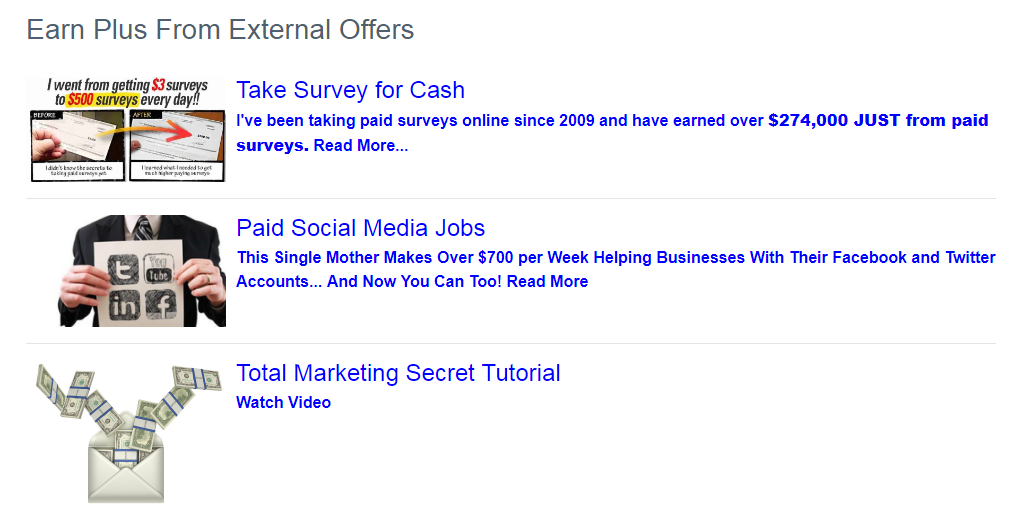 They're called "Take Surveys For Cash", "Paid Social Media Jobs" and "12 Day Millionaire" (total marketing secret tutorial), which don't live up to its promises. 
The first claims you can earn like $3,500 per month just for taking surveys, which is very unrealistic when we take into consideration that companies usually pay between $1 and $5 per survey.
Paid surveys take time to complete and are very time consuming. You can read my article about paid surveys to know more.
The other two also have some red flags like not being transparent about the people behind those programs and the promises of easy and fast money, very common in scammy products.
.
The reason why EarninGood was created
---
EarninGood was not created with your best interest at heart. It was created to generate profits for its owners, not you.
The reason why they want you to get into those low quality programs I've mentioned before is just to make a commission.
I know the owners of EarninGood will earn a commission if you purchase one of those programs because they're affiliated with them. They're using affiliate links so they'll get credit if you buy them.
There would be nothing wrong if what they're promoting were programs that provide good training and tools to make money online, but that's not the case. They're promoting programs that will not help you make money.
Affiliate marketing can be very lucrative when it benefits all parties involved, but in this case it only benefits the creators of the low quality programs and the owners of EarninGood. That's why I can't recommend that you buy them.
And that's not all. Their other goal is to collect as much information as possible to sell it to other companies, something that puts you at risk for identity theft. That's why I won't be sharing my referral link to get others to join EarninGood.
.
Is EarninGood a scam?
---
I consider EarninGood to be a scam because it doesn't live up to its promises. 
It doesn't work like it's advertised and it will not improve your financial situation. 
With that being said, I'm going to post some red flags and things I don't like about EarninGood:
The comments are not real. I believe the comments they have on their site are invented. First of all, there's no way to verify who has written them because they have no pictures of the testimonials. And secondly, the EarninGood site has existed since November 16th 2017 and today it's January 12th 2018, so there's no way someone has joined "a few months ago".
The owners don't show up. There's no information about who is running the show, which is a scam sign because it indicates that they're trying to hide something. Scammers usually create fake identities or hide them in order to avoid persecution from their victims.
Deceitful social media buttons. The social media buttons you can find at the bottom of the EarninGood homepage don't take you to any social network. I clicked all the icons and they all take you to the top of the EarninGood page. This means that they're not on social media so those icons are not necessary.

It doesn't make any sense. It makes no sense that they're going to pay you to get other people to click your referral link or join, because they have no ads and joining is free. They're not going to give away free money. I believe they claim you'll get pay you to promote EarninGood in order to collect the personal information of the people who sign up. And their terms and conditions already states that you will not get paid.

.
A great place to make money online
---
My final conclusion is that EarninGood is not worth our time or energy because it won't make us any money.
There's no way I can recommend a site whose owners lie about their real intentions and try to get you to purchase low quality programs.
The truth is that making money online is not easy or fast. It requires you to put in the work and dedication. You'll not earn anything without taking action. This is essential to know before you get involved in a business or "make money online" opportunity. 
If earning a living online were that easy, don't you think that everyne would be doing this? There are lots of factors to take into consideration when you want to know how long it will take you to make a full-time income online. Your work ethic, your determination, the business model, the time, your passion, your mindset, your experience… 
That's one of the reasons why a lot of people give up after getting started. They might have heard some stories from people who have made money in a short amount of time and then get discouraged when it doesn't happen the same to them.
Truth be told, the road to success is different for everyone. What might have worked for someone might not work for you, and vice versa.
With that being said, if you dream big and are committed to doing what it takes to achieving your goal of making a living online, then I strongly believe my favorite digital marketing platform will benefit you.
This platform is very affordable (free to get started, no credit card required!) provides step-by-step training, courses and other useful resources that will guide you through the process of building your very own online business.
I also let you know that there are many ways you can get help and support within this platform. You can ask questions and there's always another member willing to help you out. I'll personally be there for you too =)
You can click the button below now if you're interested in learning more:
It's time that you avoid scams and get on the right track to make money online!
I hope you've found what you were looking for within this review and now you know what to do next.
If you have any questions or want to share your thoughts, don't hesitate to leave a comment below. I always love hearing from you!
All the best 🙂