Welcome to my Doodle Starter review!
Have you stumbled upon Doodle Starter and are wondering if this system will help you on your way to financial freedom? Or is it just another scam that will leave you with less money than you have?
The first time I came across the sales page for this system, I realized I was in front of a sales video I had watched before, which means that this is just a rehash of another product under a new name.
Here in this review, I will show you what Doodle Starter really is, how it really works, what they don't tell you about it and more.
.
Doodle Starter review
---
Name: Doodle Starter
Website URL: doodlestarter.com
Owner: "Johnathon Crisper"
Created in: April 2018
Price: $47 + upsells
Overall Ranking: 2/10
.
---
If you're sick of scams, check out my 1st resource to make money online here!
---
.
What is Doodle Starter supposed to be?
---
The Doodle Starter sales page looks like many of the get-rich-quick schemes sales pages I've come across, so I initially thought it would be another "too good to be true" system because of the typical characteristics like high income claims and lack of important information.
But I didn't want to think it was a 100% scam so I took the time to watch the sales video. 
The spokesman doesn't even mention his name but he shows some screenshots of his accounts where I read "Johnathon Crisper", so I'll call him Johnathon.
This system is amazing because it takes advantage of a loophole that he overheard when he attended a Bill Gates and Mark Zuckerberg meeting.
According to him, his system makes it very easy for people to make a substantial income online because it doesn't require you to have any experience or special skills. It only requires you to do the tasks you do everyday: sharing, posting and liking.
After signing up, you will get your magical link ready to be shared all over the Internet and make you huge amounts of money. The first week you will earn $100 per day, the second week 200 daily bucks, the third week $300/day and so on.
Some days you will have to work 30 minutes, other days only 5 minutes and there are days that you will be able to decide whether or not to work.
Doesn't everything about this system sound wonderful? I know, it sounds as if there was something he doesn't tell you. 
And that's right, the truth is that this system doesn't work like Johnathon claims. You will not earn money just by sharing links, there's so much more to it as I'll explain next.
.
How Doodle Starter really works
---
Johnathon claims that you will only need to share a link in order to make money, but this is not true.
First of all, what does this "magical" link have that can make you money? What product or service does this link takes people to? He doesn't say anything about it.
He doesn't tell you why you will have to use the link. I mean, there's no way to get paid just to share a link. A link doesn't cost anything. What costs something is the product or service this link is associated with.
Therefore, what he really means is that you will have to share affiliate links, get other people to click the link/s and then you will make a commission if they buy a product/service. You will only make money if people buy a product/service through your affiliate link.
This is called affiliate marketing, which is a legitimate business model that can be very lucrative when used the proper way. I personally earn money using this business model so I know what I'm talking about.
The problem is that the way Johnathon is telling you to do this is not the best way because it involves spamming, which doesn't work.
You can't expect to make much money just posting many affiliate links on social media, forums or blogs. Just because you post the same link multiple times, it doesn't mean that more people will click on it. 
Apart from the clicks your affiliate link gets, you also need to take into consideration the kind of people who click on it because not everybody will be interested in the product or service you are promoting.
Honestly, people who are not interested in what you're posting, will not click the link. Specially if you don't tell them what this link is associated with. People will not click a link that looks weird because they want to prevent themselves from getting viruses or getting scammed.
Another thing is, posting links over the Internet is not as good of an idea as it might sound. You could get banned, lose followers, lose friends and even get your accounts deleted…
As I said, they don't tell you everything you need to know in the Doodle Starter sales video. I guess they don't want you to know that this is not as easy as they make it seem because it would be harder for them to sell it to you.
Apart from that, if you were selling a system that can make thousands of dollars to the people who purchase it, would you sell it only for $47?? The more money this system can make, the more valuable it is.
So why would they sell a valuable system for only $47? It's clear that there are some upsells. 
They just want you to spend $47 to get you ready to do the massive spending after that. That's how these con artists make the big bucks.
.
The disclaimer
---
Apart from the fact that this system doesn't work like they want you to believe, I found this disclaimer that says it all. 
You can have a look at it below:
As you can read in the disclaimer, the typical purchaser doesn't earn any money using this system. This is the truth.
They can say whatever they want in the sales video because they're not responsible for your results or the experience you have with this system. 
The reason they put this disclaimer at the bottom of another different page is because they want it to go unnoticed so that potential buyers don't read it. They know that many people don't read notes written in tiny letter so they hope that you will not think about reading the disclaimer.
.
Is Doodle Starter a scam?
---
The answer to this question depends on how you define a scam.
If a scam to you is something that doesn't live up to its promises, then Doodle Starter is a scam because you will not make much money using this system.
But if you judge Doodle Starter based on the fact that you receive something for your money, then it might not be a scam.
In my opinion, this is just another low-quality program like Partner With Patrick, The AZ Code or 60 Minute Profit Plan.
With that being said, I believe you need to know about the red flags I've noticed so I'm going to point them out here in this section.
.
Johnathon Crisper is a fictitious character
---
Would you trust someone who doesn't mention his name and doesn't show up? I personally would not.
I can tell you right now that Johnathon Crisper is nothing more than a made up character used to promote this Doodle Starter system.
The story the spokesman talks about is invented and the pictures of his house and his cars have been downloaded from other sites.
I know he's not the real owner of this system because the picture where he claims to appear with his wife and his children can be found on many other sites. I did an image search and see what I found: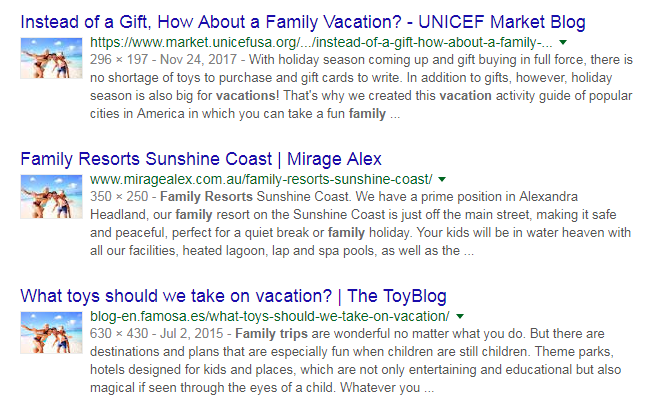 .
What about the $500 after watching the video?
---
While watching the second sales video, do you remember the amount of times "Johnathon" claims you're close to getting $500?
However, have you got paid? I guess you haven't got paid the $500 because you wouldn't be here if you had got paid.
To be honest, I couldn't help but laugh when I heard this guy say that I would get $500 at the end of the video. I've heard the same thing in other scam pages so I'm not surprised. 
If it were really true that you can receive $500 just for watching two videos, don't you think everyone would be watching them right now? I know I would tell my family and friends to watch it if it was true.
.
Not a limited offer
---
Another old scam sign is that there are limited spots available or that the offer is limited.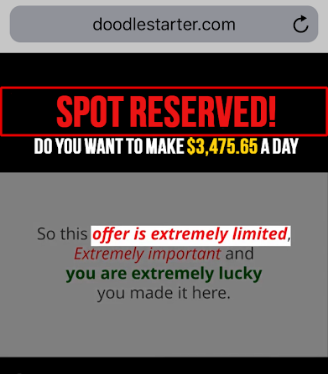 The truth is that there's no limit when it comes to the amount of spots because they want as many people as possible to purchase this system.
Apart from that, they also want you to believe that not everyone has been given the chance to get this system. They just tell you what they think you want to hear.
.
Use affiliate marketing the proper way
---
After everything I've explained and discussed, I don't recommend the Doodle Starter program. 
I dislike the lack of transparency and scam tactics they use to get people to purchase this product so there's no way I can recommend it.
Apart from that, the way they're teaching you to use affiliate marketing to make money is not the best way if you really want to make a full-time income online for many years to come.
Just sharing affiliate links might make you some money, but it's not good for the long-term because you're not building trust with your audience and you always need to be looking for ways to share your link to avoid getting banned. 
In order to build a successful affiliate marketing business, I believe it's best to provide something of value to your audience and build trust. 
Many people (myself included) are earning a consistent income month after month doing this, so I believe you can do it as well if you're committed to putting in the effort and time.
With the proper step-by-step training and marketing tools, I don't see why you can't make this happen.
By clicking the button above now, you will find out where you can get the exact training and tools that have helped me and many people build our affiliate marketing businesses.
In fact, you will see how you can get started without spending a penny. Yes, you can get started for free!
To add to it all, you will also be able to interact with other like-minded people and ask for help whenever you feel lost or stuck. Yes, you are not alone in this! I'll personally be there for you as well =)
LEARN ABOUT MY TOP RANKED PROGRAM NOW!
It's your time to say bye to the scams and get the real deal!
I hope you have found the answers you were looking for concerning Doodle Starter.
If there's something else you want to know or you want to share your opinion, don't hesitate to leave a comment below and I'll get back to you ASAP =)
Best to you 🙂