Hey guys!
Today I came across a site called DollarTable.online, which looked very familiar to me as I've stumbled upon sites like that in the past.
I decided to write a review about it to let you all know the reasons why that site is not a legit place to earn money online. 
If you've come across DollarTable.online and don't know whether to give it a try or not, make sure you read this review to find out what that site really is.
.
DollarTable.online review
---
Name: DollarTable.online
Website: http://dollartable.online/
Owner: hidden
Price: free to join
Created in: 2016
Overall Ranking: 0/10
.
---
If you're sick of scams, check out my 1st resource to make money online here!
---
.
What is DollarTable.online about?
---
DollarTable.online is a site that allegedly makes it very easy and fast to start making money online.
All you have to do in order to earn money is to sign up to DollarTable.online, grab your referral link and share it with whoever you want. 
You can share your affiliate link with your family, friends, on Facebook, Twitter, Whatsapp, Instagram, Pinterest, forums, blogs… anywhere you can think of.
And then you can earn $2 each time someone visits the DollarTable.online site through your referral link.
Apart from that, they say you can also earn $5 for each referral. You need to reach $50 to cash out and they let you choose to get paid through PayPal, Money Gram, check, Western Union and bank transfer.
Sounds good, doesn't it? You can't help but be tempted to try it when you know that it's free to join and you don't need any prior experience in the online money-making world to start earning some cash.
But the truth is that DollarTable.online is nothing more than a site that won't make you money. More on this in the next section.
.
Is DollarTable.online a scam? Yup
---
DollarTable.online is a scam, there's no doubt about it.
There are many red flags in the DollarTable.online site that tell me it's not to be trusted.
Let's see the DollarTable.online scam signs.
.
What is Money4refer?
---
I noticed they mention Money4Refer instead of DollarTable.online where they explain what that site is about.

They claim to be an online advertising company but what does Money4refer has to do with DollarTable.online?
After doing some research I found out that Money4refer was a scam site that got shut down back in 2013 and has had several complaints on Scambook.com, like the one seen below: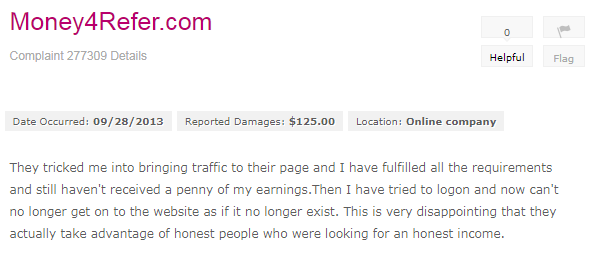 So I can confidently say that DollarTable.online is another name for the Money4Refer.com scam. The scam artists behind Money4Refer.com have just changed the name of their crap to mislead people again. 
.
Lack of important information
---
There's no information about the people who have created DollarTable.online. They have no about section and there's no section of the DollarTable.online where we can see pictures of them or names. 
It's nothing weird that con artists always remain hidden so that no one persecutes them. They never show up.
Apart from that, DollarTable.online has no privacy policy or terms & conditions page which is another red flag because you don't know how the information you provide to that site will be used. Note that all legitimate sites have a privacy policy page.
In addition, there's no way to contact them because the contact page was not found. I checked it out multiple times but it's not found as you can see below:

Would you trust a site whose owners remain hidden and there's no way to contact them? I obviously would never trust a site like that.
.
It's so misleading
---
In the DollarTable.online homepage, they claim to pay $2 for referral link visit, $5 per referral and $50 is the minimum payout but if you create an account you'll see a different thing. 
They now say you can earn $5 for every link visit, $10 per referral and the minimum payout is $300. This is very misleading and makes that site even more suspicious. 
I created an account with random information just to see more of what DollarTable.online really is.
Another thing that really confuses you is the withdraw type.
In the DollarTable.online homepage you can read that they pay via PayPal, bank transfer, Money Gram, Western Union or cheque, but after joining you can see that it comes as "cheque" by default and there's no way to change it.
.
Why DollarTable.online won't pay you
---
In the previous section we have seen some red flags that expose DollarTable.online as the misleading and fake site it is.
If you're wondering how it can be a scam if it's free, let me explain the reason why that site was created.
They claim the reason why they pay people is to bring site to their advertiser's site. They'll get paid by the advertisers and then they'll pay commissions to people.
The thing is, their site has no ads so what advertisers are they talking about? 
Even if there were ads and visitors clicked on them, there's no way they can pay $5 for every visit as advertisers pay way less than $5 per click.
The DollarTable.online site doesn't even offer any products or services so where does their money come from? How do they really get paid then?
The truth is that what they want is your personal information so that they can sell it to other scammers. If you've joined DollarTable.online, expect to receive lots of spam and junk emails related to scam offers.
Wondering what will it happen if you reach the $300 and want to cash out? Well, you'll have to complete a fake Captcha test which is merely a list of offers that link to other sites where you'll have to do boring tasks like fill in surveys, register to undesired sites or pay for unwanted stuff.
Keep in mind that going through those surveys or offers never ends and is very time consuming!
What do those offers have to do with DollarTable.online? The con artists behind that fake site are affiliated with the sites those offers link to. Those are the advertisers they were talking about!
Even if you complete some of those offers, you'll never get paid and the truth is that all the people who have joined the DollarTable.online site have never got paid.
.
My final thoughts
---
I believe I've provided enough proofs and information that expose the DollarTable.online site as the fraud it is. It reminds me a lot of another scam site I exposed some days ago called Fix Monthly Income.
I'm glad that you have found my review and now you know the truth about that site. 
My advice is that you always do your research whenever you come across sites that promise you easy or fast money as most of those sites are scams.
If you're looking to earn a full-time income online, know that it will require hard work, patience and persistence from your part. You'll also have to invest time and a little bit of money. 
There's a digital marketing platform that I highly recommend to people who are serious about building a successful online business, since this platform provides the proper training and tools that will help you start your business and take it to the next level.
Apart from that, you'll also meet like-minded people who are on the same path as you. I love how supportive the community members are like there's always someone willing to help you out with the questions you have. I've personally been a member of this platform for over a year and never looked back.
I love many things about this platform and this post would be too long if I wrote them all lol. If you're interested in learning more, you can click the button below right now to read the review of my top recommendation:
.
Thanks for reading this review! I hope you've found the answers you were looking for. 
Feel free to leave a comment below in case you have any questions or opinions regarding DollarTable.online or other online money-making opportunities. I'll be very glad to hear your thoughts and connect! 🙂 
Cheers =)