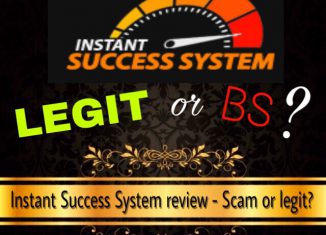 Welcome to my Instant Success System review!
I recently came across this site and I wanted to know if this one taught a legit way to earn money online or was just another one of the countless online scams designed to part with your money.
If you've stumbled upon Instant Success System and are wondering whether this one is worth it or not, then you're in the right place because I'm going to explain everything you need to know about it so that you know what to do next by the end of this review.
.
Instant Success System review
---
Name: Instant Success System
Website: https://instantsuccesssystem.com/start/
Owner: "Richard Paul"
Price: $97 + more than $1000 in upsells
Created in: 2017
Overall Rating: 22/100
.
---
If you're sick of scams, check out my 1st resource to make money online here!
---
.
What is Instant Success System?
---
Instant Success System sounds like a system that allows you to have success in a short amount of time, doesn't it? Well let's see.
According to the first page of the Instant Success System:
You don't need any previous experience or skills.

You can start making money instantly.

You can work whenever you want.
It all sounds amazing but the fact that you have to enter your name and email address in a form to get access to the sales video makes it suspicious already.
Why do they ask for your personal information before telling you what this system is about? A typical red flag.
So I entered a random email and got access to the main sales page, which looks like the classic scam page as you're promised to earn from $5,000 to $10,000 per week easily and quickly.
I didn't want to think it was 100% scam so I watched the sales video which sounded very familiar by the way.
It's not the first time I watched a video where they promise you'll earn a dollar for each second you watch. The video lasts 500 seconds so if it were true you would earn $500 by the end of the video.
But we all know it's not that easy to earn $500 for only watching a video. It's just a fake claim to get you to stay watching the video until the end.
Everyone would be watching that video if it were true the $500 claim, I would tell all my family and friends to watch it lol.
According to the man who narrates that video, this system is amazing because:
It works on complete autopilot so you can make passive income.

You can earn thousands of dollars in commissions.

You don't need to work hard and don't need to worry about the websites, the products, closing the sales… it's all "done-for-you".
Sounds like a scam, right? That's what I thought while I was watching the video as they make lots of hyped up claims and don't explain what this system exactly is
But after watching the video, I found out that Instant Success System is just a sales page used to promote another program.
.
How Instant Success System really works
---
Instant Success System is not a program or system itself, it's a page created to get you into another money-making program called Aspire, which is a Digital Altitude membership.
I've reviewed Digital Altitude in the past and even though it's not a scam, it's not what it's claimed in the Instant Success System sales video.
It will cost you $97 to join this program but this is only the tip of the iceberg.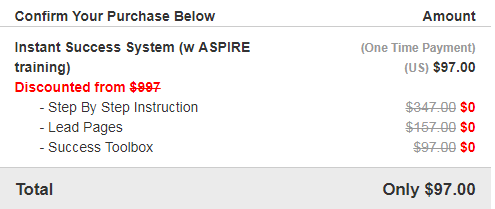 They don't mention the higher level memberships and this is something you should know about before getting into this program.
Aspire offers a lot of good digital marketing training but it's merely focused on promoting it. You can apply what they teach you to other online businesses, but they push you to promote Aspire and the other Digital Altitude memberships.
It's true that they give you the tools and the sales pages to promote it, I've actually seen many Aspire affiliates use squeeze pages and email marketing to recruit others into the program. 
And it's also true what they say about making thousands of dollars in commissions, but what I don't like is that they don't tell you that you'll have to spend thousands of dollars before you get to earn them.
In the Instant Success System video they talk about a success coach you'll get after joining. Well, this success coach is your sponsor and will not only help you make sales, he/she will also try to sell you the Digital Altitude membership levels so that they can make commissions off your purchases.
Digital Altitude is a MLM opportunity, which is focused on making money by building a team of people who purchase the Digital Altitude memberships. This means that recruiting others into the program is essential to make it work.
The MLM (multi-level marketing) business model is legit but what I don't like is that the ones at the top get to earn the most money while the ones at the bottom get to earn very little. And note that people at the bottom are always needed to keep the scheme working.
In order to make a lot of money by being a Digital Altitude affiliate, you'll have to purchase the higher membership levels which will cost you thousands of dollars, then recruit others into the program and sell them the Digital Altitude products and memberships you've bought.
.
Is Instant Success System a scam?
---
If we judge Instant Success System by only taking into account the sales page and video, then it's clearly a scam.
If we take into consideration the fact that Instant Success System is just used to get you into Aspire, then it's not a scam.
It all depends on your point of view. 
With that being said, we need to keep in mind the scam signs that are present in the Instant Success System sales page and video as those scam signs are also present in other scams.
Let's see what you need to be aware of:
"Richard Paul" is not the real owner of Instant Success System. The real person behind that page is an Aspire affiliate who uses Instant Success System to get leads.
They use fake scarcity tactics. They claim there are limited spots available but the truth is that the number of spots is unlimited and you can confirm this by refreshing the page. They also say you'll lose everything if you leave that page just to make you afraid of losing that opportunity so that you don't exit.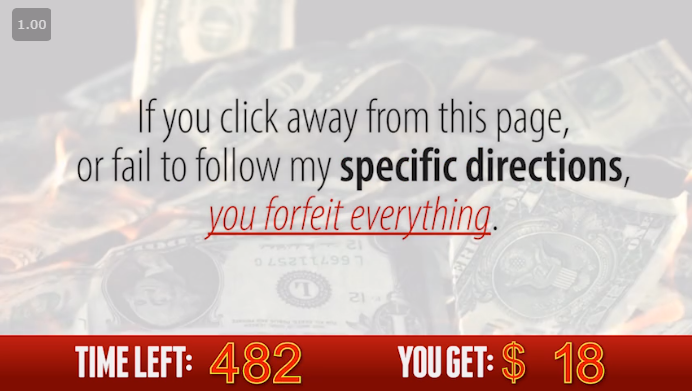 They don't tell you how much effort you'll have to put into this to make it work. They want you to believe that it will be very easy to make a lot of money just to get you to join. 
The Facebook comments that appear below the Instant Success System video are fake. Those people from the Facebook comments are not real members, they comments are invented and the pictures have been downloaded or purchased from other sites.

.
My closing thoughts
---
I obviously don't like the Instant Success System as it doesn't deliver what it promises. They tell many lies and make lots of fake claims in the sales page and video so there's no way I will be recommending it.
There are many pages like the Instant Success System that should be avoided:
When it comes to Aspire or Digital Altitude, I only recommend that you join it if you have previous experience in the MLM world and have money to invest because if you're on a low budget or don't like the recruiting thing then that's not for you.
If you're looking for a legitimate place to get started in the online business world, then there's a digital marketing platform that you will benefit from.
This platform (free to join by the way!) provides very useful step-by-step training, courses and resources that will show you to build a successful online business from scratch.
This business will be based on your passions, which will make the process more enjoyable because you'll be doing something you love. 🙂
Apart from that, you'll meet very supportive bloggers and other people who are on the same path as you. I've been a member for more than a year already and I'm still amazed at how helpful some members are!
The truth is that there are many things I love about this platform. If you would like to know more, you can click the button below right now to read the review I wrote:
.
I hope you've found the answers you were looking for in this review. Don't hesitate to share it on social media so more people can benefit from the information provided!
If you have any questions or would like to share your thoughts regarding Instant Success System or whatever related to the make money online world, leave a comment below and I'll get back to you ASAP! 🙂 
All the best =)