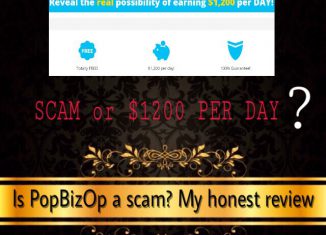 Welcome to my PopBizOp review!
PopBizOp is another one of the sites I've come across recently and I knew I had to look deep into it and review it just to let you all know the truth about it in case you've been thinking of joining.
In this review I'll be going over what PopBizOp is and whether it can make you money or not so that you have the proper information to make the right choice.
.
PopBizOp review
---
Name: PopBizOp
Website: http://intro.popbizop.com
Owner: unknown
Price: "Free"
Created in: 2014
Overall Ranking: 10/100
.
---
If you're sick of scams, check out my 1st resource to make money online here!
---
.
What is PopBizOp about?
---
PopBizOp is said to be a binary options trading system that gives you the chance to earn $1,200 per day.
According to the PopBizOp sales page, this system has the following features:
Guaranteed profits.

It only takes 15 minutes to get results.

You don't need to work more than 3 hours per day to make $1,200 per day.

98% winning rate.

It uses concealed banker's techniques.

You risk nothing because it's free.

$250,000 annual income.
Sounds amazing right? Well, that's what they claim PopBizOp is. But the truth is that is something completely different.
PopBizOp doesn't look like the typical binary options scam software as the sales page doesn't have a sales video. 
Yes, sales videos really do help you get an idea about what you're dealing with but it's also possible to find out the truth just by taking a closer look at the sales page and doing some research.
First of all, the PopBizOp page doesn't have a logo which makes it look quite unprofessional, in my opinion. 
Then you can read some pretty bold and misleading claims. They first say that you can earn $1200 per day and then $250,000 per year.
If we take into account that markets are only open 5 days a week (from Monday to Friday), what they claim doesn't make sense as $1200 per day equals $6,000 a week and at least $300,000 per year. So why do they make the $250,000 of annual income claim?
Another thing that makes no sense is that they claim this software is able to win 98% of the time. There's no automated trading software that wins most of the time.
Binary options trading is a very difficult way to make money. Expert traders that rely on binary options to earn a full-time income spend sooo much time researching several markets to know whether a stock price is going to rise or fall, and they don't always win the trades.
.
Is PopBizOp a scam?
---
PopBizOp is a scam as their sales page has some red flags that tell us it shouldn't be trusted. 
In this section I'm going to post the PopBizOp scam signs so that you know what you need to look out for when you come across sites and systems like PopBizOp.
.
No information about the people behind PopBizOp
---
I don't know about you, but I wouldn't trust a site whose owners are unknown. 
The PopBizOp site doesn't have an about section or any kind of page where you can read about the creators of that site. No pictures, no names, nothing about them. 
There's no way to know who is behind PopBizOp. If they claim to have more than 3 million of happy clients, why don't they show up? 
It's clear that they're trying to hide something, which is a big red flag because that's something scammers do.
.
A fake testimonial
---
In the PopBizOp site you can find a positive comment and a picture of a woman, but the truth is that it's all fake. 
I did an image search and found out that picture appears in various websites, as you can see below:
This woman who appears in the picture has nothing to do with PopBizOp. I'm sure she doesn't even know her picture has been used to create a false testimony.
And the comment is invented by the con artists behind PopBizOp.
Scam artists always create fake testimonials to make potential victims believe that their crappy product really works.
.
Fake endorsements
---
If you check out the PopBizOp site, you'll see logos of popular companies like Google, YouTube, Yahoo, ABC, Fox… But it doesn't say what those companies have to do with PopBizOp.
I guess they want you to believe that PopBizOp has been endorsed and recognized by those companies in order to gain credibility so that you think that it's legit.
But the truth is that PopBizOp and those companies are not related in any way. Don't let those logos fool you. A lot of scam artists use logos of well-known companies to make their scam look more legitimate.

.
False footer menu
---
If you scroll down to the bottom of the PopBizOp page, you'll see this footer menu:

If you click "Privacy Policy" or "Terms & Conditions", you'll be taken to the top of the PopBizOp page which means that they have no privacy policy or terms & conditions page. This is a big red flag as they provide no information about the way they'll use the information you give to them.
I guess they created that fake menu to appear more legit, but you can confirm they're far from legitimate when you see the lack of important information.
.
They lie about the price
---
They claim that software is absolutely free to make you believe that you can earn money for free. 
However, we know that nobody will give you something very valuable for free. 
When it comes to trading, you need a minimum amount of money to start trading, so there's no way you'll make money for free. 
Even if they give you that system for free, you'll need to fund your trading account to start trading, which means that you'll need money.
.
How does PopBizOp work?
---
So how does the PopBizOp system work? Or better said, how does the PopBizOp system scam people?
The truth is that this system only benefits the people who have created it.
The fact that they ask you to join by providing your name and email address but don't say who they are and don't even provide information about the use of your personal details, already makes it suspicious. 
If you join, you can expect to receive spam and unwanted emails related to other scam offers. They'll sell your information to other scammers so that's why you can expect to get lots of crap emails to your inbox.
When it comes to trading binary options, those unethical people behind PopBizOp are affiliated with unregulated brokers. 
They'll recommend that you open a trading account with an unlicensed broker through their affiliate link. Then you'll have to add funds to your trading account ($250 is usually the broker's minimum requirement) so that you can start to trade. 
And then the scam comes into play. If you make the $250 investment, the unlicensed broker will manage your money in a way that will not benefit you. 
You'll lose the trades and the con artists behind PopBizOp will get paid huge commissions off the money you invest.
And the scam won't end there as they'll try to incite you to invest as much as possible. Scammers never limit themselves when it comes to the amount of money and information they can get away with.
That's what I believe that will happen if you join because that's how most (not to say all) binary options scams operate.
Other dangerous binary scam systems you need to avoid are the following:
.
My final verdict and #1 pick
---
PopBizOp is not a reliable place to earn money online as I've proved in this review. 
If you're looking to make money by trading binary options, I suggest that you stay away from all kind of automated trading softwares that promise easy and fast money as most (if not all) of those get-rich-quick systems end up being scams.
The truth is that there's no push button system or automated software that will make you money overnight and if they existed, they would be very expensive that the average person would not be able to afford it.
If you're looking for an ethical and legit place where you can learn how to generate an income online, then I highly recommend that you check out an online business platform called Wealthy Affiliate. 
WA provides the proper training, courses and plenty of tools that will show you how to start an affiliate marketing business from scratch and take it to the next level.
I also love the fact that they offer lots of ways to get support and help within the community. You can ask questions, interact with other members on the live chat, write blog posts… I've personally been a member of that platform for over a year already and my questions have always been answered =)
Another thing I like about Wealthy Affiliate is that it's quite affordable and they even let you join for free. If you would like to know more about it, you can click the button below and read my detailed WA review now:
.
I'm glad that you have done your research and read this review. I hope I've provided the answers you were looking for.
If you have any questions or opinions regarding PopBizOp or other "make money online" programs, don't hesitate to leave a message in the comments section and I'll give you a response ASAP.
Best wishes =)