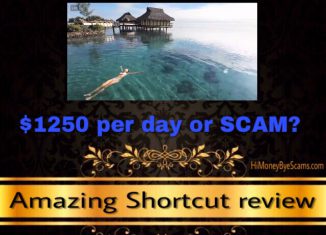 Welcome to my review of Amazing Shortcut!
Today I came across a site called Amazing Shortcut and I knew I had to take a closer look to it in order to know what it's really about. 
If you're wondering whether Amazing Shortcut is a great system to become financially free or it's another one of the numerous scam sites that we need to stay away from, then you're in the right place because I'm going to reveal the truth within this review.
.
Amazing Shortcut review
---
Name: Amazing Shortcut
Owner: hidden
Created in: 2016
Price: $49 + upsells
Overall Ranking: 2/10
.
---
If you're sick of scams, check out my 1st resource to make money online here!
---
.
What is Amazing Shortcut?
---
The Amazing Shortcut sales video is very similar to other scam videos I've come across in the past.
The spokesman claims you've been selected out of thousands of people to own a website that is making millions of dollars per month. 
He's so confident that this system is going to work for you that he's going to pay you $500 if you don't earn any money.
He claims it only takes a week to master a few easy steps that will help you become a millionaire.
This system is amazing because you won't have to do anything technical, you will not even have to create your own products and you don't need to have any experience in order to earn thousands of dollars in commissions.
All you'll have to do is to bring traffic to the website he'll give you and the rest is done for you, doesn't it sound amazing?
You're also going to get a "millionaire mentor" who will keep you on track and help you on your way to becoming a millionaire.
It all sounds too good to be true, and the truth is that the sales video is full of misleading claims and there are important things he doesn't say.
After watching it I got an idea of what this is really about as I've come across other similar videos in the past. 
.
Can you make money with Amazing Shortcut?
---
Yes, you can make money but you need to know that Amazing Shortcut is not the name of the program they're trying to get you into.
The real program is a high-ticket program called MOBE (My Own Business Education), which offers great digital marketing training, courses and tools. 
What I don't like about it is that the training is not focused on teaching you to build a business based on your interests/passions, it's focused on getting people to promote the program instead. 
So everything you're going to get (the sales pages, the resources, the marketing tools) after paying the $49 initial fee is designed to help you sell the MOBE products and memberships a.k.a. the high-ticket products, which cost waaaay more than $49.
The thing is, those products cost thousands of dollars and you'll have to purchase them in order to be eligible to earn the huge commissions. 
Here's what each MOBE membership and package cost:
Silver – $2,497 one time + $27 per month or $216 per year 
Gold – $4,997 one time + $64 per month or $512 per year 
Titanium – $9,997 one time + $121 per month or $968 per year 
Platinum  – $16,667 one time + $198 per month or $1,584 per year 
Diamond – $29,997 one time + $295 per month or $2,360 per year 
So yeah, you'll have to invest thousands of dollars in order to make from $1000 to $10,000 in commissions. 
The $49 you're initially paying is just to get you started and ready to pay for the pricey packages.
And what about the millionaire mentor? The truth is that these so-called mentors are not always millionaires. A better name for this mentor would be sponsor.
Your sponsor will not only help you make sales, he/she will also try to get you to purchase the expensive MOBE packages in order to make commissions off your purchases.
Remember how the spokesman claims he'll make money each time you make money? This means that he'll earn commissions for each sale you make, that's why his sales team will close the sales for you.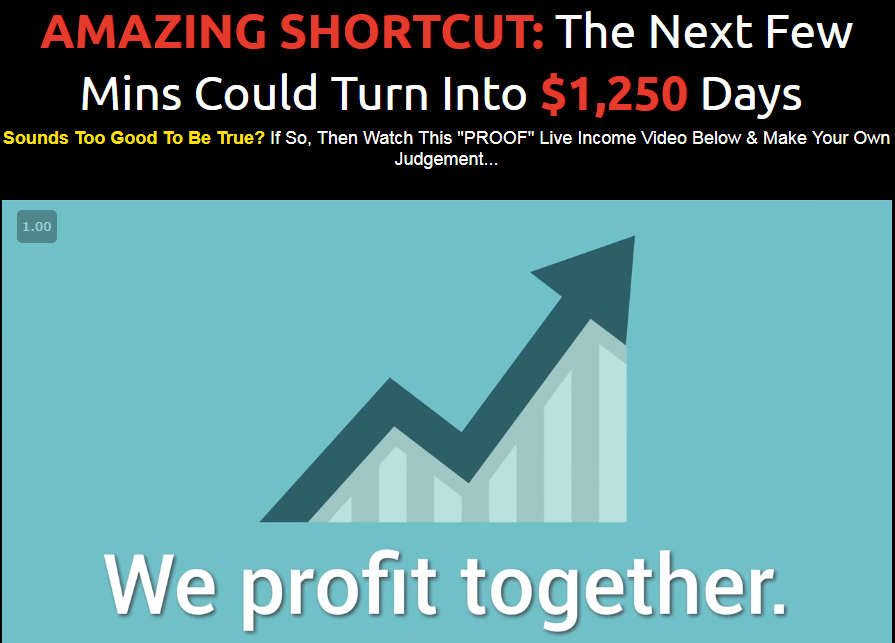 MOBE works just like other MLM programs. You'll have to do to others the same they're doing to you.
You'll have to build a team of people who become "MOBE consultants" and purchase the MOBE expensive stuff, and they'll have to do the same as you. It's a never ending cycle.
.
Is Amazing Shortcut a scam?
---
If we judge Amazing Shortcut based on the fake claims and the fact that it's not a system itself, then it can be considered a scam.
On the other hand, if we judge Amazing Shortcut based on the fact that it's just a page that funnels you into MOBE, then it's not a scam because MOBE is not a scam.
With that being said, I'm going to talk about some of the red flags and lies that are present in the Amazing Shortcut sales video:
The $500 lie. He says that he'll pay you $500 if you don't earn any money but this is not true. You might get the $500 if you follow all the steps and this includes purchasing the expensive MOBE packages, so the $500 you might get may be some of the money you've spent on the MOBE products.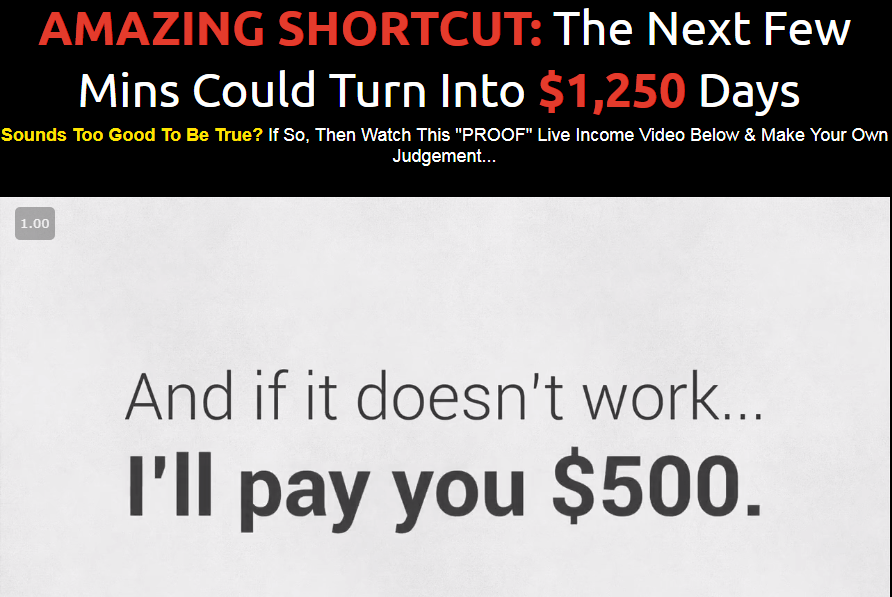 It's not risk-free. He claims it's risk-free but this is not true. Yes, you can get a refund but only for the $49 initial fee, the rest of MOBE products/memberships are not included. Therefore, it's risky because there's no guarantee that you'll ean your money back if you spend thousands of dollars on the MOBE packages.
No one has been selected. They claim you've been selected to watch the Amazing Shortcut video just to make you feel special, but the truth is that anyone can watch that video. 
The spokesman doesn't present himself. I guess the spokesman is a MOBE affiliate who is looking to get new leads through the Amazing Shortcut page, but the fact that he doesn't present himself indicates that he's trying to hide something. I personally don't trust sites or programs whose creators don't show up.
The disclaimer. If you take a look at the bottom of the Amazing Shortcut page, you can read a disclaimer where it says that the typical purchaser does not make any money, which is the opposite of what the spokesman claims (he claims this system has an amazing success rate).

.
My final verdict
---
Amazing Shortcut is no different from other pages that have been created to funnel you into MOBE or other high-ticket programs. I've reviewed lots of pages like this one, some of them are the following:
Even though MOBE is not a scam, I will not be recommending it because it's very risky when we take into account that there are other programs that allow you to get started for little to no money.
Apart from that, I don't like the way they're promoting it because they're not doing it in a transparent way and are using scam tactics. They want you to think that making money online is easy and it doesn't require much work, but it's the opposite.
Making a full-time income online requires real work, patience and perseverance, among other factors. If it were that easy, don't you think everyone would be doing this??
If you're committed to doing what it takes to earn a living online and more, then I believe that my favorite digital marketing platform will benefit you.
This platform provides courses, step-by-step training, video tutorials and other useful tools that will guide you through the process of building a business online the proper way.
I love the fact that this platform offers many ways to get help and support. You can ask a question and there's always someone willing to help you out. It's great to know you're not alone in this =)
Apart from that, they have a free membership so you can join without spending a dime and see if you like it!
If you're interested in learning more about my top recommended platform, click the button below now:
It's your time to stop getting scammed and get on the right track to earn money online!
I hope you've found the answers you were looking for regarding Amazing Shortcut.
In case you have any questions or want to share your opinion, don't hesitate to leave a comment below and I'll be very glad to get back to you ASAP. Thanks for reading!
Best wishes 🙂