Hey everyone!
I just came across Paid2Share.me and was wondering whether it was a legit site or just another ugly scam site that will get blacklisted, so I knew I had to look deep into it and find out the truth.
I'm glad that you're here because I've decided to write this review to ensure you make an informed decision concerning Paid 2 Share.
.
---
Name: Paid 2 Share
Website URL: paid2share.me
Owner: Justin Sandos?
Price: Free to join
Created in: December 2017
Overall Rating: 1/10
.
---
If you're sick of scams, check out my 1st resource to make money online here!
---
.
---
Paid 2 Share is a site that claims you'll make at least $100 per day just for referring people to their site and completing easy tasks.
According to the information on their site, you can earn $10 for each person that joins the Paid 2 Share site through your affiliate link and they also have a list of tasks that you can complete to earn points and then convert them into cash.
They claim to get paid by ad companies and VC firms and then they pay their members, so the more exposure you bring, the more they get paid and the more money you'll earn. It sounds good because it's beneficial for everyone involved.
And the best part is, it's free to join and you don't need any experience or special skills. All you need is social media to share your link!
The truth is that it sounds too good to be, so I started suspecting because sites that promise easy and fast money usually end up being scams.
.
---
In order to join, you have to complete a form with a username, your name, your email address, a password and your country.
Then you'll get taken to the account dashboard where you can see your referral link, which you can share wherever you want. 
And then when others join, you get to earn $10 per referral. When you have at least 10 referrals, they claim you'll earn $15 per each one, and after reaching 20 referrals they're supposed to pay you $20 per each one.

Apart from that, you get a $25 bonus after signing up but you have to reach $125 in order to cash out. So it doesn't seem that hard, right? I mean, you only have to get 10 referrals to have $125 and claim your payment.
Then you can also earn points and convert them into cash by downloading and installing apps like the ones below: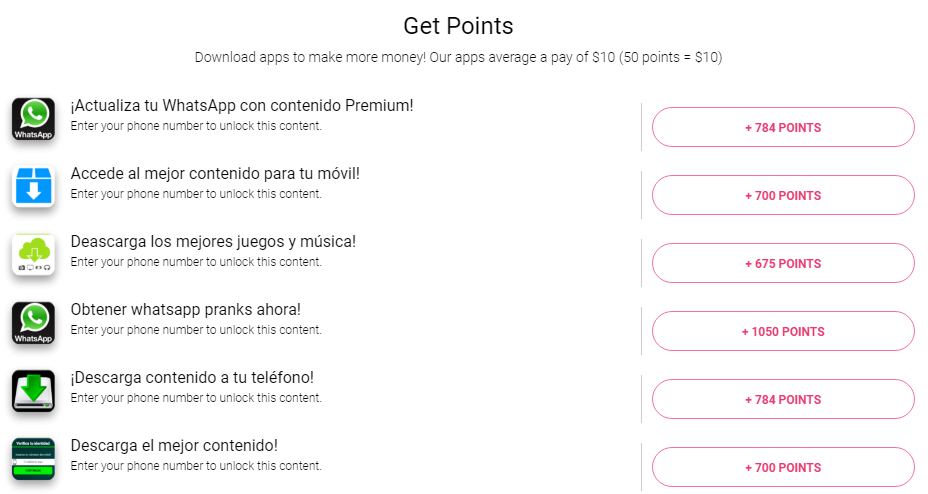 I dislike the fact that they ask you for your phone number. This is actually dangerous because some of these apps or sites they're asking you to download might contain virus or some kind of malicious software.
Apart from that, I noticed the Paid 2 Share page has some stuff that has left me feeling suspicious of it.
.
---
I haven't tried to reach the $125 and claim the payment because there are many red flags in their page. I can't say it's 100% scam but I surely won't be wasting my time on it.
They have so many scam signs that tell me that site is not worth it.
Let's see the proofs that indicate Paid 2 Share is not what it claims to be.
.
Fake contact information
---
They offer some ways to get in touch with them, but the problem is that this information is not real.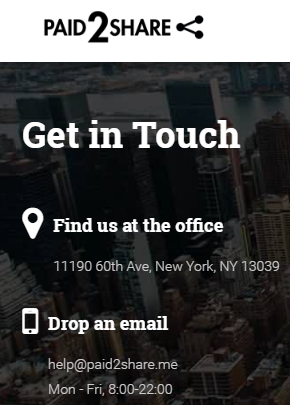 First of all, their address is fake. I searched it on Google Maps and found out the zip code for that address is not 13039, it's 11379.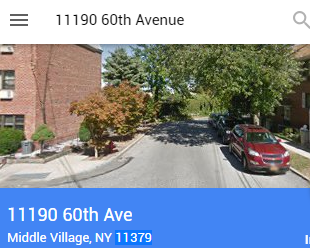 And their email address doesn't exist. I tried to send them a message and got the "mail delivery sybsystem". 
Why do they lie about their email address? This is a clear indication that they don't want to hear from us.
What if we have any questions about their site? It looks like they're not interested in the questions we might have, they don't really want to help us make money. 
.
Lack of information about them
---
There's no information about the people behind Paid 2 Share. I noticed they have a blog whose author is Justin Sandos, but he doesn't show up.
I also found out there's nothing about him or Paid 2 Share outside paid2share.me.
Whenever I come across a site like Paid 2 Share, I like to know who is behind it in order to determine whether I can trust it or not. And the fact that they don't show up means that they might be trying to hide something.
This is a scam sign because scam artists usually lie about their identity or hide it.
.
Fake comments
---
They claim there are over 100,000 members but this is not true. The comments on their site are completely fabricated.

I know they're not real because Paid 2 Share is a new site that didn't exist in 2013 or 2015. I searched for their domain information and found out they've existed since December 26th 2017…
If their site was really that good, they wouldn't need to create fake comments or lie about the amount of time they've been around. I'm not surprised that I didn't even find a positive review.
The only ones who might have benefitted from Paid 2 Share are its owners, not people who are searching for legit ways to make money online.
What about TeenMoney?
---
So I found out in their steps section they mention "TeenMoney" instead of Paid 2 Share.
That's why I believe that Paid 2 Share might be another name for TeenMoney a.k.a. Teens Paid Money, which ended up being a scam site that I've already exposed.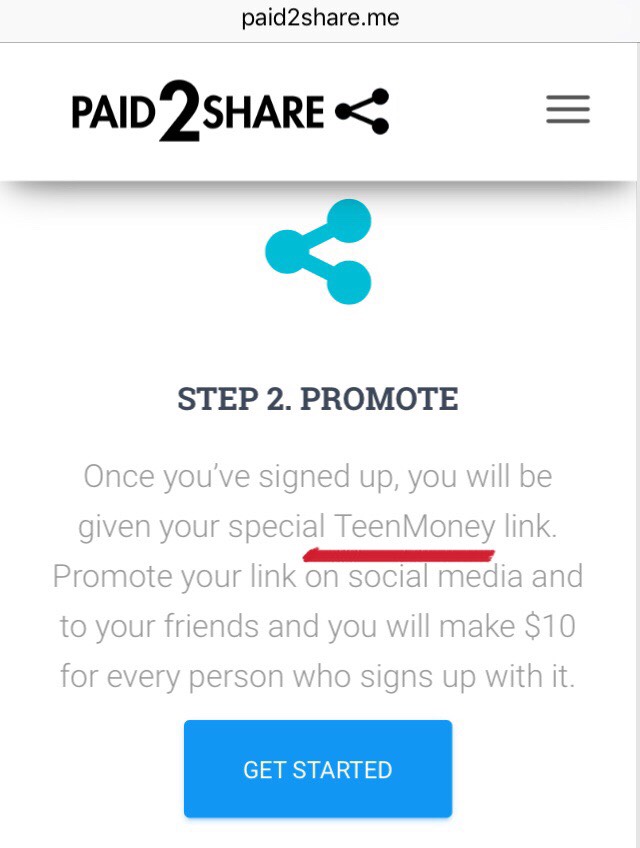 This is what con artists usually do. They change their scams name in order to mislead potential victims. 
.
My final thoughts
---
I believe Paid 2 Share was only create to make money to its creators. 
If it's free, how can they make money? Their goal is to collect as many personal information as possible and sell it to other scam artists. This is one of the ways they earn money.
Apart from that, when you try to cash out, you'll try to get you to complete surveys, sign up to other sites and do other time consuming tasks.
Why? Because they're affiliated with those sites, which means that they will earn commissions if you purchase something. This is another way they profit.
My final conclusion is that there's no way I can recommend Paid 2 Share. But in the end, it's up to you what you end up doing. 
I can't recommend a site whose owners make fake claims and are not honest about their real intentions. 
They don't even explain what it really takes to make a full-time income online. It's not as easy as they claim, it requires effort, real work, patience and consistency, among other factors. Great things take time to achieve, they don't happen overnight.
Don't you think everyone would have already made a fortune if sites like Paid 2 Share really worked? 
My advice for you is that you avoid sites and programs that claim you'll make money easily or fast because those sites end up being fraudulent.
If you dream big and are committed to doing what it takes to make a living online, then I strongly believe that my favorite digital marketing platform will benefit you.
This platform provides courses, step-by-step training and other useful resources that will help you build an online business in a way that's sustainable for the long haul.
I love the fact that there are many ways to get help and support inside this platform. You can literally ask a question and there's always someone willing to give you a response!
I also let you know that they have a free membership, so you can join without spending a penny and see if it's for you.
If you're interested in learning more, click the button below now:
It's your time to say bye to scams and get on the right way to make money online!
I hope you've found the answers you were looking for and now you have enough information to make the right decision.
If you have any questions or opinions regarding Paid 2 Share or anything else, feel free to leave a comment below and I'll get back to you ASAP.
All the best! 🙂