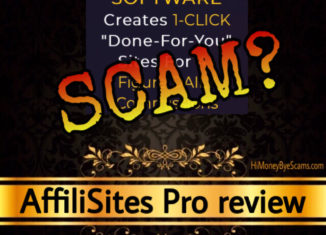 Welcome to my AffiliSites Pro review!
Have you been sent to affilisites.net and are wondering if it's a scam? Or is it a legit software that can help you easily earn daily commissions?
If you have quetions like these, I'm glad that you have found this honest AffiliSites Pro review! Here I reveal everything you need to know about this system.
Knowing that the Internet is full of frauds, it's great to see that you're doing your due diligence.
That's the way to avoid getting scammed and discover the real way to earn affiliate commissions every single day =)
To be straightforward with you, here you will not find any AffiliSites Pro affiliate link because my purpose is not to promote it.
The reason I'm writing this post is that I want to help you make the best possible decision concerning AffiliSites Pro.
AffiliSites Pro review summary
---
Name: AffiliSites Pro
Website URL: affilisites.net
Owner: Glynn Kosky
Cost: $19.97  + upsells
Do I recommend it? No
---
If you're sick of scams, check out my 1st resource to make a 4-digit monthly passive income HERE!
---
What is AffiliSites Pro about?
---
The moment I saw the AffiliSites Pro sales page, I didn't get good vibes because it's very similar to other sales pages I have come across in the past.
There are so many WarriorPlus and JVZoo products that have sales pages like AffiliSites Pro. This kind of sales pages are full of hype and not enough realistic, so I didn't have high hopes for AffiliSites Pro.
They claim this software can give you a website that can help you earn affiliate commissions of $100 or more every single day.
According to the info on their site, you don't need to have an email list, create content or spend money on advertising to make this system work for you.
It sounds like a perfect solution for anyone who's struggling to make money online. Who wouldn't want a software that can create a done-for-you profitable website? I believe anyone would buy this kind of website, especially if it can bring the amount of money you need to quit your job and live on your own terms.
But the truth is that it sounds too good to be true. If it was possible to make money without doing much work, anyone would be doing it!
If products like AffiliSites really worked for customers, making millions would be easy and less valuable. The easier it is to make money, the less value it holds.  
Also, if AffiliSites Pro can make that much money, why isn't Glynn keeping it to himself? Or could it be that he makes more money by selling it than by using it? 
AffiliSites Pro is basically about getting a website that can make you affiliate commissions, but the sales page is not transparent about the whole process.
I'm an affiliate marketer myself and I can say that affiliate marketing doesn't work as advertised in the AffiliSites Pro sales page. You cannot expect to achieve great results if you're not willing to put in the effort. 
So don't be fooled by done-for-you systems that claim to give you everything to start making money fast. 
There are so many programs like AffiliSites and they don't work as advertised, this is nothing new. This kind of done-for-you websites are not designed in a way that can bring lots of traffic and sales, which I'm about to explain.
How does the AffiliSites Pro software operate?
---
AffiliSites Pro does not work as advertised because it won't make you commissions of $100 or more.
It includes a software that you can use to build a website, which includes reviews of other Internet marketing programs. 
These reviews also include your affiliate link to the sales page of each affiliate offer, and your goal is to get people to click on those links and buy something through them.
There are lots of websites with reviews of all kinds, but the one created with AffiliSites Pro is focused on the "make money online" niche. 
After building the site, you will have to customize/edit your website, fill out some settings and add your affiliate links to the reviews. 
This is necessary to get your site online, but it doesn't take much to do that. So is this all that needs to get done to start making money?
The truth is that this is just the beginning. After having your site online, you need to drive traffic to it, and this is very difficult because the site is new and the content is not original.
Search engines like Google and Yahoo only rank websites that contain unique and original content. The websites created by the AffiliSites Pro software are filled with duplicated content, so they won't get ranked.
As a consequence, you cannot expect to get organic targeted traffic from search engines. This is how most review sites receive traffic.
You can share your website link and affiliate links on social media if you want to get free traffic, but the problem with this is that you cannot expect to get much traffic if you don't have followers or your followers are not interested in Internet marketing products. 
In the sales page, they claim you don't need to pay for traffic, but the kind of websites that the AffiliSites Pro software creates are not the type of websites that get free targeted traffic because its reviews don't get high rankings.
Without high rankings, you cannot expect visitors, and without visitors you cannot expect sales and commissions.
Sick of scams? Want to make passive income every day?
Check Out My FREE Earn Money Online Guide Here!
Does it only cost $19.97?
---
AffiliSites Pro is being advertised in a way that can lead you to believe that you only need to spend $19.97 to start making money.
This is a red flag because it can mislead potential customers into thinking that starting to make money online is very cheap.
If you pay the initial $19.97, you will be hit with some upsells that cost over $600 in total. 
Here's the sales funnel:
Upsells and downsells usually have the same quality as the main offer. These upsells won't give you the traffic you need to start making those commissions. 
If the front-end/main product doesn't work as advertised, we cannot expect those upsells to be awesome either.
The ones who profit from this are the owner and affiliates who promote it. There are reviewers who won't tell you the truth because if you knew, you probably wouldn't purchase it.
I personally am not a fan of products with overhyped sales pages and upsells because they're not high-quality products.
What I like about AffiliSites Pro
---
I always like to see the good in all products and websites I review.
In this case, the fact that the owner of AffiliSites Pro, Glynn Kosky, is a real person, is something positive. 
Most low-quality products and scam websites usually hide the identity of its owners because scammers don't want to get sued or persecuted. 
The fact that Glynn Kosky shows up is good because it's something that many scammers don't do. At least you know who to contact if you don't like the product.
With that said, he has created multiple Internet marketing products within a short period of time. His products have a similar structure and claims, not to mention that they all have earnings screenshots.
Many marketers in the industry focus on providing lots of products instead of the quality of the products, which is something that I don't like because it's clear that their focus is on making sales and not on helping their customers. 
In addition, they don't use the tools on their products to make most of their money. Their websites have not been built with the softwares or systems they sell.
Is AffiliSites Pro a scam?
---
Depending on your expectations, you will call AffiliSites Pro a scam or you will consider it to be legit.
If you expect to earn daily commissions thanks to it, you will call it a scam because it doesn't live up to its promises.
If you purchase it to learn something about affiliate marketing, you won't call it a scam because everything has something to teach us. 
In my opinion, most people who purchase it do it because they hope to make money fast, so they will end up feeling ripped off.
In my opinion, AffiliSites Pro is just a low-quality product like The Commission Magnet or Lazee Profitz. If you buy it and end up not satisfied, you can ask WarriorPlus for a refund.
Something that I want to point out is that the testimonials are not 100% genuine because some of those testimonials are experienced Internet marketers who are making money with the products they create, not with AffiliSites Pro. 
For example, Brendan Mace and Jason Fulton are two marketers who have created similar products to AffiliSites Pro. Products that don't live up to their promises.
Done-for-you systems usually work for its owners to profit. They're the ones who own these systems, which means that they can take it from you whenever they want. 
In other terms, you don't own the done-for-you website created by the AffiliSites Pro software, so it's not a good idea to rely on it to build your business. 
If you search for AffiliSites Pro reviews, you will not find any positive review with payment proofs. The ones who promote this product are affiliates who want to make commissions. 
You see, their sites haven't been created with the AffiliSites Pro software and their reviews are not duplicated. It's clear that they're recommending it to profit. 
What you decide to do is up to you, but I have to conclude that I don't recommend AffiliSites Pro.
What about using a proven method?
---
If you're willing to build a thriving affiliate marketing business, you cannot rely on done-for-you systems or low-quality products.
All the successful affiliate marketers that I know don't rely on done-for-you sites. They have their own sites and create their own content. 
It takes work and time, but if it were easy or fast, anyone would be doing it and many people would have already earned a fortune.
I'm grateful that I realized it and put in the work to make passive income every day. I'm living proof it works, as you can observe here: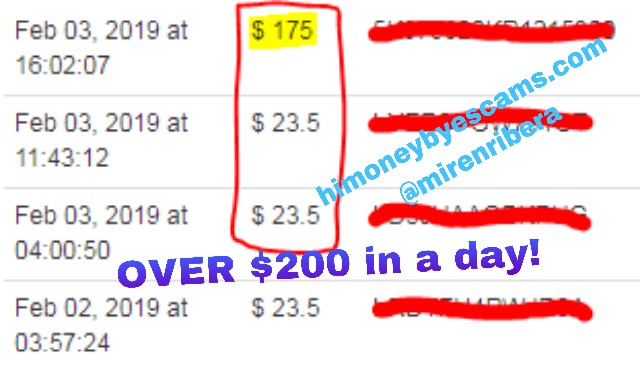 If I can do it, I believe that anybody who's committed to following a step-by-step method can get these and better results.
I started with no experience and English is not my native language, so don't you worry if that's your case too.
If you're willing to learn and take action, I invite you to check out my FREE guide here: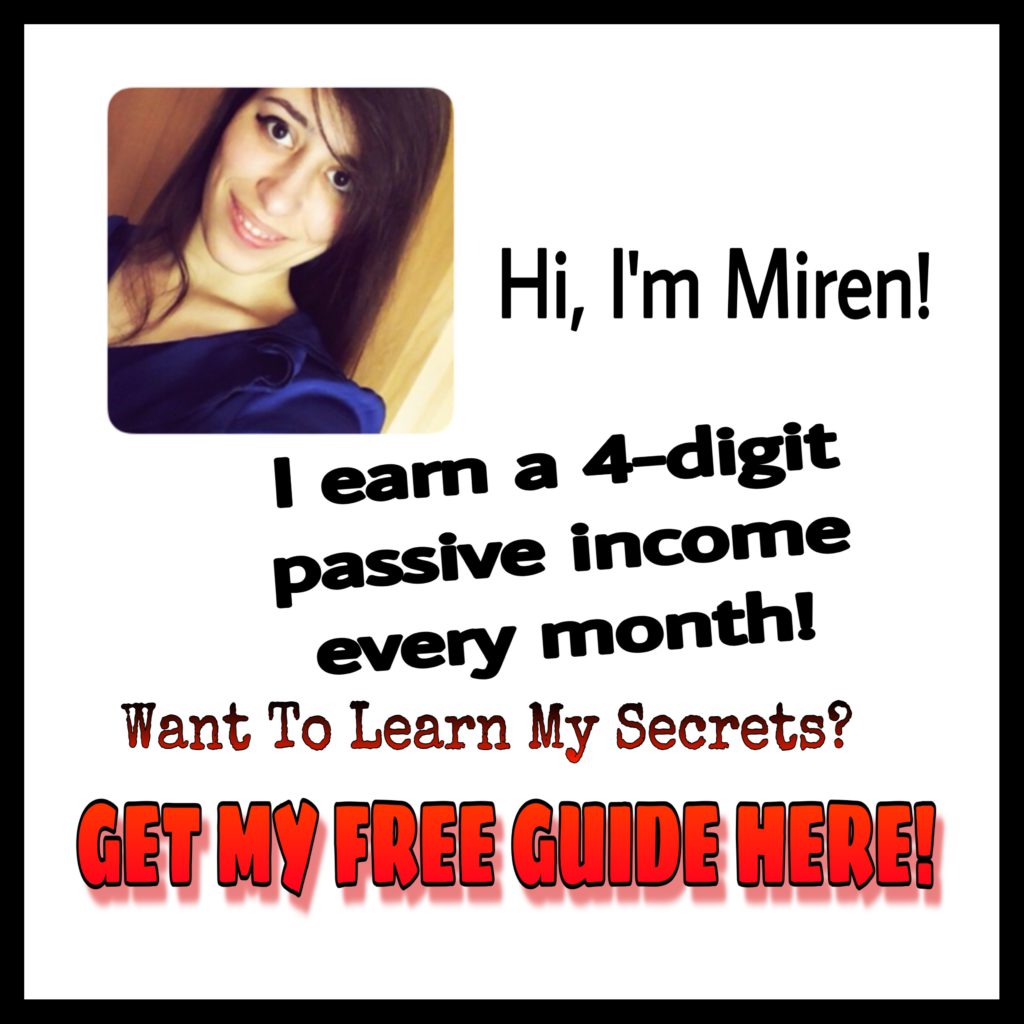 My guide is FREE (no login information required, just click here to start reading it), which means that you have nothing to lose and a lot to gain 🙂
Oh, and what if you ever have questions or get lost? No problem! 
If you read my free guide until the end, you will discover how you can get answers to your questions and help from me and other affiliate marketers.
Stop wasting your energy on done-for-you systems and start your affiliate marketing business the right way today!
I will leave this quote here:
If you want something you have never had, you must be willing to do something you have never done.
I hope this AffiliSites Pro review has been helpful to you and you will make the best possible decision.
Feel free to share it with whoever you believe that will benefit from it!
If there's something else you want to know or you have any questions or would like to share your thoughts, please leave a comment below. I love hearing from you all!
Whatever you do next, I wish you nothing but the best =)