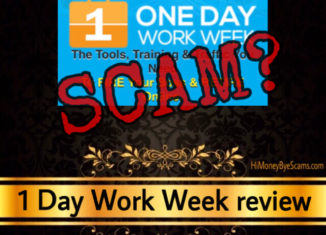 Welcome to my 1 Day Work Week review!
Have you been sent to 1dayworkweek.biz and are wondering if it's a scam? Or is it a legit program that will help you earn $1,000 commissions?
No matter the questions you have, you're definitely in the right place because here you will find the pure truth about One Day Work Week.
Knowing that there are too many scams out there, I have to say that I'm glad to see that you're taking the time to do your own research. 
That's the way to avoid frauds and discover how to make money passively every single day!
For your information, I am not affiliated with 1 Day Work Week, which means that here you will not see me promote it.
Instead of that, this 1DayWorkWeek review will show you how the pros and the cons of the program and whether it's worth your energy or not.
1 Day Work Week review
---
Name: 1 Day Work Week
Website URL: 1dayworkweek.biz
Owner: J. Joshua Beistle
Cost: $1,000s
Recommended? No
---
If you're sick of scams, check out my 1st resource to make a 4-digit monthly passive income HERE!
---
What is 1 Day Work Week about?
---
1 Day Work Week (found at 1dayworkweek.biz) is a website that claims to provide you with a system that can automate your online business, funnelize your marketing and bring lots of targeted visitors your way.
It doesn't matter if you have prior experience or not because this system is said to be totally automated, which sounds pretty cool, don't you agree?
To be honest, I don't like the 1dayworkweek.biz main page because it doesn't contain much information. 
For example, it doesn't mention how much it costs or how you can get started. They show how the products look and how they're named, but they don't explain what's inside or how much they cost.
I don't like websites that don't provide this kind of info because it seems like they're trying to hide something. 
You see, legitimate websites like Amazon or eBay usually mention the price and the content of a product. You don't buy something without knowing what it contains, do you?
That's why I find the 1 Day Work Week website a little bit misleading, not to mention that I don't like the name of this program.
"1 Day Work Week" sounds as something that will allow you to only work a day per week, which is very little if we compare it to the fact that most people work at least 5 days per week. 
So the moment I head "1 Day Work Week", I thought this would be a get-rich-quick scam that didn't work as advertised.
But anyway, let's see what's inside and how it really works.
How does 1 Day Work Week work?
---
1 Day Work Week offers some products that include Internet marketing training for beginners to learn marketing essentials.
In order to get started, you can't do it from their homepage. You must find someone who's already affiliated with the program and create an account through their affiliate link. I personally don't like this because it looks like they want everyone who joins to become affiliates for 1 Day Work Week.
This program has multiple products and memberships that teach you how to promote this exact same program and get others to sign up.
You can also use this knowledge to make money from other products, but the training is basically geared towards getting other people to sign up and purchase the 1 Day Work Week memberships.
After joining through an existing member, you need to learn how to recruit other people into the system. The more people you recruit, the more people who will buy the 1 Day Work Week products a.k.a. the more money you will earn in commissions.
The money you make depends on what products you purchase and how many sales you make. If you buy the most expensive membership level, you will be able to earn commissions of $1,000, but if you cannot afford them and your referrals buy them, you will miss out on those commissions.
Because of this, making those $1,000s commissions is way harder than they advertise. You need to spend thousands of dollars to get the right to earn thousands in commissions.
What does 1 Day Work Week include and how much does it cost?
---
Here you can see how much the 1 Day Work Week products cost and what they include:
Affiliate package. This one allows you to become an affiliate and earn commissions from the 1 Day Work Week products, but these commissions are limited. Cost: $19.99/month.
Starter level kit. It includes support, a sales funnel, VIP traffic store to get traffic packages and access to a manager, who's the person who will try to get you to upgrade. It costs $99.99 the first month and then $49.99 per month. For each referral who buys it, you can earn $50 the first month and then $20 per month.
Inner circle. It includes the same as before + mindset training. It costs $199.99 the first month and then $149.99/month, and for each referral who purchases it, you can earn $100 the first month and $100/month.
Funnel lifestyle. This one teaches you how to create sales funnels. It costs $699.99 the first month and then $49.99 per month, and you can earn $500 + $20/month per referral.
Traffic king. This product includes training about different methods to drive traffic and generate leads. It costs $1,399.99 the first month and $49/month, and each referral can make you $1,000 per sale and $20/month.
All In level. It includes all packages for $1,999.99 and $149/month. Each referral who purchases it can make you $1,400 per sale and $100/month.
The training is good but the problem is that it's kind of expensive when we take into account that the important stuff like traffic training is included in the most expensive products.
Sick of scams? Want to make passive income every day?
Check Out My FREE Earn Money Online Guide Here!
It's quite risky
---
If you take into consideration that 1 Day Work Week requires you to purchase the products you want to earn money from, you can conclude that it's very risky because there's no guarantee that you will make your money back.
You need to recruit a lot of people into the system to make your money back and a decent income, since there are other costs that you need to consider apart from the 1 Day Work Week products.
For example, if you want to drive traffic to your website, you need to note that you will need to buy a domain name and pay for site hosting.
And if you want to build an email list, you will have to pay for an autoresponder. 
In case you don't want to blog and want to get fast traffic, you will have to spend money on paid advertising, which is very risky because you need to spend a considerable amount of money to find out what works best for you.
And that's not all! You also need to know that 1 Day Work Week doesn't offer any refunds. So if you go All In and regret it later, you won't be able to get your money back.

Because of everything I have mentioned, I consider 1 Day Work Week to be a risky business. 
All businesses carry some level of risk, but many of them are way less risky than 1 Day Work Week because they don't require you to invest that amount of money. And there are many businesses that offer refunds.
Who owns 1 Day Work Week?
---
According to the 1 Day Work Week site, the founder of this program is Joshua Beistle.
There are many websites that hide their owners and other websites that fake them, so I'm glad to see that 1 Day Work Week is not like most scams or low-quality programs I have exposed.
After doing my research, I have found that Joshua Beistle is a real person and he has a Facebook account where he's active, but he doesn't promote 1 Day Work Week.
In my opinion, he doesn't seem to be an expert in generating traffic because he doesn't have those many followers or engagement. 
And that's not all! I found out that back in 2013 he was involved in a company called Jubirev, which turned out to be a ponzi scheme. 
Honestly, I haven't heard of any of his companies or programs that have lasted long. 
Whenever I review a program, I like to learn about the owner and his/her reputation because it helps me determine whether this is a long-term money-making opportunity or not.
Is 1DayWorkWeek.biz a scam?
---
Is 1 Day Work Week a scam? The answer really depends on your point of view, in my opinion.
1 Day Work Week offers some traffic training that you can use for your business (in case you already have a business), but it's quite expensive if we take into account that there are cheaper sites and programs that can teach you the same thing.
The truth is that most people who get involved with 1 Day Work Week are doing it to earn commissions by recruiting others and selling the memberships. This is something that doesn't surprise me because this program is primarily focused on its own promotion.
If you asked me "can I make money with 1 Day Work Week?", I would say yes but it's very risky and most people end up spending more money than they earn, especially people who sign up when the scheme is about to fall down.
1 Day Work Week is not selling real products because if you want one of their products, you are forced to become a member.
All the money comes from members who sign up and purchase the memberships, which is a red flag because it means that the system will stop working when people stop joining.
According to the FTC, this kind of scheme wouldn't be legal because it can be considered a ponzi scheme. 
In my opinion, there's no need to spend thousands of dollars to earn a substantial income online.
Most affiliate  programs are actually free to join, and I have realized that many affiliate programs that require payment are ponzi/pyramid schemes.
What you decide to do is up to you, but my final conclusion is that I do not recommend 1 Day Work Week. 
There's no need to spend thousands of dollars
---
If you're starting out and don't want to risk your savings or get into systems that are not meant to work for the long-term, I have good news for you.
There's a newbie-friendly method that allows you to earn passive income every single day with affiliate marketing.
This method allows you to bring free targeted traffic to your affiliate offers, so you don't need to spend thousands of dollars.
You'll be able to join affiliate programs for free and find great products to make money from. I recommend that you choose products you believe that will be helpful to your audience.
As long as you're willing to put in the effort and time, I believe you can make this method work for you.
I'm living proof this method works, as you can see here: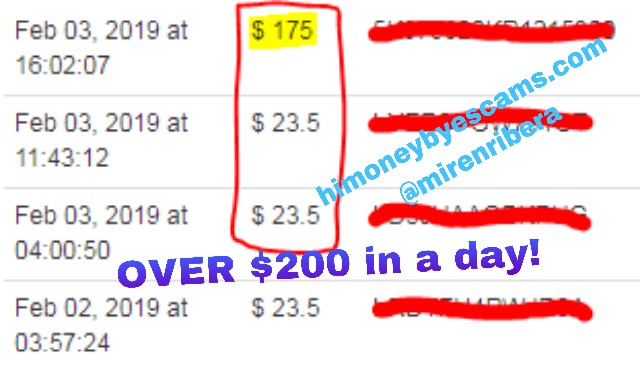 If someone like me can do it, you can definitely do it too. I want to show you it's possible!
You will be able to make money while researching, writing and talking about a topic you're passionate about, so you can rest assured knowing that you won't get bored =)
If you're committed to learning and taking action, I invite you to read my FREE guide here: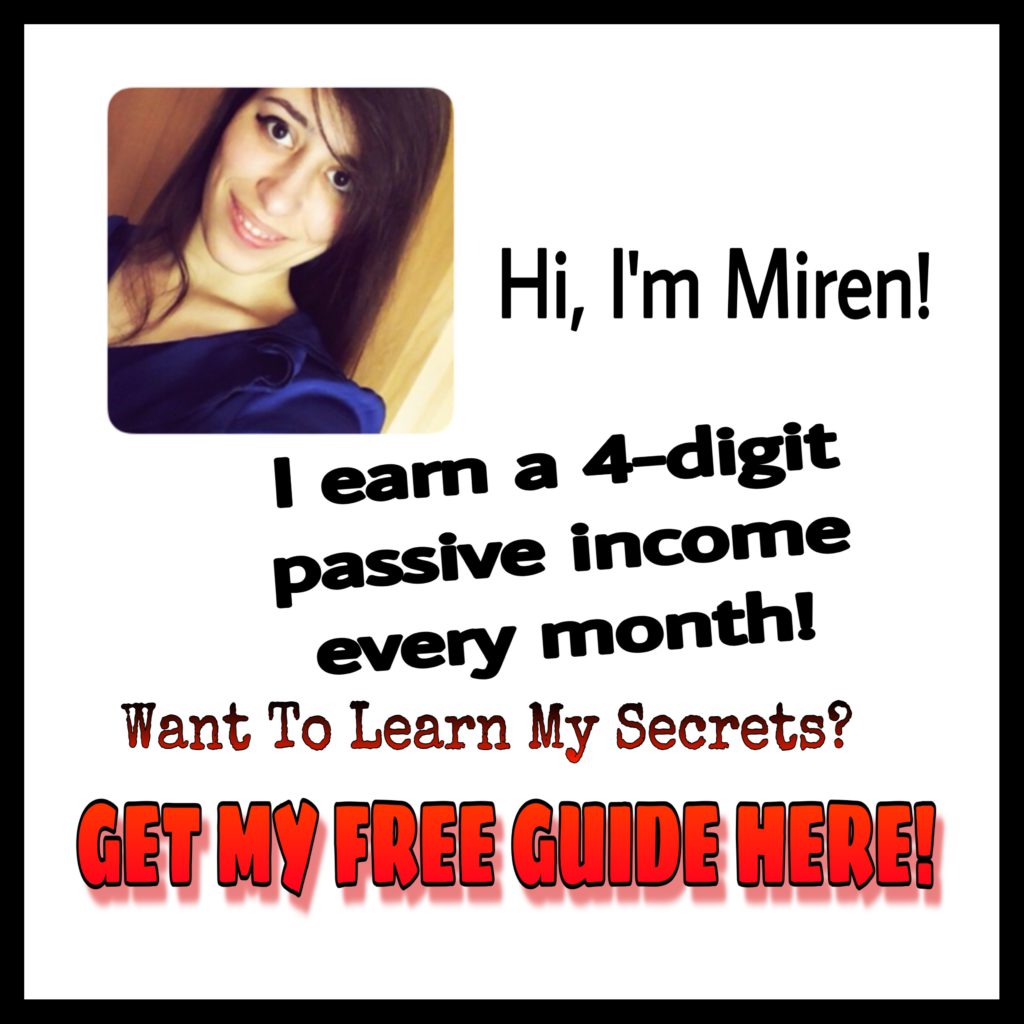 My guide is FREE (no login information required, just click here to start reading it), which means that you have nothing to lose and a lot to gain 🙂
Oh, and don't you worry if you ever get lost or need help! My guide will show you my favorite community where you can get guidance and support from me and other Internet marketers.
Stop wasting your time on recruiting schemes and start your own online business today!
I will leave this quote here:
If you want something you have never had, you must be willing to do something you have never done.
I hope this 1 Day Work Week review has been helpful to you and you will make the best possible decision.
Feel free to share it with whoever you believe that will benefit from it!
If there's something else you want to know or you have any questions or would like to share your experience, please leave a comment below. I love hearing from you all!
Whatever you do next, I wish you nothing but the best =)