Welcome to my Profit Maximizer review!
I recently came across Profit Maximizer, a binary options trading software which promises to make you rich in a short amount of time. 
Unfortunately, there's nothing legitimate about this software as I will show you on this review. This is just another scam we all need to avoid.
.
Profit Maximizer review
---
Name: Profit Maximizer
Websites:
www.profitmaximizer.co

www.profitmaximizer.net

www.profitmaximizer.biz
Owner: "James Forley"
Created in: 2014
Price: "Free"
Overall Ranking: 0/10
.
---
If you're sick of scams, check out my 1st resource to make money online here!
---
.
The sales video is similar to other scam videos
---
As soon as I started watching the Profit Maximizer presentation video, the word "scam" came to my mind. 
.
When I read and heard this, I was like "how come I've been one of the select few if I've done nothing exceptional to find this page?".
I found the page by doing a Google search, and that's something that anyone with an Internet connection can do lol. Therefore it's a lie that only a few people have access to that page.
And guess why they mention "this never before seen video". Well, they want you to get excited to know what they have to tell you, they want you to be like "I'm going to discover something nobody has seen before!".
This is a tactic they use to get you to stay watching the video.
.
This is similar to the previous one. The guy from the video says that he is going to show you something you've never heard before, just to get you interested in what he has to explain. He also assures you that it's going to make you more money to get you more excited.
.
It seems that he's trying to convince you that this is the most important video you watch this year. I couldn't help but laughing when he claimed that he'll buy you a steak dinner, like would you even take it seriously? 
 .
Then he tells you that you won't need a credit card or a Paypal account because the Profit Maximizer software is free and that he's not trying to trick you with fake screenshots and the other stuff scammers do.
The truth is that he's doing everything he claims he's not trying to do. He shows you three screenshots of his bank accounts and they all seem photoshopped, to be honest. For example, the one you can see below doesn't seem real: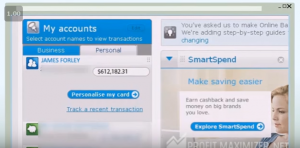 .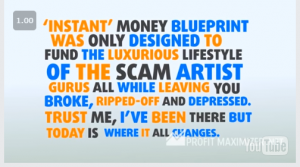 The more he talks about what Profit Maximizer is not, the more evident it is that it's a scam. He kind of reveals the truth in the snapshot above by telling you that get rich quick schemes are designed to fund the luxurious lifestyle of the scammers.
He knows how it feels to get scammed and claims that he's been there before to make you think that he is not going to scam you.
.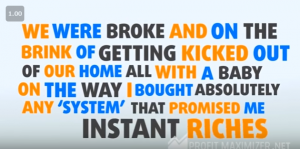 He also talks about him and his family. He tells you that his wife was pregnant and that they were broke because he had lost his job, so he bought all the systems that promised him to get rich overnight.
His story doesn't convince me like how come he bought all those systems if he was broke? If you're broke, you don't think about buying systems to get rich quick, you're supposed to worry about essential stuff like food to eat and other primary needs.
.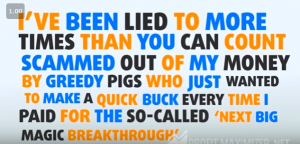 He's playing victim to manipulate you and make you feel sorry for him so you believe that he's not going to lie to you or scam you. He targets people who are desperate for money and have tried to make money online before but have been scammed.
 .
He's saying something that doesn't sound realistic, since making money online is not fast and doesn't happen instantly. Don't you think that everybody would be earning money online if it was that easy?
Another thing that doesn't make sense is that he claims that his software can make you like $1,000 per day, but that wouldn't equal 2 million dollars a year, as he says he made. 
.
See how he's forcing you to join by telling you that you need to be one of the first 100 people to enter your email and get free access? He's saying that because he wants you to feel pressured so you join as soon as possible.
The truth is that he wants to get as more people as possible to fall for this crap. Scammers have no limits.
.
How the Profit Maximizer scam works
---
These con artists are always going to say that their softwares and systems are free, when we already know that nothing that claims to make you a fortune will ever be free.
If you enter your email as he tells you to do, you will be taken to another page where you can watch another video.
Here is where he mentions the real price: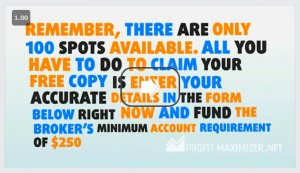 So as soon as you join, they'll tell you to fund your account with $250 because that's the minimum needed to trade binary options.
.
He's contradicting himself again by saying that it's 100% free, since you're not able to use it unless you make the $250 deposit.
He also claims that you will able to transfer your money to your bank account but that's not true.
The truth is that as soon as you invest the $250 minimum requirement, your money already gets put into their pocket. 
.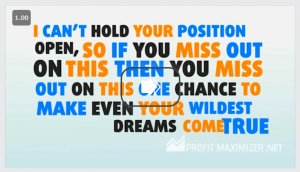 One thing scammers will never get tired of doing is playing with your feelings so you do what they want you to do. Yes, he's saying that this is the only chance you have to make your dreams come true, but that's a blatant lie.
Never believe someone who claims that their way is the only way, they say that just to manipulate you.
This software is designated in a way that your money gets blocked as soon as you fund your Profit Maximizer account with $250 or more.
After that, their recommended broker and all the people behind this scam software will get their cut. You won't even be able to withdraw your money because it will already be theirs.
.
The Profit Maximizer scam exposed
---
In case the Profit Maximizer sales video isn't enough to be convinced that this software is a scam, let's see more proofs that make it even more evident that Profit Maximizer is indeed a fraud.
.
That annoying pop-up
---
Do you remember those pop-ups I told you about on my Dubai Lifestyle App review and Freedom Circle review? 
When we try to leave the Profit Maximizer website, we can see this pop-up:
This is a strategy scammers use to get you to join. As you see they claim that it's free and that they made over $2.1 million in a short amount of time like 90 days, which is completely fake.
If you come across another site and see a similar pop-up appear when you are about to exit, pay no attention to it.
.
---
Would you trust a website that contains a misleading menu? I don't think so.
If you go to the bottom of the page, you'll see this footer menu:
They tell you to read their terms & conditions and disclaimer page before making any investment, so I clicked on "Disclaimer" and "Terms" but I was redirected to the top of the page, where we can watch the sales video I've talked about.
I was like "where is the terms & conditions and disclaimer pages?", so I clicked on the rest of the buttons but I was taken to the top of the page again. What does this mean? None of those pages exist so the footer menu is fake.
.
Fake members and testimonials
---
If you enter an email you'll be taken to another page where you can see another sales video and some comments of people who are supposed to be members of Profit Maximizer. 
This software has been proven to be a scam, so I was convinced the comments and testimonials were all made up.
However, I wanted to know where the testimonials pictures came from so I searched for them on Google images: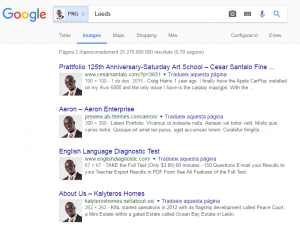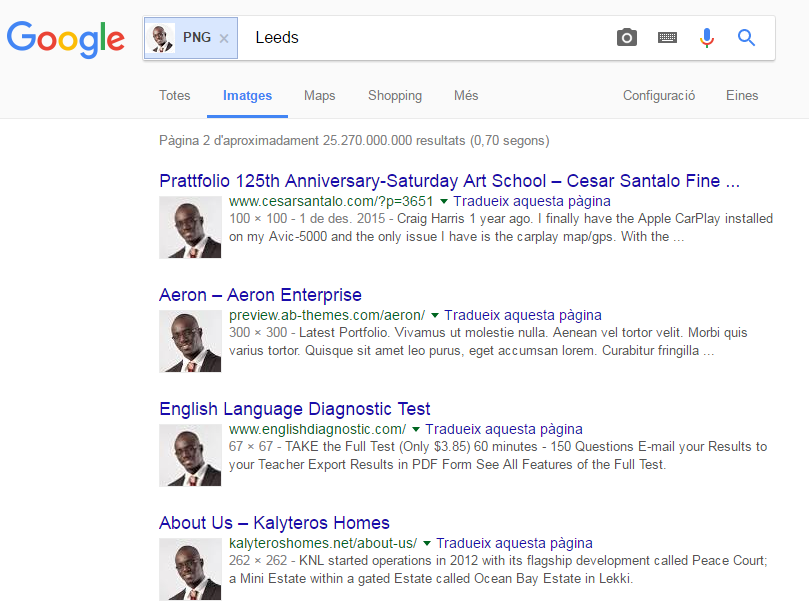 See how those two members' pictures can be found in several websites by searching for them on Google images?
This just shows that the real creators of Profit Maximizer (a.k.a. the scam artists) stole those images from other websites and made up all testimonials.
.
Get-rich-quick scheme
---
That James Forley character claims that he made more than 2 million dollars in less than a year and that his system can make you at least $1,000 a day.
It sounds so fictional like don't you think that everybody would be using this program if it really worked?
If it was possible to make more than a thousand dollars per day with a couple of clicks, I would tell every single person in my family and my close friends to join, but things don't work this way nowadays.
This scam software is a sure way to make the fraudsters rich. When you're about to join they may think "we are one step closer to earning $1,671.32 per day".
.
Fake time counter
---
The fake countdown strategy. This one is literally in every scam I've come across.
You can wait until the countdown goes down to 0 and see what happens: nothing. Yes, you can still join the system even when the time counter is at 0.
You can even refresh the page and see how the time counter goes back to how it was the first second you stumbled upon the website.
This false countdown is simply designed to get you to fall for this crap as soon as possible.
.
Negative comments on YouTube
---
I found out that the Profit Maximizer sales video is hosted on YouTube: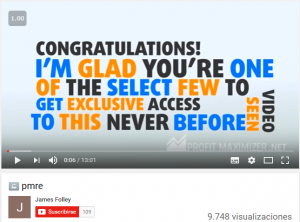 I clicked on "James Folley" to find more information about that YouTube channel. I didn't find any more videos but I came across some negative comments, as you can observe below:
See how they're saying that "James Folley" is a scammer? I wouldn't even be surprised if "James Folley" was a made up character, since fraudsters will never reveal their real identity.
.
Is Profit Maximizer a scam?
---
Of course, Profit Maximizer is another binary options scam no different from 1K Daily Profit and Millionaire Blueprint, so you need to stay away from it. 
If you join and try to make money with it, chances are that you'll lose all the money you invest because once you've made an investment, the money is already of the scammers and you can't transfer it into your bank account, unfortunately.
As we've seen, everything about it it's fake and merely designed to steal your money. 
If you've joined but haven't invested any money, don't worry. You'll get tons of emails from the con artists, who will try to convince you to fund your account, so just ignore them.
I recommend that you avoid Profit Maximizer at all costs, it will waste your time and money otherwise.
.
My closing thoughts
---
Making money online is not like those scammers claim. They say that it's possible to make a fortune fast and with a couple clicks, but this is just so far from the truth.
If you've been falling for of these type of get-rich-quick schemes, you may think that everything online is a scam.
The truth about making money online is that it will require hard work and persistence. Yes, you may not earn a penny overnight but it can give you amazing long-term benefits. I'm so happy that 1 year ago I came across an online business platform called Wealthy Affiliate, I've learned so much since then and also made some money 🙂 
If you join WA, you'll be taught about building a website, keyword research, ways to monetize your blog or website, how to do videos, how to create quality content, and sooo much more.

.
You'll also get tons of help and support from other members along the way 😀 
I hope I've saved you from falling for another online fraud and you've found this review helpful. Please feel free to share this review on social networks so other people get to know about this scam.
If you have any questions or opinions about online scams or making money online, leave a comment below and I will gladly reply to you. Thanks a lot for reading! 🙂