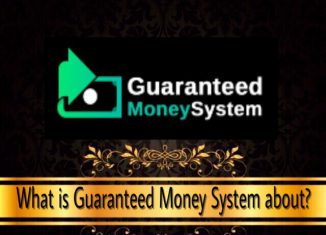 Hey there!
Today I came across another so-called software that promises to make you rich in a month. Doesn't it sound unrealistic to you?
As soon as I stumbled upon the page and video, I was almost convinced it was a scam.
In this Guaranteed Money System review, I will explain why this system is a scam, how it works and why you should avoit it.
.
Guaranteed Money System review
---
Name: Guaranteed Money System
Websites:
www.guaranteedmoneysystem.com

www.guaranteedmoneysystem.net

www.guaranteedmoneysystem.org

www.guaranteed-moneysystem.com

www.guaranteed-money-system.com

www.guaranteedmoney-system.com
Owner: "Angela Stevens"
Created in: 2016
Price: "Free"
Ranking: 0.5/10
.
---
If you're sick of scams, check out my 1st resource to make money online here!
---
.
What is Guaranteed Money System? 
---
When I visited one of the Guaranteed Money System websites (yes, I found like 6 domains that lead to the same page and sales video), I came across a 30 minutes video which I thought it was a movie because of the place it was filmed in, a luxurious mansion. 
Well, that's done to make you think that the people who appear in the video are living that fancy lifestyle and also prey on your hopes and dreams of having the same lifestyle.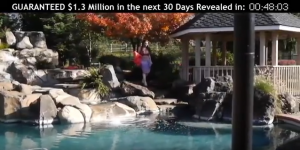 The woman who appears in the video, "Angela Stevens", the supposed owner of Guaranteed Money System, claims that you're on that page because you've been invited by one of her friends. I've already lost the count of the times I've heard about the "private invitation" thing, which usually comes from the mouth of scam artists.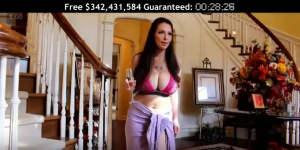 Then she claims that her "done-for-you" money making system is 100% guaranteed to make you $5,000 in the next 24 hours and at least $1.3 million within the next 30 days. Doesn't it sound too good to be true? 
You can also watch how some testimonials (obviously fake testimonials) thank Angela for being a life saver, while saying that their lives have changed forever because they've become millionaires and that the money keeps rolling in without them having to work hard anymore.
She also sounds so desperate to get you to join, like what does she have to gain by getting you into her so-called software?
.
What will it happen if you join Guaranteed Money System?
---
As soon as you register by entering your name, your email, your phone number and a password, you'll be taken to another video where "Angela" will tell you to fund your account at a trusted broker.
But didn't she claim that it was totally free? The truth is that the minimum amount of money required to trade binary options is $250, so the so-called Angela will try to convince you to invest at least $250 so you can start generating profits.
Wondering what do they gain if you make the $250 investment? Well, the people who are behind Guaranteed Money System will make a big commission every time they refer a paying client to their recommended brokers (usually illegal brokers).
The Angela Stevens character also tells you that the money you invest is yours and you can transfer  it to your bank account whenever you want, but this is not true. Once you've made the investment, your money's already in their pockets.
Therefore, if you fund your account with $250 to start trading, chances are that you'll lose trades. Then those brokers and crooks will try to incite you to invest more money so you can get your money back and make more money. The truth is that they'll do the most to steal as much as possible from you.
.
Why you should avoid Guaranteed Money System
---
If you watch the Guaranteed Money System video and make a detailed observation of the whole page, you'll notice some elements that are very common in most scams. 
Let's see what I mean in this section.
.
The infamous pop-up
---
Does the word "pop-up" sound familiar to you? If you've read other scams I've reviewed like Profit Maximizer or Dubai Lifestyle App, you may know what I'm talking about.
Anyway, whenever you're about to exit the Guaranteed Money System website, see what it'll appear:
We already know that it's not free and that making more than a million dollars out of thin air is impossible. Unfortunately, inexperienced folks who don't know the truth about it are likely to fall for it because they think it's free.
These fake systems are usually targeted at people who are in a desperate need of money and don't know much about the Internet marketing world.
.
False scarcity
---
This one is an old shady technique often used by fraudsters and unethical companies. 

They claim that there are only 7 spots available to make their system look more valuable because only a few people can acquire, but the truth is that there's no limit on the number of people who can register because scammers want to scam as many people as possible.
They also use the countdown to make you feel pressured so you join as fast as possible. If you close the page and come back tomorrow, you'll see that you can still join.
.
Get rich fast false claim
---
Whenever you stumble upon a page where it appears that you can get rich quick, start suspecting because it's more than likely a scam.
These scammers may think that there's still people who believe that good stuff comes easily. Don't you think that everybody who has a Internet connection would be a millionaire by now?
I believe scam artists are the ones who believe in getting rich quick. Yes, they surely become rich by doing illegal and unethical stuff like stealing other people's  money and ruining their lives. 
My advice for you is that you stay away from anything related to getting rich overnight.
.
Fake guarantee
---
"Angela" promises you that she'll pay you $500,000 out of her own pocket if her system doesn't work for you and you don't earn $5,000 in a day or $1.3 million in a month.
If you search "Goldberg Cohen & Associates" on Google, you'll find out that it doesn't exist and it's merely made up. She doesn't even tell you how you can contact her or find more information about it, what makes the fraud more evident.
.
Fake testimonials and actors
---
I think I've found fake testimonials and actors in most scams I've come across. 
From the actress who plays Angela to the testimonials you can find at the bottom of the page, they're all telling lies.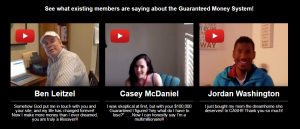 These testimonials are paid actors who charge like $5 for such videos. The truth is that the Guaranteed Money System didn't work for them. They're just saying that it worked because they're getting paid by the scammers. 
.
Other stuff that doesn't make sense
---
If you watch the sales video, you'll watch a fake screenshot of a bank account balance prior to the "guaranteedmoneysystem.com" domain registration date. 
As you can see above, the fake bank account balance is from November 16th 2016, while the Guaranteed Money System website was created on December 29th 2016. This already proves that this is a brand new scam software and unreliable website.
Even if the software worked, it wouldn't make sense that you could become rich within 30 days. If you do the math, $5,000 a day equal $150,000 a month, not $1.3 million like "miss Stevens" claims.
.
My final thoughts
---
The Guaranteed Money System scam is so similar to other binary options scams like Millionaire Blueprint (a.k.a. Free Money System).
I can't find anything positive about the Guaranteed Money System even though I found that the sales video is kinda hilarious, I couldn't help but laughing while watching it.
Anyway, it's been proved that this fake software was designed to waste your money and time, so stay away from it and don't let these evil people get away with something they've not earned.
If you're really serious about making money online or working from home, then I let you know that you'll need to put in the effort and time. It's not going to happen overnight, but you definitely can get there.
If you have no idea where to get started, then I suggest that you give Wealthy Affiliate a try.
It's an online business platform where you'll learn to build a digital business the proper way through step-by-step training.  

You'll also get support and help from me, other members and the owners so you feel you're never alone.
I hope you've found this review useful and you never fall for scams. Please feel free to share it on social media so more people can get to know about it.
If you have any questions or comments regarding the Guaranteed Money System, Wealthy Affiliate or making money online, don't hesitate to leave a comment below. I always love hearing from my readers 🙂
Thanks for dropping by!