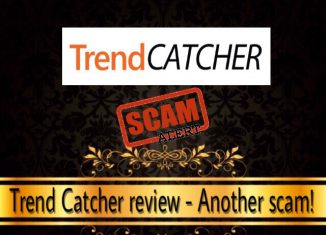 Welcome to this Trend Catcher review!
I recently stumbled upon a website called Trend Catcher (the name sounds kind of attractive, by the way) and even though it doesn't look that scammy, I found out it's another ugly scam.
In this review I'll explain what is Trend Catcher and why it's a scam that only makes money to the people who've created it.
.
Trend Catcher review
---
Name: Trend Catcher
Website: trendcatcher.co
Owner: unknown
Created in: 2017
Price: at least $250
Overall Ranking: 5/100
.
---
If you're sick of scams, check out my 1st resource to make money online here!
---
.
What is Trend Catcher about?
---
This is the first time that I watch an animation video being used to promote a scam software.
I see this time the con artists behind Trend Catcher haven't hired actors to make their scam look more real.
This scam sales video seems to be an entertainment video for kids, something that I don't think it's relevant to present an automated trading software like Trend Catcher is said to be.
The narrator claims to be Jim and he's going to show you how this software can turn an small investment of $263 into $3,491 in one month.
According to him, anyone can use this software even if you've never traded before. Doesn't it sound amazing? 
The Trend Catcher is allegedly a smart Forex algorithm design to catch small trends, it can make you $270 per day and you can use it anytime, anywhere, 24 hours a day and 5 days a week. Oh, and it also does all the hard work for you.
I just did some math and what this man claims doesn't make sense with the headline you can read at the top of the Trend Catcher scam sales page.
If this software can earn you $270 per day 5 days a week, then that would be something like $5400 per month, not $12,900.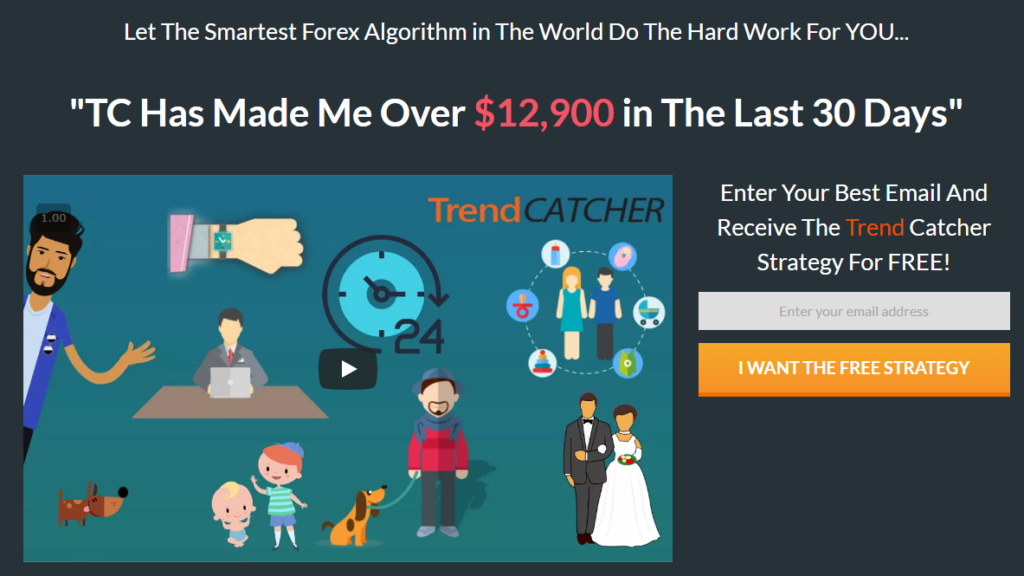 .
Is Trend Catcher a scam?
---
Trend Catcher is a scam, without any doubt. Even though the sales page may not look like the typical scam page, if you read the information on the page and watch the sales video, you'll notice some red flags.
Let's see some proofs that expose Trend Catcher as the fraud it is.
.
No information about the Trend Catcher's owner
---
The man who narrates the video introduces himself as Jim, but he doesn't talk about his life, he doesn't show his face and he doesn't even tell us how we can contact him or find more about him.
The Trend Catcher sales page doesn't have an "about us" section so there's no way to know who are the people behind this software.
We could assume the man who narrates the Trend Catcher sales video is a voice actor and that "Jim" is a fictional character.
As I said before, the sales video is an animation video so no real people appear on it. This is big red flag that tell us that people who run this software are trying to hide their identities, and this is something most scammers do.
.
Trend Catcher's testimonials are fabricated
---
If we scroll down the Trend Catcher's sales pages, we'll see a section called "Success Stories" where there's a picture of positive Facebook comments and testimonials. 
However, it's all pure fabrication. It's merely designed to make you think that there are people who joined the software and made money thanks to it so you end up signing up.
Let's see one of them below:

So that comment is about a man who supposedly made $24.75 in 3 hours, which sounds kind of realistic. But I did an image search and found out that the person who appears in the picture is not Paul Hanna.

That man's real name is Michael Eric Dyson. He's an academic, author and radio host, according to his Wkipedia profile.
And take a look at this:

After searching for that image, I found out that it can be found in various websites, as seen below:
These two proofs show that the testimonials and Facebook comments are not real. The people who appear on those pictures haven't tried Trend Catcher and may not even know that their pictures have been used to create fictional characters.
That is how con artists work. Purchasing photos or stealing them from other websites is nothing new, they've been doing that for a looong time.
.
Trend Catcher's performance is invented
---
The Trend Catcher's performance is a bar graphic where appear the amount of profits generated each month, from April 2017 to October 2017.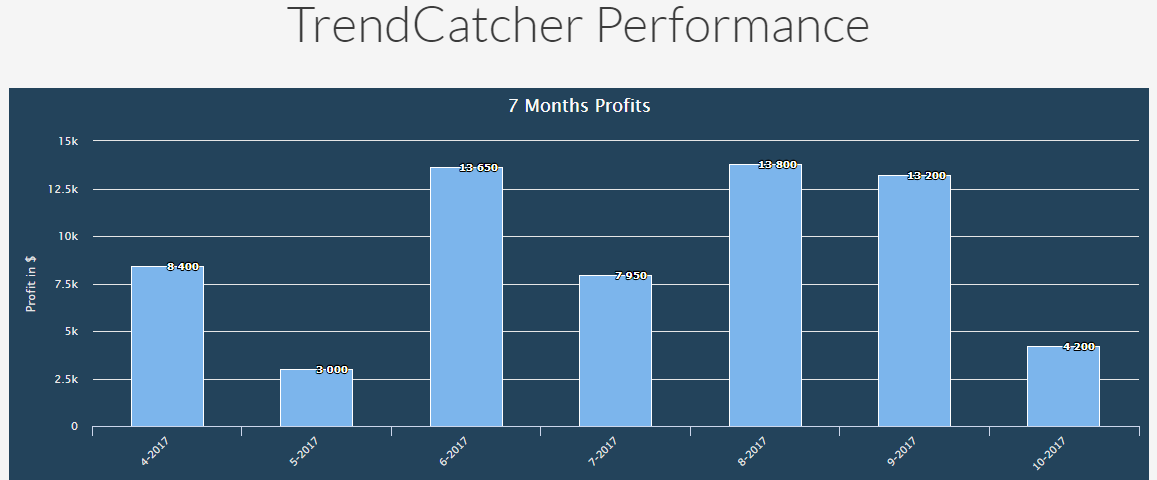 Those earnings make no sense as they claim each member to earn like $270 per hour which would be $5400 per month. Then how many members have been using the software? If each member makes more than $5000 per month, how is it possible that the software has never reached the $14,000 in profits per month? 
Apart from that, I found out that Trend Catcher didn't exist back in April 2017. It's only been in business since August 2017, according to the TrendCatcher.co domain information.
.
Unrealistic claims
---
Other false claims that most scam softwares have in common is that they never lose trades, they always win.
In this case, Trend Catcher is claimed to only trade when it knows it's going to win. This is nonsense because there's no perfect software that knows when trades are going to be profitable. 
Apart from that, this software is supposed to be 87.41% accurate, what means that it doesn't always win. If it always won, it should be 100% accurate. See the contradiction?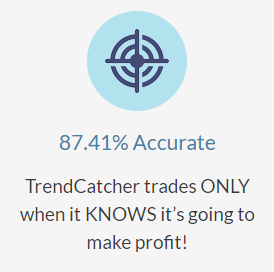 .
How does Trend Catcher steal trader's money?
---
Trend Catcher steals people's money the same way the following scam softwares do:
Even though they say that Trend Catcher is free, they'll ask you to invest at least $250 to start trading. 
Next to the sales video, you'll find a form to complete with your email address and then your name, email address, password and phone number. 
After that, you'll be assigned a Forex broker called Trade360. I don't like the fact that they don't let you know which broker you'll be assigned.
Before you can start trading, you'll need to make a $250 deposit. This means that you'll have to reveal your credit card information before being able to see whether it works or not.
If you make that investment, the people behind Trend Catcher will earn big commissions at your expense.
Why? Because they've referred you to Trade360 through their affiliate link. Every time someone joins Trade360 through the Trend Catcher page and fund a Trade360 trading account, they get paid huge commissions.
Chances are that you'll lose your initial deposit, so everybody behind the Trend Catcher scam will make money at your expense.
The only good thing I've found out is that there are people who have been able to withdraw some of the profits they've made with Trade360, even though it's not been easy to do so.
However, I'm sure they haven't signed up to Trade360 through Trend Catcher. If you'd like to trade with Trade360, I don't recommend that you do it through Trend Catcher because we've seen that it's a scam.
Another thing is, if you join Trade360 through Trend Catcher, you'll have given those crooks important information like your phone number and email address, which is dangerous because they'll use it in an unethical way. This is what you can expect from them:
They'll call you to convince you to invest the maximum amount of money you can.

They'll send you spam emails and anything related to other scam offers.

They'll sell your information to other scam artists.
.
My closing thoughts on Trend Catcher
---
I hope I've provided enough proofs and information to show the real nature of Trend Catcher.
There's nothing good about the Trend Catcher scam and joining it will leave you in a worse situation than you were before because it won't give you any benefit, as I've explained before.
We all know that a software that never loses doesn't exist. If it were true that Trend Catcher always wins, why haven't everyone joined it yet? It's clear that everything about it it's invented.
They don't make outrageous claims like "earn $2000 today" because they know that it would look more suspicious, so that's why they make realistic claims when it comes to the profits, even though it's been proved that it's still a scam.
Trade360 is a regulated Forex broker, so I suggest that you sign up to this broker directly from their website, if you're looking to trade Forex. Don't do it through the Trend Catcher page because you don't want to make commissions to those crooks.
If you're searching for a way to generate an income online, then my advice is that you think in terms of building your own business.
If you're willing to work hard and do what it takes, let me introduce you to a digital marketing platform where you'll get step-by-step training and courses that will teach you to start an online business from scratch and take it to any level of success.
This platform offers a free membership, so you can get started for free and it's great that they don't ask you for your credit card information. In order to join, you'll only need to provide your name, email address, a password and an username (same as any social network lol). 
Another amazing thing about this platform is that it's full of bloggers and online entrepreneurs who will support and help you out with any questions or issues that you may have. I've been a member for more than a year now and there's always been someone who has answered my questions! 🙂 
I also love the fact that the owners of this platform keep updating and improving it day after day. They've already been doing it for 12 years.
To be honest, there are many things I love about this platform. If you're interested in learning more about it, click the button below right now:
.
That's it for today, guys! I hope you now have enough information to make the right choice for you. Don't hesitate to share this review with whoever you believe that may benefit from it.
Do you have any questions or want to share your opinion? If you do, I encourage you to leave a comment below and I'll reply as soon as I can. I always love hearing from my readers! 🙂 
Have a great day =)